Last updated - July 8, 2021
The "Age of Customer-Centricity" is upon us.
It's no longer sufficient to meet customer expectations; you have to exceed them.
It's no longer enough to answer customer queries; you have to pre-empt their questions and guide them.
It's no longer viable to provide ordinary customer experiences; you've got to go the extra mile and become 'Customer-obsessed' in approach, strategy, and goals.
So, the real question then becomes, how do we achieve all this while staying on track with our business goals?
We have four words for you: Acquire's customer engagement software.
What is Acquire's Omnichannel Customer Engagement Platform?
Acquire is an all-in-one multi-channel customer engagement platform that offers a host of real-time communication tools and capabilities to help you:
Seamlessly connect with customers across channels (think: email, live chat, Twitter, video call, Whatsapp, Messenger,

social media

etc.) and create an amazing customer experience.

Track all your digital customer interactions in a centralized place instead of toggling from one tool to another.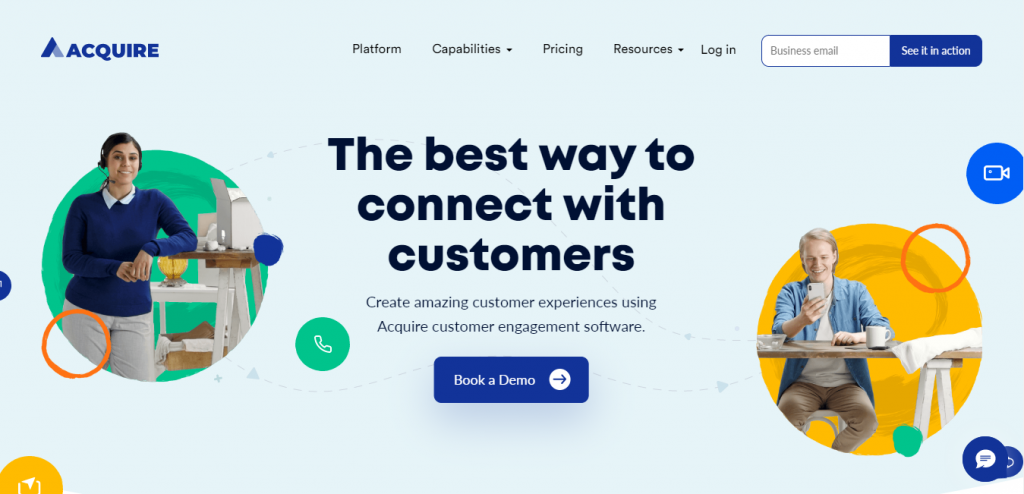 These tools are AI-powered and come integrated with Helpdesk and live chat features that can assist you in your sales journey and help provide holistic customer support.
Features of Acquire: At a Glance
Live Chat
"Live chat has the highest consumer satisfaction rate at 92%."
The power of live chat can no longer be ignored. After all, the customers love it, and the businesses need it. This is where Acquire's intuitive live chat software can help you connect with website visitors, qualify leads, and support customers in real-time:
What's more interesting is that you can engage with customers in a conversational way instead of driving robot-like interactions. Plus, its easy-to-use interface offers immediate service, captures critical information 24/7 through forms, and enables automation to help boost sales and improve customer experience. It also allows you to target chats to specific segments and send proactive messages based on factors such as visitor location, web pages, device type, visitor behavior, the like.
Using live chat, your business can experience:
35% increase in sales conversations.

87% boost in website conversions.
Why use Acquire's live chat services?
It is

multimedia-friendly,

which allows you to share files, launch video chats, start an audio or phone call, screen-share, co-browse, among others.

It is

completely customizable,

allowing you to select your messenger's colors to match your brand's aesthetics.

Also, it offers

multi-lingual support

, auto-translating more than 100 languages, and responding to requests in a global capacity.

It allows you to view the

customer's history

so that you can communicate in the right context:
It

analyzes chat performance, Help articles,

and

key metrics

such as busiest chat periods, most popular demographics, total chats within given time periods, top-performing agents, etc. and offers insight-driven data that can be used to enhance a customer's experience:
Chatbot: Your Customers 24×7 Virtual Guide 
Whether you wish to speed up response times, boost conversion rates, or generate leads – Acquire's Chatbot software delivers on all accounts without sounding scripted or boring. According to Acquire, using its chatbot service renders the following benefits:
35% increase in sales conversations.

80% resolution of common inquiries.
In terms of real-world applications, here's how you can use the chatbot to deliver a stellar and friction-free customer experience:
Answer routine questions and FAQs so that your team can focus on strategic, more complex tasks that require human intervention.

Create a more personal customer experience as the chatbot can pull names, order history, and other variables in real-time.

Enable smart routing to a human customer service agent when bots get stuck:
You can integrate your bot with popular chatbot platforms like IBM Watson, Dialog Flow, and Azure QnA to streamline sales, support,




and website visitor engagement.
Co-Browsing: Interact with & Customers, Visually
"Using the co-browsing feature can decrease the time taken 
to open online accounts (66%) and resolve common queries (61%)." 
Often times, customers may get stuck on your payment page or face issues relating to your product. In such a scenario, if you do not lend a helping hand, your customer will leave the platform frustrated and possibly never return again.
Acquire's Co-Browsing feature allows you to troubleshoot collaboratively on mobiles as well as desktops. Your agent can literally take over the customer's browser and guide them using visual cues, thus enriching the overall experience:
All in all, if you wish to enable a seamless two-way browser-based interaction while pointing, clicking, and annotating your customer's screen with their permission, Acquire's co-browse is the way to go.
Video Chat: Recreate the In-Store Experience Online
With the Acquire Video Chat software, connecting face-to-face with customers was never this easy. Whether you're at home or on-the-go, you can create a visually engaging modern customer experience through and through. 
How does this work? 
You can enable visitors and customers to connect with your team from a live chat conversation. This mobile-friendly tool allows you to view prospective customers' live while they browse your website and reach out to them proactively. Plus, by using the video chat tour, you can offer an interactive customer experience – an advantage that customers want, especially in the times of a global pandemic.
Here's what the data tells us:
85% of customers found using video helpful.

23 % of consumers want a face-to-face interaction for complex issues.
Email: Integrate Your Email Support to Other Support Channels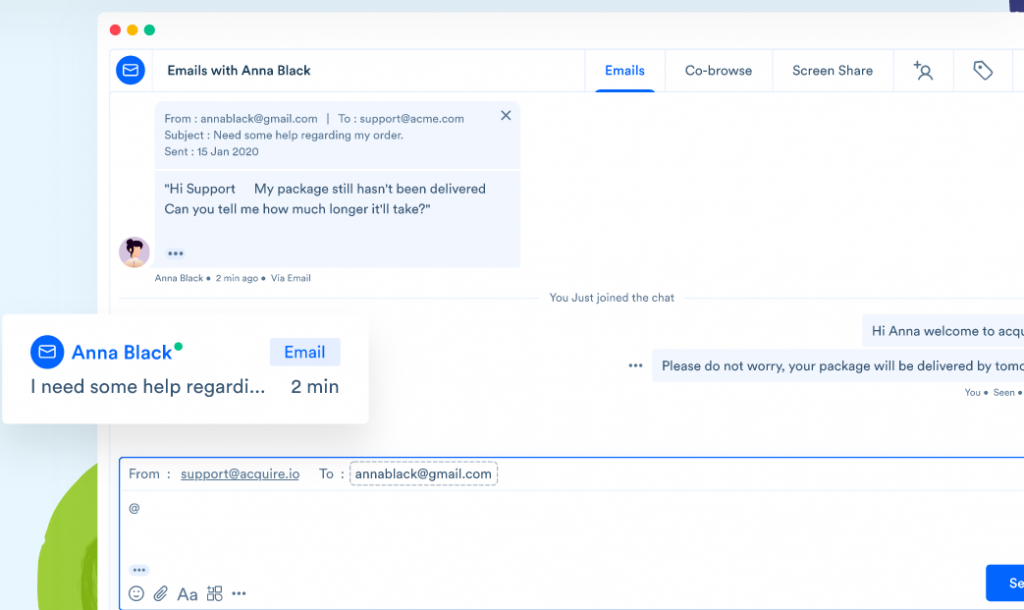 Email marketing is here to stay. So why not connect your email marketing campaigns to the rest of your support channels using Acquire's Unified Inbox? How does this help? Glad you asked.
You can keep up with customer service emails as well as respond to important emails from a centralized dashboard.

Talking about contextual data, you can view all your customer engagements, including emails in one chronological timeline per




customer:
Best of all, you can tag-team members on your emails by adding comments and private notes so that in cases where need to red-flag an interaction, you can do so easily:
Other super useful features include setting minimum email response times for priority customers, accessing ready-made email templates for common scenarios, and segmenting emails with tags to gain an understanding of your most frequently-occurring issues.
Analytics: The Foundation of an Efficient CX
Before you can improve your customer experience, you need to measure its effectiveness. This is where Acquire's Analytics feature can help:
Get data-driven insights into your digital customer engagements and your customer profile so that you can get a better pulse of your ideal customer.

Enhance your team's performance by using robust chat analytics and chatbot reporting that provides information on agent performance:
Knowledge Base: For Consistent & Constant Support
With Acquire's Knowledge Base features and automated support features, you can say goodbye to chatting blind and wasting your team's precious time on answering the same questions over and over again:
Additionally, your agents can get up-to-speed and share helpful content at the click of a button. More importantly, you can set up chatbots that can share customer-centric help articles and documentation (read: FAQs, user forums, how-tos, video tutorials, etc.) outside of office hours so that no customer queries go unnoticed. This feature also allows customers to self-serve and solve issues on their own, which is a much faster way to resolve issues at hand.
Integration with WordPress
Acquire is one of the best WordPress live chat plugins for small to large businesses. It provides a fantastic customer experience using the chatbot functionality to answer all your repetitive questions and offer quick responses with the help of its live chat software. Moreover, it helps you to connect with website visitors, qualify leads, and support customers in real-time. 
It provides prompt service with the help of a user-friendly live chat interface. You can use Acquire's live chat functionality to increase leads and book meetings 24×7 or use them for support to answer mundane customer questions with the help of AI and NLP.
Features
The plugin allows you to share files, launch video chats, screen share, cobrowse, and even start an audio or phone call from the messenger

Choose the messenger's colors to sync it with your brand

Utilize the live chat plugin in more than 100 languages, thanks to its auto-translation feature which assists in responding to requests from across the globe

Utilize analytics to check which actions visitors and customers performed before chatting with you by accessing a timeline view

Track your busiest chat periods, most popular demographics, total chats within a stipulated time, top-performing agents, etc.
Acquire: Pros & Cons 
Pros of Acquire:
It is a robust omnichannel tool that allows company agents to engage customers in real-time.

Its co-browsing feature allows seamless collaboration with customers to resolve complaints effectively.

It offers insightful analytics based on customer behavior and past purchases to facilitate a personalized customer experience.
Cons of Acquire:
The tool (especially its live chat feature) is expensively priced as compared to its competitors.

It does not offer any free trial on its software as compared to others.
Closing Thoughts
Customer experience is not just about creating a lasting 'first' impression; it is about deepening your relationship with a customer through convenience-driven tools that can make your customer's life easier.
So try your hand at Acquire Omnichannel Customer Engagement Platform, boost sales, and keep your customers happy across various touch-points of their journey with your brand.
Further reading