As you may have encountered before, Shopify limits product options to 3 and number of variations to 100. You can bypass these restrictions and create unlimited variations and product options with the help of an app. In this review, we will take you through the features and capabilities of the Advanced Product Options Shopify app that offers you great flexibility in handling product data.
An overview of the Advanced Product Options Shopify App
Providing more options to your products will help customers with more scope for personalization. When they have better chances to personalize, customers tend to feel happier with the overall purchase experience. Happy customers will definitely contribute to better conversions in an eCommerce store. With the Advanced Product Options Shopify app, you will be able to easily create multiple options to your Shopify products. This app is significant because Shopify offers only limited product options, and if you are trying to provide a greater number of additional options for your products, it could be really helpful.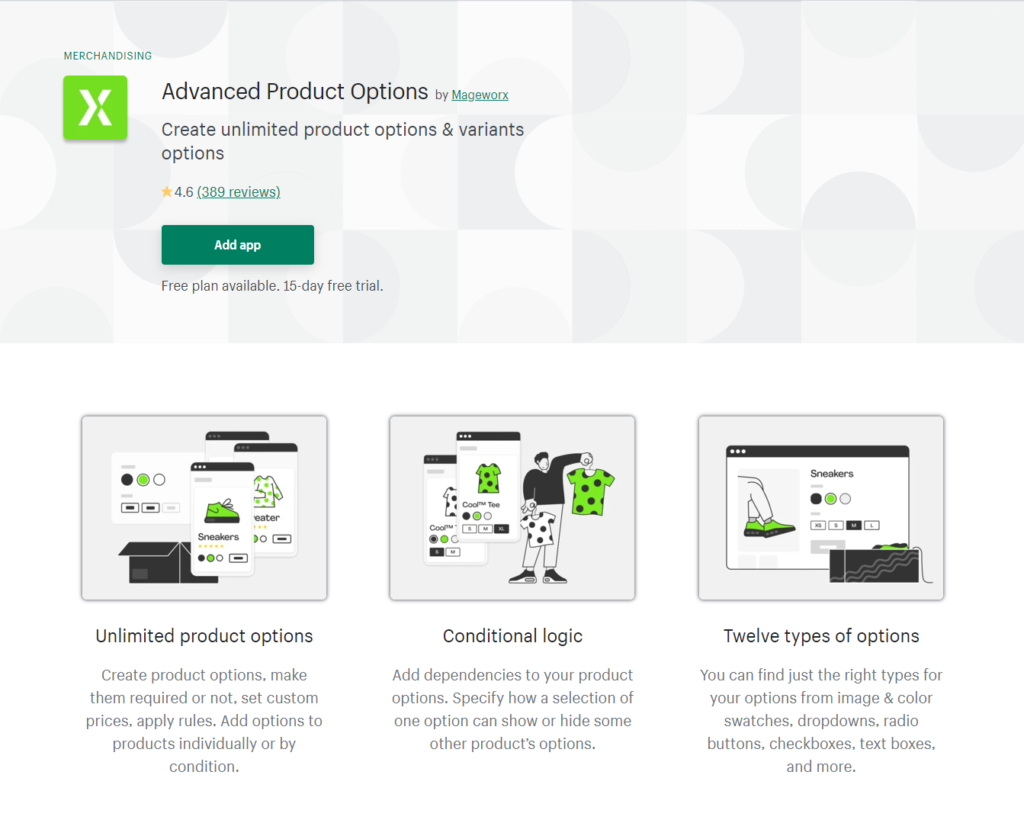 The app also helps you bypass the limitation to create variations. Out of the box, you can create only 100 variations for a product on Shopify. With the Advanced Product Options app, you can create an unlimited number of variations for each of your products. You will be able to add diverse field types to configure additional product options including dropdown, checkbox, radio button, file upload, and more. Furthermore, the app offers several features to configure product options innovatively to ensure the best customer experience and seamless product management.
Feature highlights
Here are some of the important features of the app:
Conditional logic
The app offers conditional logic where you can display one option based on the customer's choice of another option. For example, when a customer chooses a particular color of the product, you can show further options linked to only that color, and hide the ones that are not relevant.
Diverse field types
To add additional product options, this app offers a diverse range of field types. These include radio button, checkbox, swatch, button, text box, dropdown, date picker, file upload and more. Depending on your product catalog, you can make use of different combinations of these field types to help customers choose effortlessly.
Create better customer experience with smooth visualization
You will be able to extravagantly use colors to capture customer's attention to a product option. It also enlarges the image of a product option when the customer hovers the cursor around it. Furthermore, you can explain each option with clear descriptions so that customers will be able to make an informed choice every time.
Assign price and quantity for each option
For each product option that you configure, you can assign its own price and quantity parameters. The plugin lets you add a fixed price for each option or a percentage price dependent on the product price. Interestingly, you can set the price according to the number of characters added in a textbox. Similarly, each product option can have its own quantity, which will help customers add that option more than once.
Create and reuse combinations of options
With the Advanced Product Options Shopify app, you will be able to group different options and rules. This will enable store owners to use these options in multiple products without having to set them from scratch.
Ensures great site performance
The app follows advanced technical standards and ensures that your store performance is fast and consistent. Moreover, it has great styling capabilities that will integrate with your store's theme.
Great customer support
The app offers great support to ensure a seamless experience for store owners in configuring it. Getting started with it is quite easy as it will smoothly integrate with your store. And, if you face any trouble during the installation stage, you can contact their customer support for help without any further cost.
Setting up the app on the Shopify store
You can set up this app pretty easily on your Shopify store.
Step 1 – Install the App
You can follow the standard app installation process on Shopify to begin with the configuration process.
Step 2 – Create options
Once the app is installed, you can create a new 'Option set', and then create options with specific values. The type of options or fields available are as follows:
Checkbox
Dropdown
Radio button
Swatch and Multi-select swatch
Text box and Multi-line text box
Button and Multi-select buttons
Date picker
Number field
File upload
For example, you can add an option for customers to choose gift wrapping. For this, create a radio button with the option value 'Yes' or 'No'.
On the frontend of the store, it will give an option for customers to choose the gift wrapping option.

Step 3 – Define rules for options
The app supports conditional logic and helps you define rules to your options. You can create a new rule by choosing a target option, a condition operator and by assigning a value to the target option. If needed you can add more than one condition to a rule.
For example, you can set a choice of colors for the gift wrapping option. You can display them in a color swatch. And also set a conditional rule so that the gift wrapping color option will display only when the customer chooses 'Yes' for the Gift wrap option above.
In this demonstration, we have used a simple scenario. You can set a lot of actions based on conditions using this app. Some of the available actions are dependent options, price, weight, cost, etc.
Step 4 – Configure the general settings
You can also configure the general settings of the app to suit your store's unique requirements. There are quite a lot of options here such as Formats and Styling, Text Localization, CSS selectors, App data import and export, etc.
For example, you can choose currency formatting and descriptions for options according to your preferences.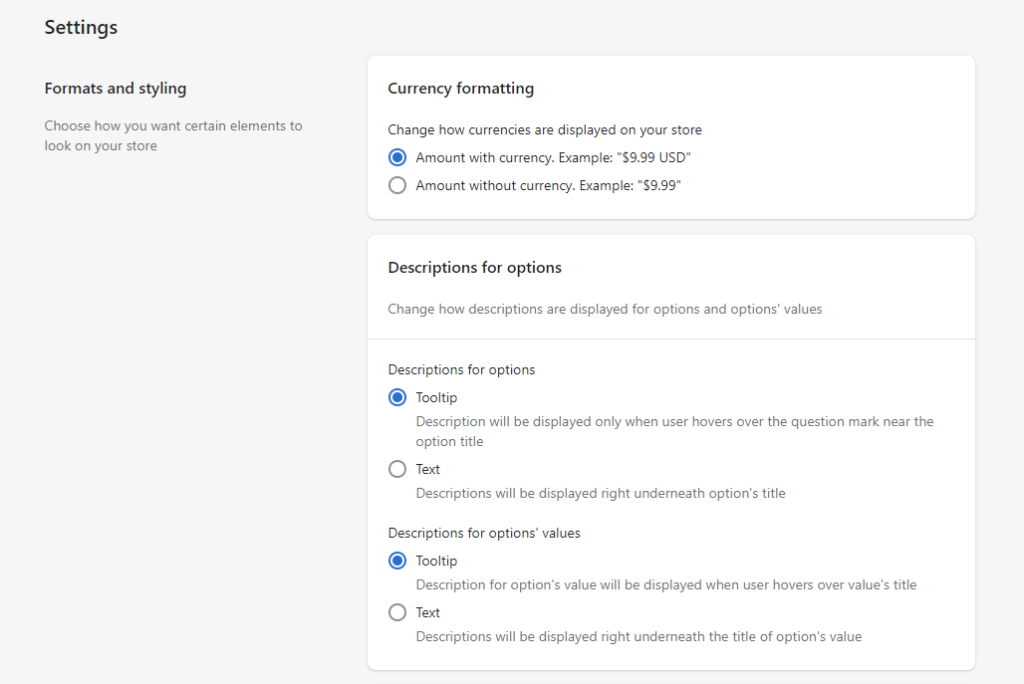 Step 5 – Enable options and assign to products
Once the product options are configured according to your preferences, you can assign it to make it available on the frontend for customers to choose different product options. This can be done manually for individual products, or apply globally to all products. You can also enable a product option to make it active in the store.
How much does it cost?
The app costs $14.99 per month to be used on a live Shopify store. There is a 15-day trial period after which store owners will be billed for using the app. For development stores, the app is available for free download. You can use the 15-day trial window to test the app on your store. After the 15-day trial period, monthly subscription charges will be applicable. There are no additional fees to use the app at any stage.
What do we think about the app?
The Advanced Product Options app provides Shopify store owners with a lot of flexibility in handling extra product options. It is quite easy to set up and offers a smooth interface to help you configure different options according to your store strategy. With advanced visualization options and custom CSS options, it ensures better customer experience and attractive styling too. Moreover, there is detailed documentation that could be helpful while configuring the app.
We hope this review of the Advanced Product Options Shopify app has helped you understand its features clearly. Feel free to leave us a comment if you have any queries regarding the app.
Further reading