Last updated - July 6, 2020
Our way of consuming digital media has transformed in the past few years. We prefer to use a dedicated app for everything, rather than accessing the websites from the computer. This has inspired many people to build a native mobile app for WooCommerce Store owners. Using a native mobile app can help the store owners to monitor and manage their store on the go.
A native mobile app for your WooCommerce store is better than the app builders out there. This is because it does not require you to code or build the app from scratch. And thankfully, there are some amazing mobile apps that have been designed for WooCommerce specifically.
In this article, we will focus on some noteworthy native WooCommerce mobile apps and check how their features can help business owners operate their store better.
What is a native WooCommerce mobile app?
It is an eCommerce mobile app that is developed specifically for one platform. These apps take complete advantage of all the features of your phone to ensure better performance. These apps are very stable and are easy to use. However, these apps do not allow users to run multiple eCommerce platforms – they are tailored only for WooCommerce.
Here are some benefits of using a native WooCommerce mobile app-
Good performance

Increased functionality

Enhanced security of customer's data

Better reliability

Tailored features
It is really easy to setup your WooCommerce store on a native app. You just need to connect your WooCommerce store by entering your store info and WooCommerce API in the app. After connecting, all the orders and products in your store will be automatically imported and synced to the app.
Other options available?
Apart from a native WooCommerce mobile app, you can build your own app from scratch. But remember that building a mobile app is not an easy task. It involves both physical & mental effort, financial support, and app development skills. You have to spend a lot of time and if you don't have development skills, then you have to hire a developer who may charge a lot of money.
Another option is to go for some app builders available in the app market. Users can build their WooCommerce store in an app without coding. Some app builders even allow users to run multiple eCommerce platforms parallelly. But in spite of having these features, there are some common issues with these app builders –
Compatibility problem

Login issues

Unstable connection to the store

Error in loading orders, products, etc.
So, let's have a look at some native WooCommerce mobile apps and check out their features –
This is an official WooCommerce mobile app which was introduced in the year 2014. It is available for iOS platform only. With the latest update from August 2017, the app comes with improved features and a fresher user interface.
The app has been designed to make it easier for store owners to stay on top of their store and new orders on-the-go. It lets you stay updated with incoming orders and store's inventory. From within the app, you can easily check your sales and see your best-selling products. You can also view all orders by status and get an overview of how your WooCommerce business is going.
It is easy to navigate through your complete product list even when you're on the move. You can see the updated product quantity along with each product. The further product details can be seen by tapping any product that you want to check. It displays information including the product category, price, tags, SKU and tax class.
One of the best things about this app is that you can manage up to four WooCommerce stores. You can easily switch between your stores using the side menu of the app. The app also lets you remove stores that you're no longer using.
The app installation is really simple as it does not require you to add a separate plugin to connect to your WooCommerce store. You just need your WooCommerce APIs to log into your store and the app quickly starts syncing with your store.
But in spite of having these amazing features, the app lacks in the managing department. It only allows you to change order status from the app. You cannot change the stock size or stock status. Moreover, there is no real-time alerts feature to notify you of any new orders or order status change.
Another app that proves to be a good native WooCommerce mobile app is the WooCommerce Mobile Assistant. This app was launched in the year 2015 and many of its functionalities are similar to StorePep.
This app offers some amazing visual representation of your WooCommerce store sales using graphs. You can check out the periodic store performance through the app. The time period can be selected by applying the time filters to the Present day, This week, This month, This year, etc.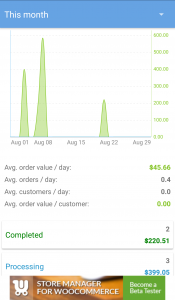 Many app users like the graphical representation of the store sales because it is quicker to understand the store performance when compared to the number statistics. But, while some users might like this way of displaying reports, there are some who still prefer the numbers display.
You do get the push notification with this app. The app will prompt you instantly on any new order and change in order status. In addition to the push notification, this App offers a unique feature – Add Widget to the home screen of your phone. This widget stays on your home screen and displays the basic info like the number of orders placed on a particular day, number of newly registered customers to your store, etc. This feature comes handy when you don't want to open the app and just want a quick update.
For some users, analyzing their store performance with WooCommerce Mobile Assistant can be a tough job. The app shows few sales statistics like the total sales and the total number of orders placed. This does not provide adequate information to the users.
The overall management capabilities like changing order status, update stock size, etc, are missing in the app. When you compare Mobile Assistant to other apps, it doesn't allow you to edit any information. So, if you want to change the order status of some product or update the stock quantity, you'd have to reach out for your computer.
In addition, WooCommerce Mobile Assistant doesn't allow you to contact the customers directly from the App. So, you'd have to manually copy the phone number to initiate the conversation.
The installation process is similar to that of the StorePep. You need to install the WooCommerce Mobile Assistant plugin to your WordPress. Then copy the WooCommerce APIs to the app to sign in.
How to choose the suitable native WooCommerce mobile app for your store?
Choosing a WooCommerce mobile app is completely your call. But, there are some parameters that you should consider before getting one. Some of those important parameters are –
Monitoring – As a business owner, it is very important for you to monitor your WooCommerce store all the time. So, an app that can help you monitor your store by providing you enough details, should be the right choice.
Managing – Another important aspect of a native WooCommerce mobile app should be the ability to manage your store better. You should be able to manage your orders, stocks, and customers, even if you're away from your computer.
Get Real-time alerts – It is true that customer satisfaction is really important in any business. You need to quickly fulfill the orders to ensure it reaches the customers on-time. An app that alerts you on every single update like order status change and stock status can help you in such scenarios.
User Interface – The user interface of the WooCommerce mobile app should be adequately informative to its user. However, it should not look too busy with all the numbers and parameters. Users should look out for apps that are easier to use in their day-to-day life.
Ease of installation – Many users might find it difficult to integrate the plugin into their store. So, users should choose an app which is easier to install and should not give you problems later.
StorePep has been designed to manage your WooCommerce store on the go. This app delivers the pulse of your sales directly to your phone. Currently, the app is available for Android devices, and the iOS version is on its way.
Store owners can track their store sales by checking out the well-organized Dashboard. The Dashboard shows the periodic reports on sales parameters like Total Sales, Average Daily Sales, Total Refunds, Total Items purchased from the store, etc. These parameters have been included in the main screen to help the owners get a quick overview of their store performance.
Using StorePep, it is very easy to check the status of your orders. The app comes with a tab that displays the different list of orders based on their status. So, if one of the orders failed to reach the customer, you can quickly check that order in the Orders Tab. You can tap on the Failed button under the Orders tab which will show you the list of failed orders.
The app takes a step further when it comes to management capability. It allows users to change order status, edit product details, change stock status, change the stock quantity, etc – everything right from the app. This is one of the most important features that a store owner needs when he or she is not next to the computer.
You can also update customer shipping or billing address through the App. This feature comes handy when the customer requests you to change the shipping address to his or her billing address. Moreover, you can locate the address on the map directly from your App. This is really helpful when you need to check out the delivery area – this is one of the best features that other WooCommerce Apps do not offer.
Real-time alerts is an important feature to have in a WooCommerce mobile app. StorePep notifies you of every new order or change in order status. It will also give you an alert whenever the stocks are low or empty. This feature is really essential for the store owners as it will help them quickly act on any updates.
The integration of the plugin is really simple and so is the app installation. All you need to do is install the plugin to your WordPress. Enter your WooCommerce website URL on the app and then using the StorePep app, simply scan the QR code in the settings option of the StorePep integration plugin. This will quickly take you to the Dashboard of the app.
Final Thoughts…
As each year passes by, the demand for a native WooCommerce mobile app increases. This trend is the byproduct of the idea an-app-for-everything. WooCommerce store owners can use native mobile apps to maximize their interactivity with their online store. Both Android and iOS platforms host some amazing native WooCommerce apps.
In order to choose the right app for your store, you can try some of these apps and check it out yourself. This is important because only you can understand which features can actually help your store. And getting the feel of the app beforehand can be a lot helpful in this case.
We hope this article might have helped you in getting some insights into the idea of native WooCommerce apps. Let us know how you feel about this article in the comment section below!
Thank you!