Last updated - February 24, 2020
According to trends and expert opinion, artificial intelligence is going to revolutionize many sectors. eCommerce is surely one of them as there are several practical scenarios where you can apply it to enhance your store strategies. Industry majors are already making use of artificial intelligence in several aspects of business management. If you are an eCommerce store owner, there are several applications of AI, which you can adapt for your store. if you are a WordPress WooCommerce store owner, there are several areas like customer relationship management, where AI has great significance. You might have already seen our article on WordPress plugins using artificial intelligence. In this article, we will explore the specific areas where you can use artificial intelligence in eCommerce.
Significance of Artificial Intelligence in eCommerce
In the current scenario, competition is really tough for eCommerce store owners. Leaders in the industry are constantly experimenting with technological innovations that make the shopping experience smoother for customers. Small and medium businesses too need to rev up their game to stay relevant in the evolving circumstances. Store owners are trying hard to personalize customer experience and to refine marketing strategies to improve sales and revenue. You will find some tips on personalizing customer experience here. Artificial Intelligence can surely enhance several of such aspects to help businesses and store owners. We will look deeper into some of these aspects now.
Engaging customers
Constantly being able to engage customers is a significant aspect in eCommerce growth. Better customer engagement means better chances of conversion, repeat purchases and customer loyalty. Being available to customers round the clock is the best strategy to ensure consistent customer engagement. However, with a lot of eCommerce stores selling products globally, time zone conflicts can prove to be a hassle. Here, artificial intelligence can be real handy, if you are thinking about a virtual assistant or chatbot.
With machine learning algorithms, you can maintain a virtual assistant on your store, which learns about your products as well as the users. You can start with some pre-defined responses for some of the common requests on your store. It is probably easier to provide exhaustive knowledge on your products and their features to the virtual assistant. However, if you can combine that with an algorithm that understands user behavior, it can be a real asset.
For example, after a period, these virtual assistants will be quite equipped to handle your pre-sale queries and other simple inquiries. The whole process will become really efficient when these virtual assistants can engage your long term customers too by taking cues from past interactions. You can always experiment with artificial intelligence with proper human supervision. And if there are spontaneous requests or emergency scenarios, there can always be human intervention.
It helps you build an AI assistant for multiple channels including mobile messaging services. It starts with a pre-built set of responses configured for an optimized customer service. And, it will keep on learning from user interactions to train itself to grow into a dependable tool. You can analyze the conversations that Watson Assistant has with customers to gain actionable insights for your store strategy.
You will find a few tips on customer relationship management for WooCommerce here. For setting up product enquiries on your WooCommerce store, you can checkout Product Enquiry Form from WooCommerce or Wisdmlabs Product Enquiry Pro.
Help customers find products
Searching for individual products is somewhat tough for customers. Often they will have an idea of a product, and it is not quite possible to pinpoint it exactly on an eCommerce site. Artificial intelligence can help here by approaching searches in a customer centric way. Using natural language to contextualize searches by customers would be quite helpful in this regard. Please find an innovative solution below:
Twiggle is an innovative tool that makes use of artificial intelligence to help your customers find your products more easily. Basically, it will integrate with your indexed products, and make better sense of customer intent in searches. Twiggle uses natural language to understand all the possible scenarios when a customer is actually searching one of your products. That way it integrates search queries and your product information.
A customer might use several keywords in a single search, and search engines often fail to understand the collective meaning of your search phrase. Understanding what the customer is searching for is important here, rather than the individual words in the search phrase. Twiggle imparts that intelligence to search engines, by using deep learning techniques to understand both your product data, and the search language. As a result, your customers are able to find your products more readily, and you will see better conversions on your store.
A good product search option on your store is really important too. You can find some tips to improve WooCommerce product search here. On your WooCommerce store, you can improve the relevance of searches by using WooCommerce Product Search plugin. Another similar option you can try out is YITH WooCommerce Ajax Search.
Image searches
Another similar aspect that will improve customer experience will be image searches. Pinterest has a Chrome extension that allows users to search similar products with any images they see on the site. Visual identification of eCommerce products would radically change the way customers finding products. Here is a tool that uses artificial intelligence to manage just that.
It offers visual search solutions that will make it extremely easier for your customers to find your products. The AI-powered solution understands the behavior of your customers and help them find what they are looking for. It allows customers to search with images, and always fetches relevant content to display. You can easily integrate the computer vision solution of Clarifai to your existing store, and get better outcomes in sales and conversions.
Targeting customers through multiple channels
Artificial intelligence is all about leveraging the vast data available from consumer behavior in multiple channels. These days most companies are using multiple channels to sell their products and engage with the customers. This means there is data being generated that can be used across channels. For example, in an AI-enabled scenario, facial recognition software can be used to predict the interests of a customer who does window shopping in a physical retail store. You can understand the specific interests of this customer, and offer a discount deal through another channel like your website or Facebook page.
You can find some strategies for multi-channel retail in our article here. Checkout Facebook for WooCommerce extension to start selling on your Facebook page.
AI helps to improve the sales process
Artificial intelligence can completely transform the sales process of your store. As you have seen, through enhanced CRM, you are able to follow leads more efficiently. Similarly, you can use artificial intelligence to predict sales patterns as well. This will help you prepare inventory and allocate resources accordingly. For example, you can combine demographic and psychographic data that you capture from various channels to give targeted product recommendations. This will improve the chances of conversion considerably. Once you optimize, such a process, you can easily predict your sales patterns as well. And, you can incorporate AI-enabled features on the after sales service as well. All this will definitely improve the overall customer satisfaction and will help with your brand building.
Here is an article with some tips on WooCommerce store brand building that might help you.
IBM Watson offers a suite of AI-enabled products and services to help you enhance your eCommerce strategy. Many leading web stores are using several of these tools efficiently.
Personalizing Content
Artificial intelligence can help you a lot in personalizing content on your store. You can make use of your analytics data by combining it with machine learning. By continuously analyzing the interests of your customers, you can easily determine the type of content they are looking for. Once you get into a topic, artificial intelligence can help a lot in building and branching it effectively. Being able to structure content in a customer-centric perspective would be a great boost to customer experience on your store.
Product recommendations
One of the best way for marketers to improve sales is by recommending products to customers. When you have a vast product catalog, artificial intelligence can help you provide targeted product recommendations to customers based on their past purchases. Suggesting products simply based on complementary nature is not enough to improve sales. However, if your recommendations are based on careful analysis of specific customer interests, the chances of conversion will be more. Overall, your customers will be happy if you are able to provide relevant recommendations, sometimes even before they know it.
Recomendo is a tool that will give relevant product recommendations on your store.
Enhance product reviews
Reviews are an important component of any online store. It can help and influence purchase decisions more than any other component on an online store. Also, the words from an experienced user speaks more powerfully than any well written marketing copy. Due to the same reason, store owners often face the menace of fake reviews as well. Artificial intelligence offers a lot of scope in weeding out fake reviews on your site. For example, Amazon gives more weight to reviews that are verified purchases, and the ones that are marked helpful by others. Such strategies can really help in ensuring a great experience for your customers.
Meanwhile, you can find some useful product review strategies for your WooCommerce store here. You can incorporate a lot of additional features and functionalities to your WooCommerce reviews with the help of Products Reviews Pro. Another good plugin that you can try out is YITH WooCommerce Advanced Reviews.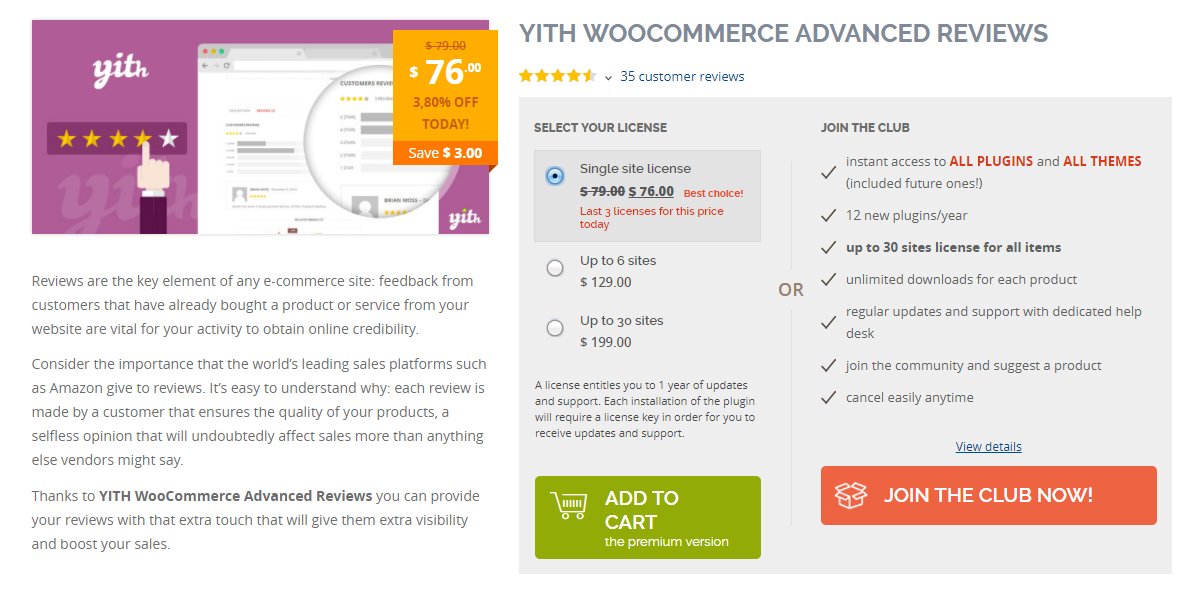 Improve customer experience like never before
All of the aspects we discussed above fundamentally provides a more customer centric approach. When your primary focus is on improving your store's customer experience, artificial intelligence can help a lot. You can combine several strategies to make an exceptional customer experience. We will look at a very relevant example now:
Amazon Go is a grocery store in Seattle. You can check in to this store using the designated mobile app and shop what you want. The interesting thing is there is no checkout, as you will be charged on your Amazon account. This store combines deep learning, computer vision and sensor fusion to create a unique shopping experience. Such innovations hold the power to drastically transform customer experience and multichannel retailing to another level.
Conclusion
Artificial Intelligence offers great scope to revolutionize eCommerce industry. It offers great solutions and tools to make it easier for both customers and store owners. Different aspects of machine learning can be used to make use of the vast data that is being generated from every eCommerce interactions. This article was an attempt to provide a glimpse into the diverse scope offered by artificial intelligence into the varied aspects of eCommerce. Share with us if you wish to add an insight on the application of artificial intelligence in eCommerce.
Further reading