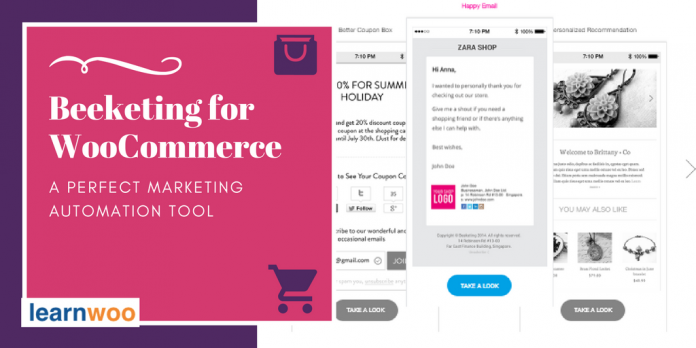 Last updated - July 8, 2021
The term 'marketing' covers a broad area with no definite boundary, so does the term 'automation'. Usually when we talk about marketing, the things that come to our mind are various ways of promoting our product, pleasing our customers, building a reputation. And automation is all about tasks being done without any continuous manual intervention.
Consider the four stages of inbound marketing: Attract, Convert, Close, Delight. Which stage do you think can be automated or say would flare well when automated?
Ideally every manual task requires to be automated once your customer number crosses a certain threshold.
This article aims to give you a brief idea on the features of Beeketing for WooCommerce – one of the best Marketing Automation plugins for WooCommerce in the WordPress market at the moment.
How to use the plugin?
Once you download and install the plugin, you are required to create an account in Beeketing. This would allow them to connect and sync to your store. After this process is complete, you can find 10+ apps in your WordPress dashboard, each having a distinctive set of functionalities meant to leverage the conversion rate at all the four stages of your marketing funnel.
Along with a number of free apps, you would find a set premium apps too.
What does the free version offer?
The plugin offers a number of apps for free. The following are the ones.
The most prominent app would be Personal Recommendation which tracks down a visitor's or customer's journey and accordingly presents them the personalized products. This is one of those amazing features which we get to see in top ecommerce site like Amazon etc. Isn't it awesome that you can get this incredible feature at free of cost?
Sales pops is another such remarkable app which would from time to time send notifications of every recent purchases being made at your store. Such notifications can help build trust into the mind of a first-time visitor of your site.
Abandoned cart is one of the most commonly faced situation in every ecommerce store. As an effort to prevent cart abandonment, store owners send reminders to such customers usually in the form of mails. But, how would you manage a large-scale cart abandonment issue? Here arises the need for automation. That's when this free app would be of indispensable service. Recover Cart Push would automatically send cart abandonment notifications to the customer's browser, thus reminding the customer of the products he or she was about to purchase.
Quick Facebook Chat too is a free app which allow your customer to contact you via facebook messenger which has a number of advantages over live chats.
Mobile Convertor app would make your store ready for mobiles by providing a static 'Add-to-Cart' button at a preferred location, full-screen feature images and a direct 'call-to-action' button. Even in the age of m-commerce, the conversion through mobile is lesser than through desktop. This app would enable you to bridge the gap.
Another app, Better Coupon Box would help you grow your social followers. You can surprise your customers, by this coupon follower box and promise to reveal the coupon code once they like you on any of your social media handles.
You can choose to display the popup either when your customer visits your site or when he or she is about to abandon a cart. Exit intent coupon is another way of preventing cart abandonment.
Sending a 'thank you' note to the customers after they have purchased your product is one of the first step to score in your 'delight' stage With the Happy Email app, you don't even have to worry about the content of the email. Everything would be taken care of by this app.
You must have noticed a countdown time displayed somewhere at the top of a store when some limited time offer is going on. For instance, the timer you see on Amazon's big billion day! Isn't that timer stimulating enough to stop you from overthinking your purchase decision? Try this Countdown Cart and create a sense of urgency in your customer's mind and increase your store's sale significantly.
What are the premium apps?
Checkout Boost app would give a chance to your customers to share their purchases on Facebook in exchange for a free gift or a discount coupon. Considering that 74% of the customers rely on social media to guide their purchase decision, this app should drive in a lot of potential customers.
You would get this app at $20 – $29 / MONTH
MailBot, as the name suggests would be sending automated mails to your customers. But the catch is, the mails would be personalized and its content would depend on the customer's behavior. The mail content would pique customer's interest by telling them about new arrivals, coupon codes etc. This could be a great tool to increase retention rate. The starting price for this app is $29/MONTH
Up-sells and Cross-sells have become on of the most desired features in today's ecommerce store. It is known that 35% of Amazon's total revenue comes directly from Up-sell & Cross-sell offers. Boost Sales app when combined with offers and discounts can make your customers purchase more than they originally intended to.
You can get this plugin at $30/MONTH
Closing comments
Beeketing for WooCommerce plugin would follow your visitors right from the time they land on your store, till the time they drive some more customers to your store. The apps are indeed great and offers you all those professional features which you see only on big ecommerce stores. Another good thing about this plugin and its apps is that they are fully customizable. You can change the style/color of every app to suit your theme. Moreover, the plugin is fully responsive and has a number of mobile friendly features in order to boost purchases through mobiles.