AI tools have gained as much controversy as they have gained acclamation and awe. OpenAI's ChatGPT for example has shown exemplary writing skills in different formats, and even in writing code in different programming languages.
While there is still a long way to go for AI tools to replicate human writers, you can know for sure that they can help write product descriptions.
If you are an eCommerce store owner and don't have the skills to write copies or the resources to hire a copywriter, AI writing tools can aid you in polishing your write ups.
These tools are not restricted to business owners though, even content writers and bloggers can find AI writing software helpful in summarizing content as well as
We have gathered some of the popular AI writing software that can help anyone who can find aid in AI writing tools to writing content for social media platforms, landing pages, and even email marketing campaigns.
Copy.ai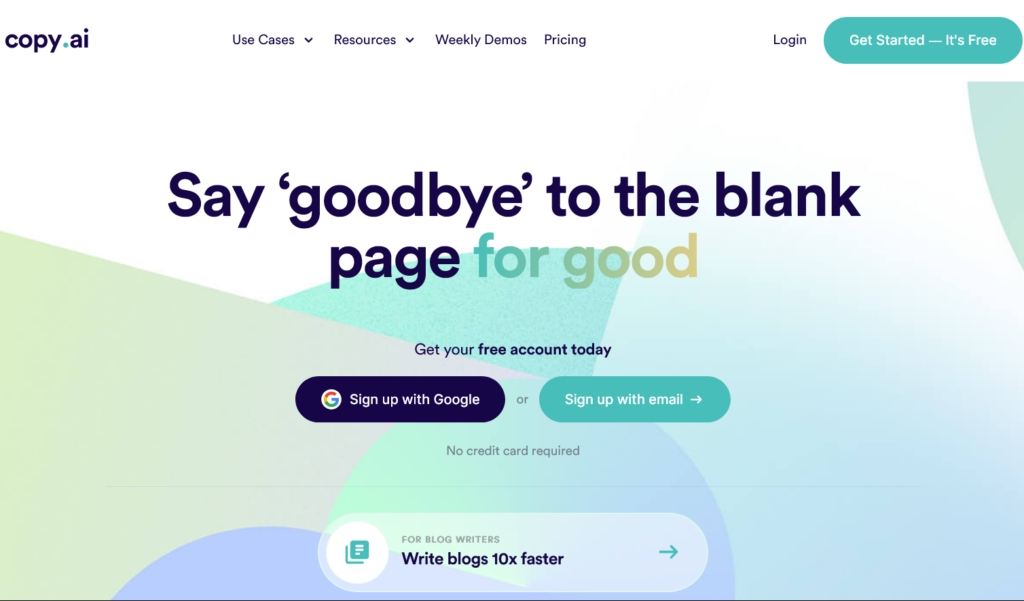 Copy.ai offers a no-credit card trial on its AI-powered content generator and can write content in several formats that can be useful for eCommerce store owners. The tool has different formats and tones you can choose from, as well as a short description of the main points you want to cover. As you get multiple responses for all your queries, you can pick the one best for you and edit it as you need.
Pricing: Free plan has a 2000 words limit per month, while the paid plans start at $49 per month.
Rytr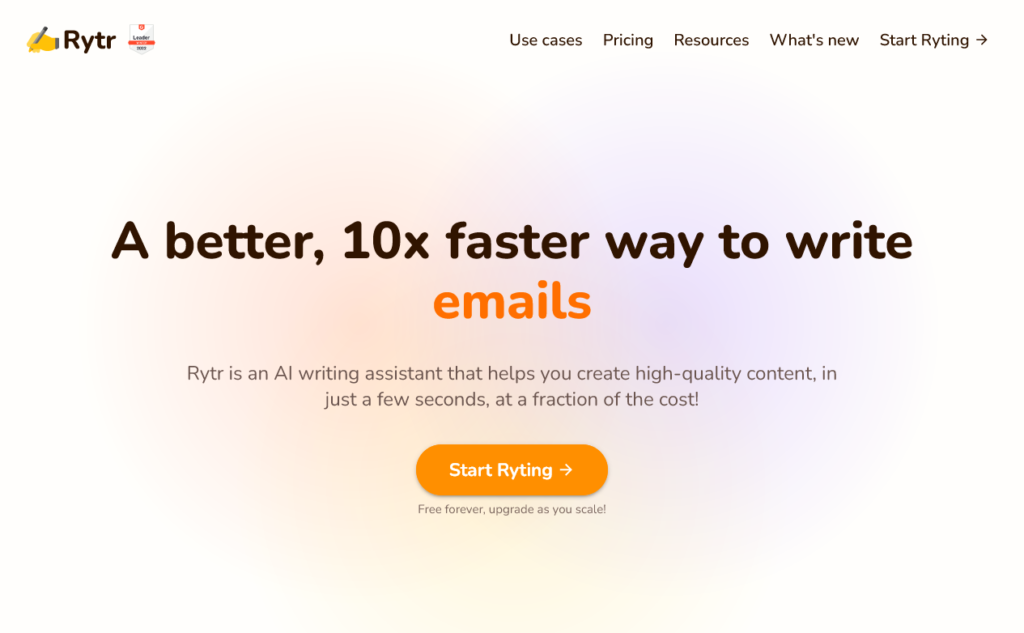 Rytr is a popular writing assistant that can help ease copywriting with its ability to create a state of the art AI content for 40+ use cases in any vertical. Rytr also offers writing assistance in 30 languages and you can pick from 20 different kinds of tones for your text as you need.
You can also use the writing tool to rephrase your own content to polish it or make it suitable for a particular format. Managing your content is also possible as Rytr offers categorized storage of the content generated.
Pricing: Free plan offers 10k characters per month while monthly paid plans cost $9 for 100k characters while the $29 plan offers no limit on how much content you can generate.
Writesonic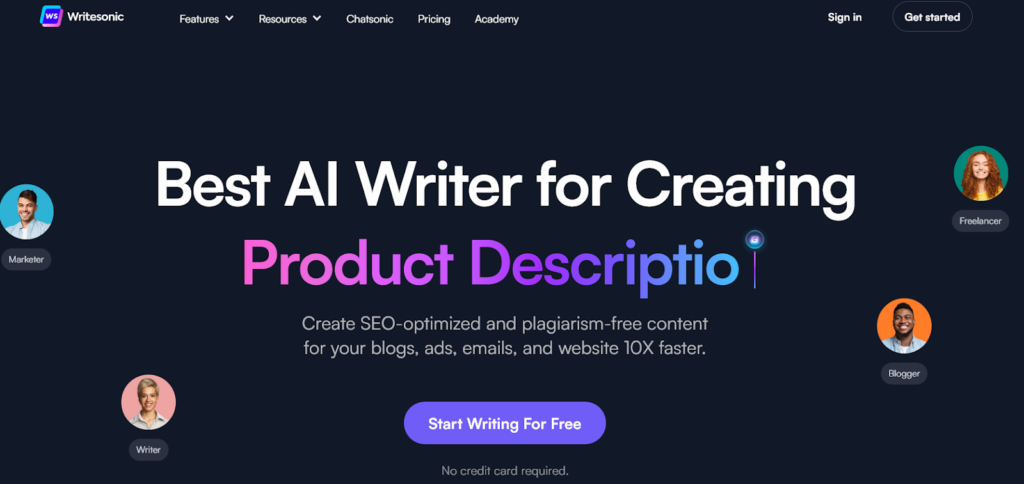 Writesonic is the next writing tool on this list and is a versatile solution catering to entrepreneurs, eCommerce store owners, copywriters as well as digital marketers. It has a built-n text editor akin to Google Docs to edit the generated content to suit your needs. The editing tools can help you paraphrase, condense or expand a given text, or you can do that for the AI-generated content as well, making it suitable for creating content on the same topic for different platforms like emails, blogs, social media content, etc.
Pricing: Free plan gives you access to the basic features with a 6250-word limit, while the paid plans 47500 words limit and costs $12.67. If you want to further extend your word limits and get more advanced features, you can opt for a custom plan request.
AI Writer
AI writer generates unique and original content in multiple formats and also offers sources for the citations made in the data. There is also a feature to sync and directly publish your content to WordPress, making it a great choice for website owners using WordPress. Also has a source summarizer that condenses long-form content into a short description and the tool also claims all the content generated is SEO friendly, cutting content creation costs for websites.
Pricing: Pricing is based on the number of credits you use to generate content, and ranges from $29 for the basic plan with 40 credits, $59 for 150 credits, $375 for 1000 credits, and the ability to add 10 users to the account.
Jasper
Jasper is a creative content writing tool that offers content that is not just formal and grammatically correct but also converting content that is witty, a great choice for social media content. It works in 26 languages and is also available as a Chrome extension for convenient access. You can also collaborate with team members and edit and view live changes made to the content.
Pricing: Plans start at $49 per month with a 50000-word limit and up to $500 per month with a 700000-word limit. You can request a custom plan to use the tool without a word limit and access all of the premium features.
Ink
Besides its content writing abilities, Ink also offers image generation and content optimization for search engines. You can also access the content library to create just the kind of content you want, and use keywords to perfectly optimize the generated content for your use cases. The tool works on natural language optimization, giving a competitive edge over other peers to rank higher and bring in more traffic to your website.
Pricing: The professional plan costs $39 per month, while the enterprise plan costs $99, unlocking all the templates, support for larger teams, and other advanced features.
Hyperwrite
Hyperwrite is another tool that can help get out of your writer's block. It offers advanced tools that can help convert your ideas into captivating content. As it is available as a Chrome extension, it works on all the websites you are working on.
Pricing: The free plan has a thousand-word limit, while the premium version comes at $14.99 and offers advanced content generation abilities.
Frase
Create, optimize, and analyze content in a matter of minutes with Frase, a content writing tool focusing on SEO. Frase also has a dashboard that analyzes data from Google Search Console to create plans for content that will bring more traffic as well as conversion. It can be an ideal tool for copywriters as well as SEO specialists with its comprehensive content creation and optimization features.
Pricing: The solo plan costs $14.99 per month with 4000 words and 4 articles limit, while the basic starts at $44.99 with a usage limit of 4000 words and 30 articles, while the teams plan offers unlimited access to generate content as well as 3 user collaboration.
While content writing tools can be great for brainstorming and creating rough drafts for your text content needs, note that you may still have to polish and customize them before putting them into publication.
They are certainly appearing to make content creation easy for marketers and copywriters, but are only tools and cannot replace professionals when it comes to serving content for end users.
Know an AI writing tool that didn't make it to the list? Let us know in the comments.
Further Reading