Last updated - April 13, 2023
Are you planning to start blogging, but not quite sure which blogging platform to choose? Well, you are not alone! As a matter of fact, one of the most common FAQs with regard to blogging is "Which is the best blogging platform (for beginners)?"
Research states that business organizations that blog attract about 55% more leads than those that don't. However, in order to gain that kind of traction you need to make use of the best blogging platforms.
In this article, we provide insights into 10 of the best blogging platforms that are available in the current era. Read along and start making the best out of blogging for our business.
What are Blogging Platforms?
Blogging platforms are webcast-like communication tools that let writers create posts such as articles, evaluations of products, critiques, etc, that are then distributed through social networking sites, emails, feed distribution services, and independent websites.
An individual can produce, arrange, and publish both written and visual content online as a blog using a blogging platform. There are two types of blogging platforms:
Free Blogging Platforms – this includes sites like WordPress, Medium, Weebly, Blogger, Tumblr, etc. Free blogging platforms are for those who are looking to create a personal blogging space or for knowledge transfer without any intention of monetization.
Paid/Premium Blogging Platforms – the list of premium blogging sites includes WordPress with Hostinger, Squarespace, Wix, etc. These premium blogging sites are for those who would like to make blogging their profession by monetizing it.
Tips for Choosing the Best Blogging Platform
There are numerous top blogging platforms available in the market today. Each one comes with unique features and propositions than the other, thus making them more proficient and competent than the other in their own purview.
Therefore, you need to choose a blogging platform that is particularly best suited for you and your business. And we have provided a few tips to do that.
Define your Blogging Goal
What do you intend on receiving by blogging? Ask this question to yourself and come up with a definitive goal for why you want to blog in the first place. Whether or not you want to monetize your blogging efforts is the first step toward choosing the right blogging platform.
Determine the Content-Type and Niche
There are various kinds of content you can write and publish on a blogging platform and each category caters to a unique mass of audience. What kind of content do you want to write? And what niche do you wish to focus on? Try and narrow down your content type and niche since some of the blogging platforms are renowned for a specific niche.
Themes and Templates
A blog can be easily and swiftly customized using themes and templates. When comparing blogging platforms, examine the range of themes and templates offered and decide which will work best for your blogging needs. Here are some pointers that can help you examine the themes and templates:
Do you need a lot of templates for blogging?
Does the platform provide both free and premium templates?
Are the templates customizable? And is it easy to customize?
What will be the ratio of creating a blog from scratch and using predesigned templates?
Content Editor
Every blogging platform's key component is the content editor. As a blogger, you might interact with a content editor daily, so be careful to choose a platform with a good editor. Consider the usability. Quick blog setup and content addition are two things you wish to be able to do. The tool's adaptability and functionality should also be apparent to you.
Best Blogging Platforms
After much consideration and research, we have listed below 10 of the best blogging platforms that you can choose from.
WordPress.com
The sponsored version of the open-source platform WordPress.org is called WordPress.com. It is a for-profit endeavor that provides a free subscription program with updates for a paid membership and custom domain.
It's among the most widely used shared blogging platforms available. WordPress.com is the ideal website for you if you are relatively a novice with no technical experience yet want to create your own blogging website.
In terms of blogging functionality, WordPress.com stands out from the league. Nearly all of the tools you'll ever need to maintain a blog are included with WordPress.com, but neither a built-in search engine nor SEO tailored specifically for blogs is available.
WordPress.org
WordPress.org is a free blogging platform that blends sophisticated functionality with ease of use. With the help of this tool, you can quickly create a blog website from scratch. Tim Ferriss, John Lee Dumas, Pat Flynn, and other well-known bloggers use this platform to build incredibly useful and lucrative blogs.
For this reason, we advise all committed bloggers to use it as their preferred platform for setting up a blog. It is simple to set up; all you have to do is choose a reputable WordPress hosting company, install the WordPress software, and make use of all the advantages it offers.
Hubspot CMS Hub

For micro, moderate, and corporate websites, HubSpot CMS Hub is indeed a fully-featured blogging platform.
It's built on top of HubSpot's marketing and CRM capabilities, allowing you to maintain your customer database, build a website, increase subscriber numbers, send newsletters, and more all from the same place.
You may easily alter the design style of your website using their website builder, and you can even tailor the material that visitors see based on their prior behavior. All the essential features for having a safe, beautifully designed blog are included in the HubSpot CMS plan, which starts at $25 per month.
It also includes the marketing tools you'll need to expand it. Update to the higher tiers if you want sophisticated capabilities and bespoke SEO advice.
Medium

Medium is extensively distinct from the other free blogging platforms. By letting bloggers write about topics they are concerned about without needing to worry about programming, layout, domain names, or other difficulties, it provides a no-frills strategy for content creation.
You could also utilize it as an alternative channel for sharing your material; for instance, you can publish information from an older blog post that was originally created on another blogging platform like WordPress on Medium. Most seasoned bloggers utilize it that way.
The website also has a reader referral tool that might help new blogs find readers. A website like Medium might be a compelling substitute for on-site blogs, which frequently take six months or longer to garner visitors.
Blogger
A safe and dependable approach to starting a blog is provided by Blogger, one of the top free blogging platforms. Established in 1999, Google eventually bought this shared blog platform.
To begin using it, you don't require a hosting company. You only need to sign in with your Google account and then follow the clear instructions on Blogger to create a blog for free.
Since Blogger is free, some users choose to start out with it; however, as their blogs gain popularity, they decide to transfer to WordPress in order to have access to additional features and greater control over their websites.
Web.com
A popular platform for creating websites, Web.com, includes the ability to add a blog area to your company website or online store as an integrated function.
Non-technical customers will find their drag-and-drop website builder tool to be quite simple to use, and they provide very low starting costs ($1.95).
Without having to write any code, you may select from a large selection of predesigned templates and then alter the design of your blog. It includes all of the very effective features, including SEO tools, blog security measures, autosave & restore, web analytics, and much more.
Tumblr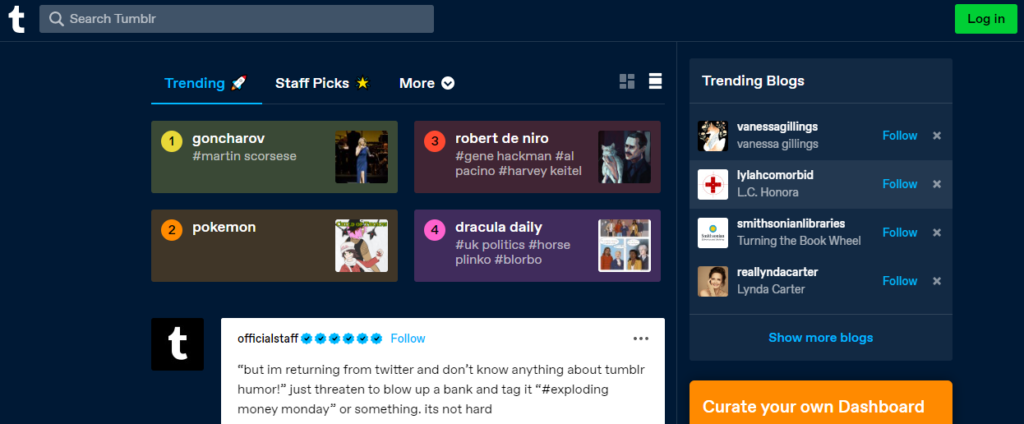 Tumblr is a hybrid of a social networking website and a microblogging platform that was launched in 2007. Multimedia and brief material are Tumblr's primary focus areas. It isn't advisable to begin with Tumblr if you are a blogger and intend to create longer-form stuff.
It's frequently used as a social networking site because you may incorporate different media items including pictures, movies, and audio files. GIFS, stickers, and a little text can all be used to adorn your blog.
User-created themes, fonts, layouts, and a variety of other graphic options are available for Tumblr pages. For bloggers who place a greater emphasis on visual content, Tumblr is the best option. It is a global website that receives millions of visitors every day who share their favorite blog entries and start discussions.
Weebly
Weebly is a straightforward yet effective website builder that includes a simple drag-and-drop editor for setting up blogs. With the help of lovely themes and builder features, Weebly provides you with complete freedom to create your blog.
There is also a free integrated hosting service that guarantees quick loading times for your website. The Weebly platform provides the appropriate tools that may be used in conjunction with strong features to quickly construct a blog.
With its simple drag-and-drop editor, adding a blog to your site and filling it with engaging content only takes a few clicks. Weebly will handle all the technological grunt work in the background to guarantee that your blog loads quickly and is available to readers.
Wix
They have recently begun utilizing a unique blog website builder product to connect to the blogging vertical. To create a website or blog using Wix, you don't need any prior coding skills or web development knowledge.
Wix makes it easy to manage and keep up with blog sites. From their resources, you can choose a premade theme or modify an existing one to suit your preferences.
A blog can be easily integrated into Wix, an easy-to-use website builder. It has a ton of functions and is simple to use. Additionally, Wix makes it simple to combine your blog with a complete website.
Wix is also effective on mobile. It's easy to update your blog on a mobile device. If you frequently travel and intend to blog while on the go, consider this.
Ghost.org
Ghost is a straightforward and minimalist blogging platform with only tools for creating blog entries. Ghost, which debuted in 2013, is a shared platform as well as software that you may install and manage on your own.
Ghost is best suited for editors, journalists, and writers. The way your site is laid out and the experience you want to give your viewers are both things you can manage. With regards to this instrument, there aren't any constraints of any kind, including social network limitations or restrictions on personalization.
Ghost additionally offers extensive creator control and is centrally controlled by cutting-edge cloud management technology.
Summary
The best blogging platform can be chosen after your blogging objectives and requirements are clear. You can locate a tool that offers the versatility and functionality you require with a little focus.
Any platform you choose should have both the strength and convenience of use to advance your company. In order to gain from SEO and visitors, start blogging today. If you'd like to know more about blogging and blogging platforms don't hesitate to browse through our vast knowledge base.
Further Reading