When you want to increase the revenue of your eCommerce site, there's usually two routes that you can take. One is to acquire new customers, and the other is to increase the average value of every order that you get from your existing customers. First option requires a lot of marketing effort and investment. On the other hand, the second option can be implemented easily with a few tweaks in your site. 
By showing your customers a better version of any product that they're buying already, you can not only increase your order value but also allow them to have a better experience they didn't know about. This process is known as upselling. 
Similarly, by showing them products compatible and frequently bought with each other you can boost your sales as they purchase more than one item from you. That's called cross-selling. 
Research has shown that upsells and cross-sells are 68% more affordable than acquiring a new customer, which makes this strategy a solid one to boost your revenue.
That's why WooCommerce comes with in-built options to help you upsell and cross-sell your products. However, those in-built features don't provide the kind of flexibility and scalability that many store owners want, which is the reason why a number of 3rd party WooCommerce extensions have emerged to do the job. Many of them have also become quite popular because of their unique features, and in this article we're going to take a look at 7 of Best Cross-Sell and Upsell plugins. 
Let's begin:
#1. WISDM Custom Product Boxes
The first plugin on our list is WISDM Custom Product Boxes. This plugin allows you to upsell your products by creating product bundles that can be sold in the form of various packages. That way you can show your customers related products grouped together in a box, which can make them purchase a whole set of products rather than a single product.
The major features of this plugin include: 
A frontend box customizer that can be used to change the layout and styling of product boxes

You can also allow your customers to create bundles themselves

Earn recurring revenue by setting subscriptions on bundles

Set fixed or dynamic pricing for each bundle based on which products are added to it.
With these features you can use it to create almost any kind of bundles on your site for upselling your products based on their mix with each other. 
The pricing of WISDM Custom Product Boxes starts from $79 per year, but there's also a lifetime option at $199. 
#2. YITH WooCommerce Frequently Bought Together
YITH is a well-known brand in the industry of WordPress plugins. They sell a number of themes, plugins and other products to make our sites better. One of them is a plugin that shows products usually bought with each other in a section on your product pages to encourage cross-selling.
Given below are its major features:
Completely customizable – change image size, link text, placement of the widget and  whatever else you want to change

Link products with each other as per your convenience, and modify all of them from a single page, or;

Create groups of products automatically based on the data of cross-sales and upsales from your site

Set your desired discount for products bought together
The plugin is best for you if you're already using any of the other WooCommerce plugins developed by YITH. 
You can get it for $69.99 per year. 
#3. Beeketing
Beeketing is an eCommerce automation platform that develops a lot of products for eCommerce sites, and among them is a suite of 10+ WooCommerce extensions that enable various functionalities on your site. The extensions have all been combined in one plugin that you can install easily, and once installed it can help you with both your upsells as well as cross-sells.
Here's a snapshot of its major features:
AI powered cross-selling functionality so you don't need to create the groups of products yourselves

Last step upsell at your cart page to boost your sales just before the customer is about to purchase something

Recent order notifications to boost customer confidence and encourage cross-selling

Tons of other features (i.e. personalized recommendations, mailbot email marketing, countdown timer for shopping cart, etc.)
Beeketing can be downloaded for free with limited functionality. If you want to unlock all features, it requires a premium license that starts from $8 per month and goes up to $49 per month. 
#4. Cart Add-Ons by WooCommerce
Developed by the developers of WordPress and WooCommerce, this plugin is an official offering from Automattic to help us upsell and cross-sell our products. It works on the Cart page, which means that the products you've selected to be shown for upsell are displayed only on the Cart page of your site once a particular product linked with them has been added to the cart.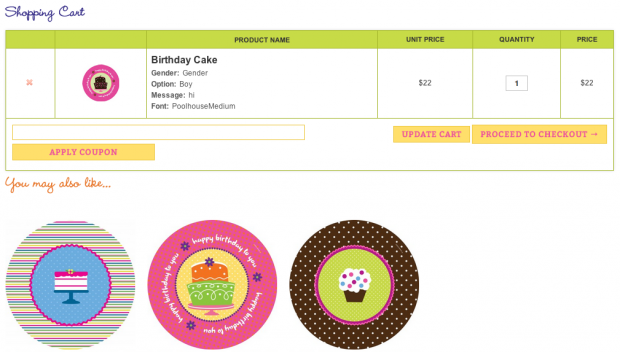 Here are some of the major advantages of this plugin:
Simplicity. It's very easy to set up this plugin and learn your way around it, mainly because of its simple functionality. It doesn't come with dozens of popup styles and dozens of placement locations, which means you can configure it easily.

Three different types of Add-on products you can define for upsell – Category linked add-ons that show the products belonging to same category, Product linked add-ons that show the products predefined by you and Default add-ons that show up for all those products which don't have any other matching add-on product defined for them. 

Customizable section title and number of products to display. 

Robust support and compatibility. Since it's developed by the same team that develops WooCommerce, it works seamlessly with every update of WordPress and WooCommerce. If you still run into any issues, you can rely on the support of their wonderful team. 
The price of this plugin is $29 per year. 
#5. Smart Offers by Store Apps
Like many of the other plugins mentioned on this page, this one can also be used for the purpose of both upsells as well as cross-sells. However, it can also be used for downselling (showing a lower end version of your product if someone is not interested in the high end offering) to ensure that you get at least some revenue from most of your visitors.
Other features of the plugin include:
Create product bundles and upsell them at a predefined discount

Target your offerings based on a number of different parameters, like cart value, cart status, product quantity, content, categories etc. 

Increase cart value by showing a last-minute low priced additional product for cross-selling

Track your conversion metrics for a better picture of how your upselling efforts are working.
You can also run 'Buy One, Get One' (aka BOGO) kind of offers with this plugin. 
Pricing of Smart Offers starts from $99 per year. 
#6. WooCommerce Boost Sales by VillaTheme
It may not be as popular as some other plugins mentioned on this page, but WooCommerce Boost Sales plugin by VillaTheme is one of the best plugins you can get for the purpose of cross-selling and upselling your products. 
Given below are some of its major features:
Three different product selection criteria – popups with products chosen by you, products belonging to the same category or products frequently bought with each other

Product bundles designed for both mobiles as well as computers that can be placed in various locations

Syncs with WooCommerce, which means that if you've earlier created upsell products in your WooCommerce dashboard it recognizes them and allows you to use them for upsell popups

AJAX-based add to cart functionality, which adds upsell products to cart without refreshing the page.
The plugin has been priced at $30 per year. 
#7. Recommendation Engine by WooCommerce
Yet another product developed by the developers of WooCommerce and WordPress. However, this one is different from the Cart Add-ons plugin because it allows you to boost your cross-sales by recommending products based on user behavior.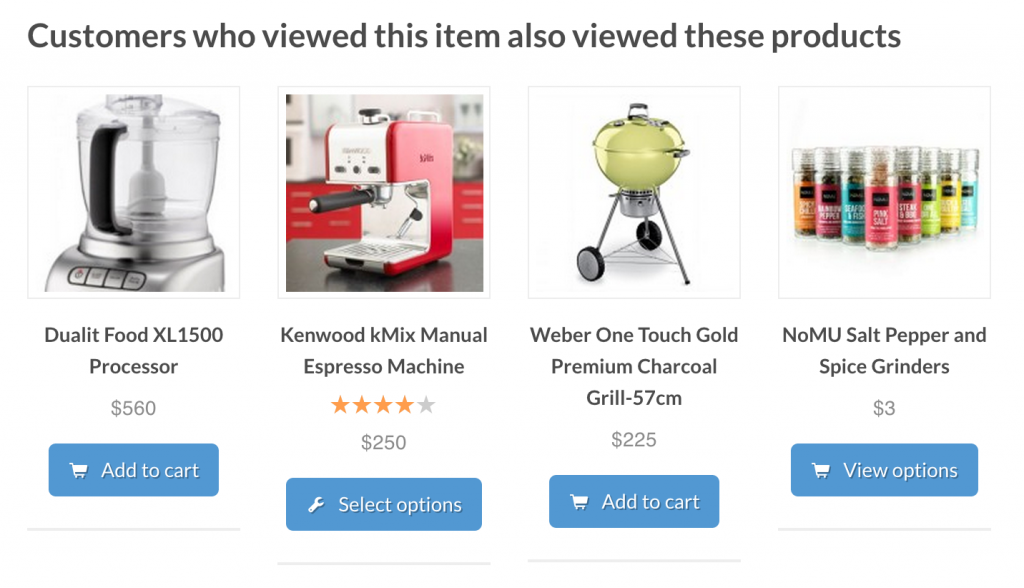 Have a look at its features explained below to figure out how it's different from other offerings:
Recommendations based on user behavior. It's not your regular cross-sell plugin – it suggests products for purchase based on someone's view history and purchase history in addition to looking at which products are frequently bought together by your customers.

Two different widgets – a Recommended Products widget and a Purchased Products widget

Multiple locations where you can place the widgets

Deep integration with WooCommerce and continuous updates.
The pricing of WooCommerce Recommendation Engine starts from $79 per year. 
Conclusion
So this was our list of 7 best cross-sell and upsell WooCommerce extensions you can install on your site to boost your revenue. As we explained in the beginning of this article, it's easier and better to increase your average order value than it is to acquire new customers. Now when you know about the tools that can help you implement this strategy, what are you waiting for? Start cross-selling and upselling your products today through any of these extensions and share your experience in the comments.
Further reading