Last updated - May 19, 2022
"Bitcoin is a technological tour de force." – Bill Gates

"Stay away from it. It's a mirage, basically" – Warren Buffet
Before I comment on the quote, this article features best Cryptocurrency plugins for WordPress and WooCommerce that can help you associate with Cryptocurrencies. Now, two of the once richest men on the planet Earth and two different perceptions. I don't know if Tour De France is a mirage. So probably, these tycoons described the Bitcoin based on how they actually made their wealth.
Current Scenario of CryptoCurrency
If you think Blockchain technology is going to change the face of buying and selling and give you a control over your wealth, then it is an achievement. And if you think that a bunch of technocrats are here to run away with your investments in Cryptocurrencies, then it's actually a mirage. We've already witnessed the market capitalization of Bitcoin to be $175.3B, with an average transaction of $1.2B every 24 hours, it is moving fast forward. Data from Blockchain.com says there are 23M+ active wallets and 100M+ transactions have taken place till date. Time is not far when we will roll into a centralized digital market and use the blockchain technology to carry out our transactions without any intermediate body. So if you are having a monetized WordPress account or you have WooCommerce website, associating with Cryptocurrencies will be a step ahead of time.
Before moving ahead, I recommend you to go through Is Bitcoin a Viable Alternative to Traditional Payment Gateways? and justify your choices to go forward with Cryptocurrencies.
Payment Gateway Plugin
Stripe Payment Gateway for WooCommerce
This is a traditional payment gateway which supports cards, wallet, and cryptocurrency as the payment method for your WordPress site. It has to be the most versatile gateway with customers having a credit card, debit cards, Apple pay, Alipay, and Bitcoin. Thus to have this plugin as your payment gateway is a win-win situation. You can test the plugin on the demo site.
Here are the Additional Features of this plugin by XAdapter.
GoUrl Bitcoin Payment Gateway & Paid Downloads & Membership For WordPress
This is an open source Bitcoin/Altcoin payment gateway. No charges are associated with the gateway. You can set your own prices for products in 100 languages for customers across the world. The payout is done by an automated method. You will receive funds straight to your Bitcoin/Altcoin wallet.
Apart from Bitcoin/Altcoin, the gateways accept a wide range of cryptocurrencies for your WordPress Store. Plus users never leave your website. It also provides options for Membership customizations like Pay-Per-Product & Pay-Per-Membership – for email registered users and Pay-Per-Download & Pay-Per-View/Page – for unregistered users.
CoinGate
CoinGate offers a fully automated solution to accept crypto payments on your WooCommerce store. It supports more than 70 different crypto payment options including Bitcoin, Litecoin, Ether, etc. Store owners will be able to configure prices in any local fiat currency, and offer instant payment confirmations for their orders. The plugin offers automatic refunds for payments that have not gone through, and it also allows nominal under payments. Overall, CoinGate will help you expand your customer base with more payment options.
Major features to look out for:
Easily accept crypto payments on your store.
Option to set prices in local fiat currency.
Capability to convert crypto to fiat.
Detailed dashboard to track and manage payments.
Easy to configure.
Download the WordPress plugin.
NOWPayments WooCommerce plugin
NOWPayments has a reliable WooCommerce crypto payment plugin for merchants and businesses, letting them accept over 100+ currencies. You need only to register a free account, specify your wallet address, get an API key, and install the plugin on your website following the instructions. The fee policy is absolutely transparent: it includes a 0.5% transaction fee plus 0.5% exchange fee if exchange is needed.
Benefits:
fast, safe, and private transactions
no bank interference— the funds go straight to your wallet
auto coin conversion
easy installation
TripleA Bitcoin payment gateway
The TripleA payment gateway for WooCommerce is new and fresh on the market. It facilitates bitcoin payments for all WordPress online merchants. The setup only takes a few minutes and is very flexible. No bitcoin or technical knowledge required. Once you setup the plugin, everything runs by itself. No need to worry about anything. Plus, end-users enjoy a smooth payment experience. They don't even leave your website during payment transactions.
TripleA most important features include:
Integrated to WooCommerce
Free bitcoin-to-bitcoin transactions with noncustodial system
Only 0.8% flat fee upon withdrawal in local currencies, no further installation or subscription fees
Email notification for every transaction
Real-time exchange rates for bitcoin-to-currency conversions
Bitcoin donation plugin available as well
TripleA is the perfect solution for business owners already possessing a bitcoin wallet. No intermediary and no fee. If you wish to receive cash, TripleA operates on a daily transfer basis in most of the main worldwide currencies, suiting the needs of all sizes businesses.
For those who don't have a WordPress online store, TripleA also offers a very easy-to-use and clear API for developers to use.
CryptoWoo
This Cryptocurrency accepting plugin for WooCommerce allows merchants to accept a variety of such digital currency. The plugin provides a Seamless integration with the website and server. Customers don't require to leave your website during the transactions. The plugin also provides real-time exchange rates and offers HD wallets. Here are more features of the plugin.
Mollie Payments for WooCommerce
This open source payment plugin is hugely popular in the European Nations. But has its customers all around the world. The plugin allows the store owner to accept payments from international credit/debit cards, Country-specific credit/debit cards bad Bitcoin. The plugin has 30,000+ active installations. Claimed to be safe by the developers, the plugin seems to deliver secure transactions to all these stores.
Main Features of the Plugin are:
Recurring payment is available with WooCommerce Subscriptions
Only per-transaction fee
Choose from flexible payout plans
WPML Support
Customer Support
Interested in the plugin? Get it here.
Digital Paybox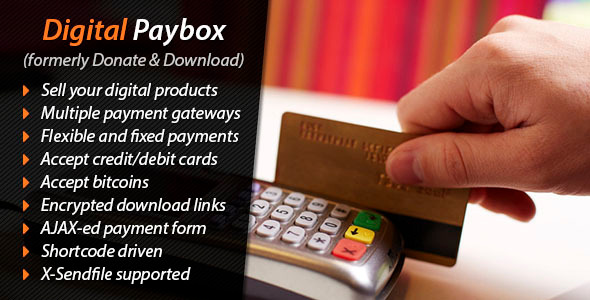 This plugin remains on a sale at CodeCanyon. The plugin allows customers to pay for the items which are downloadable. Customers choose their payment method from the PayBox Created and Bitcoin is one of them. It supports all major credit/debit cards. The customer can choose to pay the amount they want to pay but you also get an option to set a minimum limit or set a fixed rate for the downloadable product.
BitPay for WooCommerce
This open source plugin accepts payment from customers from all locations. You, as a merchant require to create an account with BitPay and monitor you overview and settle refunds from the BitPay Merchant Dashboard. It supports all bitcoin wallets.
Easy Digital Downloads
This open source payment gateway is one of the most used free plugins to accept Bitcoin, Payza and other cryptocurrencies. Customers are allowed to download products from your store and pay using their card or Bitcoin. Only downloadable products are supported as of now.
More at CodeCanyon
If you are planning to buy and sell Bitcoin or other cryptocurrencies through your WordPress/WooCommerce store, you might want to visit the LocalBitCoins. Here you can find the live rates of all cryptocurrencies in the different part of the world and can buy and sell them. You can show live rates of all cryptocurrencies on your site by using the Live Crypto Prices Plugin.
One similar plugin that shows the market cap of cryptocurrencies is:
Coin Market Cap & Prices – WordPress Cryptocurrency Plugin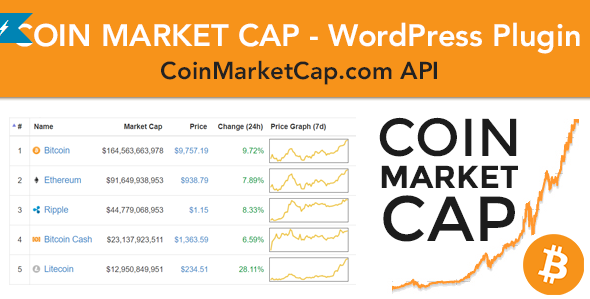 Using Coin Market Cap & Crypto Prices you can:
Show and sort 1000+ crypto coins on your WordPress Site.
You can customize the column of details.
Get this plugin and make your own CryptoCurrency Market now.
Closing Comments
I did not mention a lot of other plugins that allow you to accept cryptocurrencies for your WordPress sites as links will take you there. There is no denying the fact that cryptocurrencies have a future in e-commerce. The blockchain technology has the solution to a lot of problems like middlemen, delayed transactions, and has the capability to replace traditional banking system too. So getting ready or having a slight knowledge and an in-hand experience with the future way of the transaction can be really beneficial.
So you can add few of these Cryptocurrency plugins for WordPress/WooCommerce to your store and start getting paid in Cryptocurrencies. It's better to have a gateway that can allow both physical and downloadable products to be bought. In that case, Stripe Payment Gateway is a viable choice.
With a hope that you'll have a great experience with Cryptocurrencies and make the maximum out of it, I am signing off. Feel free to reach us with your valuable comments. Happy Selling!