Last updated - May 11, 2022
Registering a domain name is one of the first steps in creating a website. If you are using WordPress, one of the most popular content management systems in the world, you will need to register the domain on your own. On the other hand, you can also register a domain name for free when you choose a plan of some of the popular hosting service providers. Choosing a domain name might be an easy process but it is a crucial one. That's because the domain name is one of the primary factors that help your customers recognize your brand. In this article we will explore some of the popular domain registrars and discuss some tips to help you find the best ones.
Tips for buying domains
Before getting to the list of best domain registrars, it is good to have a good understanding on how to buy a domain name. Read on to find some interesting tips.
Pick a domain name wisely
Before choosing one of the popular domain registrars, you should have a good idea on which domain you are going to purchase. Always choose a name that is easy for your users to remember and type. If you have a choice between a long and short domain name, most of the time the shorter one will be a better option. You can always invent new words or try combination of words, but avoid using slang that may not have a global appeal.
Also experts agree on avoiding numbers and hyphens in the domain name. Also, make sure you are not choosing a domain name that is similar to an existing website. Once you purchase a domain, you can even try to get hold of some of the similar ones to avoid this trouble.
Opt for .com extension if you can
There is general consensus that .com extension is well received by people all around. So, if you have an option to choose between .com extension and one of the other, it is a wiser decision to choose the former. This doesn't mean you can't be successful with other extensions as there are several great examples to contradict this.
Understand the pricing patterns
When you opt for one of the popular domain registrars, it is important to have a good understanding on their pricing patterns. Sometimes the rates seems quite inexpensive but they may have several hidden fees associated with the domain registration. It is always a good idea to check the terms and conditions and understand the charges including that for renewals.
A possible hidden charge will be when you want to edit WHOIS and RDAP records. Also, carefully examine the add-on services and their costs before choosing a domain registrar.
Privacy protection
Domain ownership details are public record in WHOIS and RDAP directories. Sometimes it is a better option to keep these details private as it can be used by attackers and spammers. You can find out domain registrars that offer privacy protection service for free. Experts advise against paying a high premium for privacy protection services.
Check the expiration policy
The domain expiration policy is one of the important things to pay attention when you are registering a domain for long term. When you register a domain name, you will be getting the rights to use it only for a specified period of time. Before the expiration date, you will have to renew the registration, or someone else will be able to register it. Some domain registrars offer a grace period even after the expiration date of the domain name. This will help you avoid losing your domain name unexpectedly. You should check and understand the expiration policy of the domain registrar to know the renewal terms clearly.
Review the transfer policy
If you opt for a domain registrar after careful consideration of all aspects, you may not need to transfer it. However, after 60 days of registering a domain name, you are able to transfer it to any other domain registrars of your choice. In case, you have any trouble with the current domain registrar, you can use this option. Most of the popular registrars offer this option for free though some may charge a fee. It is a good idea to review the transfer policy of a domain registrar before opting in.
Check the support options
Most of the good domain registrars offer dependable support to their customers. While registering a domain, you should be able to get timely assistance and support. Basically, even if you don't have advanced technical knowledge, you should be able to register and manage a domain name for your business.
Best domain registrars
There are several options to register a domain name. First, we will list out some of the popular option to get you familiarize.
Namecheap is one of the preferred options to purchase a domain name for your business. You will be able to choose from a variety to options to find the best domain name for your website. In addition, you will find affordable and reliable hosting solutions for your website. You can also opt for their managed WordPress services as well if you are looking to improve the performance and reliability of your site.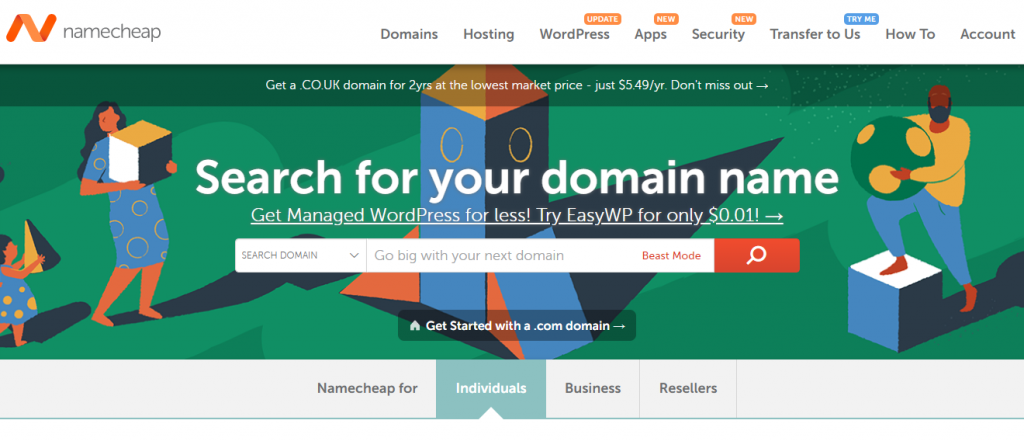 Since they are a company that focuses a lot on customer experience, you can expect a hassle-free interaction right from the start. Moreover, you can find a large number of domain names that are already registered but available for sale. Same way, you can purchase a domain and sell it through Namecheap at a fixed price.
Bluehost is one of the most popular hosting service providers that offers affordable shared hosting options. They offer free domain name registration when you opt for some of their hosting plans. In addition, you can separately register your preferred domain name with them. Managing your domain name is quite easy with Bluehost as their control panel offers a simple and intuitive interface.
Bluehost provides both automatic and manual options to renew your domain registration. You can also lock your domain name from unauthorized transfers once you complete the registration process. More importantly, Bluehost will help you choose the ideal domain name for your business, and let you keep it for long term.
GoDaddy is one of the popular domain registrars that offers a large number of domain names for you to choose from. It is trusted by a large number of people across the world owing to the affordable rates and expert support system. Setting up your domain name is quite simple with GoDaddy, and you can manage it effortlessly even if you don't have advanced technical skills. They offer simple, and easy-to-use tools to help you forward the domain name to your current website.
Moreover, they offer real time monitoring to keep your site up and running all the time. GoDaddy is actually one of the largest domain registrars in the world and offers a variety of extensions for your domain name. If you are looking to maintain a private and secure domain name, GoDaddy will be one of the best options that you need to check out.
Google offers a service to help you find the best domain name for your site. It is a powerful and simple option that will provide you the reliability of the Google platform as well. Since the platform is run using Google's own infrastructure you can expect the best security and reliability. Moreover, you can use one of the Google partners to build a website as well as to get a custom business email.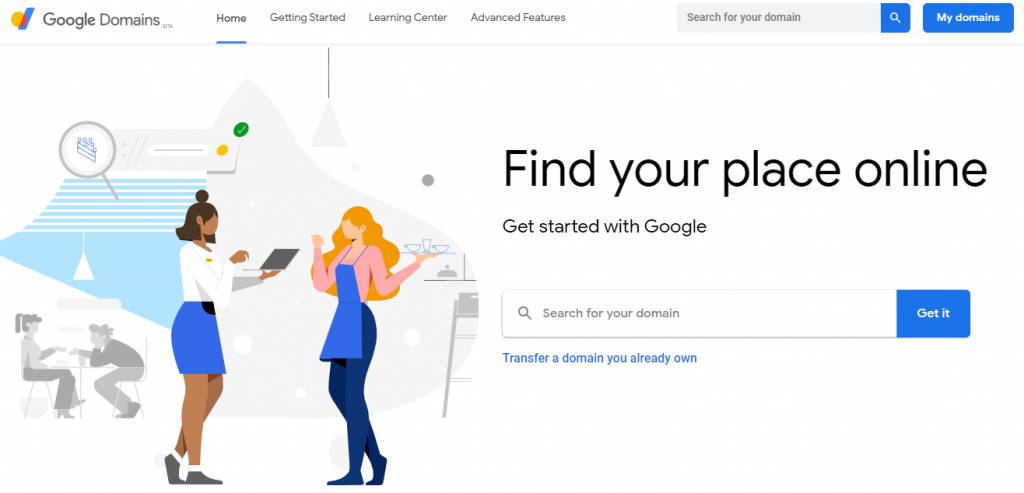 You will find a large collection of domain names at reasonable prices and privacy protection. Moreover, it will be quite straightforward to manage your domain names as well as transfer them when needed. Overall, Google is a great option to build your own site as you can get simple tools and great support.
Domain.com is one of the most popular options to find one of the top level domains in any country. Superior support and inexpensive pricing options for some domains makes them a preferred option for many. Domain.com offers an option to secure your domain name with a free SSL certificate. It also offers an option to automatically forward email addresses under your domain to any other email id of your choice.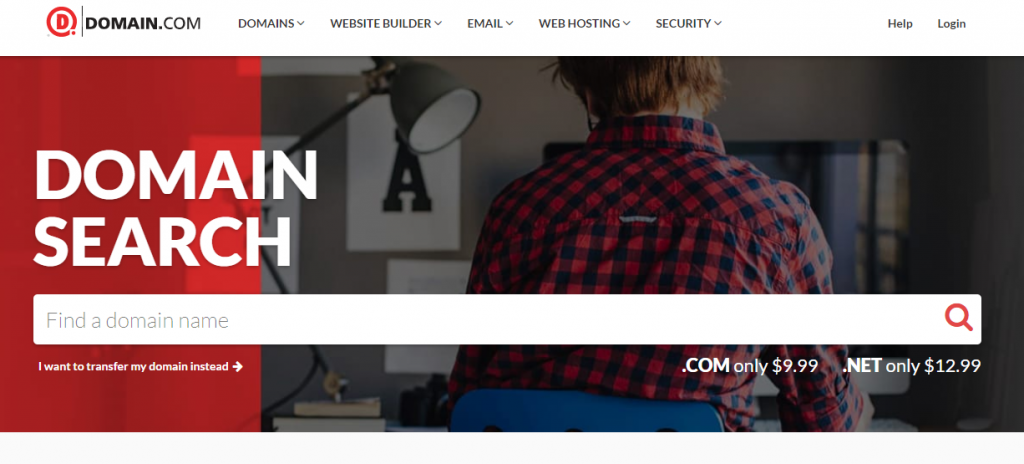 With features like simple DNS management and Transfer Lock to protect your domain name from unauthorized transfers, this is one of the best options you can get. Domain.com also offers a range of web hosting plans you can choose from.
Hope you got a few actionable insights that will help you choose the right one among popular domain registrars. Leave us a comment if you have a query.
Further reading