Last updated - June 27, 2022
When you are maintaining a WordPress site or a WooCommerce store, you are always committed to giving the best experience to your customers. There are several strategies that you can adopt to ensure a great customers experience while they are on your site. You can find a few actionable insights on improving customer experience here. One popular approach many store owners take in this regard is to incorporate a live chat option on the site. A lot of your store visitors would find this option really helpful, if you are managing it properly. Even with a well detailed product page, prospective online customers will have numerous queries related to a product. Having an option to clarify their doubts instantly from your site can be a good thing for them. Moreover, these live chat plugins can help a lot in lead management and sales initiatives. In this article, we will look into some of the best free live chat plugins for WordPress and WooCommerce.
This is a great, free tool that you can use to set up a live chat option on your store. With the help of Tawk.To Live Chat plugin, you can always be in touch with your site visitors. It is a great way to gather sales leads, as a lot of prospective buyers would prefer to chat with you before confirming a purchase. This plugin offers an option where you can assign multiple support agents at the same time, thereby catering to multiple customers. It further eases connectivity options by allowing you to login with your mobile device as well.
You will gain a better perspective regarding how customers' interests are shaping up regarding your products. In addition, when customers are able to get proper information of your products through live chat, there are better chances for conversion. Here is a list of tips that would help you optimize your WooCommerce conversion rate.
Tawk. To Live Chat plugin helps you manage your customer engagement strategy for multiple sites and customers. From the same dashboard, you can manage all the different websites you are running. It is compatible with most of the contemporary web browsers and mobile platforms. Moreover, it offers a seamless integration with WordPress and makes sure you are able to manage your customers' queries in real time.
Features of Tawk.To
Tawk.To offers a great range of features to help you set up a useful live chat option on your site. Here is a quick look.
Easy installation and configuration
You can easily install this plugin from the WordPress repository. Then, from the plugin settings page, you can access your Tawk.To account. Select the chat widget and customize it according to the requirements of your site, and you are done!
Completely free
It is completely free, and that can be quite a relief if you are just starting out with your business. And, if you want to remove the branding from the chat widget, you can get a paid add-on for that.
Good online support
Tawk.To offers great online support through email and chat. This is round the clock, so you really don't have to worry to get help when you need it.
Great flexibility
It offers flexibility to put the chat widget on any page of your choice. You can use a shortcode to manage the widget on specific pages.
Great design options
You can make the widget more interesting to catch the attention of your users. Tawk.To offers customization options for color, content, position of the widget, etc. Moreover, it offers around 27 language choices.
Schedule the display of the widget
Sometimes it may not be practical for you to offer round the clock support on chat. In such a scenario, you can actually schedule when the widget will be displayed. This is a great option, as you can be transparent with your customers on when you are available online.
Unlimited agents
Tawk.To allows you to add an unlimited number of agents to your account. This would enable you to smoothly handle customer queries even in large numbers. Also, it offers an option to group your resources. For example, if you want to segregate pre-sale queries from other support queries, there is an option for that.
Hugely popular
With over 100,000 active installs, Tawk.To Live Chat plugin is one of the most popular plugins in its class on the WordPress repository. Extensive documentation and prompt support too are reasons for the popularity of this plugin.
3CX Live Chat is a free plugin that offers unlimited chats and no per user per month pricing. It's incredibly easy to set up and use, and what really makes it stand out is its ability to transform your website communication from live chat to multichannel.
The WordPress plugin works in conjunction with 3CX StartUP. It's free, easy to install and unlike other live chat solutions, offers calling capabilities. A web visitor can initiate a call or chat from the chat box. Calls go via the browser, there is no dialing of numbers – and it comes at no cost to either the user or the website owner.
Check out our video to understand how to get started with 3CX live chat on your WordPress site:
It also allows agents to receive website messages in 3CX's web client and smartphone apps.
With 3CX StartUP you get an easy to use Web Client from which to customize your chatbox, and respond to incoming chat messages or calls. You can also integrate with Facebook and SMS to respond to FB messages or texts from the same interface. This means that agents can login to a single hub to receive all customer communication, where they can take ownership of chats, transfer them to other agents, and mark conversations as resolved.
Key Features
Elevate a chat to a voice or video call at the touch of a button
Answer live chats from the web, iOS and Android apps
Assign chats to a particular agent, or have groups of agents answering
Integrate your Facebook Business page to receive both live chat and Facebook messages to the same interface
Desktop notifications
Pop-out chat box
Easy to use interface
Customizable design
No advertising or powered by link
No monthly subscriptions needed
View missed chats and chat history Geolocation option to view the location of visitors
Tidio offers a great option to stay in touch with your customers and site visitors. More than just a chat window to respond to customer queries, this one actually helps you approach your site visitors. This way you can use it effectively to generate leads and possibly conversions. In addition, you can use this plugin without registering or creating an account. It also helps you customize the color options for your chat widget to suit the color scheme of your site. Here is an article that could help if you are wondering about the design aspects of your WooCommerce store.
Interesting features
Tidio offers a few additional features in its free version that makes it one of the most useful free WordPress live chat plugins at the moment. Let's take a look at the features.
Follow leads easily
It helps you initiate a chat to any of the visitors at a given time. Sometimes, this can be really helpful in improving the conversions on your store. You can also gain valuable insights by tracking the visitors to your site.
Great customization options
The plugin comes with two out of the box design options. Later on, you can easily change the color schemes according to what is suitable for your website.
Manage offline messages
It might not be possible for you to offer live chat support 24/7. In such a scenario, you might have to manage the queries of customers. This plugin gives you an option to display a form, so that your visitors can send their query via email. Even though a little delayed, you can answer the query and try to follow up the lead that way.
App for mobile devices
Tidio offers a dedicated app for mobile devices as well as desktop browsers.
Unlimited agents
It allows you to add an infinite number of agents to the chat option. This will enable you to handle live chat queries effectively, even when your customer base is growing.
This one enhances the whole perspective of WordPress live chat plugins with a plethora of features. It helps your audience engage with you real time, and even offers a callback feature. So, those customers who prefer to talk over the phone might find it a welcome feature. In addition, it helps you compile customer engagement efforts through multiple channels including social media sites. Automatic translator makes it convenient when you have customers and visitors from across the globe. Overall with great features and rising popularity, this one is definitely a worthy competitor to all other choices we discussed.
Features of JivoChat in a glance
This is one of the most interesting options in terms of features. Take a look…
Convert leads
It helps you initiate a chat with your site visitors, so that you can convert leads to sales. Moreover, it offers a callback feature, which visitors can request through the chat window. For some users, this might be a real plus in terms of site experience.
Include social media conversations as well
Another unique feature of JivoChat is that it helps you integrate user communications from your social media channels as well. It offers support for Facebook, Viber and Telegram.
Automated responses
You can pre set responses to chat, so that there is no delay in engaging the customers who use the widget. You can easily set up such automated responses by analyzing the common queries that you receive.
Instant translation
Language is not a barrier with this one. It instantly translates messages from both sides (admin and user), so that there are no lapses.
Option to view what visitors are typing
You can see what users are typing even before they send the message. This would help you to prepare better for your responses.
MyAlice is a comprehensive tool that will help you manage customer support and sales initiatives simultaneously. It offers a centralized dashboard, from where you can access customer conversations from different channels such as Facebook, Instagram, Telegram, etc. You will be able to offer live chat support to your customers, and quickly resolve issues they may be facing. In addition, this tool helps you automate repetitive tasks to speed up your team's response time.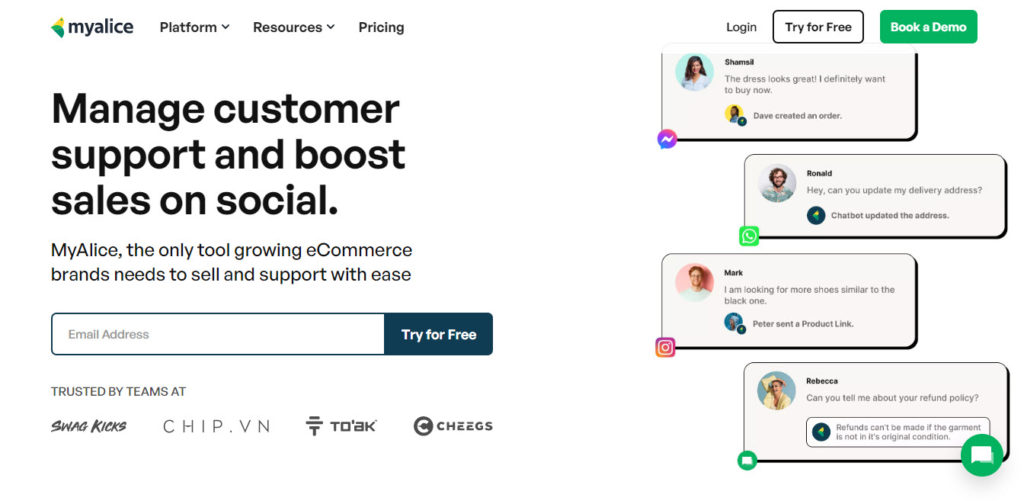 With the Free plan, you will get access to features such as unlimited customers and channels, up to 3 agents, 100 bot sessions per month, and seamless WooCommerce integration.
This is another live chat plugin that offers a large number of features to help you track customers efficiently. It gives a more detailed visitor tracking feature compared to the other options we have discussed in this article. You will get a lot of details regarding the site visitor ranging from their country, last accessed web pages, IP address, etc. This would enable you to approach them in a more effective manner. It also has advanced customization features, as well as an option to keep pre-set responses. Multiple support agents are allowed so that you can easily manage even large number of customer queries. It is pretty easy to set up and you can really try this out for your WordPress site or WooCommerce store.
Txt.me Live chat software that includes email, Whatsapp, and other messengers as backup communication transports. One of the weak points of almost all live chat platforms is that they become useless once the visitor closes its browser. txt.me allows your visitors to connect to the same txt chat with Whatsapp and other messengers as well as by sending and receiving emails.
Every time your operator sends a message to a client, txt.me checks all the possible ways of communication with what the client is reachable at the moment and chooses the most appropriate one. That is the nature of omnichannel customer support software that the clients can use multiple ways to talk to your operators, and everything is seamlessly streamlined into one uninterrupted communication.
If a visitor's recent message came from the chatbox installed on your website, then txt.me suggests that this message should be answered the same way. But once the visitor sends an email, then the answer should go to email because that is the communication channel that was recently chosen by the client.

Many different rules are applied to the communication and various events that trigger the change of priorities for the channels.
This automatic message routing is available to all clients. And paying customers can benefit from private phone numbers and private customer support email addresses.
Conclusion
Live chat plugins are such useful tools for WordPress site owners. It helps you stay in touch with your customers and prospective customers without hassles. There are quite a few free options that you will find to set up a comprehensive live chat option. Rather than just acting as a tool to connect to your audience, they help you take intelligent marketing and sales directions. Hope this list of live chat plugins for WordPress and WooCommerce helps you find the best one for your site.
Further reading