Last updated - November 7, 2022
The digital version of a calling card or a listing in the yellow pages of a phone book is an online presence. It improves brand recognition and enables online product and service displays.
Sadly, not many companies see the value of having a website. According to a Top Design Firms-commissioned poll, 27% of small firms lack one, and the main obstacles preventing them from acquiring one are cost and a lack of technical expertise.
The good news is that there are several excellent free website builders available, many of which require little to no coding experience.
Website builders make it extremely easy for businesses to go online. With simple, direct steps, they help budding entrepreneurs and new users easily master the process of building a website or online store. What if you want to build a website easily but without costs? In this article, we will introduce you to some of the reliable free website builders that are popular.
Benefits of Using Website Builders
All the problems that always emerge while creating your dream website are handled by a good website builder. You don't need to spend anything up front to get started.
By using website builders, developers can be hired without incurring additional fees. Developers can be pricey and frequently cannot realize your concept as well as you can.
A website builder is the ideal DIY alternative instead.
All you need is a place to house your blog, e-commerce site, company website, or something similar with today's free website builders.
Your time spent learning and creating your online home will be the sole expense.
With a 43% market share in the content management industry, WordPress is the most widely used free website builder in the entire world. WordPress.org and WordPress.com are your two alternatives for creating websites with this platform.
You can get the open-source WordPress software from WordPress.org in order to create and tailor a website to your needs. There are a few restrictions, though. You'll need to learn how to manage and keep the website secure on your own in addition to purchasing a domain name and paying for hosting before you can launch the website.
With WordPress.com, you can easily create a website without the hassles of finding a hosting service, registering a domain name, etc. Be it a blog, business website, or eCommerce store, you can execute your website idea effortlessly. Responsive themes are available that will make sure your site is mobile friendly, and offers the best user experience. The free plan of WordPress.com offers you 3GB storage, support through community forums, and access to themes. You can get started with a new plan within no time using this popular website builder.
WordPress.com, in contrast, is significantly more user-friendly for beginners. It is a free, fully-hosted website development tool provided by Automattic that makes use of the WordPress foundation to enable a convenient website creation process.
Features:
large selection of plugins and themes
cellular-friendly and SEO-optimized
managed hosting and security for websites
Disadvantages:
Ads are seen in the free version.
greater restrictions in comparison to WordPress.org
It is less simple to learn than other drag-and-drop builders, despite being intuitive.
Weebly is one of the most feature-rich options among free website builders. You will be able to customize the site design, and there will be access to a wide range of tools to add features and functionality. There is detailed documentation to help you get started with the site, and there are integrated marketing and advertising tools to promote the site. With the free plan, you will get 500 MB storage, domain name with Weebly branding, and SSL certificate. There will be also SEO and lead capture tools, and support through email, chat, and community forums.
Weebly has hand-coded HTML files, a built-in CMS solution, and drag-and-drop capability similar to Wix. With the internal editor, Google Analytics and SEO skills are provided.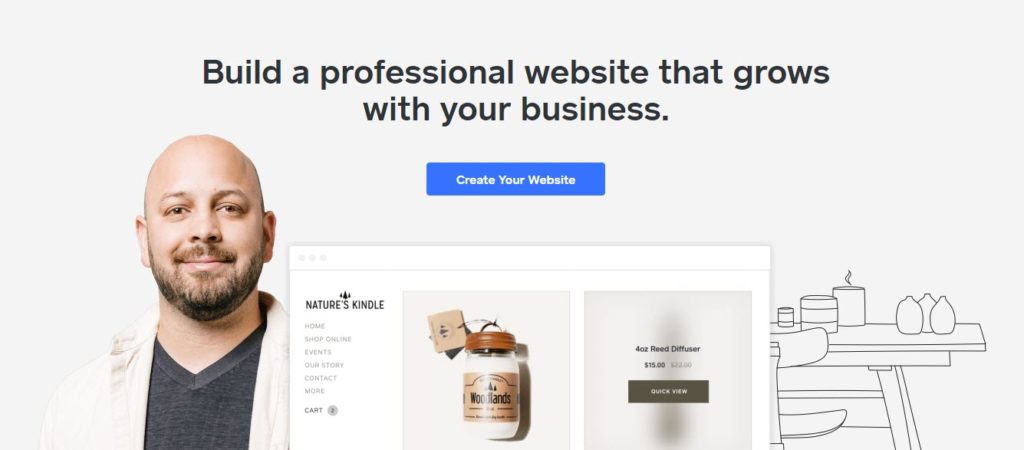 Features:
editor with drag and drop
Comprehensive CMS solution
No cost SSL certificate
SEO tools
reporting and analytics
Disadvantages:
a meager selection of topics
Ads are displayed on the free and basic paid plans.
Limited SEO capabilities
If you are looking for a simple and free solution to create your website, Webself could be a great option. You will be able to create a website in a matter of minutes , even if you are not a technical expert, following simple steps. There are several templates available to get you started, and you will be able to easily customize them according to your own design requirements. Webself offers free hosting, as well as provide free SSL certificate when you create a new website. It is also easy to set up an online store using this tool. Furthermore, they offer dependable free support as well.
Features:
Backgrounds that can be customized
Use the high-quality, no-fee photographs from the WebSelf image library to display on your website.
For the expert, start from scratch with a blank template.
Pick from a variety of lovely templates that are fully editable.
Disadvantages:
simple picture collection.
sluggish client service.
Two emails per domain.
limited resources for allocation
Wix is one of the most well-liked free website builders, boasting more than 200 million users. The user-friendly, fully-hosted platform provides a simple drag-and-drop editor, a large selection of apps, and themes with a polished appearance. With the use of its Artificial Design Intelligence (ADI) program, Editor X, Wix can even suggest a design for your website.
Wix provides you with the freedom to create a website perfectly aligned to your unique ideas. Wix offers great options to help you add more features and functionality to your website. Moreover, you will get a lot of freedom to try out different designs thanks to the versatile design editor. You can create a website using the free hosting plan of Wix, or try out the premium plans free for 14 days.
Features:
editor with drag and drop
large selection of templates and apps
reporting and analytics
Disadvantages:
Ads are seen in the free version.
When compared to the other plans on this list, the premium plans are expensive.
When the website goes live, you can't change templates. You can only switch templates by making a new site and moving your premium plan over to it.
You will be able to create a good looking website with the help of a highly efficient visual editor if you are using Webflow. The hosting network is vast, and assures you continuous uptime with minimal maintenance efforts. In-built SEO tools and third party integrations will make site management especially easy with Webflow. Webflow offers a free plan to start building a site. When you are ready to make the site go live, you can choose a plan and upgrade.
Features:
Visually create CSS grid-based layouts
anything using CSS filters
Code that is squeaky clean and exportable
a hundred plus responsive website templates
2,000+ different web font families
concurrent design and development
Disadvantages:
Compared to other website creation tools, the learning curve is rather high.
In comparison to many other sites, there is a fairly small selection of pre-made image galleries available.
Plans are subject to traffic restrictions.
Squarespace is another widely preferred website builder that offers excellent options to get started with your site. You will find a bunch of flexible templates that will make it extremely easy to design your site. You will get a free custom domain name when you choose an annual plan. Besides, you will find a free online tool to make professional logos. If you intend to create an online store, Squarespace offers easy options to create your store. Furthermore, you will find excellent options for marketing and business growth.
Features:
Our top-notch design team has created each Squarespace template design.
Create a page by using pre-made structures for particular objectives.
Page and content layouts that are customizable.
For testing needs, it is simple to replicate pages and other information.
Numerous variables, such as typefaces, colors, animations, and padding, are configurable.
Access Levels and Multiple Contributors
Integrated mobile websites.
Disadvantages:
Learning how to use the editor takes time.
Despite the large number of documentations, the search function does not perform smoothly.
GoDaddy offers a free website builder that will get you started with your new website idea. You can pick a template and get going by adding content, products or any other info. There will be access to built-in marketing and social media tools, and you can easily get expert help when needed. The free website plan also include SSL certificate, PayPal payments, social media marketing tools, and round-the-clock customer support. You can easily upgrade to a paid plan for advanced features like custom domain and multiple retail channels.
Although the website builder is straightforward, it comes with all the tools you need to create a useful website, including as a drag-and-drop editor, plain and uncluttered themes, and much more.
Features:
website builder with drag and drop
dashboard for analytics and marketing
24/7 client assistance
Disadvantages:
limited SEO capabilities
limited features in app stores
Owning your own name and web hosting requires a one-time investment.
You can build a website in a matter of minutes without any coding efforts or cost using Strikingly. The website builder is especially easy to use, and even novices can build a professional website quite easily using this tool. With built-in eCommerce features, you can easily transform your website into a revenue-generating online store. Furthermore, you will find a wide range of features for analytics, lead building and social feeds. The free plan comes with a monthly storage of 500 MB. You can choose from the wide range of affordable plans to upgrade.
Features:
Effective techniques for growing your audience.
For sales, strikingly is completely optimized.
Using our incredibly simple blogging, keep your audience up to date.
Every website has analytics already installed.
Directly display your Facebook, Twitter, and Instagram feeds on your website.
Every website automatically receives free HTTPS.
Disadvantages:
Although there are many different styles available, the website builder is inflexible.
Few SEO tools are offered by Strikingly.
Widget integration can be a little confusing.
WebNode offers easy options to help you manage a website in quick time and with no upfront investment. You can signup with an email, and can set up the website without coding or help from web development experts. Managing content on the store, or trying out different media element is easy as a breeze with this tool. Moreover, you can convert your website into an eCommerce store with minimal efforts too. Other standout features include wide range of domains and friendly support.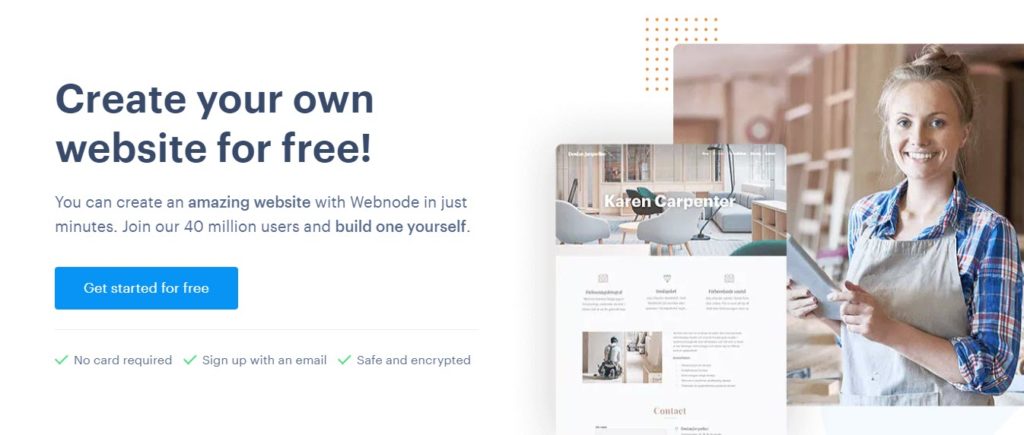 Features:
ready-made templates
E-commerce assistance
Mobile-ready
Disadvantages:
Because Webnode lacks a built-in app store, adding more functionality to the website is more difficult.
few possibilities for customisation
e-commerce and blog functionality limitations
If you want to convert your existing website into an online store, you can make use of Square online. The store builder is quite user friendly and simple. You can build a business from a wide range of options such as restaurants, retail stores or services using Square Online. Moreover, you will find easy integrations with Google, Facebook, Instagram and other marketing and retail channels. If you are looking for a really fast builder for an online store, do try this one out. You can start your store free by signing up to Square Up.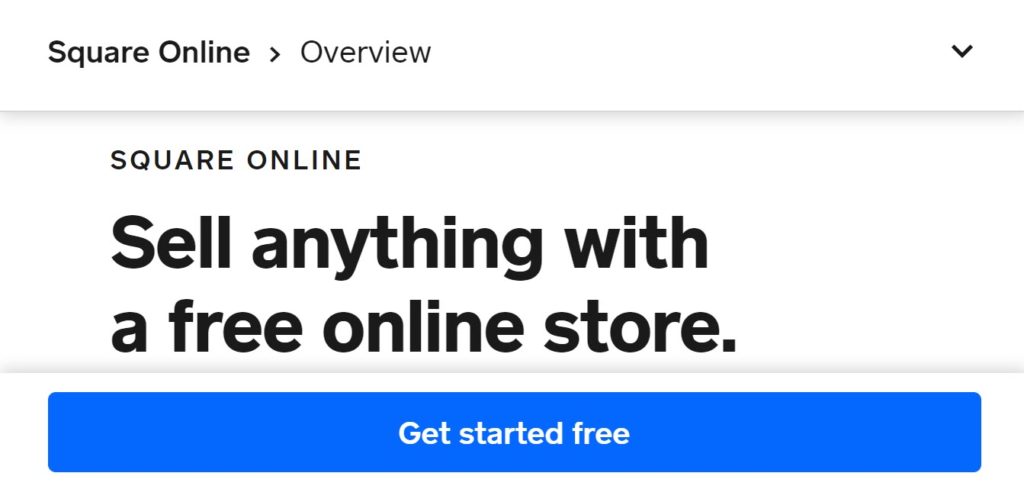 Features:
Create accounts for clients so they can track orders and record payment details.
Adaptive web design.
tracking and administration of the inventory.
Advanced and integrated reporting.
integration with Square's other products without a hitch.
assistance with in-store pickup.
Disadvantages:
difficulties with customer service, irregular days and hours
Low customization possibilities 
Transaction fees might pile up for big volume merchants
One of the simplest free website builders, Site123 will let you create a website in a jiffy. It offers a powerful editor, along with free hosting and domain name registration. In addition, you can ensure your site will be mobile friendly with responsive design and easily optimize your site with advanced SEO tools. With the free plan, you will get 250MB storage and 250MB bandwidth, and a subdomain. If you want advanced features, you can opt for a paid plan.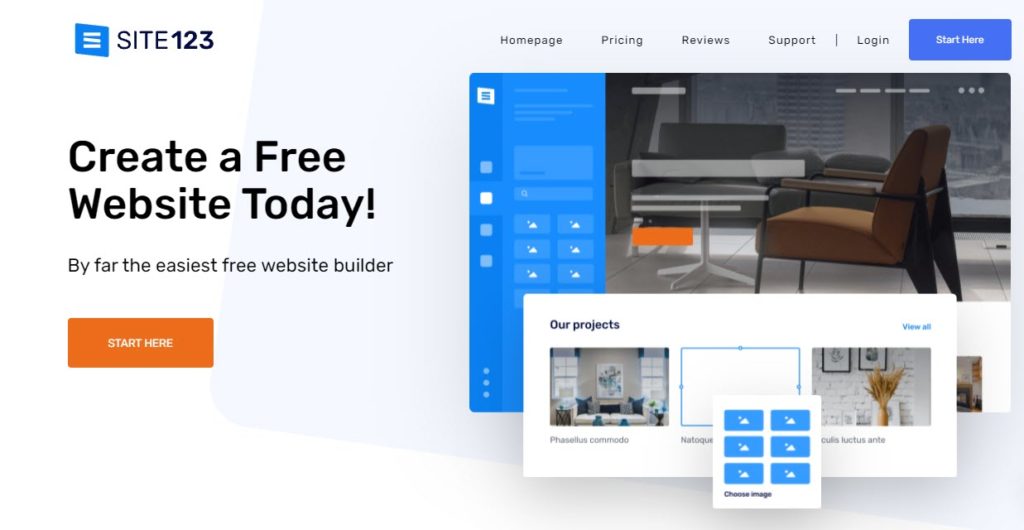 Features:
Flexible web design
Google Map integration tool with round-the-clock website assistance
Currently under construction page for a website that is being built.
Provides tools for email marketing
Incorporating social media is easy
Multiple language options
Library of free images and icons
Disadvantages:
You need the Premium plan if you want to get rid of all SITE123 advertisements.
The majority of layouts are adequate for a typical website, but it might be difficult to come up with one that looks truly distinctive.
Jimdo is a German firm with a 2007 founding date that offers AI-powered website building solutions for independent small enterprises. Dolphin, the builder, quizzes people and then proposes designs based on their responses. If you're interested in seeing some examples of these AI-powered designs, visit Jimdo's page.
With 500 MB of capacity, you should have more than enough room to develop your website, and it even offers HTTPS/SSL encryption, ensuring the privacy of your visitors' personal information. Additionally, you may simply link your website to social media profiles.
Because Jimdo allows you to construct mobile-optimized websites in more than nine languages, it is also a great choice for businesses operating internationally.
Features:
website builder using AI
SSL security
GDPR-compliant
There is a mobile application available.
Disadvantages:
limited selection of functions offered
fewer alternatives for design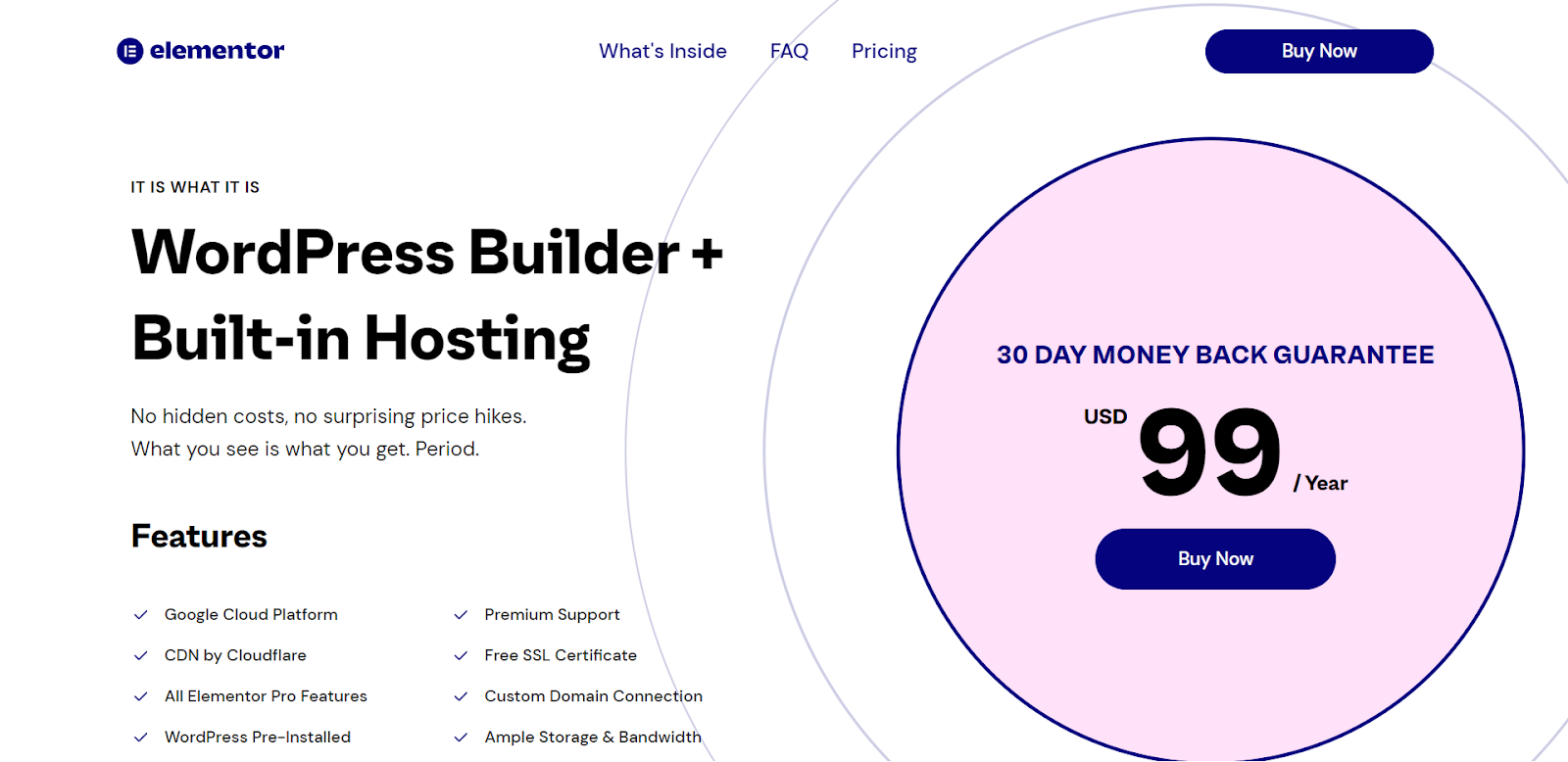 WordPress enables creating websites user-friendly for beginners, but WordPress page builders make fine-tuning your website and attaining your dream design simpler.
Elementor is a no-code drag-and-drop page builder that's a wonderful choice for quickly launching a personalized WordPress site and is trusted by over 5,000,000 users. Select from hundreds of page templates that are optimized for mobile devices without thinking about the underlying coding.
Features:
Drag-and-drop constructor
A live edit
a sizable collection of mobile-friendly layouts
Several companies are creating Elementor templates and add-ons (e.g., Astra)
Disadvantages:
The free plan's functionality is restricted.
some plugins and themes have compatibility difficulties
Conclusion
For the majority of users, Wix is the finest free website builder. The platform's drag-and-drop builder is simple to use, and it can support a variety of use cases.
That being stated, any of the suggestions in this manual are a good choice. Others work best for specialized websites and beautiful designs, while some are better suited for blogging. You may utilize the top selections in this post to choose the best free website builder for your needs, no matter what they are.
We hope this list of free website builders will help you take the right step to build a great website. If you have any queries or doubts, do leave us a comment below.
Further reading