Last updated - August 2, 2022
Website builders make it extremely easy for businesses to go online. With simple, direct steps, they help budding entrepreneurs and new users easily master the process of building a website or online store. What if you want to build a website easily but without costs? In this article, we will introduce you to some of the reliable free website builders that are popular.
With WordPress.com, you can easily create a website without the hassles of finding a hosting service, registering a domain name, etc. Be it a blog, business website, or eCommerce store, you can execute your website idea effortlessly. Responsive themes are available that will make sure your site is mobile friendly, and offers the best user experience. The free plan of WordPress.com offers you 3GB storage, support through community forums, and access to themes. You can get started with a new plan within no time using this popular website builder.
Weebly is one of the most feature-rich options among free website builders. You will be able to customize the site design, and there will be access to a wide range of tools to add features and functionality. There is detailed documentation to help you get started with the site, and there are integrated marketing and advertising tools to promote the site. With the free plan, you will get 500 MB storage, domain name with Weebly branding, and SSL certificate. There will be also SEO and lead capture tools, and support through email, chat, and community forums.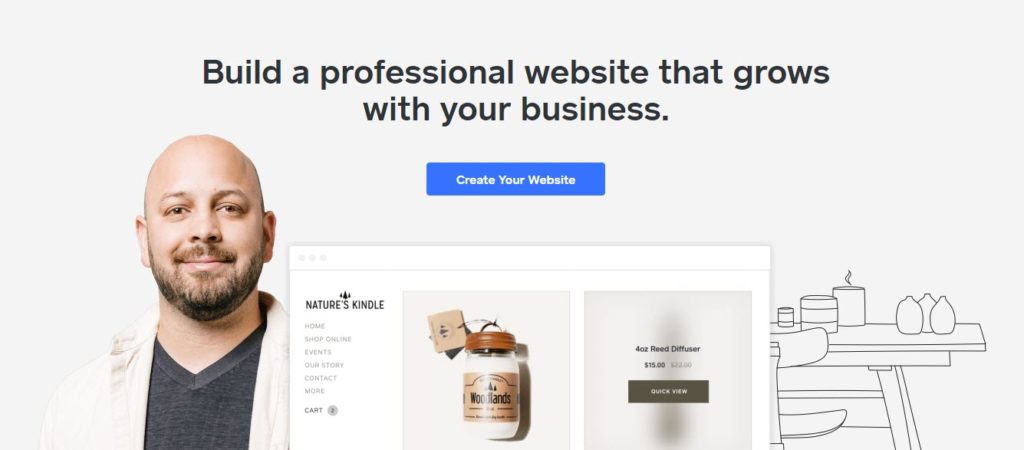 If you are looking for a simple and free solution to create your website, Webself could be a great option. You will be able to create a website in a matter of minutes , even if you are not a technical expert, following simple steps. There are several templates available to get you started, and you will be able to easily customize them according to your own design requirements. Webself offers free hosting, as well as provide free SSL certificate when you create a new website. It is also easy to set up an online store using this tool. Furthermore, they offer dependable free support as well.
Wix provides you with the freedom to create a website perfectly aligned to your unique ideas. It is especially easy to get started with the builder as you will get an AI-based wizard to help with your site design. Wix offers great options to help you add more features and functionality to your website. Moreover, you will get a lot of freedom to try out different designs thanks to the versatile design editor. You can create a website using the free hosting plan of Wix, or try out the premium plans free for 14 days.
You will be able to create a good looking website with the help of a highly efficient visual editor if you are using Webflow. The hosting network is vast, and assures you continuous uptime with minimal maintenance efforts. In-built SEO tools and third party integrations will make site management especially easy with Webflow. Webflow offers a free plan to start building a site. When you are ready to make the site go live, you can choose a plan and upgrade.
Squarespace is another widely preferred website builder that offers excellent options to get started with your site. You will find a bunch of flexible templates that will make it extremely easy to design your site. You will get a free custom domain name when you choose an annual plan. Besides, you will find a free online tool to make professional logos. If you intend to create an online store, Squarespace offers easy options to create your store. Furthermore, you will find excellent options for marketing and business growth.
GoDaddy offers a free website builder that will get you started with your new website idea. You can pick a template and get going by adding content, products or any other info. There will be access to built-in marketing and social media tools, and you can easily get expert help when needed. The free website plan also include SSL certificate, PayPal payments, social media marketing tools, and round-the-clock customer support. You can easily upgrade to a paid plan for advanced features like custom domain and multiple retail channels.
You can build a website in a matter of minutes without any coding efforts or cost using Strikingly. The website builder is especially easy to use, and even novices can build a professional website quite easily using this tool. With built-in eCommerce features, you can easily transform your website into a revenue-generating online store. Furthermore, you will find a wide range of features for analytics, lead building and social feeds. The free plan comes with a monthly storage of 500 MB. You can choose from the wide range of affordable plans to upgrade.
WebNode offers easy options to help you manage a website in quick time and with no upfront investment. You can signup with an email, and can set up the website without coding or help from web development experts. Managing content on the store, or trying out different media element is easy as a breeze with this tool. Moreover, you can convert your website into an eCommerce store with minimal efforts too. Other standout features include wide range of domains and friendly support.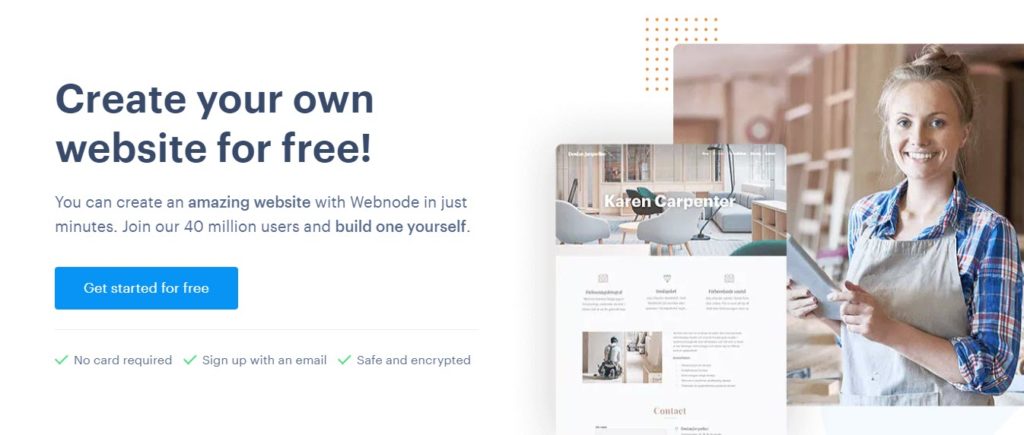 If you want to convert your existing website into an online store, you can make use of Square online. The store builder is quite user friendly and simple. You can build a business from a wide range of options such as restaurants, retail stores or services using Square Online. Moreover, you will find easy integrations with Google, Facebook, Instagram and other marketing and retail channels. If you are looking for a really fast builder for an online store, do try this one out. You can start your store free by signing up to Square Up.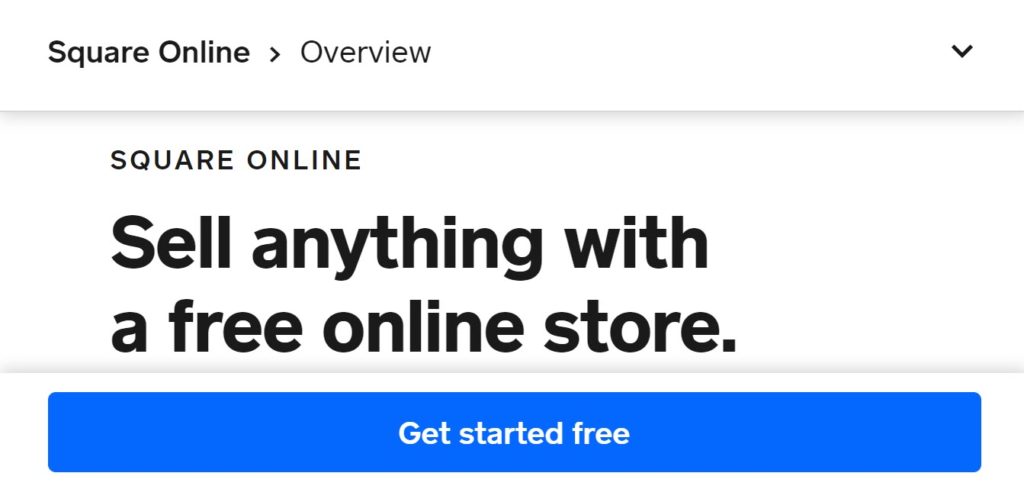 One of the simplest free website builders, Site123 will let you create a website in a jiffy. It offers a powerful editor, along with free hosting and domain name registration. In addition, you can ensure your site will be mobile friendly with responsive design and easily optimize your site with advanced SEO tools. With the free plan, you will get 250MB storage and 250MB bandwidth, and a subdomain. If you want advanced features, you can opt for a paid plan.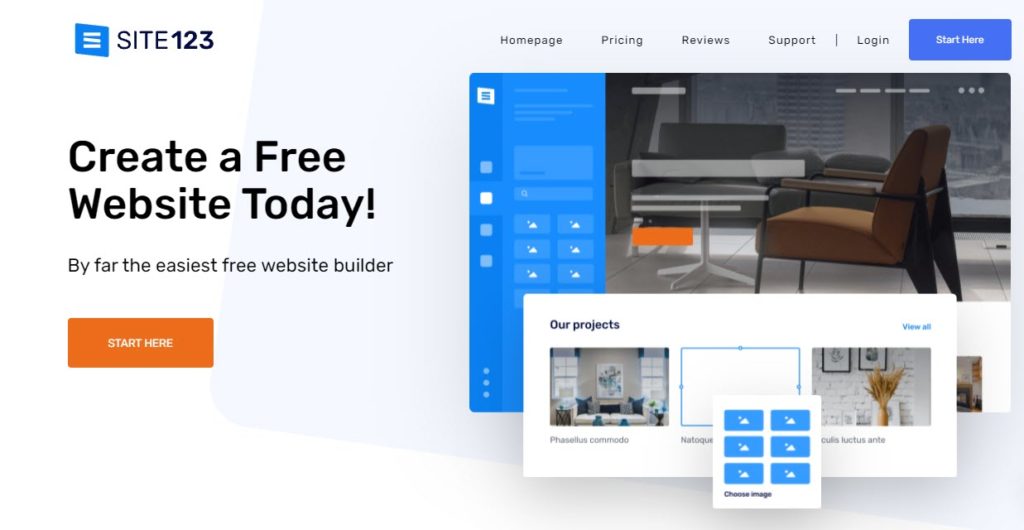 We hope this list of free website builders will help you take the right step to build a great website. If you have any queries or doubts, do leave us a comment below.
Further reading