Last updated - March 23, 2018
The ever-increasing popularity of WooCommerce is inspiring entrepreneurs around the globe to try their hands on eCommerce business. One amazing trait of WooCommerce is its flexibility to offer a varied range of functionalities with the help of plugins. The WordPress WooCommerce community is rife with high-quality plugins designed and developed by reputed developers.
For WooCommerce store owners, there is a vast range of options available when it comes to plugins. WordPress plugin directory, WooCommerce website, third-party developers' websites, etc are the places you can find good plugins. There are some obvious factors that people focus on while choosing a plugin. These may range from the quality of the plugin, available options in a specific functionality, reputation of the developer, compatibility with your website's theme and other plugins, quality of support, etc.
There is a general consensus in the WooCommerce community that if you are making money with your website, it's a good idea to shell out some money to get the best premium plugins. However, there are free options available in the WordPress directory, which you can confidently install on your site. Here is a list of awesome free WooCommerce plugins:
Getting an organized payment channel is of prime importance for a WooCommerce store owner. Nothing helps to set it up better than the WooCommerce Stripe payment gateway plugin by WooCommerce. With over 200,000 active installs, this one ranks right on top among the plugins recommended by WooCommerce.
Once this plugin is installed, you can accept payments on your site from all the major credit cards and debit cards (Visa, MasterCard, American Express, Discover, JCB, Diners Club, etc). In addition to this, it also supports payment via Apple Pay and Bitcoin. With the help of this plugin, you can accept payments directly on your store. At the same time, you need not worry about security hassles as it is handled by Stripe's server.
Another advantage of using Stripe is the straightforward pricing strategy. There are no charges to set up Stripe on your WooCommerce store. Based on your earnings you will be charged.
The range of countries where Stripe is available is growing by the day. You can take a look at the available options here.
Setting up the Stripe plugin is quite simple. Once you install the plugin, you can configure the basic settings. You need to signup for a Stripe account to get hold of your Stripe account keys.
Once enabled, you can see Stripe option on your Checkout page.
You can read more about Stripe here.
Sending targeted emails to your customers and potential buyers is an important strategy for WooCommerce store owners. MailChimp integration is the best way to get this done.
You can install the popular plugin from the WordPress theme directory to subscribe customers automatically to a mailing list. You can set it up in such a way to take the consent of customers before opting them into the list.
Some of the advanced features of this plugin include selection of a particular event for subscription during the order fulfillment process. For example, you can set the subscription at the time of creating, processing or completing the order. In addition, you can set interest groups to add users.
It provides an option to display a checkbox on the Checkout page for customers to choose whether they want to be part of the mailing list or not. This is in accordance with the legal requirements of certain countries.
Moreover, the plugin offers superior support for translations. There is excellent documentation to help you with setting up. The plugin has over 20000 active installs and is well liked by users.
Once you install the plugin, you have to sign in for MailChimp account and get the API key. Once you paste the API Key, further settings are displayed as the below screenshot:
Often when you are selling internationally, your customers would want to see the prices in their local currency. With the help of this plugin, your customers can have this feature real time.
You can enable the functionalities of this plugin with three widgets – currency converter, currencies switcher,  and currencies rates.
The plugin is well maintained and has an active install count of over 20,000.
Here is a screenshot of the Settings page:
Letting your customers know when a purchased product will reach them is an important aspect of your store's customer experience. This plugin helps you be in control of this. The plugin helps you with an option on your checkout page so that your customers can choose a suitable date for the delivery of the product.
However, there will be a time period within which you can actually manage to deliver the product. In the plugin settings page, you can set this minimum time. Furthermore, allows you to mark the dates when you cannot deliver as holidays. This would help in avoiding any confusion, as customers won't be able to select those days marked as holidays for delivery.
You can even control the number of deliveries on a specific date. The selected date will be displayed on Orders page on the backend for the store owner's convenience.
Here is a screenshot of the Settings page:
The checkout page looks like the below screenshot:
With eCommerce becoming more relevant globally, it is really important to get your WooCommerce store and products ready for translations. This popular plugin would help you immensely in this regard. With more than 70000 active installs, you can be assured of the reliability of this plugin. You can translate all WooCommerce product types using this plugin. Along with that, you can easily manage products, categories, and attributes. Throughout the checkout flow, you can consistently keep a language of your choice. You can even use multiple currencies on your WooCommerce store, and send emails to customers in their language using this plugin.
This plugin is compatible with a lot of popular plugins available in the market, and WPML has a list of plugins that are compatible. However, there is a catch – you need to install WPML first for this plugin to work.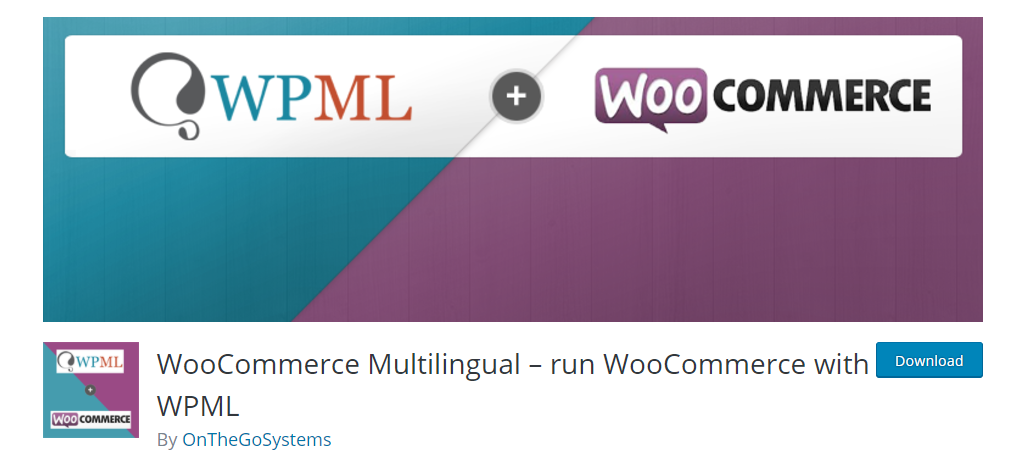 When you want to migrate products from one WooCommerce store to another, or from a site based on another platform, you can use this plugin. It helps to export and import and simple products with a CSV file. With over 20,000 active installs and over 50 five star review, this one is an easy choice for any WooCommerce store owner.
The plugin helps you import a CSV file with product data quite easily. However, the file has to be UTF-8 encoded. One of the great features of this plugin is the automatic mapping of a WooCommerce CSV file. If you are trying to import a CSV file with product data from another platform, however, you have to manually map.
The premium version of the plugin works on all product types including those created by other plugins and has many more advanced features. You can read more details on the working of this plugin here.
Presenting your products to customers in a creative fashion is of utmost importance when managing a WooCommerce store. A product slider is a common feature you can see now in most high profile eCommerce sites. This plugin by pickplugins helps you achieve this without much difficulties. With over 10,000 active installs and over 30 five star reviews this one sure is a hit in the WordPress community.
Once you install the plugin, you need to go to 'WCPS' on your WordPress admin dashboard and create a 'New WCPS'. This is similar to updating a page or post on WordPress. Once it is published, you can copy the shortcode and paste it on the page where you want to display the slider. Here is a screenshot of the Settings page.
The slider will be visible on that page where you copy and paste the short code; screenshot below: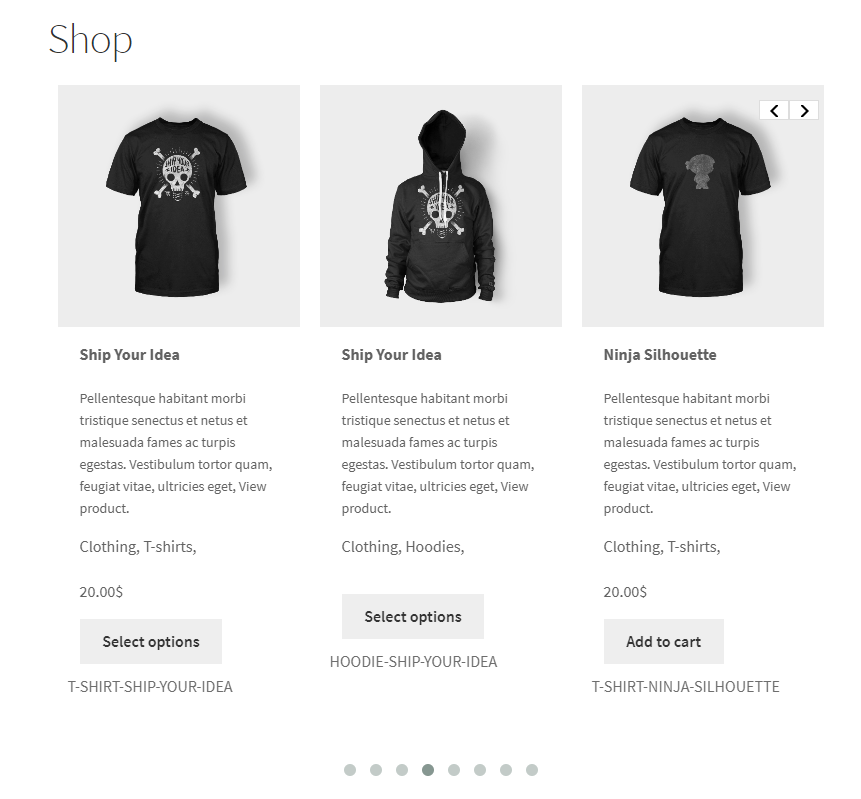 An option to zoom in product image is another feature that you see commonly on shopping websites. You can incorporate this for free using this plugin. The YITH Zoom Magnifier is a clear winner among similar plugins, with over 100,000 active installs. Your customers will be more happy as they get to view your products in a more up close perspective. In addition, the plugin helps to add a slider with gallery thumbnails below your main product image.
You will be able to customize the dimensions of the zoomed area. You also have the choice to switch it on or off on mobile devices.
Installing and setting up this plugin is quite easy. Here is a screenshot of the settings page:
Your product page will have the magnifier; screenshot below:
Offering pricing deals for customers is another tried and tested strategy of big and small WooCommerce store owners. There are a handful of plugins available in the WordPress theme directory for this purpose. This one, by Vark, is one of the most popular in the lot with over 7000 active installs.
With this plugin, you can set up bulk discount, buy one get one free offers, catalog pricing, etc by setting rules at different levels. Any rule can be set in product, category, variation or user role levels.
You can get more information on WooCommerce Dynamic Pricing strategies here.
This is a powerful plugin that helps with multiple aspects of your WooCommerce store. With the help of this one, you can multiply product price in bulk, or add a discount for all WooCommerce products. It will help with a multi-currency set up on your store with the entire set of world currencies available. Furthermore, it'll help with pricing strategies by user roles to facilitate wholesale strategy. It also helps to add multiple shipping and payment options to your site. It also helps with PDF invoices and custom emails.
These are just some of the features of this plugin that has an endless list of features. IT is a great idea to checkout the page to understand all its features and determine whether it'll be useful for your store.
With over 30,000 active installs and over 150 five star reviews, the plugin boasts huge popularity.
How to choose the right WooCommerce plugin for your store?
The total number of plugins specifically created for WooCommerce itself will come to 1000s. The number in WooCommerce.com itself would come to over 400. This is quite a large number, and finding the right one that suits the requirements of your store is not an easy job. It is a good idea to maintain a checklist while trying to choose a plugin for your WooCommerce store. This should include some of the fundamental Let's look into some of these aspects in more detail.
Free vs Premium
This is one of the questions that you are going to face at the very early stages of trying to find a plugin for your online store. The WooCommerce plugin market is full of freemium options where you get a basic version of the plugin with no charges. It will have some basic functionalities that you can use for your store. According to the requirements of your store, you can get additional functionalities by purchasing the premium version for a fixed price. Apart from added functionalities, you will get dedicated support and prompt update with most of the premium WooCommerce plugins. Dedicated support is a big thing if you are small or medium business without a huge number of employees to help you out with. Post-sale support by some of the reputed WooCommerce plugins is really top-notch and it something that would provide real peace of mind for WooCommerce store owners.
Reliability
Another major aspect to consider while choosing a WooCommerce extension is reliability. There is always the risk of sudden discontinuation with a free plugin. The same risk applies to premium plugins too, but as they are taking money from their customers, there is a better chance that they would stick around. The prospect of a sudden disappearance is much less in the case of premium plugins. When you are opting for a free plugin, you can always check for the reputation of the developers in their site. The customer reviews and comments should point you in the right direction.
Quality
You need to make sure that the plugin you install won't break your WooCommerce store. Quality code is an important matter here. One sure shot way of ensuring quality is to go for plugins that are available in the WordPress directory. All plugins featured in the WordPress directory are free and pass meticulous quality checks.
Support
You need to make sure the support is dependable before choosing a plugin for your store. You can see how a particular plugin is fairing from the support forums and how soon customers' problems are getting resolved.
Updates
Prompt updates are another aspect that you can't ignore for a WordPress plugin. The fact that WordPress and WooCommerce are continuously getting updates make it all the more important. You need to make sure that the plugin that you choose is keeping up-to-date with the latest versions of WordPress and WooCommerce. You can always check the changelog of the plugin to understand where the plugin stands in terms of updates.
Compatibility
Compatibility with your WordPress site's theme, and the other plugins that you are using is also a major factor to consider while looking for a plugin. Most reputed developers make sure  their plugins are compatible to other popular ones in the market.
You can look for all the above criteria while searching for a good WordPress WooCommerce plugin. However, it is a good idea to list out the requirements for your site and the financial investment for a premium plugin before deciding. This way you can analyze the advantages and disadvantages of both options and then come to a more informed decision.
Conclusion
The list of great free plugins on WordPress plugin directory is really huge. Picking up the best ones has this become a tedious task. We hope the above list might help you out with your decision making process. However you need to carefully evaluate the requirements of your store before deciding on each plugin that you install. And these requirements may vary for each store according to the products you sell or the location you are at. If you want to add something more to this list, do not hesitate to comment below, or contact us.