Last updated - September 24, 2020
If you are selling physical products through your WooCommerce store, then shipping is an integral part of it. You need to take extreme care in your shipping fulfillment, as it is somewhat directly linked to customer satisfaction. WooCommerce offers great flexibility when it comes to extending the shipping functionality. There are numerous extensions available for WooCommerce shipping functionality in varied aspects. This may vary from displaying real-time rates of prominent shipping carriers, table rate shipping, printing invoices, and labels, etc. Here is a look at some of the free WooCommerce Shipping extensions that you can find in the WordPress plugin repository.
USPS is one of the most popular shipping services in the US. Integrating USPS Shipping services and rates to your WooCommerce store will help to improve customer experience significantly. With the help of this free plugin, you will be able to access domestic and international services of USPS and their rates via Stamps.com API. It allows you to display these services and rates on the cart and checkout pages.
In addition, the plugin also offers an option to customize the name of each service. Also, you will be able to set up a fallback rate on the plugin settings. If there is any trouble in accessing USPS rates, the fallback rate will be applied. And, the customers will be able to checkout without trouble. Furthermore, the plugin helps to prioritize flat rates when offered with package rates. You can download the plugin for free from the ELEXtensions website.
Calculating the shipping cost accurately is a tedious task for WooCommerce shop owners. Weight-based shipping method allows you to determine the shipping costs based on the weight of the products in an order. With WooCommerce shipping extensions like this, you can set different rules to achieve the best possible results for your business.
It allows you to create shipping rules based on multiple parameters. You can take into account the total weight of the order or the subtotal from line items. You can also consider the destination where you are shipping to. Depending on your store's orders and shipping trends, you can choose a rule that best suits you. It can be a constant one like 'Flat Rate', or something that dynamically take into account multiple parameters like weight and destination.
Setting up free shipping is a strategy followed by many WooCommerce shop owners. With the help of this plugin, you can easily set up a free shipping option. It can be based on conditions like quantity of the order, or the total order amount. The plugin offers great support for shipping classes feature too. You can create a separate rule for a shipping class, which will override any other applicable rule for that product. For example, if you want to charge an additional $5 for a 'Fragile' shipping class, it will apply irrespective of another subtotal rule that you have set up.
The plugin has a straightforward configuration procedure. You can set all the rules on the Settings page itself. With over 10,000 active installs and close to 40 five star ratings, this plugin is really popular in the community.
Free shipping is an unavoidable business strategy for online stores. It really improves the perception of the store if you periodically take the burden of shipping costs. Customers are bound to feel good when the shipping costs are not passed on to them often. However, you need to achieve this without really burning a hole in your pocket. WooCommerce Advanced Free Shipping Extension helps you with just that.
You can set up advanced rules as to when the free shipping offer is displayed to the customer. In the process, you get the full control of implementing the offer. The plugin achieves this by creating conditions from a variety of parameters such as order quantity, subtotal, user role, shipping destination, product category, etc.  Each of these can be set up strategically using 'OR' condition groups of which there are 'AND' conditions.
The plugin also allows a lot of scope for customization with options for adding code snippets. The configuration is simple and can achieve the best results within minutes. From the general settings page, you can enable the plugin and view your existing rules. To add a new shipping rate, you can click the Add Free Shipping rate button.
You can set up a new rule and click the Publish button, like a WordPress post or page.
The popularity of this evidence from the fact there are over 20,000 active installs and over 70 five star ratings.
With the help of this plugin, you will be able to print USPS shipping labels on your WooCommerce store. The plugin helps you generate USPS labels directly from your WooCommerce dashboard, which you can easily print. Moreover, you will be able to pass on the benefits of discounted rates to your customers.
In addition, the plugin helps you host your critical services on Automattic's infrastructure. This would mean better stability and speed for your WooCommerce store. The plugin also helps with tax calculations as well as setting up accounts with payment gateways.
Offering shipping rates of leading shipping carriers is a great way to impress customers. This way, there is transparency in the rates that you display. Also, your customers would be more assured of the fact that a leading shipping company is handling their shipment. Here comes ELEX (previously XAdapter) DHL WooCommerce Shipping Method plugin that offers a seamless integration with DHL. You will be able to capture the various shipping services and rates from the DHL API and display them on your Cart and Checkout pages. Product details and address information are the only parameters that you require to enable this functionality.
You have the option to display the diverse services of DHL Express with this plugin. Moreover, your customer gets the control to select one of his/her choices. With the help of this plugin, you can streamline your shipping process and improve the customer experience on your WooCommerce store.
It is quite easy to set up the plugin, but you need to have an account with DHL for this plugin to work. The DHL account details are required to fetch the real-time rates from the API.
The premium version of this plugin is getting increasingly popular with support for all three DHL services – Express, Paket, and eCommerce.
Similar to DHL, this plugin helps you get shipping rates from the FedEx API. The plugin will dynamically display the shipping rates on the Cart and Checkout pages. The rates will be based on parameters like the shipping destination address, product dimensions etc. Your customers can choose a service that they prefer from the available options.
FedEx is really a global leader in shipping fulfillment with services in over 220 countries. It can impart a lot of reliability and promptness to your WooCommerce store's shipping process. The result will be more happy customers and better sales.
If you want to integrate multiple shipping carriers to your WooCommerce store, this plugin is an ideal option. With the help of the EasyPost API, you will be able to access FedEx, UPS and USPS services and rates. You can display domestic and international services of all the three carriers on your cart and checkout pages. The plugin also gives you an option to choose between residential and commercial services.
On the EasyPost plugin settings page, there is an option for fallback rate as well. In case the API does not return real time rates, the fallback rate will be applied as shipping charges. That way, your customers will be able to smoothly checkout after the purchase.
This WooCommerce shipping extension allows you to calculate shipping rates on various parameters like product weight and cart total. With the help of this plugin, you will be able to add insurance or handling charges for orders above a certain value. Similarly, you can add a cost to your Cash on Delivery option too.
Using this plugin, you can create unlimited Shipping methods and rates. You will be able to create these shipping methods with personalized titles and descriptions. Setting minimum and maximum values for cart weight and the total is also possible. Free shipping override and an option to display only specific methods for your registered users are also available.
Integrations with several shipping services in UK and Poland along with compatibility with multiple plugins make it quite easy to use. It is compatible with several currency converter plugins and WPML.
The plugin set up is quite similar to how you set up any other shipping method in WooCommerce. You can add 'Flexible Shipping' as a shipping method under any of your existing shipping zones.
Once you click the Add New button, you can set the conditions for the new shipping method.
With over 9000 active installs, this plugin has a reassuring user base. The plugin is updated regularly as well.
Similar to DHL and FedEx, this plugin provides integration to UPS services on your WooCommerce store. UPS is one of the most reliable shipping service company in the world, and integrating their services on your WooCommerce store would definitely give you an edge. Moreover, UPS has several offers for small and medium eCommerce businesses. Utilizing these would surely help you improve your store's customer experience and financial viability.
We have written an article on the configuration of this plugin in more detail. Please read it to get a better idea of its advanced features.
If creating shipping labels is a constant hassle for your WooCommerce order management, this plugin can help you a lot. The plugin is capable of generating and printing labels from WooCommerce orders. This will save you from a lot of manual effort to copy and paste order details.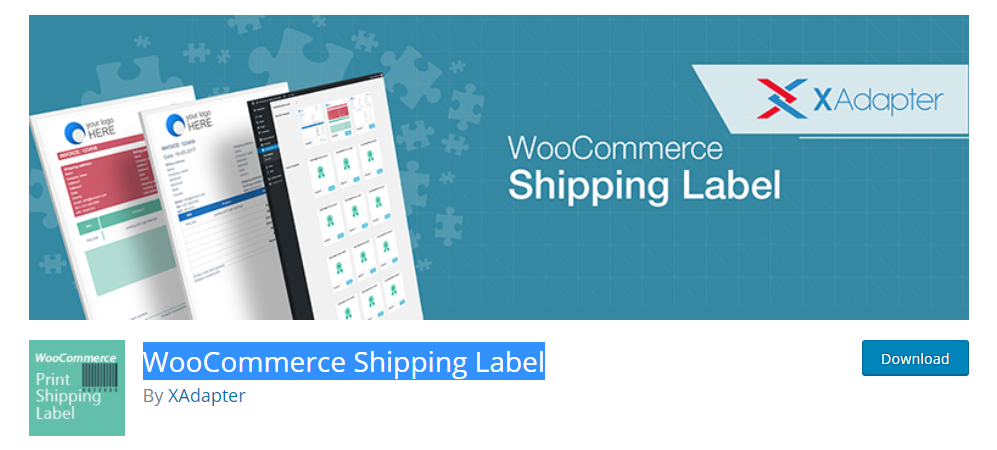 The advantage of using this plugin is that you can customize the content that is to be displayed on the label. The label by default will contain origin and destination addresses, order number, the weight of the package, and date. You can choose to include company name, logo, return policy and custom footer according to your requirements. The plugin also allows configuring the label size with two options – full page or 4*6 inches. The label will be in PDF format and you will be able to preview it before printing.
You can read more about setting up this plugin here.
The advantages of using the services of a popular shipping carrier are many. When it comes to USPS, you will get free flat rate boxes and greater security for your shipments. Also having a clear understanding of your shipping costs helps you plan and prioritize your strategies. According to requirements, you can choose to opt for priority delivery or a normal one. Also, the range of USPS in delivering to US addresses is quite huge. Besides, it is the only carrier in the US that can serve to government addresses. The lack of any surcharges is also a good reason to choose UPS over other carriers.
This plugin helps you display USPS shipping services and rates on your WooCommerce store so that your customers can pick the appropriate ones for delivering their orders. It is one of the most popular plugins in its category with quite a satisfied user base.
This plugin calculates shipping rate based on address details or postcode, as you specify. You can set a fixed flat rate and/or add an additional handling cost for each shipment or product. Unlimited rates can be created with values set according to maximum weight or dimension, or both. In addition, you can create separate rates for specific shipping classes according to your store's shipping strategy.
You can set up APG Shipping as a shipping method under any of your existing shipping zones and configure it. The settings page allows ample choices to work out a shipping strategy that is profitable and customer friendly.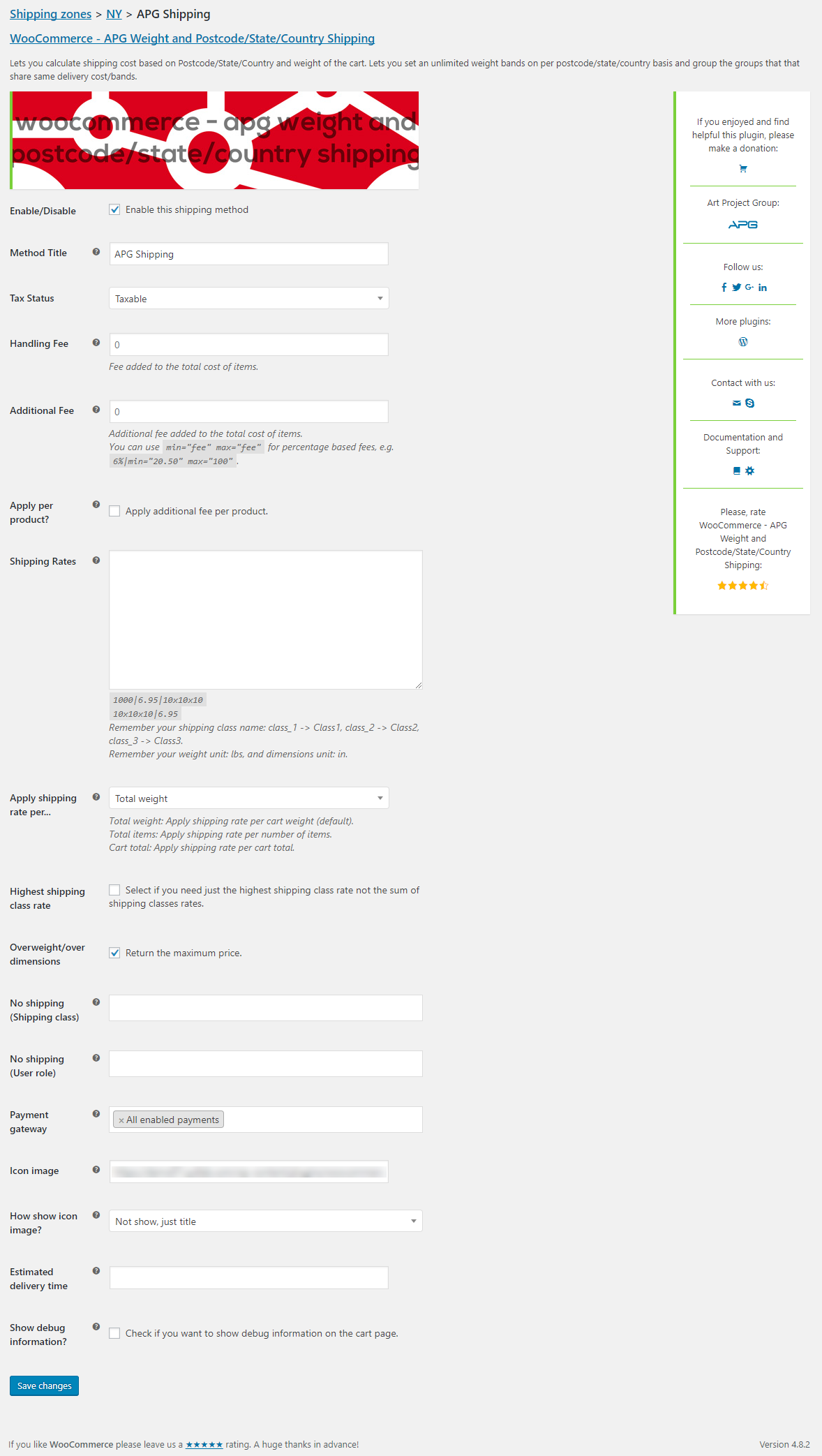 Some of the other features of this plugin include options to exclude specific user roles, hide payment gateways, display custom icons and estimated delivery times. With great support and multiple language translations, this plugin is rising in popularity in the WordPress community. The 28 five star rating would vouch for its efficiency.
If you are using Australia Post as your shipping carrier on your WooCommerce store, this plugin can be quite helpful. It helps you access and display Australia Post services and their real time rates on your cart and checkout pages. The plugin allows you to choose whether to offer Australia Post services to all countries or only to selected ones. Moreover, you can choose to display all available services or only the cheapest one using this plugin.
You will be able to switch to your Australia Post account, so that you offer the contracted rates to your customers. In addition, the plugin helps you to disable alternate services like Satchel, Letter, C5, B4, DLE, etc., during checkout.
This is another efficient option if you want to define multiple shipping rates based on product weight and destination country. You can group multiple countries to create regions to implement similar shipping scenarios.
Apart from setting up shipping rates based on cart weight, order weight or destination country, this plugin can be used for certain other aspects. For example, if you want to set up conditional free shipping or flat rate shipping, you can do it easily.
There are several scenarios when you want to hide certain shipping methods on your store. For example, when free shipping is available, it doesn't make much sense to keep other shipping methods. With the help of this plugin, you can hide all other shipping methods on your store, when free shipping is available. In addition, you can optionally keep "Local Pickup" option alongside free shipping. The plugin is compatible with WooCommerce shipping zones
With the help of this plugin, you can create shipping methods on your store based on a set of conditions. It will help you create shipping rules specific to products, categories, destination country, cart sub total, etc.
You can create several important shipping documents on your store with the help of this plugin. It offers options to generate PDF invoices and shipping list documents using customizable templates. You will be able to generate invoice documents manually or automatically using this plugin. Depending on the order status, you can automatically generate invoices.
You can send the invoice PDF as an attachment to customer email as well. Moreover, you can customize invoice as well as shipping list templates
WooCommerce displays a default message when shipping services are not available to a particular customer or destination. There might be diverse reasons why shipping methods are available in a case to case basis. So, it would be helpful if you can customize the message and display a message of your choice. This way, you can encourage customers to contact you to handle specific shipping requirements as well.
Conclusion
Shipping is an integral part of your business strategy if you are selling physical goods. Reasonable and transparent shipping costs would do a lot of good in your sales conversion too. WooCommerce has all the right options to set up basic shipping options when you start out. However, when your business and customer base grows, you may want to opt for some of the advanced shipping options. WordPress repository provides a great range of free WooCommerce shipping extensions that you can make use of. Some of them are mentioned in this article. If we have missed out on any, please let us know by leaving a comment in the below section.