Last updated - April 28, 2023
One of the primary features of WooCommerce is the great scope for customization. Every feature and functionality on a WooCommerce site can be customized to suit the specific requirements of a store. Shipping is one such functionality on a WooCommerce store that is extensively customized. Since shipping is one of the top differentiators of customer satisfaction, WooCommerce store owners are keen to customize as well. In the WooCommerce ecosystem, you will find a large number of free and premium plugins to help you extend the shipping functionality. In this article, we will discuss some of the best free WooCommerce shipping plugins you can install on your store.
Best Free WooCommerce Shipping Plugins
Here is a list of some of the top free WooCommerce shipping plugins that you can install and use on your WooCommerce store without any extra charges
This extension will help you print shipping labels directly from your store by accessing the discounted rates of your USPS account. It will seamlessly integrate to tour WooCommerce store and you will be able to handle everything from your store dashboard. By being able to print USPS shipping labels right from your store, you can save money, and save time by avoiding a visit to the post office. However, to display services and rates of USPS, you need to purchase the premium extension.
If you display shipping services and rates of multiple carriers on your cart and checkout pages, this plugin will help you with that. You will be able to display domestic and international services of FedEx, UPS and USPS using this plugin. If you have an account with EasyPost as well as the respective shipping carrier, you will be able to offer account specific rates as well.
Using the plugin, you can customize the method title on your cart and checkout pages. Also, you will be able to set up a Fallback rate. In case the API does not offer rates, customers will be able to checkout paying the fallback rate as shipping charges. You can also set Residential or Commercial options to display rates on your WooCommerce store.
This plugin allows customers to add multiple addresses for multiple products. Multiple Shipping Addresses comes into handy when a customer is purchasing more than one product and wants to deliver each product on a different address.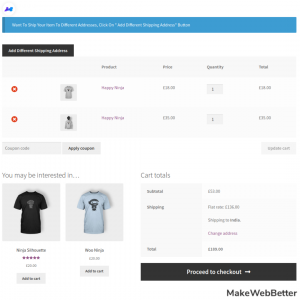 Let's look at some features of this plugin:
Users can manage shipping addresses from the cart page for each product.
Multi-shipping addresses can be enabled and disabled in the case of guest users.
Manage each shipping address within the order.
Users can customize the saved addresses.
Streamlines guest users for shipping products to multiple addresses via cookies.
This flat rate shipping plugin for WooCommerce plugin brings the next-level of flexibility to shipping costs, enabling you to easily create and customize multiple flat rate shipping costs. You can calculate costs based on product, weight, quantity, country, category and a whole lot more. Create Your Own Shipping Rates Based on Business Logic and Business Need!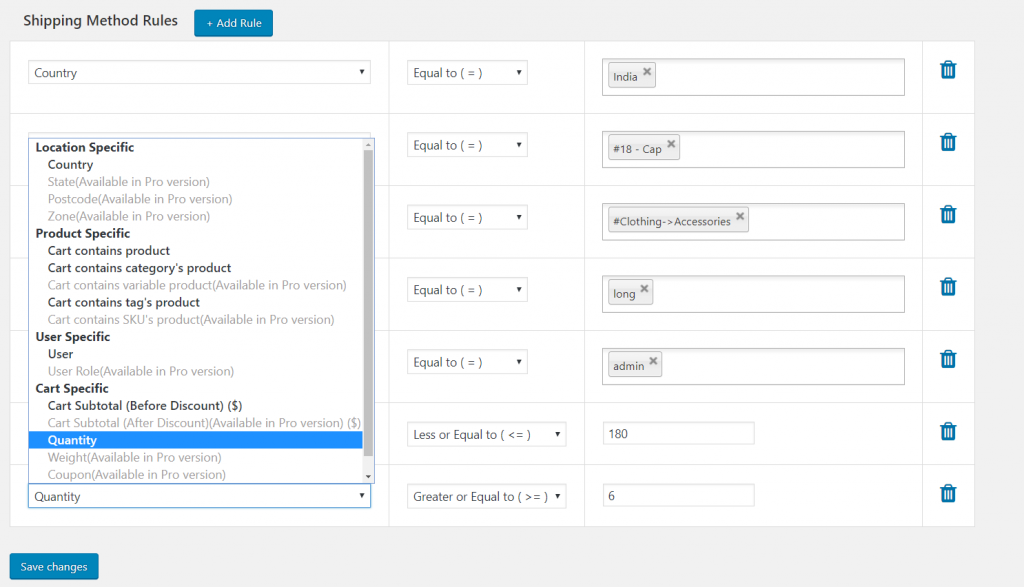 Features
Create country-specific shipping methods

If cart contains specific product, create shipping methods based on that

Create shipping methods if cart contains a specific category's product

Shipping methods based on specific tags

Shipping method based on specific user

Create a shipping method based on cart subtotal condition

Create a shipping method based on cart quantity
Hide shipping allows you to hide WooCommerce default shipping methods as well as a third-party shipping plugin in your WordPress store. The plugin automatically hides all other shipping methods when "free shipping" is available during the cart/checkout process. It also includes an option to keep "local pickup" available alongside "free shipping" Conditional Hide Shipping Method Rules, you can hide the shipping method by hiding WooCommerce Shipping methods on your cart and checkout pages.
Features
Hide all other shipping methods and when "Free Shipping" available on the cart page.
Hide all other shipping methods and when "Free Shipping" and "Local Pickup" available on the cart page.
Conditional Hide shipping method Rules – you can hide different shipping methods as per different sets of rules.
Hide Shipping Methods & Options based on Various Conditions.
Conditional Hide Shipping Method Rules-based by Product, category, tag, user, quantity, sub total, etc.
This plugin helps you calculate shipping costs based on the weight and items on the cart. You can even add extra costs based on the specific requirements of your store. Moreover, you will be able to combine two rule, that is, simultaneously consider order weight and cart total to determine shipping costs.
You can use this plugin to create unlimited shipping methods and costs. It also helps you create titles and descriptions for each of the shipping methods that you create on your store. In addition, for your registered customers, you can show only certain specific shipping options that you configure.
ReachShip is an effective multi-carrier shipping solution for WooCommerce-powered businesses. This plugin enables businesses to optimize their shipping processes and give dependable and speedy delivery choices to their clients.
This plugin, with its multi-carrier support, real-time shipping rates, shipping label creation, and other capabilities, assists companies in providing dependable and efficient shipping alternatives to their clients, hence enhancing the entire customer experience.
The ReachShip plugin is available in both free and premium versions, allowing customers to select the functionality and degree of support that best fits their requirements.
Free shipping is a great strategy to improve conversions and reduce cart abandonment on your WooCommerce store. However, setting up a free shipping option requires careful considerations as it can eat into your profit margins. This plugin will help you set up advanced conditions to decide how and when free shipping will be offered to your customers.
The plugin makes available several conditions to set up free shipping on your store depending on the shopping pattern of your customers. You can use parameters like user roles, order quantity, product weight, shipping class, shipping destination, etc., to enable free shipping. Overall, it will be a great option if you want to set multiple conditions to make free shipping available to customers on your store.
This plugin fetches FedEx services and rates directly from the FedEx API. Among the free WooCommerce shipping plugins available in the market, this one is really high on popularity. Once you install this plugin, FedEx shipping rates will be displayed to your customers based on the order weight, shipping destination, etc. The customer gets a choice to select a FedEx shipping service according to their delivery requirements and cost concerns. You will be able to display both domestic and international FedEx services using this plugin.
If one of your primary concerns in calculating shipping costs is order weight, this plugin can be quite handy for you. This can be especially useful for you if the products featured on your store are of a diverse weight range. In addition to using order weight as a determinant of shipping cost, you can also set rules based on the shipping destination and cart sub totals. You will get the flexibility to configure a rule to offer a flat shipping rate or a dynamic shipping rate based on weight. If its suits your store strategy, you can display both rates and let the customers choose.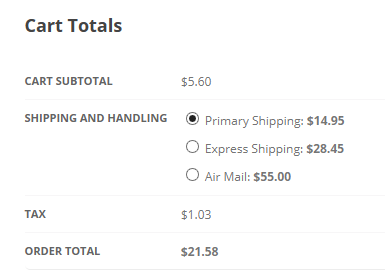 You can override the product shipping class settings of your store using the plugin. In addition, you can use this plugin to set up free shipping conditions as well.
If you are looking to set up table rate shipping or tiered shipping on your WooCommerce store, this plugin is ideal for that. It boasts a very friendly user interface that will help you configure it pretty quickly. That is probably one of the reasons that make it among the best free WooCommerce shipping plugins in the market. It might also be interesting for you to note that this plugin integrates with WooCommerce shipping zones.
With this plugin, you can define shipping charges by weight or cost. The rates wuill be calculated with or without tax based on your store settings. It also allows you to configure multiple tiers of shipping costs as well as incorporate additional charges for each order. Since it is pretty easy to set up and start using this plugin, a lot of WooCommerce store owners use this one for their daily shipping calculations.
Now, if you are looking for a solution to display UPS services and rates on your WooCommerce store, this one is quite good. Directly accessing shipping services and rates from the UPS API, this plugin is a popular choice among free WooCommerce shipping plugins.
A wide range of UPS services can be displayed on the cart and checkout pages of your WooCommerce store using this plugin. The rates will be displayed dynamically based on the shipping destination, order weight and other parameters. This is a good option if UPS is one of the primary shipping options that you use to deliver your products.
If you want to display USPS shipping services and rates on your WooCommerce store, this plugin is the ideal choice for you. It helps you access real time rates from USPS and display according to various parameters like shipping destination, weight and dimensions of the product, etc. You will be able to choose online or offline rates of USPS depending on your store strategy.
In addition, the plugin allows you to choose the cheapest available rate in an instance. Alternatively, you can choose to display all the available rates as well. With the help of this plugin, you can also set up a fallback rate on your store. In case the plugin is not able to fetch rates from USPS, this fallback rate will apply as shipping cost, and customers can checkout smoothly. The plugin also helps you choose the destinations for which you want to display USPS rates. You can choose to display it for countries all over the world as well.
This one helps you calculate shipping rates on your WooCommerce store based on the weight of the order and the shipping destination address. It also helps you add a fixed rate or percentage value to the shipping cost as handling charge for each order on your store. Another interesting feature of this plugin is the ability of displaying estimated delivery time. This is a feature that is rather rarely found in free WooCommerce shipping plugins.
You can exclude shipping options based on product shipping classes or user roles using this plugin. It also gives you an option to hide specific payment methods on your store.
This is the plugin to go to if you want to display DHL Express services on your WooCommerce store. It offers an option to set a conversion rate if your store currency is different from what is specified by DHL. For each of the DHL Express services displayed, you will be able to make a price adjustment as well with the plugin. It helps you display the estimated delivery date of each service. Moreover, it provides you with an option to display a price breakdown on the checkout page.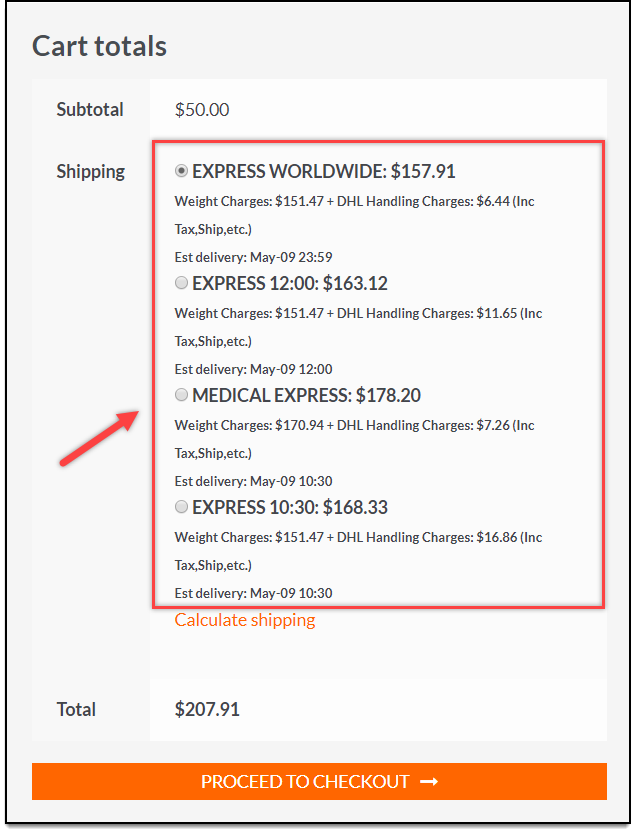 When you are shipping products through your WooCommerce store, an inevitable part is generating and printing documents like invoices, packing lists, pick lists, labels, etc. You can use this plugin to print multiple shipping documents directly from your WooCommerce store admin itself. furthermore, you will be able to customize these documents to include your brand logo, and other design elements.
The plugin also allows bulk printing of labels from the order admin page. For invoices, you can actually auto generate custom numbers as well as add a prefix or suffix according to your specific requirements. One of the most convenient features of this free shipping plugin is the preview option, where you can understand how a document looks like before printing it.
Offering shipping options in a selective manner might be one of the requirements of several WooCommerce store owner. More precisely, when free shipping is available for an order, you may not want to display other shipping options. With the help of this plugin, you can hide all other shipping options on your store, when free shipping option is available. However, if you want to make Local Pickup available alongside free shipping option, this plugin offers a way to do that also.
One of the simplest options among free WooCommerce shipping plugins, this one integrates seamlessly to the shipping zones of WooCommerce.
This is yet another popular and flexible tool to diversify the shipping options on your WooCommerce store. You will be able to create a large number of shipping rules using this plugin. And, you will be able to control the applicability of these options dynamically based on what is in the cart or where is the order going to be sent.
The plugin allows to create shipping rules based on a condition that you about cart sub total. Similarly, you can create shipping methods based on the destination country, product categories, or even individual products.
Hope you got a basic idea on some of the popular free WooCommerce shipping plugins. Please leave a comment if you want to share an insight with us.
Further reading