WooCommerce is extremely popular across the world due to its flexibility to adapt to varied requirements. There are several store owners who are running wholesale stores using WooCommerce. With the help of plugins you can easily set up a wholesale WooCommerce store. Based on your requirement, you can either create different pricing options or restricted access for wholesale customers. In this article, we will discuss some of the best free WooCommerce wholesale pricing plugins you can install on your WordPress eCommerce store. Choose the one that fits your business model, and you will be good to go.
This plugin will help you create custom user roles on your WooCommerce store, and then set up individual pricing for each of these roles. It could be really beneficial to you if you want to offer multi-layered pricing to your customers. Each user will be able to see a price that falls under a specific pricing tier. Moreover, you can disable eCommerce functionality for all the other site visitors who have not registered with you as a wholesale customer. You can do this for all guest users, or for specific user roles. Basically, you can remove or replace add to cart button with a custom text.
You can also use this plugin to create price adjustments on your store. The plugin allows you to do this on top of the regular price of the products, or on the role-based price. You can also assign tax classes and tax display options based on user roles using this plugin. This plugin, one of the most popular free WooCommerce wholesale pricing plugins, works only with simple products. If you want to apply wholesale pricing for all your product types, you can check out the ELEX Role-based pricing plugin premium version.
Wholesale For WooCommerce Lite is a free Woocommerce plugin that provides the facility to its users to display wholesale prices on all the products available on Woocommerce online store. It has remarkable features like adding wholesale pricing to each variation of variable product, add percentage amount, add a fixed amount, save the displayed amount, minimum quantity, and settings to change frontend labels text as well. Admin needs to assign a wholesaler customer by selecting their role as "Wholesaler" manually; wholesale prices are only visible for Wholesaler role Customers, not for any other customer.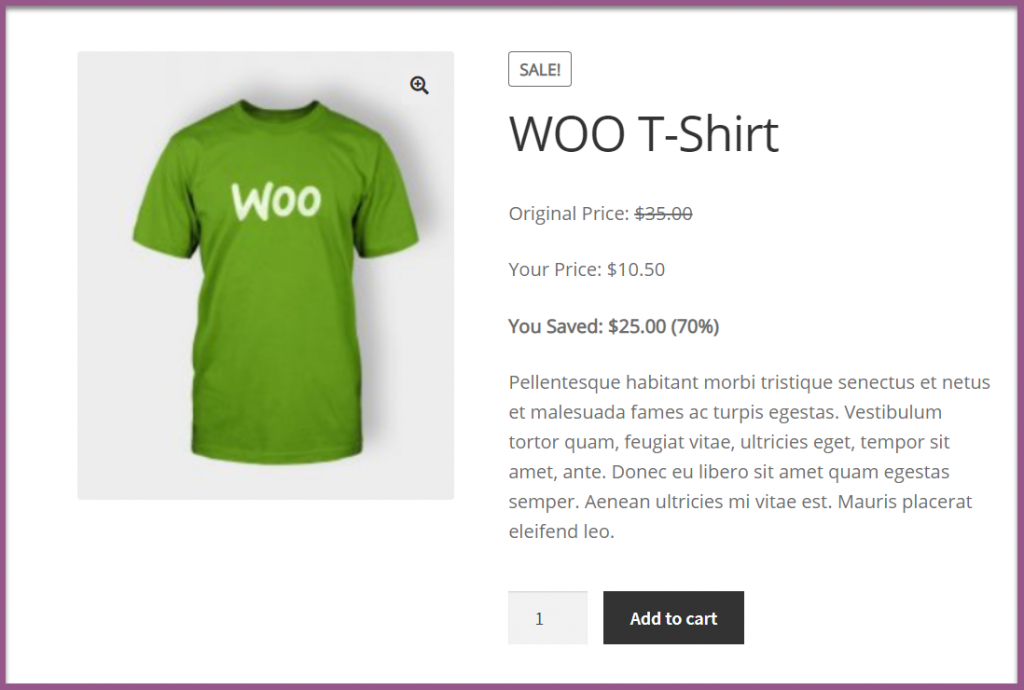 Wholesale For WooCommerce Lite is featured with translation using .PO .MO files as well. This plugin can be really handy for wholesale business owners who want to run their online store on the Woocommerce platform and looking for a free plugin to facilitate them in wholesale prices. You can also checkout the premium version of Wholesale for WooCommerce with advanced features.
This plugin will help you set up a wholesale price on your WooCommerce store. The operation of this plugin is in fact quite simple. It offers another pricing field for each of your products to specify a wholesale price. Now, you can assign the wholesale user role to customers whom you want to offer wholesale pricing. When wholesale customers log in to your site, the wholesale price will be displayed automatically. The plugin lets you add wholesale prices for both simple and variable products.
You can apply wholesale pricing for all your products or only for specific products, depending on your store strategy. It is compatible with several other plugins dealing with payment, shipping, currency conversion, translation, etc.
Booster for WooCommerce is an all-in-one plugin that has over 100 different modules to help you integrate different functionalities. One of these modules will help you set different product prices based on user roles. You will be able to create custom user roles also using this plugin. The module helps you set up user role based prices globally across all your products, or individually for selected products. Once you enable per product prices, you can set up a regular price and sale price for each user role. The individual product pricing will overrule global pricing if there is any.
This plugin helps you create separate pricing based on user roles on your store. However, you will have to use another plugin to create custom user roles. Once you have several user roles on your store, you can go to individual product pages and set up pricing according to your strategy. If you are looking for the basic functionality of adding wholesale pricing, this one is a simple choice among free WooCommerce wholesale pricing plugins.
This plugin will help you display discount in the catalog pricing based on user roles. It also gives you the flexibility to offer a discounted price to an entire category instead of applying to individual products. You can also schedule discounts while using this plugin.
This plugin helps you set a price for your products based on the quantity purchased. You will be able to specify a different price for the product based on different quantities. The plugin also offers an option to display pricing table on your product pages. This will help customers understand the layered pricing and accordingly choose the suitable number of products. The plugin offers several options for customization as well.
How to manage a WooCommerce wholesale store?
A wholesale store can be a significant contributor to your revenue as bulk sale will be more productive than retail. Let's quickly look at some of the effective strategies that will help you manage a wholesale store better.
Identify your market
One of the first things you should do when you start a wholesale business is to identify your target market. Decide on whom to sell carefully according to your market. You need to make sure that your customers have a grip on your target market before confirming them as a retailer. Setting up a detailed registration form for retailers to sign in on your site will be a good idea.
Define your sales goals
Keep an eye on your sales figures all the time to understand if the business is bringing in expected income. Regularly interacting with your retail partners might give you a better perspective on your progress. If you are not able to get enough customers, you might have to put in more efforts in the marketing department as well.
Connect with new customers
For your wholesale business to prosper, you may have to be in the constant lookout for new customers. Creating a list of potential customers based on your target market will help you initiate a communication channel. Follow up with ones who show an interest and probably arrange a demo of your product. Make sure you create a good understanding with them on your pricing terms as well as fulfillment options.
Create a seamless fulfillment strategy
You have to create a fulfillment strategy that is agreeable to both your customers and you. Sometimes, certain retailers might require urgent stock when products are in high demand. Always make arrangements to avoid delays in such scenarios.
Provide discounts to loyal customers
While it is great to attract new customers to your products, you should also focus on keeping your loyal customers happy. Offering occasional discount offers would help maintain your long term customers' interest in your products.
Start with free WooCommerce wholesale pricing plugins
If you are new to the WooCommerce ecosystem and just trying out wholesale strategy, then you can use one of the free WooCommerce wholesale pricing plugins discussed in this article. There are several good premium options as well, which you can move into when your business grows and you need more advanced features. Leave us a comment if you want to share your experience with one of these plugins.
Further reading