Last updated - June 13, 2023
Hosting is one of the most crucial aspects of a WordPress site. To ensure continuous uptime for you site, and an efficient user experience, you need a premium hosting service. There are several popular hosting service providers that offer relatively good services at low price as well. However, if you want to get started with a new website without considerable monetary investments, you can check out some of the free hosting options too. In this article, we will discuss some of the best Free WordPress Hosting that you can use to start a new website.
WordPress.com is one of the most popular website builders in the world. It offers an option to get started with your own website for free. You can easily create any kind of website without the requirement of coding knowledge using WordPress. Also, it offers a large number of professional themes that you can use to design your site. Customizing your site is too easy with the block builder. In addition, you can easily integrate additional features and functionality with add-ons. Furthermore, you can manage your website on the go with a convenient mobile app as well.
Features
Create a robust website with diverse pricing plans including a free one.
Customizable themes for effortless designing of your site.
Mobile and desktop apps for added convenience.
Search engine friendly and optimized for social sharing.
Weebly is another preferred website builder that offers a free plan to help you start without huge initial expenses. It has customizable designs and a variety of tools to help you build the website of your dreams effortlessly. Interestingly, it has a range of starter guides and tools to plan. Moreover, you will get access to a range of marketing, advertising and social media sites to grow your site. Another notable feature of the Weebly website builder is the extremely friendly and reliable customer support team. You can create a website for basic usage with free SSL certificate.
Features
Comprehensive website builder tool that lets you create a website easily.
Responsive themes and templates to help you design a site easily.
Powerful SEO themes to ensure the search engine visibility.
Drag and drop builder for easy options.
Several video hosting options.
Wix offers excellent options to help you create a website for free. Depending on the requirements, you can easily create a website using this powerful tool. Though there are no free plans, you can use the 14-day free trial of Wix to get started with a website. With designer-made templates and integration with several tools, you can easily manage your website with Wix. Additionally, you will find SEO tools, logo maker and custom domains as well.
Features
Popular website builder with free trial options.
Free hosting when you choose premium plans.
Wide range of templates to choose from.
Custom domain names.
Analytics and advanced SEO tools.
You can use Google Cloud services to create websites with options for customized solutions or Click to Deploy. They offer basic services to help you get started with a website with domain name and email address. You can Click to Deploy a WordPress website easily and make further modifications to the website as per requirements. If you are just starting out with a blog or a small website, this solution will be extremely useful for you. The free trial offers $300 free credits, which you can use to get access to any of the cloud services from Google.
Features
Easily create a website with free domain name and email id.
WordPress click to deploy website with further customization options.
Custom pricing based on the chosen products.
Free trial that covers initial expenses.
If you are looking to get started with a WordPress website with absolutely no cost for hosting, this is an option you can try. It offers advanced technology as well as assured uptime with relatively good speed. You will also get a custom control panel and a free website builder as well. Moreover, you can get started pretty easily with this service as all you have to do is register with them. When you need more options for your site, you can easily switch to one of their paid plans as well.
Features
Free web hosting options when you are looking for a free option to get started with a site.
3GB bandwidth and 300 MB disk space.
CPanel for easy management of site.
WordPress auto installer.
Easy to use website builder.
AccuWeb offers one of the most preferred free hosting services for WordPress. You will get all the essential services required with the free plan itself. And if you want more resources according to your site's growing demands, you can easily switch to one of their premium plans. However, in order to use the free hosting service, you need to have a domain name registered that is not free.
Features
Free WordPress hosting plan.
Advanced technology stack with CloudLinux, CloudFlare and xVarnish.
Full access to cPanel.
No advertisements.
Does not require credit card for signing up.
This free WordPress hosting service offers you a great option to host your WordPress site without ads. You will be able to install WordPress in a single click, and can manage up to 5 hosted domains. Additionally, the service provides 3 email accounts as well as 250 MB disk space. Furthermore, you can easily find VPS and dedicated hosting plans with them when you need more resources.
Features
Free hosting service without advertisements.
One-click installer for several web applications including WordPress.
5 Hosted domains and 3 business email accounts.
Easy to switch to a paid hosting plan.
x10 hosting offers free cloud hosting that will help you get your site online pretty quickly. You will get a complete web hosting package with PHP, My SQL and cPanel. As the services are powered by an advanced technology suite including SSD, you can expect a stable performance for your site.
Features
Flexible Free WordPress Hosting plan with enterprise-level hardware.
One-click WordPress installation.
Advanced tools to manage your tools with complete control.
Dependable support staff.
You will find a range of affordable hosting options for your WordPress site with WPNode, including a free one. Though the free plan has limited bandwidth and storage, you can get all the essential features with their paid plans. Moreover, the free hosting plan does not have any advertisements, and also offers good security.
Features
Free hosting service for your WordPress site with no advertisements.
Stable and secure.
Good performance.
No hidden charges.
Easy to scale with premium hosting options.
This is one of the fastest options for free WordPress hosting and they also assure continuous uptime. You can use your own domain name, or go for one of the available subdomain extensions. The service also ensures that there are no paid advertisements when you choose a hosting plan. Furthermore, there are no limits on bandwidth or storage.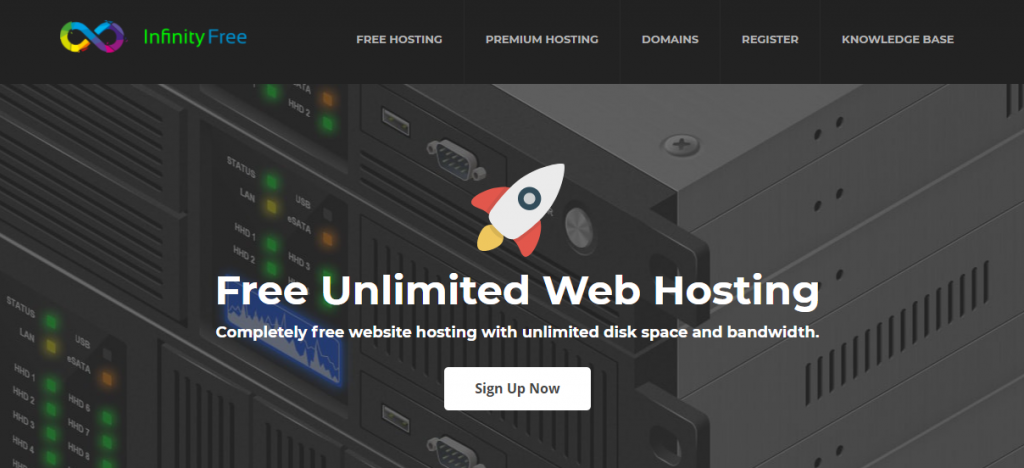 Features
One of the fastest options among free hosting services.
Guaranteed uptime and no bandwidth or storage limits.
Easy WordPress installation.
Option to use own domain or a subdomain.
No hidden charges.
We hope these Free WordPress Hosting options will help you get started with a new website without major financial commitments. Feel free to leave us a comment if you have a query.
Further reading