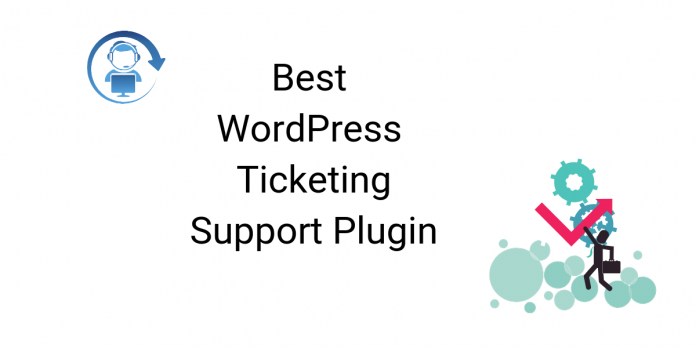 Last updated - February 24, 2020
A support system is vital for any business to keep customer communications intact. In any business, for example, even eCommerce related, to strengthen the bond between a customer and a business provider, it is ideal to use WordPress ticket system. With ticketing software, the issues are communicated to the support easily. An ideal ticketing software collects all the user queries from various sources like emails, chat etc. and then lets you manage them in a single system. Overall, a support ticket system helps to manage, store and monitor user queries in a better customized and organized way. If you are using WordPress, there are plenty of support ticket plugins available – both free as well as premium. Here we take a look at some of the feature-rich high-end Free WordPress Ticket Systems Plugins that you ought to try.
A complete WordPress support ticket system plugin, it is used to track the tickets and manage them efficiently. WSDesk is developed by Elextensions.  It is one of the most popular free support plugins available in the market to create a support ticket system. Even in the free version, WSDesk offers complete support and excellent management for tracking tickets.
Pros
Unlimited Agents.
Ticket Creation and Management.
Email Piping.
Unlimited Tickets.
Fast and responsive design.
Efficient tracking of Ticket history.
Customized reply for tickets.
Agent analysis and reporting.
User-friendly Ticket View.
Easy integration with Woocommerce.
Premium version price is $89/year.
Unlimited file upload option.
Cons
Automation features like Triggers are only available in the Premium version.
Collaboration on the same ticket by multiple agents is not possible.
No multi-lingual support.
No collision detection when replying to tickets.
WPHelpDesk is one of the most popular WordPress ticketing systems. In the first place, it has all the necessary features required for your support ticketing system. Basically, all essential interaction and maintenance of tickets are possible using the plugin. It is easy to configure and use. Moreover, the user interface of WPHelpdesk is pleasing and quite easy to work on.
Pros
Customers can choose priority and department for a ticket.
Easily understandable interface.
Cons
Lack of automation features.
Lacks a strong knowledge base. Uses public tickets as a knowledge base.
Do not perform agent analysis reports.
Pricing plan begins at $99 / year.
No refund is available after 30 days of purchase.

A unique support ticket system which brings in a single window for the whole team. Collaborations happen when tickets arrive as an email or any request comes up. It has a clean interface with all features included in a single window as all the conversations are kept well organized in the mailboxes. It brings together all the emails, across brands and teams, in a single mailbox.
Pros
Generate Reports efficiently in an organized manner.
Email integration.
Secure and Reliable.
Can connect to a Knowledge base.
Cons
Short Learning curve.
Pricing begins at $12/user per month.
Support is offered for 24/6.
User limitations on cost and plan.
A quite interactive and elegant Ticketing system that has numerous features to look into, HappyFox makes the support ticket system less chaotic and robust. It also has a self-service knowledge base and interactive community forums. Automating tagging of tickets, that makes response time lesser. Seamless third-party integration. You can opt for a 30-day trial version.
Pros
Foolproof FAQ and Knowledge base.
Support ticketing systems with a chat plugin for a faster response.
Tickets can be raised from any handheld device.
Can manage visibility preferences.
A cloud-based solution, hence it can be integrated via API Call.
Multi-lingual support. Support over 35 languages.
Unlimited Knowledge base and excellent community forums.
Cons
Pricing starts at $29/month per agent.
The number of agents per plan is restricted to a certain number.
Lacks Email Piping.
Minimum 3 agents per plan are required.
One of the most popular SaaS-based plugins is ZenDesk. And it has been noted for its seamless integration with WordPress sites. This WordPress support ticket system lets you convert the comments into active tickets. Zendesk has an ideal interface dashboard perfect for anyone to use.
Pros :
SaaS-based platform.
Favors multiple channels and features to augment ease of use.
Easy to build a customer base and a knowledge base.
Being SaaS-based, it is mostly easy to set up and use.
Search-enabled as well as easy to understand the functionality.
Flexible ticket management and also workflow is automated.
Another key point is that it is compatible with Mobile.
Ultimately support more than 100 integrations.
Multiple time zones and languages supported for professional versions.
There is a better reporting system in terms of data regarding tickets.
Cons
Pricing starts at $5 per agent per month.
Need to upgrade to get better features.
Lack of collision detection when different agents reply with the same tickets.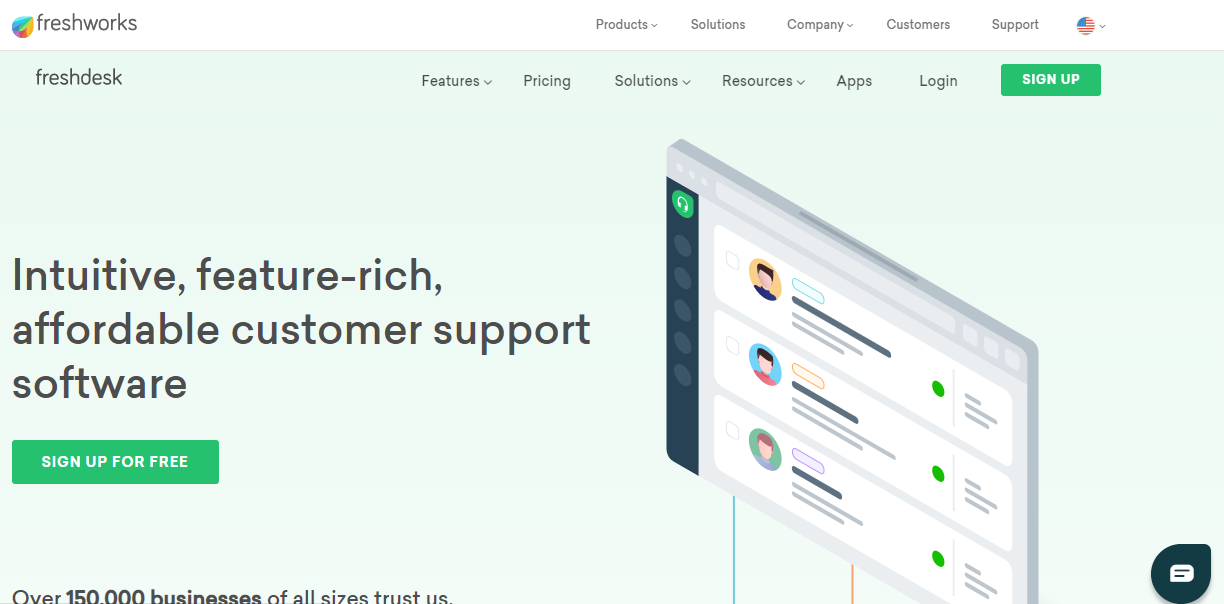 Notably, Freshdesk is another SaaS-based support ticket system predominantly used by businesses. Chiefly it is famous for its ease of use and automation, it is an ideal plugin to deal with support using emails. With freshness, it is easy to coordinate the responses received and even collate it as required.
Pros
Ease of use is high.
Better interfaces.
Communicative designs.
Collision Detection, when same tickets are replied to by agents.
Self-Service Portal.
Can easily integrate with Freshbooks, Google Apps, Harvest, CapsuleCRM
It also offers multiple languages as well as various time-zone support.
Basic plan Freshdesk Sprout is just $0 up to 3 agents.
Cons:
Beyond 3 agents, the price starts at $15 per agent /month.
The reporting module lacks solid information.
Pricing is higher for premium plans.

uCare is a complete WordPress support ticket system. It is easy to integrate with WordPress. You can even create unique roles for your users redefining the customer service. The ticket system adheres to all the basic features of a WordPress support ticket system.
Pros
Works perfectly with any theme.
Provides features like ticket search, filter, status and priority.
Quicker and faster responsive designs.
Event logging which gives insights about everything happening.
The plugin supports languages -Arabic, Dutch, English, Farsi Persian, French, German and Serbian.
It also offers a free trial to get hands-on with the plugin.
Cons
Email Piping has to be purchased as an add-on.
Pricing, however, is $10/month
Manage all your tickets using WordPress ticket system plugin like WP Ticket. A customer-friendly plugin which helps to raise tickets easily. As with all other ticketing software, it helps to support clients by easily managing tickets and reporting efficiently.
Pros
Creates custom fields.
Upload attachments.
Prioritise tickets.
Email piping.
Tickets can be locked while editing to prevent access at the same time.
Cons:
Extensive features are available only in the premium plugin.
However, the set up is slightly tedious.
A complete professional support system, which eases the ticketing system. The interaction makes it look more like a chat.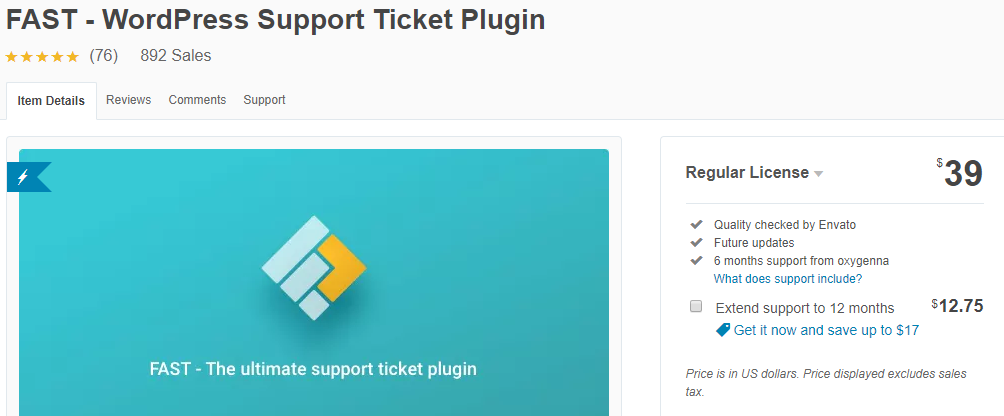 Pros
Quicker responses.
Keeps you connected with users instantly.
No extra add-ons or other purchases required as it is a complete package.
Email piping
Ticket Customization is allowed.
It can be 

translated

into various languages.
Secure
Works with any theme.
Can instantly connect with Envato account.
Cons
Pricing is $39.
Licence is per each customized end product.

Arguably this is one of the best Support Ticket systems available for WordPress. Even its free version has numerous features. It includes all the basic specialities of a ticketing system like monitoring and managing tickets. Ultimately it also helps you transfer the same tickets among the agents. It also lets you even collaboratively work on the same ticket.
Pros
Highly Customizable – it also allows custom field features.
Email notification.
Multi-language support. Supports languages  English, French, Dutch, Hungarian, Italian,
Portuguese, Spanish, Swedish, Persian and Polish.
Unlimited departments, agents, channels and tickets.
Time Tracking to track the time taken to get the ticket done.
Cons
Do not support Email Piping.
The pricing starts at $149 / year for a Standard Plan.
To Conclude
Despite all the pros and cons, each and every WordPress support ticket system finds its usage in maintaining and streamlining the ticketing process. Each of these ticketing systems finds its wider usage as per the businesses they are employed to.