Last updated - November 10, 2023
If you are a WordPress user then you would know that Gravity Forms is the most popular and commonly used form plugin on WordPress. Owning and managing a successful and impressive WordPress website requires the integration and usage of forms, thus rendering it necessary to install Gravity Forms.
Having said that, Gravity Forms has grown to become an entity backed up by several dedicated add-ons. We will cover some of the best add-ons for Gravity Forms in this blog. Read along!
What is Gravity Forms?
Gravity Forms is paid WordPress plugin for the purpose of creating various kinds of forms and integrating them with your WordPress website. You may easily add contact forms, tests, and surveys to your website with the help of this plugin. It is well-known for features like conditional formatting, which automatically displays or hides specific questions depending on how users respond to earlier questions, and routing, which sends form submissions to email addresses provided in the form submission's contents.
With options for saving, adding logic, e-commerce, and much more, Gravity Forms allows you to develop forms that are far more sophisticated. The Basic License, Pro License, and Elite License are the three levels of licenses available for this plugin, and they are all reasonably priced. Gravity Forms also has an endless feature set and is simple to configure.
The Importance of Gravity Forms for WordPress
Forms are a crucial factor to take into account when developing your WordPress website in order to gain your visitors' confidence and promote to them effectively. Investing in a high-quality plugin will ensure that your data collection is efficient and user-friendly.
You can completely configure each form with Gravity Forms, including who gets the responses, who sees the form, and what the user can submit. Gravity Forms will assist you with all of this and more for your WordPress site, whether you require straightforward contact forms, email sign-ups, or even intend to create sales forms.
Leading messaging, analytics, payment processing, cloud storage, and marketing automation platforms all interface with Gravity Forms. The following integrations are noteworthy: HubSpot, Slack, MailChimp, Stripe, and Constant Contact.
Benefits of Using Gravity Forms for WordPress
Ability to Customize
Users of Gravity Forms have access to a remarkable degree of customization. Almost every field on the form is editable. By doing this, you can design a form that is exclusively for your website. With CSS class names, you can modify the Gravity Form's built-in styles.
Moreover, you can alter the formatting of the data. For instance, you can switch the format of date fields from dd/mm/yyyy to mm/dd/yyyy. This indicates that Gravity Forms are simple to use anywhere.
Add Additional Features
Also, the multi-page feature of the Gravity Forms plugin, which divides the form into multiple pages, helps prevent form fatigue. There is also the option to "save & continue," which makes it simple to leave the form and come back to it later to finish filling it out. To access the save & continue option, the user will nevertheless need to register for an account.
To help detect the bots, for instance, the plugin added new functionality to its toolkit. Anti-Spam Honeypot is a feature that uses Javascript to conceal an extra field and is an invisible solution.
Absolute Ease of Use
Gravity Forms' user-friendly design makes creating forms simple. Even a beginner can complete it correctly in a few minutes. The majority of clients who want forms on their websites just don't want to learn how to code. They don't have to because all they need to do is select the Gravity icon and input their desired form, thanks to Gravity Forms.
Secure your Forms
Hackers are constantly searching for online form vulnerabilities that they can exploit to infect, set up covert pages, and infect other websites. In order to persuade users to enter their data on their sites, site owners need to strengthen their security. For this reason, you must use form builders like Gravity Forms. It has a lot of security measures, including login requirements, user permissions, automated updates, and spam defense. You can also restrict access to some features to users who are logged in by using the plugin.
Top Gravity Forms Add-ons
An incredible add-on bundle is available right away from the Gravity Forms stable. The Basic Add-ons, which allow you to integrate Gravity Forms with a few email marketing services like ActiveCampaign, MailChimp, Mad Mimi, AWeber, etc., are immediately available to you after you acquire a Basic, Pro, or Elite License.
If you have chosen the pro and elite license, in addition to the Basic Add-ons, you also receive 16 additional add-ons that will certainly revolutionize your use of Gravity Forms. The largest and most powerful of the three bundles, Elite Add-Ons is designed for Gravity Forms power users. The package, to begin with, supports an unlimited number of websites and is prepared for WordPress multi-site. 43 add-ons are included, as well as priority support.
With Gravity Forms Product Add-ons, you have more control over how prices are displayed in online retailers. Additionally, it gives you the option to control how (integrated) automatic price computations operate. You are not required to show them if you want not to.
With every WooCommerce product, it may connect complex product setup forms. To avoid inaccurate data entry into complex forms, tracking is done when a product associated with a Gravity Form is found in an online cart.
Gravity Forms Styles Pro Add-on is the best in the business when it comes to customizing your forms. The add-on enables you to design, personalize, and style form fields, buttons, radio buttons, checkboxes, and other elements.
Around 2,000 fantastic fonts and elements, and icons are also included. To help you get started, you also have pre-built style themes. You can change things like background colors, label fonts, sizes, and colors, border colors and widths, border radius, font colors, and more options than you could possibly need.
Gravity Perks is not a single add-on, which is a vital concept to comprehend. This package contains Gravity Forms add-ons (over thirty, in fact).
You can choose to use only the add-ons you wish because they are all modular. Not only do you not need to install features you won't use, but you also don't need to add extra code to your WordPress website.
Minor modifications like those that limit the number of words allowed in specific boxes are some of the add-ons. Some add-ons are a little more complex than others; they add fields for taxes, discounts, and other things.
The plugin's features can be enjoyed to the fullest extent in this manner. You can regulate and enhance all facets of your shapes with Gravity Perks. Gravity Perks refers to its add-ons as "perks."
With the help of Gravity View, your website's uploads are made presentable for viewing. GravityView manages every step, making it a straightforward tool to use.
It is a simple method for displaying pertinent data (event listings, profiles, metrics, etc.) on your website without modifying the code. With the help of GravityView, you can use one of the pre-made designs to show the data from your Gravity Forms on your website.
These templates enable you to create items such as staff profiles, resumes, job boards, event listings, etc. using the data.
You don't even need to develop a form using Gravity Forms in order to speed up the entire process for you (both the data collection process and the subsequent display of the data).
With the help of Google Analytics and Google Tag Manager, you can easily add event tracking to your Gravity Forms with the Event Tracking for Gravity Forms plugin.
Additionally, you may define custom event categories, actions, labels, and values as well as conditional logic for multiple events, track form pagination, and many other things. You may also set dynamic event values on payment forms and other forms.
The best tool for scheduling and registration is called Bookings For Gravity Forms. The user experience can be enhanced by using it as needed. An online appointment or booking page is primarily intended to be quickly and easily scheduled.
A high-end WordPress plugin called Bookings for Gravity Forms is intended to make it easier for clients who work with files to streamline their web design.
Online reservations and appointments are made with no hassle thanks to the multi-features and customized plugin. Whenever, from any location, customers can make reservations online. Subscribers may make travel and hotel reservations straight from their phones thanks to this solution's comprehensive mobile adaptability.
Gravity PDF is a straightforward but very practical Gravity Forms add-on. The add-on has so many amazing features for creating PDFs that you'll question why it's free in the first place. It reduces the process of producing PDF documents from user data to that of fourth graders.
You have complete control over your forms and PDF documents with GravityPDF because you don't need any third-party APIs. Second, you can automatically email PDF files, and conditional logic will give you even more power.
Access to PDF files can be restricted until payment has been received by integrating Gravity PDF with Gravity Forms' official payment add-ons.
With your logo, font, color, and even paper size, you may brand and alter the PDF document. The add-on includes four ready-made templates to help you get started straight away, so keep that in mind.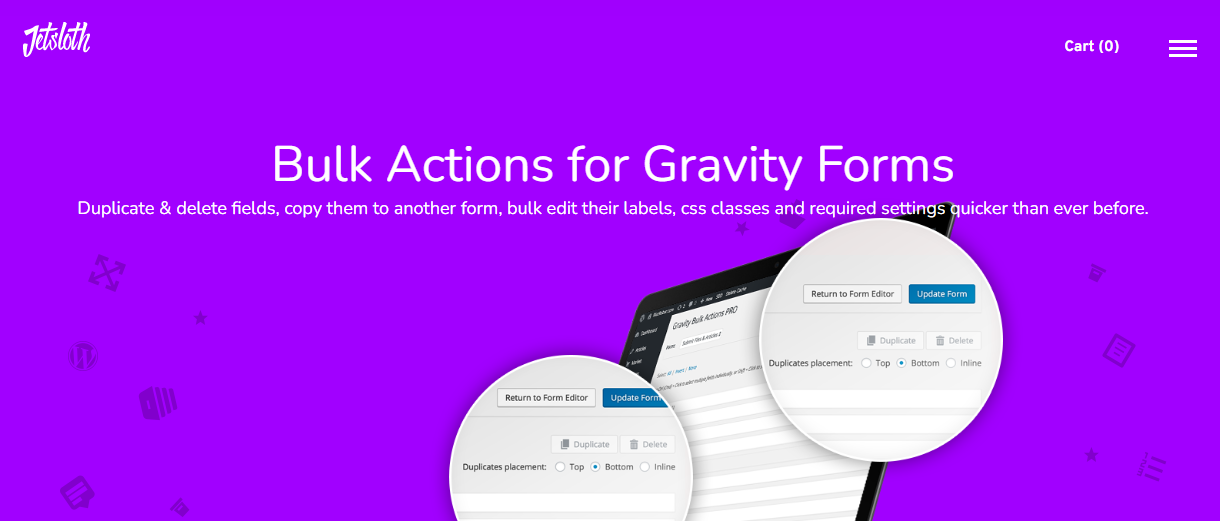 The laborious job of modifying huge Gravity Forms is made simple with Bulk Actions for Gravity. It can literally cut the amount of time needed to modify long forms' form fields and the whole form down to just a few minutes. A streamlined and familiar user interface is used by Bulk Actions for Gravity forms to make altering forms quick and simple.
When you use Bulk Actions for Gravity forms, you can multi-select all the fields you wish to delete from your form and have them all removed with the click of a button. Incredible if your form has 20 or more fields. Also, the Bulk Actions for Gravity Forms reorder tool makes it a snap to drag and drop single or numerous form fields in a flash.
The WordPress plugin Gravity Forms to Word Document Autofill offers a complete document automation solution. With the Word Document Auto-fill plugin, there's no need to waste time manually sending emails to clients because everything is automated.
Word documents that may be readily downloaded or emailed to anybody are created using the data gathered from form submissions. Simply create a new Word document, map it to your form fields, and generate the document to collect data from your form. Any number of document templates can be uploaded and assigned to form fields.
Further Reading