Last updated - September 28, 2023
Running an eCommerce business requires a lot of efficiencies and quick shipping. Multi-carrier shipping plugins guarantee smooth delivery on schedule, among other things. It might be a little intimidating because there are so many multi-carrier plugins available. As a consequence, we researched and chose the top WooCommerce multi-carrier shipping plugins. As a result of WooCommerce's quick development, many recognized logistics and shipping companies have created multi-carrier shipping APIs. These plugins serve as a conduit for consumers and shipping companies, relaying crucial information and improving user experience once they are integrated into a WooCommerce store.
In this post, we'll go over some of the best shipping plugins for WooCommerce, both free and premium, that will unquestionably enhance your clients' shopping experience. Online companies may streamline the intricate and time-consuming process of eCommerce shipping and logistics by using these multi-carrier shipping plugins.
What Makes a WooCommerce Shipping Plugin Good?
To properly ship any goods, you need to complete the following five things:
Make precise shipping cost calculations. This ought to happen at the time of checkout.
Print accurate packing slips and shipment labels.
Inform customers when their order has been shipped.
Customers should have online access to shipment tracking data.
Address issues with shipments.
Some of these features might not be included in a single plugin. But for a comprehensive system, you'll need them one way or another.
You might need to combine a number of these plugins if you want to make shipping go as smoothly as possible.
You can get real-time shipping costs directly from FedEx, UPS, Canada Post, and USPS and show them on your cart and checkout pages by using the ELEX EasyPost Shipping & Label Printing Plugin for WooCommerce. eCommerce companies that often utilize these shipping services to distribute their products can profit from this plugin. The plugin makes use of EasyPost APIs to show shipping costs on the cart and checkout pages of your website, as well as to let users buy postage and print shipping labels right from the WooCommerce admin.
Features:
The shipping costs for USPS, FedEx, UPS, UPS DAP, UPS SurePost, and Canada Post are updated in real-time.
Create shipping labels for FedEx, UPS, Canada Post, UPS DAP, and USPS.
Give your customers a rough idea of how many days it will take to get their goods delivered to the designated delivery address.
Ability to trace shipments.
Ability to change rates and incorporate handling charges.
Packaging for parcels.
The option to choose several services for each plan.
Activate shipment insurance.
Set pickup times.
In the field of multi-carrier shipping logistics, ShipEngine is a leader. While making the development process really basic and straightforward, it allows clients to compare shipping costs from various carriers, confirm delivery addresses, generate and print mailing labels, and much more. A multi-carrier shipping plugin for e-commerce companies, online merchants, and storefronts is called the ELEX ShipEngine WooCommerce Multi-Carrier Shipping & Label Printing Plugin. With a number of carriers, shipping may be connected in order to acquire real-time shipping rates. In order to enable multi-carrier shipment, it works with UPS and FedEx.
The plugin successfully optimizes WooCommerce UPS and WooCommerce FedEx shipping and aids you and your customers in selecting the best shipping provider by showing real shipping rates on the cart and checkout pages.
Features:
The plugin accesses your ShipEngine account to get current UPS and FedEx shipping rates for domestic and international shipping services.
You may buy, create, and print UPS & FedEx shipping labels directly from your website's backend.
Allows customers to view anticipated delivery dates on the shopping cart and checkout pages.
Ability to trace shipments.
Ability to change rates and incorporate handling charges
the option to choose several services for each plan.
ReachShip is an effective multi-carrier shipping solution for WooCommerce-powered businesses. This plugin enables businesses to optimize their shipping processes and give dependable and speedy delivery choices to their clients.
This plugin, with its multi-carrier support, real-time shipping rates, shipping label creation, and other capabilities, assists companies in providing dependable and efficient shipping alternatives to their clients, hence enhancing the entire customer experience.
Features:
This plugin supports numerous shipping services, including USPS, FedEx, UPS, AustraliaPost, and DHL, allowing businesses to select the carrier that best meets their needs.
The plugin calculates shipping prices in real-time depending on the weight and location of the product, ensuring that clients receive accurate and up-to-date shipping rates.
It automatically creates shipping labels and tracking numbers, removing the need for human data entry and lowering the chance of errors.
Customers receive real-time tracking updates for their deliveries, which improves the customer experience and reduces the amount of questions and complaints.
Businesses may use the plugin to print shipping labels in bulk, saving time and increasing efficiency.
The ReachShip plugin makes it simple to schedule pickups for your shipments. You may schedule your pickups for the most convenient day, time, and place.
Businesses may use the plugin to create shipping rules based on product weight, destination, and other factors, assuring precise and effective shipment management.
The WooCommerce Shipping Services plugin automates every step of the shipping process by connecting directly to your WooCommerce store. This plugin, which has been approved by FedEx, UPS, Australia Post, Purolator, USPS, and Canada Post, enables online merchants to fully handle every aspect of the shipping process from inside their WooCommerce dashboard.
The plugin currently supports 50+ shipping carriers to dispatch orders globally, saving online retailers time and money.
Features:
Enables you to see shipping costs estimated by the carrier in real-time during checkout.
Can quickly print hundreds of shipment labels.
Allows for real-time tracking for both customers and store owners.
May print manifests and asks for carrier pickups.
Both domestic and international shipping is supported.
Provides a variety of packaging techniques, including box packing, weight-based packing, and quantity-based packing.
You may establish and modify flat rate shipping charges for your items with this plugin. It has a lot of appealing features, such as the option to generate an infinite number of delivery options.
You also have the choice of specifying several shipping options based on the weight, size, and category of your items, which enables you to estimate the cost of shipping to a certain region before placing your purchase.
You may select to send to Africa, Antarctica, Asia, the United States, Canada, South America, and the European Union thanks to the capacity to organize shipping across seven continents.
Features:
Creates a shipping method based on the shopping cart's subtotal.
From the backend, any active delivery method may be removed.
For your convenience, the Import/Export Shipping Zone is open.
Shipping options for import and export are available.
Offers the appropriate delivery method for the relevant nation.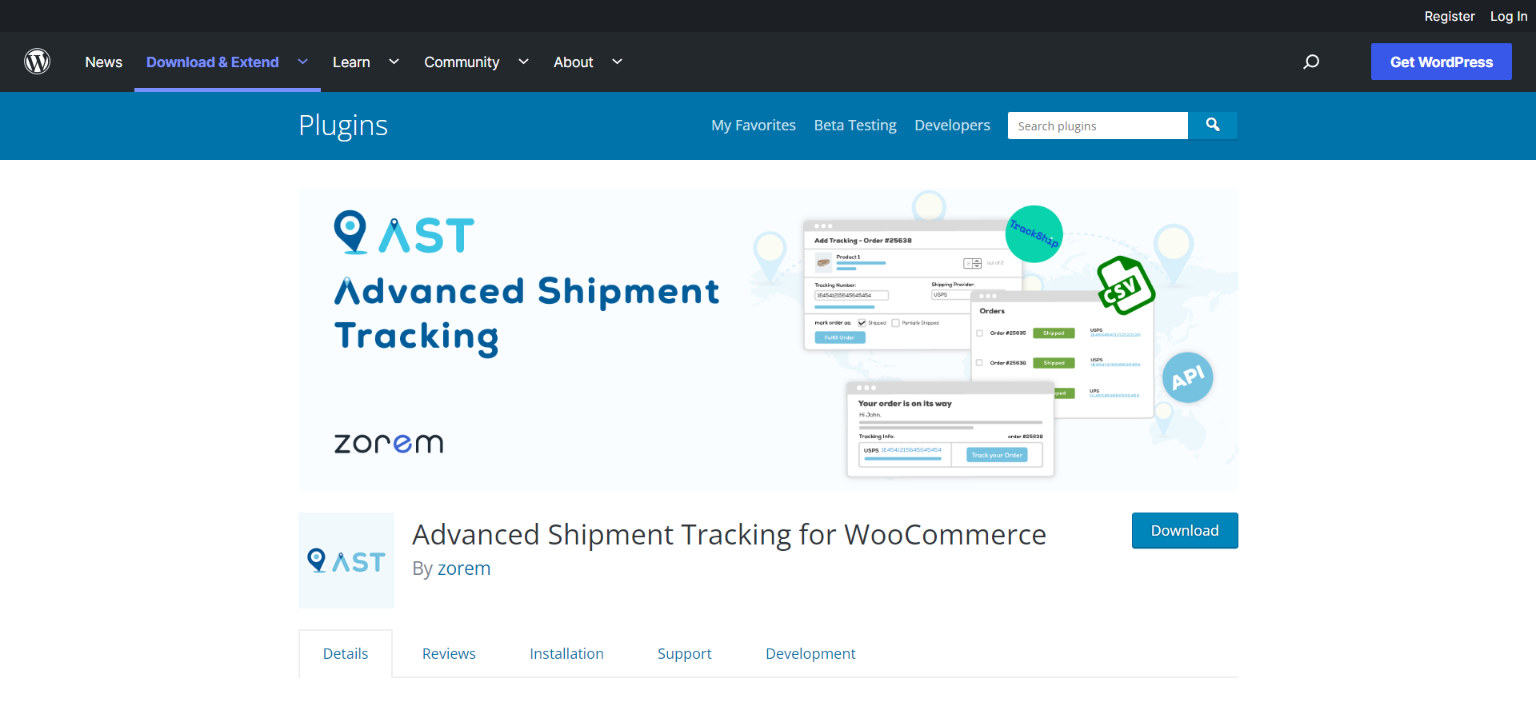 A shipment tracking feature is offered by Advanced Shipment Tracking for WooCommerce, which enhances the client experience overall. With the aid of this plugin, you can add tracking data from more than 300 shipping companies to the WooCommerce purchase completion emails.
Features:
The shipping company, tracking number, and date are all included in the cargo tracking data.
It is simple to include certain shipping companies.
Various paid extensions, such as the tracking per item add-on.
If you're looking to integrate multiple shipping companies into your WooCommerce store, it's essential to consider Multi Carrier Shipping Plugin By PluginHive. Our plugin seamlessly integrates the shipping services of renowned carriers like FedEx, UPS,USPS, Stamps.com and DHL. With its capabilities, you can easily configure flat rate and free delivery options based on specific criteria.
Moreover, this plugin is fully compatible with popular multi-vendor plugins such as Dokan and WooCommerce Product Vendors. For a seamless integration of the plugin with multi-vendor solutions, make sure to install the WooCommerce Multi Vendor Shipping Add-on. Boost your e-commerce store's shipping functionality today with our powerful plugin.
Features:
Real time rates from UPS, USPS, DHL, Stamps.com and FedEx.
Configure Shipping Carrier or Services based rules.
Define WooConnerce Shipping Zones and create Shipping Areas.
Flexible Parcel Packing Methods for accurate shipping calculations.
Supports both Domestic and International Shipping.
Shipping Rates calculation based on custom rules.
Shippo is another California-based startup that specializes in global exports and international delivery, as well as parcel shipping and supply chain software. It may help with importing and exporting documents as a provider of services with global operations. Shippo software makes managing orders simple with the automatic development of shipping labels and packing slips.
Additionally, it enables online merchants to provide their customers with a single-view tracking page where they can follow all of their deliveries in real-time and receive automatic alerts when their orders have been picked up or are ready for delivery.
Features:
Alerts and tracking to keep you and your clients informed.
Sync all of your sales channels for convenient order management in one location.
Get the best prices from USPS, UPS, FedEx, DHL, and other companies.
Automatically generate return labels without cost.
Conclusion
As your business grows, a number of package shipment management problems may occur. Multi-carrier integration tools can help. Such software offers technologically enabled solutions that enhance order fulfillment and delivery processes while enabling your company to concentrate on growth.
Our goal in writing this post was to assist you in selecting the finest multi-carrier shipping plugin for your needs.
Further Reading