One of those common yet deeply personal activities is taking notes. Everyone takes notes, whether it be as easy as taking down a phone number or grocery list or as methodical as drafting up in-depth book summaries or meeting minutes.
While notes can be simple text for some people, perhaps with a few headings and bullets, for others they are more like complex sketchbooks with intricate drawings and illustrations. However you take notes, there is an app out there that can accommodate your odd preferences, note-taking requirements, and unusual peculiarities.
This blog will be your ultimate guide to the best note-taking apps available in the market. I have also attached a comprehensive video that explains in detail about Google Keep.
What is a Note-taking App?
A note-taking app is a simple application that enables you to digitally capture information on your device rather than writing it down on paper. The finest note-taking applications make it simple and easy to organize important information and preserve it for easy access.
What Makes the Best Note-taking App?
The finest note-taking program must be effective at what it promises to be. You'd be amazed at how many apps failed to meet this standard, even though it seems like a low bar to clear. Although capabilities like image-to-text conversion and pen support are not necessities, if a note-taking app talked about them on its marketing page, they had better be well-designed and pleasant to use.
As designed, note-taking apps have to be quick and simple to use. When you're looking for a place to make a note, a pen, and some scrap paper pose a genuine competition rather than other note-taking apps. This guideline applied to all functionality as well, such as editing and sorting notes; they had to be easy and natural to use rather than requiring a struggle with a terrible user interface.
Since you can access a notes app from any location at any time on any device, whether you're at your desk at work, lounging on your couch at home, or traveling cross-country, this is the main benefit of using one over a traditional notebook.
Each notepad app must, at the very least, be accessible on one desktop and one mobile device (and sync between them) and have some type of offline capabilities. Since you don't have Wi-Fi, you cannot be locked out of your laptop.
While there are several free note-taking applications on our list, some of the greatest note-taking apps that are not supported by major tech companies need a modest subscription fee. As long as this fee was justified by the features provided, it was not a barrier to inclusion. Therefore, value for money is a quality to look for in a decent
note-taking app.
Top 10 Note-taking Apps
ProofHub is more of an all-in-one project management and team communication software with note-taking as one of its major features rather than just one of those standard note-taking apps or a straightforward file management system.
A project's notes can be easily recorded using ProofHub's Notes function, which is simple to use and ideal for this purpose. You may safely store all of your ideas and keep a record of the minutes from your daily meetings. One of the best features of ProofHub's notes is that you can share them with others directly and even allow them to make additions to those notes.
ProofHub makes it simple for you to make notes for nearly anything as note-taking software. Each note can be given a distinct color to help you identify it. To keep everything properly organized, you may also add comments, attach files to a note, and group several notes together in a Notebook.
Features
Delivers strong performance, has the capacity to manage numerous projects, and offers almost infinite note storage.
Maintains a record of all the changes made to your notes.
To protect all of your sensitive information from unauthorized access, mark notes as private.
Advanced search makes it simple to find notes, and you may download notes in PDF format.
One of the greatest free note-taking apps is Microsoft OneNote, which is also strongly considered to be the finest note-taking tool overall. It's the first app that most people should use unless you're certain you want a particular set of functionality that it doesn't offer.
OneNote is highly flexible when it comes to taking notes, which enables it to adjust to whatever your unique needs are. Each Notebook is organized into parts that have sub-sections known as pages because it is designed after a ring binder.
Additionally, each page serves as a blank canvas on which you are free to write any kind of comment in any location. Add some photographs, click anywhere to add written notes, then, if your computer supports a stylus, draw mustaches on all of the people in the picture.
OneNote is free, but it makes use of your OneDrive storage, so there are costs involved. For the majority of folks, the 5GB supplied is more than enough. However, if you utilize OneDrive to store your images or save numerous audio and image notes, you can exceed that limit. In that case, you can pay $1.99 per month to expand it to 100GB.
Feature
Cloud syncing
Integration with Outlook
Versatility
Simple, thought-out user interface
Evernote, one of the most established and feature-rich note-taking apps, is an absolute necessity for any list of the best note-taking apps. Using a combination of notebooks, notes, and tags to keep everything organized, Evernote enables you to construct workflows that can be basic or sophisticated.
One of its better features for gathering research is the Web Clipper extension (available in Chrome, Firefox, and Safari), which enables you to quickly save full webpages, including text, photos, and PDFs.
There are very few circumstances in which you can't access your saved notes because they can be viewed on computers, mobile devices, and the web. Setting reminders, presenting notes in PowerPoint, and merging notes are some more functions. For those who use the iOS edition, recent updates include additional tables and a Siri integration.
Features
Make the most of every moment by syncing Evernote and Google Calendar to bring your schedule and notes together.
You can find the information you need at Home whenever you need it.
Make to-do lists in your notes and organize them any way you choose to stay on top of everything. Add deadlines and reminders so that you don't forget anything.
Record everything that is, was, or might be significant and make it accessible across all of your devices.
The majority of notes have a function and aren't meant to stand alone. They are intended to serve a variety of purposes, such as serving as a reminder to email a friend or as a tool for outlining a new book. You frequently need to use another app or service in order to do these other things.
While you might be able to outline a book on your notes app, it's probably not the greatest place to actually write it. You also can't send emails from it. For Google power users, this is what makes Google Keep such a fantastic choice.
Google Keep is a bit strange. It works well as a notes app, despite being quite basic. A helpful Chrome plugin is available for saving fast notes and links, and there are respectable web, iOS, and Android versions as well. But what makes it so helpful is how it works with other Google services.
Features
You have the option to write a new note, search for one from the past, view all notes associated with the project you're working on, and view your most recent notes.
The pinnacle of integration. In the right sidebar of Gmail in your browser, there is a small lightbulb indicator if you use Google Keep. The sidebar is the same throughout all of your Google Docs, Google Calendar, and even Google Drive.
When you click the tiny bell icon to add a reminder, the note shows up in your Google Calendar.
Google will also automatically transcribe any voice notes you record on your smartphone.
If you're firmly rooted in the Apple ecosystem, finding a fantastic, cost-free note-taking app won't take much searching. Apple Notes is a built-in feature of macOS and iOS and may also be accessed through your browser. Depending on how you access it, it may also be referred to as Notes or iCloud Notes.
Simply go to icloud.com/notes to access the online version of the app with all of your synced notes, whether you're using a PC or Chromebook. It's a wonderful perk to prevent your notes from being completely locked into your Apple devices.
Apple has recently expanded its offerings with the addition of tools like tags, sharing, and a robust search. Your notes can be formatted in a variety of ways, including adding text, attaching photographs, scanning documents, drawing, and handwriting. Siri is also integrated.
Features
You have the ability to write down ideas as they occur to you.
This note-taking app will undoubtedly satisfy most, if not all, of your note-taking needs whether you use an iPhone, iMac, or iPad.
Apple Notes syncs with iCloud without a hitch, much like Simplenote.
Additionally to creating and managing basic to-do lists, you may drag and drop material, including photos.
A new class of note-taking apps called "note-taking apps that push the boundaries of what a note-taking app can—and should—do" includes Obsidian. It tries to be a comprehensive digital database for your life, similar to Notion and Roam Research (which didn't make our list due to its high cost and access hurdle), and sort of succeeds in that endeavor.
In comparison to the other programs on this list, Obsidian has a considerably higher learning curve, so only give it a try if you're willing to put in the time to configure it to your needs.
Features
As with standard notes software, you can use the sidebar to organize your notes into folders and subfolders, but what's more intriguing is that you can use internal hyperlinks to connect them.
You may simply refer to notes you've already generated by typing [[, which brings up a dialog window where you can choose any other note to link to.
Additionally, a Graph view is available that shows all of these links.
In addition, you can pretty much personalize anything. You have complete control over the user interface and are allowed to open as many notes in a single window as you like.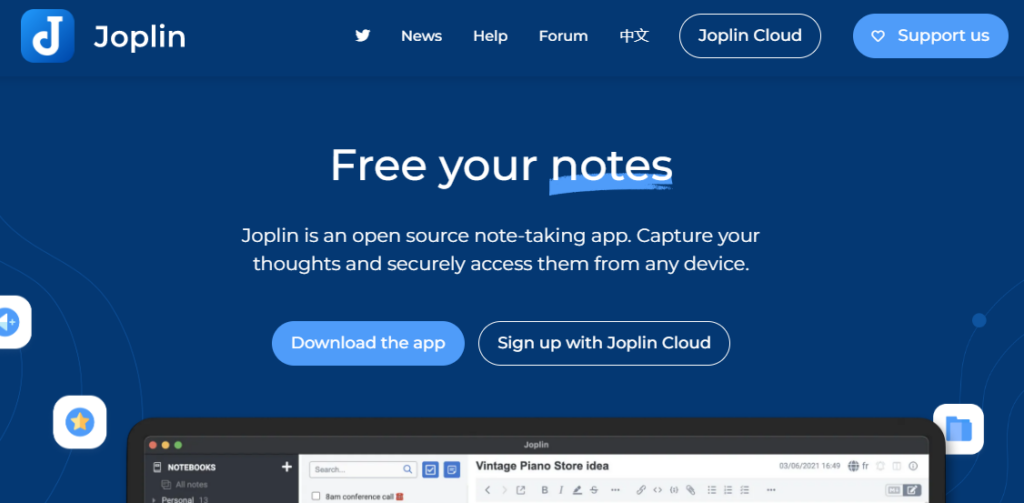 The top free Evernote substitute, Joplin is also the greatest open-source note-taking tool on our list. The closest thing is Joplin, though, and you can import all of your Evernote notebooks there. There is a fourth preview column that displays how your notes will appear in rich text because Joplin does, in fact, support Markdown.
The preview can be disabled, rich text can be used instead of plain text, and other changes can be made if you so choose. Of course, this is merely the default. Joplin is completely free to use, however in order to sync your notes across all of your devices, you will need some sort of sync service.
Features
You have the option of using a file-sharing service like Dropbox or OneDrive by using Joplin.
The official Joplin Cloud also enables you to share your notes with others and post them online.
Your notes are securely encrypted end-to-end regardless of the choice you make.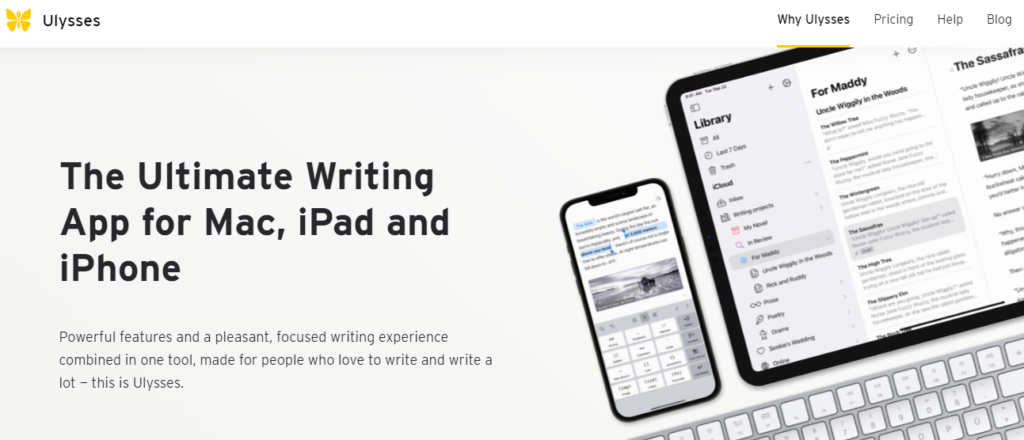 One of the best note-taking applications available on Apple's computing platform, Ulysses has been around for a while. It is also ideal for writing long forms. The app's own Markdown formatting enables for creative (and colorful) use of headings, and notes are produced and stored in this format.
Additionally, photos can be included in documents as links that, when double-clicked, will display thumbnails of the images rather than displaying the full-sized versions in the body text. In a sidebar that can also quickly display a word count, short notes, and other data, Ulysses places photographs as well.
Features
Your documents are saved and synced using iCloud by Ulysses.
These documents can be exported into several different formats, including PDF. eBooks, HTML, and Word.doc.
In comparison to traditional text processing tools, the app's text editor feels more simple and has fewer distractions.
The built-in grammar and style-checking tool in Ulysses is a fantastic feature. With the help of this program, you may proofread your writing and fix any grammatical mistakes.
The selling point of Simplenote is its user-friendly interface, which makes managing notes straightforward. Data synchronization occurs automatically, and it is accessible for iOS, Android, Mac, Windows, and Linux. If a client can't be downloaded, there is a web application as well.
Users can easily locate the information they're looking for thanks to tags and search capabilities, and they may share or publish comments with other team members or project collaborators. It is always feasible to go back to a previous version of a document because Simplenote backs up previous versions of those documents.
Features
All of your devices automatically and instantly receive updates to your notes. There is no "sync" button; it simply functions.
Every update to a note is automatically backed up, allowing you to access notes from the previous week or month.
Your notes can be written in Markdown format, reviewed, and published.
One of the internet resources that seeks to close the gap between conventional office work and the contemporary hybrid routine that many of us are accustomed to is Miro. Its list of capabilities is very comprehensive and goes beyond the conventional scopes of such applications, and it is best characterized as a multifunctional online collaboration tool.
In Miro, most of the work you'll end up doing will center around what the program refers to as boards, which begin as wholly empty places. The company has created templates that you can choose from the start because building one from scratch might be difficult and time-consuming.
Overall, we believe Miro is challenging to defeat. With a comprehensive range of features that should cover everything from research and design to presentation, it should be able to handle any conventional corporate activity. Its collaborative features are also unmatched. It's also difficult for us not to suggest it because of its security transparency and affordable pricing. Better help channels are the only thing we could ask for.
Features
Mind maps, Kanban boards, flowcharts, product roadmaps, and timelines are some of the templates that are used the most frequently.
No matter where you are—at the office, remotely, or a combination of the two—Miro enables your team to connect, collaborate, and co-create in a single location.
Miro offers more than 100 integrations with products you currently use, whether you want to edit Google Docs, handle Jira issues, or work over Zoom.
With the aid of sticky notes, pictures, mind maps, videos, and sketching capabilities, unleash your creativity and expand on it.
Conclusion
One of the most frequent needs of both individuals and teams is taking notes. There are dozens, if not hundreds, of note-taking apps on the market right now. Which note-taking app will you choose is the burning question of the moment. For a good reason, the apps we've featured in this article are regarded as the greatest note-taking apps. Look carefully through these apps to determine which of these tools will be most effective for you and your teams.
Further Reading