Last updated - June 14, 2023
As we have discussed before, featuring a live chat window on your online store can help you reduce cart abandonment. This is because users most often find it convenient to be able to chat with a representative of the store before a purchase. If your support agents can handle pre-sale queries just like traditional sales representatives in a physical store, it could be a real boost for sales. The simple fact that you are accessible through a chat window itself will help in building trust for the brand. And if you are using WordPress and WooCommerce, there are ample solutions to help you set up live chat widgets easily. In this article, we will compile a list of the best premium WordPress Live Chat Plugins. For free live chat plugins, please read this one.
LiveChat is one of the most popular options to set up a chat widget on your store. The advantage of using a chat widget is that most of the times you can resolve a customer issue pretty quickly, instead of dragging it through emails spanning days. And, it is especially helpful for pre-sale queries, where experienced agents can motivate prospective customers to purchase from you. It also helps you to follow up on leads, so that you can increase the overall sales on your store.
LiveChat helps you speed up the customer support process on your store. If you find a pattern that helps you resolve issues on the spot through chat, it can reduce your support load. You can use it on both desktop and mobile devices, so you will be able to stay in touch with customer issues even while on the move. In addition, it will help you gather data that will give you insights on the improvements that you are achieving on your store. Moreover, you can track the individual performance of your support agents. Another interesting thing to know would be the fact that it your data is quite safe with them.
The Starter pack is priced at $16 per month for one logged in support agent. This one comes with unlimited support agent registration, 60-day chat history, basic customization options, and more. You will get features like unlimited chat history, agent grouping and full customization options with the Team plan starting at $33. The Business plan, priced at $50, is the most popular one with fancy features like 'Staff Prediction' and 'Work Scheduler'. You can always use the 30-day free trial to get started with this one.
Features
LiveChat offers plenty of features for a comprehensive live chat experience for your customers. Let's take a quick look
Great set of tools
LiveChat comes with a lot of convenient chat tools to make your work easier. For example, it offers message 'sneek peek', where you can see what customers are typing even before they hit the Enter button. Similarly, canned responses allow you to store common responses so that you can use them for faster response to repeated queries. You will find a lot more features like file sharing, chat tags, adequate visitor information collection, and more.
Customization options
The choice of a premium option like LiveChat will be totally worthy of the money you pay due to their advanced features. You can totally personalize your chat window when you are using Live Chat with your company log on it. Out of the box, it comes with four different chat window themes, from which you can choose the most suitable one. You can also change the standard text on the window according to the way you are planning to use it. Sometimes featuring the agent profile on the chat window would help it to be more personal. It also offers translations for around 45 languages, so that you can handle international customers effortlessly.
Engage customers more effectively
LiveChat offers several features to make the chat window more engaging to your customers. It helps you get the names of site visitors at a certain moment and address them personally. This will definitely help to improve customer engagement on your store. Moreover, features like Automatic Greetings, Eye-catchers, Facebook chat etc., helps a lot in making the whole thing more effective.
Analytics tools to help you grow
LiveChat comes with great analytics solutions to help you gauge the operational flow and growth curve. In addition to the basic reporting features, you will advanced monitoring information like response times, and availability period of particular agents. The staffing prediction tool can come in quite handy, when you need to plan in advance for something.
WSChat is a WordPress plugin that will help you integrate live chat on your website or eCommerce store. As it is a WordPress plugin installed on your site, you can ensure better security and performance. With the help of WSChat, you will be able to have real time conversations with your customers and as a result provide them a better experience on your store.
In addition to resolving customer issues quickly, the plugin also helps you with lead generation. You will be able to view the list of active users on your site at a given time, and the support agents will be able to proactively initiate a chat with these users. Moreover, the plugin offers a lot of customization offers to help you personalize the chat window on the frontend. It also offers options to create unlimited agents, integration with WSDesk, and extensive reporting features. Also, the plugin offers AI chatbot integration through Google's Dialogflow. The plugin is available at a price of $69.
Features
Create an on-premise chat option on your WordPress site.
Complete control of data for store owners.
Monitor visitors and generate leads.
Pre-chat form.
Unlimited agents and chat history.
Customize the appearance of the widget and chat header.
AI chatbot through Dialogflow.
Tidio is another great option to help with your customer support as well as marketing efforts. It provides a dashboard where you can view chat with your customers on multiple channels, like chat, email or Facebook Messenger. It helps you set up different automated responses based on different scenarios.
You can use the basic version for free, which has features like unlimited tracking and messenger integration. If you are looking at features like Live typing, you have to pay additional $15 per month. There is also an add on for automated features that will help you improve your conversion rates at $15 per month.
Find more features of the Tidio Live chat plugin here. You can find a few tips to improve your conversion rate here.
Olark is another tool that can use to stay in touch with your customers and prospects. It acts as a support tool for your customer support efforts as well as marketing initiatives. The promise of Olark is help you get in touch with the right customer at the right time and thereby increase customer satisfaction, sales and conversions. It has a plethora of features to help you follow up on marketing leads. Moreover, it helps you integrate with a range of other tools that you use for an optimized workflow management.
They have three different pricing plans, where you will be billed 'monthly', 'yearly' or 'every two years'. You will be charged $17, $15 or $12 respectively per agent per month, according to the billing period you choose. You will get a 2-week free trial to see how effective is Olark for your business. They also have a free plan with basic features, one agent and a limit of 20 chats per month.
Features
Olark comes with a wide range of features to help your business. Here is a glimpse.
Easy to customize
It is quite easy to customize your live chat widget when you are using Olark. You can easily modify the widget colors to match it with your brand's color scheme. Moreover, features like the ability to add a profile pic of your agents would make it more personalized and customer friendly. It also offers extensive translation options, so that you can talk in the language of your customers.
Real time reporting features
It offers real time reports on your chat workflow, so you can predict busy times, and allocate resources accordingly. You can also understand how satisfied your customers are from the responses they get from your support agents. It also helps you to understand the topics that are coming up most frequently on chats, so that you can manage them better. In addition, you can set up automated email reports as well.
Automated messages
If you prefer to automate certain messages where, you can define a response based on customer behavior, Olark provides an option for that. However, the purpose of live chat feature itself is to provide a human connection to customers. So, expert advise is to keep the use of automated responses to a minimum.
Searchable transcripts
Olark provides an option to help you search through the chat transcripts. Sometimes, you need to revisit past chats to understand certain issues and this feature makes it all the more easier.
Agent management tools
Olark helps you manage the workflow of your customer agents as well. You can set a limit on the number of chats a particular agent can handle at a given time. It even offers options to help you route the incoming chats according to your convenience.
Integrations with other software
Olark integrate well with some of the other popular software that you might be working with. It offers integrations for Salesforce, HubSpot, Slack, Zendesk, Help Scout and a lot more.
Offering a personalized customer service would surely help a lot in improving the reputation and value of your business. Kayako offers a range of advanced help desk services, including an integrated live chat service, to help you offer a personalized experience to your customers. While resolving customer queries in real-time, you will be able to provide a boost to your conversion rate as well with this tool.
Kayako offers varied pricing plans suitable for businesses of different sizes and scope. For small businesses, the "Inbox" plan ($15 per agent) with shared inbox, live chat, social media integration and more, would be apt. Depending on your specific requirement, you can also check out "Growth" ($30) or "Scale" ($60) plans as well. They also offer a 14-day free trial for all these plans. Here is the WordPress plugin to try out Kayako help desk service. If you require custom solutions at an enterprise level, it is better to contact them directly here.
Features
Let's take a quick look at the features of the Kayako live chat service.
Resolve issues real time
The integrated live chat software of Kayako helps you resolve customer issues faster than ever. Timely resolution of queries and issues will reflect well in your interactions with prospective as well as existing customers.
Scope for pro-active customer support
Kayako live chat software helps your agents to approach customers in a more informed and refined manner. It provides agents with details like purchase history and browsing patterns of a particular user every time. This makes it convenient for agents to understand customers better, and the result would be better customer satisfaction. You can even send automated messages, based on the specific actions or even based on the location of the customer.
Automation for more accuracy
Kayako helps you configure rules to automate the support process based on specific user actions or set time intervals on your store. Your agents will also be able to share conversations between them more readily in order to resolve the queries more effectively.
Zendesk is a popular helpdesk solution that is preferred by eCommerce businesses of all sizes. They offer a simple tool to help you set up live chat as well. It helps you stay in touch with your customer, and reach out to them for marketing purposes. According to experts, there are better chances of conversion when you proactively offer support to customer lingering on a specific product page. At times, anticipating customer queries and be read with a response would do a lot of good for your customer satisfaction index. Moreover, you can manage more customer queries in a short time span compared to sending multiple emails.
There are multiple pricing plans that you can choose from. There is a free Lite plan that offers a single chat at a time, with chat rating and 14-day chat history. The Team plan is priced at $14 per agent per month, which includes features like unlimited chats, two triggers, widget customization, etc. The Professional plan is priced at $29, and offers features like unlimited triggers, conversion tracking, etc. The Enterprise plan, priced at $59 offers advanced features like skill-based routing, real time monitoring and more. And, you can get a free trial for a period of 30 days to try out the Enterprise version.
Features
You will find a great set of features with Zendesk chat as well. Let's take a look:
Target leads better
From your site visitors, you can reach out in a targeted fashion based on their current or past actions. This will improve chances of conversion considerably.
Pre-chat forms
You can collect contact information of your customers when they are initiating a chat. This will help you prioritize responses more efficiently.
Offline messages
Zendesk chat offers a contact form to customers even when you are offline. This way, they can still communicate their queries without delay.
File sharing
It helps you offer any file types to your customers. This can be quite handy when you need to send demonstration videos or screenshots.
Feedback
The chat rating feature will help you understand the customer satisfaction index of your chat feature. This will help with continuous improvement of your support process.
Tidio is another good live chat solution that gives you advanced features. In addition to helping you be in touch with your customers, it also helps in customizing the chat window, providing visitor information, etc. It also offers iOS and Android mobile apps, so that your agents can be available even when they are on the move. It offers you real time website monitoring, so that you can target prospective customers in a more assured way. In addition, you can add profile pics of your agents as well.
The Premium pricing plan is available for $11.99 per month for one agent, which has real time monitoring and customization options. The Premium Plus plan offers Analytics integration, chat departments, branding removal and more features. It is priced at $16.99 for the first agent. For every additional agent, you get a discount of 30% for the premium plans.
This is a great option to set up a live chat window on your WordPress site. You will be able to resolve issues in real time, and as a result can offer enhanced experience for customers. If you are able to resolve presale queries in this manner, it will have a positive impact on your conversions.
Similarly, you can reduce the cart abandonment rate on your site as well. The plugin allows you to save or copy the interaction between a user and an agent to improve the overall process. You will be able to keep offline messages as well as personalize the appearance of the chat window.
This is an easy option that will help you add a live chat window to your WordPress site. With the free version, you will be able to manage unlimited chats with three users. It has a powerful and user friendly dashboard for users and also offers convenient options for customization. Moreover, with the help of free AI chat bots, you will be able to automate payments, lead capture and appointment scheduling.
With their paid plans, you can get full access to your eCommerce products, and can easily share information with the users. It also provides great scope for user analytics and offers options to integrate contact history for every interaction with users. The intuitive design and ease of setting up makes it one of the most popular WordPress live chat tools in the market.
HubSpot's plugin offers many business tools for your website, including live chat.
HubSpot Live Chat lets you set up targeted messages for different pages or segments of your audience. If no one can respond immediately, you can enable an email capture form so your visitors can still get in touch. You can also set up a chatbot to personalize your conversations at scale.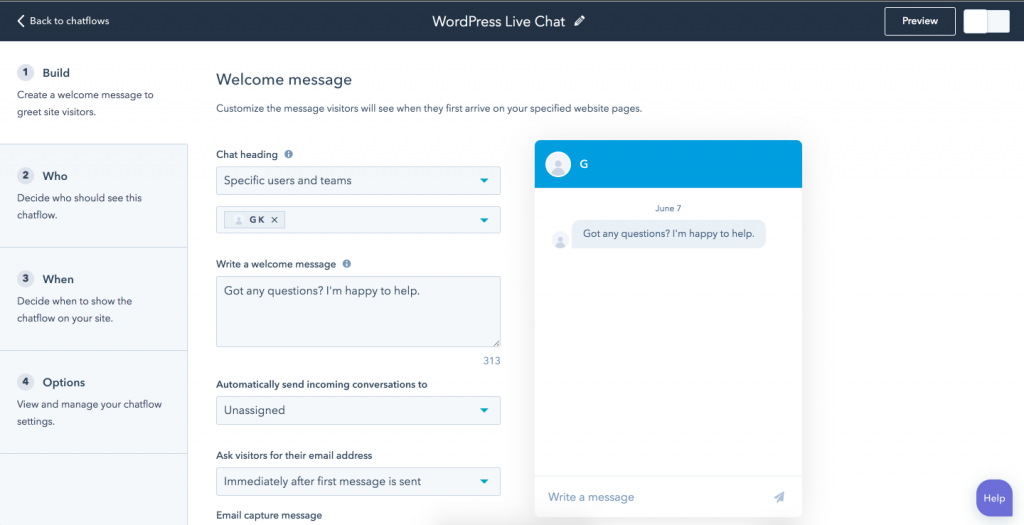 Because it's built on top of the free HubSpot CRM, you'll know exactly who you're chatting with and what pages they viewed on your website, be it a prospect, long time customer, or new contact. This makes for an excellent customer experience. You can take notes, send emails, make calls, schedule follow-up tasks, and create support tickets in one place, making following up an absolute breeze for your team
Live Chat is included with the free HubSpot CRM, so you can actually start using it for free. To get access to more advanced functionalities such as if/then workflows and transferring chats to different team members, you can upgrade to one of the paid plans.
Click here to sign up for an account.
This is one of the top selling live chat plugins that you can try on your website. You will be able to use it on unlimited domains and it offers a great option for enhancing customer experience on your site. It provides you an option to simultaneously interact with up to 90 users as it allows one support agent to chat with more than one users. The plugin won't affect your site performance as it is lightweight and is based on clean code. In addition, it has an option that will let you set up email notifications when a new user is online.
This is a great option to provide superior customer service to your customers. In addition, to helping you handle customers' queries in real time, this plugin helps you initiate chat with users on your site as well. The widget is fully customizable, and enables you to personalize it the way you want it. It also helps you create response templates to handle common, repeated queries. Moreover, the plugin doesn't have any restrictions in the number of agents you can add. Also, it is translation friendly.
iFlyChat is a great option if you want to set up a chat option on your community website. It offers all the essential features for community interactions including peer to peer chat, audio, video chat and email and push notifications. You will be able to monetize the chat feature if you consistently resolve issues of community members. iFlyChat has solid security features and also offers convenient options to moderate the chat interactions.
Through the integration of Facebook Messenger, MobileMonkey offers a great marketing solution to eCommerce store owners. You will be able to completely automate the chat marketing process using this tool. You will be able to capture leads and send notifications, updates and promotional messages effectively on Facebook Messenger. In addition, you will be able to grow your contact list and segment it for better targeting. With great conversion rate compared to other channels, this might be an innovative marketing solution for your WordPress site.

Sendinblue is a complete sales and marketing tool that you can use to grow your business. One of the main advantages of using this tool is that you will be able to handle multiple communication channels through one platform. It offers you options to interact with your customers through live chat, email as well as through SMS. Setting up the chat window is quite easy and it provides great options to customize the appearance on the frontend. Moreover, it gives you a real time update on the user's page visit to provide relevant solutions. It even helps you in optimizing the workflow of your customer support team.
You can use this plugin to interact with your website visitors through WhatsApp. Your site visitors will be able to initiate a WhatsApp chat with a single click. Also, you will be able to invite them to WhatsApp group chats as well. Will be able to add your WhatsApp number using shortcodes, can also personalize the default message that customers see. Also, you will be able to measure the effectiveness of this tool as it creates an event on Google Analytics
You will be able to automate your sales funnel with help of Drift chatbots. It will help in providing answers to customers in real time for common queries, direct them to the right person or department, and even follow up on prospective customers. Drift can be a great help in providing your more leads and better conversions in quick time. You can use their live chat with the free plan, and the pricing plans start at $50 per month.
If you are looking to interact with your customers through multiple channels, this tool could be a great option for you. With AI-enabled features, Reve Chat improves conversion rate and customer experience on your site. It offers voice and video chat options to chat with your customers. Moreover, you can integrate the chat feature to your mobile apps as well, which is probably is a preference for many of your customers. Reve Chat also enables you to chat on multiple channels such as Facebook Messenger, Skype, Viber, etc.
Wise Chat is a great option to set up live chat feature on your website without affecting the performance. It offers features like support for multiple chat rooms, file uploads, bad word filtering, etc. Moreover, it has an interesting feature to set up varied avatars for your users, along with the option to use custom emoticons. There are multiple themes that will help you design the chat window to your liking. Furthermore, the tool gives you an option to get email notification when a user initiates a chat on your website.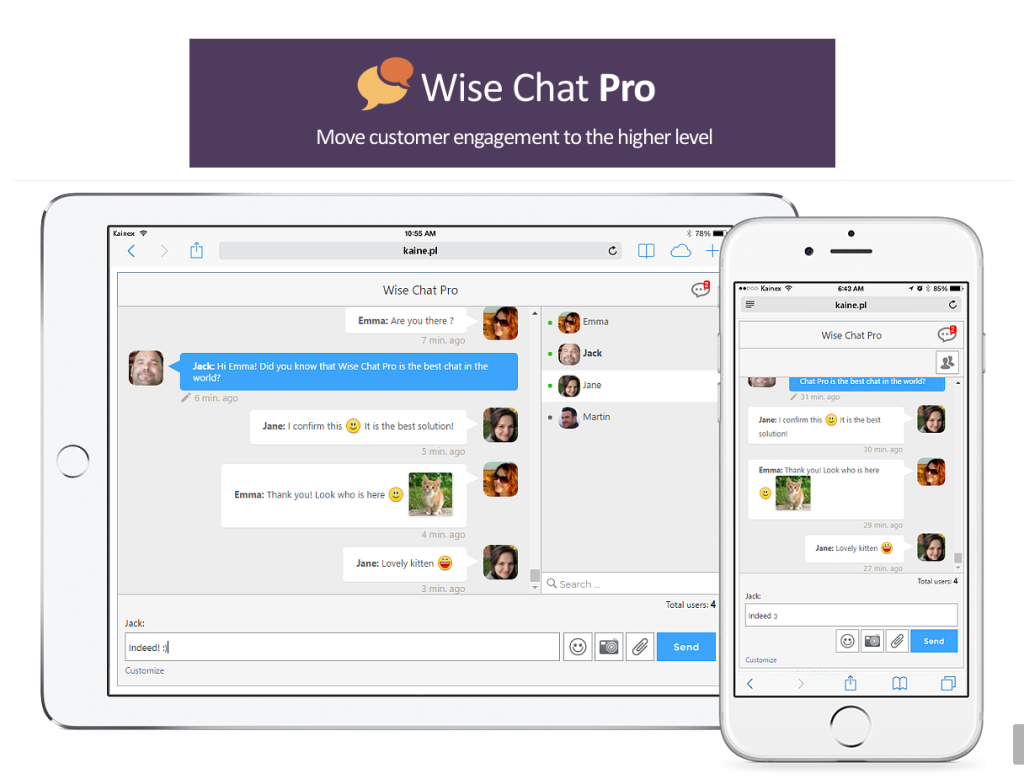 This is another plugin that will help you provide an option for your customers to chat with you on WhatsApp. You can even provide an option for the customer to choose the agent they want to talk to. For this, you can customize the chat option by providing the photo and availability of a particular agent. With the help of a shortcode, you will be able to display the WhatsApp chat box anywhere on your site.
You will be able to display multiple chat options on different pages of your website using this plugin.Some of the options include Facebook, WhatsApp, Skype, ZenDesk chat, LiveChat, etc. You can also provide a call back option, where customers can leave their phone numbers for you to call back. The chat widget is fully customizable, and you can personalize it the way you want it according to branding or design requirements.
With the help of this plugin, you will be able to add a Facebook chat window on your website as the live chat option. It lets you view customers' profiles and interact them with relevant product suggestions or offers. The chat history will be saved for life, and this will enable you to develop better marketing strategies in the future. It is quite easy to install and offers a lot of options for customization.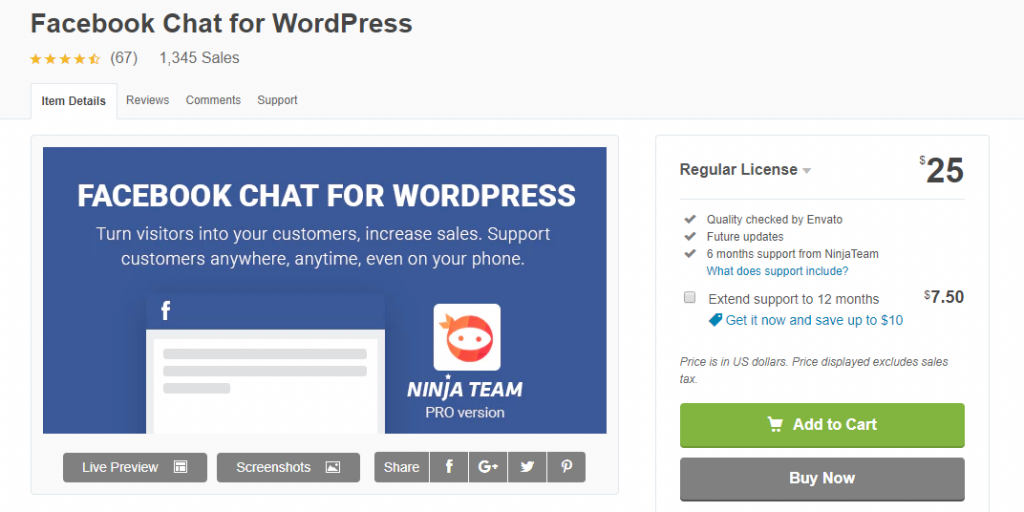 This is a simple option to set up a live chat window on your website. It will make communication with your customers extremely fast and easy. You will be able to resolve a lot of issues in real time, and that can help a lot in increasing conversions and improving customer experience. It also act as an omnichannel customer support solution, where you can answer customer queries from different sources from the same dashboard. It also automates lead generation by initiating chats with users meeting certain predefined criteria.
Chaport offers a range of advanced features such as file sending, viewing what users are typing, and access to detailed reports. The Pro version starts at a price of $9.80 per operator per month.
This is one of the preferred options to offer streamlined customer support and lead generation. You will be able to reduce the response time of your customer support team and offer a better experience to customers. It will help you start using it right after installing it, or you can personalize your workflow to suit your specific needs. Moreover, you can easily integrate it with your CRM or helpdesk tool as well. It also offers omnichannel customer support options where you can easily handle customer interaction through different channels like SMS, Twitter, Facebook Messenger, etc.
Intercom is a great tool that will help you in lead generation and customer engagement. You can also use it to provide fast and automated customer support to resolve issues of customers quickly. Moreover, with features like live capture and AI chatbots, you will be able to make conversions promptly. In-context messaging tools and actionable analytics insights from Intercom will help you create a great customer experience on your site.
FreshChat assists you effectively on customer support as well as lead generation. You will be able to proactively engage with users on your website, and try to convert them into customers. FreshChat has efficient bots, which will help in qualifying your leads and help you create strategies to engage them. In addition, it saves a lot of information that will help you generate an effective strategy to keep building better relationships with your customers. You can start with a 30-day free trial, or opt for the paid packages starting from $15 per month.
This is an AI powered tool that you can set up on your eCommerce store to assist customers to get answers to their common queries. It helps to integrate multiple messaging channels like SMS, Facebook, WhatsApp, mobile app, etc. You will be able to manage and customize the chatbot to suit your specific business requirement.Overall, this live chat solution will help you manage your marketing as well as customer support more efficiently.
Smartuspp is another prominent option to configure a live chat system on your online store. By offering immediate customer support through their chat window, you will be able to resolve a lot of issues in quick time. It will also assist customers by automatically initiating chat conversations at the right time by providing help in making purchase decisions. You will be able to view detailed information of every customer and also will be able to understand their behavior on your site. It offers out of the box integration for WooCommerce. Pricing plan starts at $10 per agent per month.
Zotabox offers a bouquet of marketing and communication services to help you interact with your website users. It offers integration with most content management systems and eCommerce platforms. The live chat integration is through Facebook primarily. Customers will also be able to contact you using the contact form. Some of the other features you can access with this tool include popup and push notifications, page builder, promo box, social buttons, etc. Pricing plans start from $4.99 per month.
Flyzoo is a great option for community based websites. You will be able to engage your site more effectively with the help of a site-wide group chat widget. This moderated chat feature is feature rich with options for avatars, emoticons and file sharing. It will also be a great option to provide quick customer support as well. The plugin will help you provide an equally fulfilling experience on their mobile devices as well. Pricing plans start from $9.90 per month.
With the help of this plugin, your customers will be able to chat with you directly from Slack. You will also be able to integrate a chatbot that will automatically interact with your customers. The plugin allows you to use either the WordPress user system or the user system provided by Support Board. It will also provide you a great ticketing system that will be helpful for resolving your customer support issues. The regular license of the plugin has a price tag of $30.
Acquire is another advanced live chat tool that will help you provide superior customer service as well as lead generation. The chat experience using this tool will be much more comprehensive with options for voice and video calls, and screenshare. This tool will track customer journey on your website and proactively initiates chats to drive conversions.
Features like 'smart suggestions', 'chat notes', and 'canned responses' will help a lot in making your customer support more effective. The price of the Basic package starts from $300 per month.
This is a comprehensive option that will help you resolve customer issues quickly as well as create business development opportunities. With the help of pre-defined templates, greetings and canned responses, you will be able to make your interactions with customers more effective. The tool will also help in generating leads by constantly monitoring customer information on your web pages and by initiating chats with them at the right time. Pricing plans start from $8 per month.
Conclusion
Live chat widgets helps a lot to maintain consistent engagement with your customers. You will find a lot of free WordPress live chat plugins with basic features in the repository. However, you can get a lot of advanced features if you opt for a premium version. Hope this article has provided you ample information to take a call on the most suitable one for your business. Leave a comment if you want to share your experience with any of these solutions.
Further reading