Last updated - February 7, 2023
One of the most important aspects of running a business is customer satisfaction. However, it is also important to be able to satisfy your customers in-store as well as online. The best print on demand plugins allow you to do that with ease and efficiency. These plugins are perfect for anyone who has a store or site that sells products with some form of customization. Whether you want to sell t-shirts or mugs, these WooCommerce plugins can help you provide the best service possible when it comes to printing on demand!
What is POD?
Print on demand (POD) is a software-based printing solution that allows you to print orders as they come in, rather than having to wait until your entire stock is sold. It's used by businesses who want to offer their customers the flexibility of ordering from them directly with no limits or restrictions on how many books or other items they can purchase at once.
A POD plugin for WooCommerce will allow you to create an online store and sell printed products within it through your website. This means that when someone makes an order for something like a book, it will be printed and delivered directly from your own infrastructure – there are no third-party carriers involved!
In that it is a third-party print on demand dropshipping tool that interacts with WooCommerce, Printify is comparable to Printful in this regard.
There are more than 600 goods available for selection. You or your clients' artwork can be reproduced throughout the entire catalog. These include clothing, home & living, and accessories and have a similar selection to Printful. Numerous unrelated items are available, including phone cases, mouse pads, bags, socks, and face masks. With anything from sweaters to infant items, the apparel selection is also fairly broad.
You may create product designs with Printify's mockup generator before adding them to your store. You may add warehouse products to your current online store with the Printify WooCommerce plugin.
Despite varying depending on the product category, all of the prices are flat. You can enter the desired profit to be made into their profit calculator before setting a product pricing. If total sales reach $1,000 or more, it also provides monthly discounts.
The shipping costs are calculated on the product pages, and a shipping price calculator is provided for calculating large purchases. If the goods aren't delivered on time as promised by Printify within ten days, you are entitled to a refund.
This plugin for a print-on-demand service is based in the US. With the WooCommerce plugin, you can sell and deliver all of your print-on-demand products.
The high-quality CustomCat items are made with modern machinery that can handle dye sublimation, embroidery, and DTG printing. 10,000 goods are fulfilled everyday for print-on-demand orders by this company.
They obtain their goods from premium companies like Gildan, Next Level, and Adidas, and their offerings include hoodies, hats, aprons, t-shirts, and phone covers.
The base pricing for products is determined by the printing process. Right on the CustomCat web panel, CustomCat has simplified the process of product creation, design, and export.
The Scalable Press platform has completed up to 9 million product orders over its life-span. They offer a WooCommerce plugin that makes print on demand possible.
Although they have a number of production facilities, they are all located in the US. However, Scalable Press also completes orders for clients outside of the US.
In contrast to other print-on-demand systems, Scalable Press does not allow for immediate registration. The site isn't accessible to everyone because you have to request an account by getting in touch with the sales team.
Since all orders are guaranteed a 72-hour production turnaround time, fulfillment is fairly quick.
Order minimums are unlimited, and product packaging is white-label and free of Scalable Press branding. You can employ third-party shipping even while the corporation handles shipment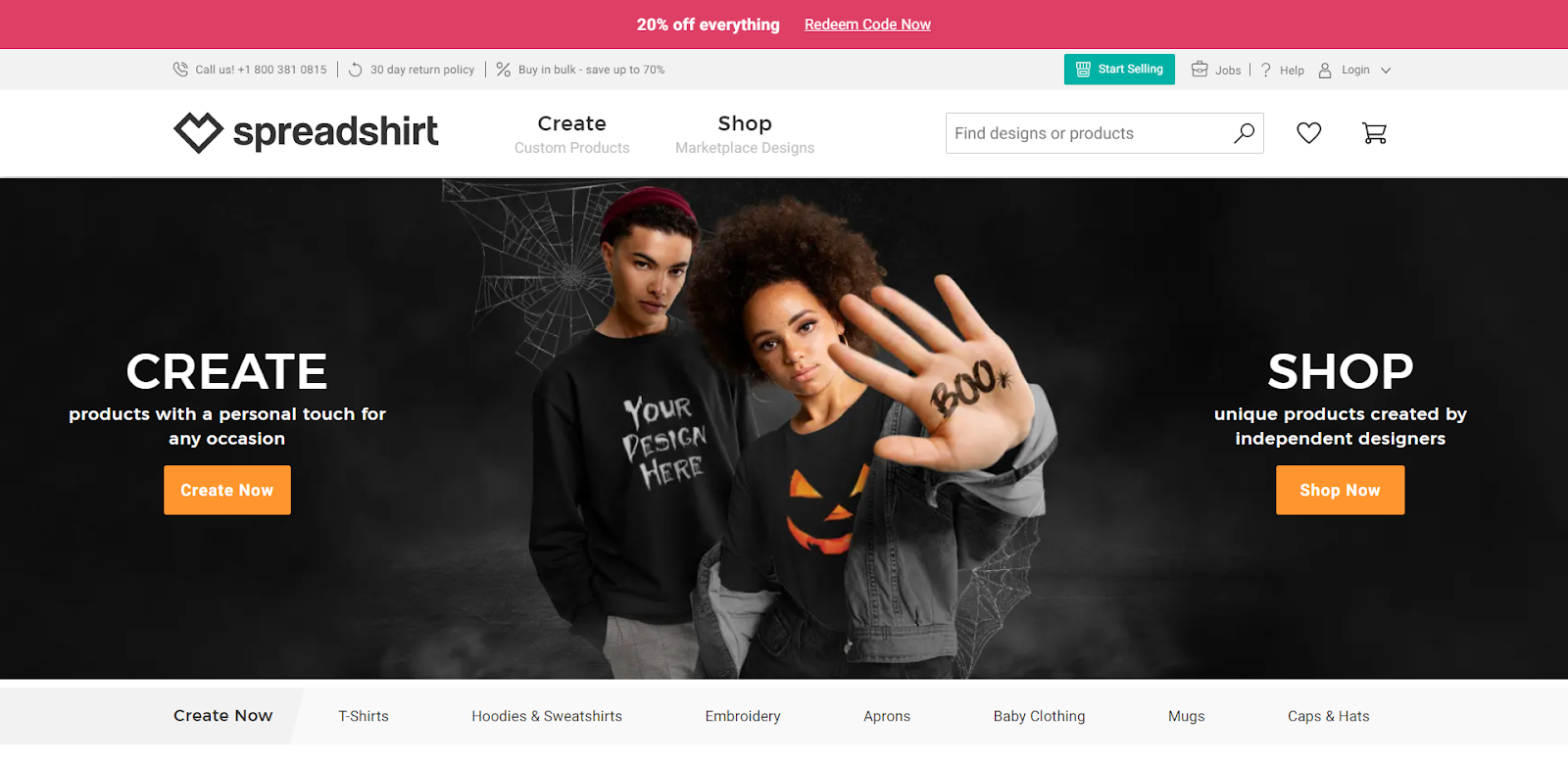 This print-on-demand website focuses primarily on apparel. Installing the Spreadshirt WooCommerce plugin from your WordPress dashboard is required. The Spreadshirt API must then be used to establish a connection.
Digital printing, direct-to-garment printing, thermal sublimation, laser transfer, flock printing, and flox printing are all services offered by Spreadshirt.
T-shirts, hoodies, sweatshirts, photo gifts, aprons, and other items are among the products offered on Spreadshirt. You may submit your designs, test them on various products, and then make them available for purchase on your WooCommerce store.
Spreadshirt offers international shipping, although their three main international markets are the US, Australia, and Canada. The order value is used to determine the different shipping costs for domestic and international shipment.
Leading print-on-demand business Printrove is situated in India. Simply install Printrove's plugin, add your products, map the SKUs, and you can start taking orders with WooCommerce.
When you sign up for Printrove, there are no monthly fees, but you must pay Rs. 5000 ($68) in order to upgrade to the commercial plan. Your account will be credited with this money, which you can then use to place orders.
Unlike other top print on demand WooCommerce plugins, Printrove's WooCommerce plugin requires you to upgrade to their business plan in order to use it.
Printrove nevertheless imprints personalized graphics on apparel, phone covers, coasters, notebooks, mugs, posters, and other items. You can order product samples to inspect their quality, but you'll have to pay for them.
Within 48 hours of receiving orders, Printrove ships out the products for delivery. Delivery typically takes 3 to 5 working days, depending on where the consumer is located.
Products are delivered by India Speed Post, Delhivery, and FedEx. Printrove, despite having its headquarters in India, supports international shipping, but only via DHL.
Thanks to Print Aura's Kornit printers, you obtain high-quality prints. Direct-to-garment printing is used, and products are printed in all CMYK colors (DTG printing).
To use the PrintAura WooCommerce plugin, you must register for an account. Then decide which items to sell, produce mockup photos for them, and post them to your store.
Print Aura is known for its extensive product range; there are more than 100 different products available there. Finding the ideal product is simple because of the product catalog's criteria, which include categories, pricing, colors, and others.
T-shirts, sweatshirts, polo shirts, tank tops, hats, backpacks, phone cases, drinkware, wall art, and accessories are among the items offered by Print Aura.
You are automatically billed for orders when clients pay for them. There are no minimum order requirements with Print Aura, and the business can manage daily high printing volumes of up to 500.
Order fulfillment for Print Aura is automated. After the order is placed, the products are printed and dispatched within 3 to 5 days.
By offering print on demand items from Print Aura, you receive a quality guarantee. Any products that have issues or are damaged will be replaced at no additional cost to you.
You can send your print jobs to Cloudprinter to have them produced and delivered to your location. Anyone, anywhere can use their WooCommerce plugin to accomplish the same thing.
In essence, Cloudprinter runs a print network with more than 150 print service providers. As a result, you are probably to find an ideal print service around where your consumers are.
You can sell up to 5,000 different goods because of the large number of print providers.
On Cloudprinter, there are more than 500 product templates. Therefore, rather than using the default WooCommerce product templates, you can use their product template.
Conclusion
The ideal platform for selling print-on-demand products is WooCommerce. There are many products to pick from, whether you print the items yourself or utilize a dropshipper.
With the best print on demand plugins, you can create an automated business that is user-friendly. This gives you more time to concentrate on marketing and bringing visitors to the website.
Further Reading