Last updated - February 24, 2020
Customer support is one of the most important aspects of any eCommerce business. You will be able to maintain a solid customer base for your store by offering superlative customer service. There are several ways to offers fast and reliable service including using a ticketing system, self service through knowledge base, etc. However, one of the most preferred means of offering customer service is through a live chat window. In this article, we will list out some of the popular SaaS-based live chat solutions that you can use for your WordPress site.
What are SaaS-based live chat solutions?
SaaS refers to Software as a Service, where you can get a software license based on a subscription model. The service will be hosted by the provider, and you will be able to use their resources according to the subscription that you choose. You will be able to integrate SaaS-based live chat solutions to your WordPress site and offer a seamless experience to your customers.
Best SaaS-based live chat solutions for WordPress site
Here is a list of SaaS-based live chat solutions that you can use on your WordPress site:
LiveChat is a feature-rich solution that offers great scope to provide superior customer service on your eCommerce store. With detailed information available on each customer they interact with, support agents will be able to provide relevant support in quick time. Moreover, it will help you automate the customer service process with the help of AI-powered chatbots. You can automate the chat window to send greetings as well as to route the chat to the right agent or department.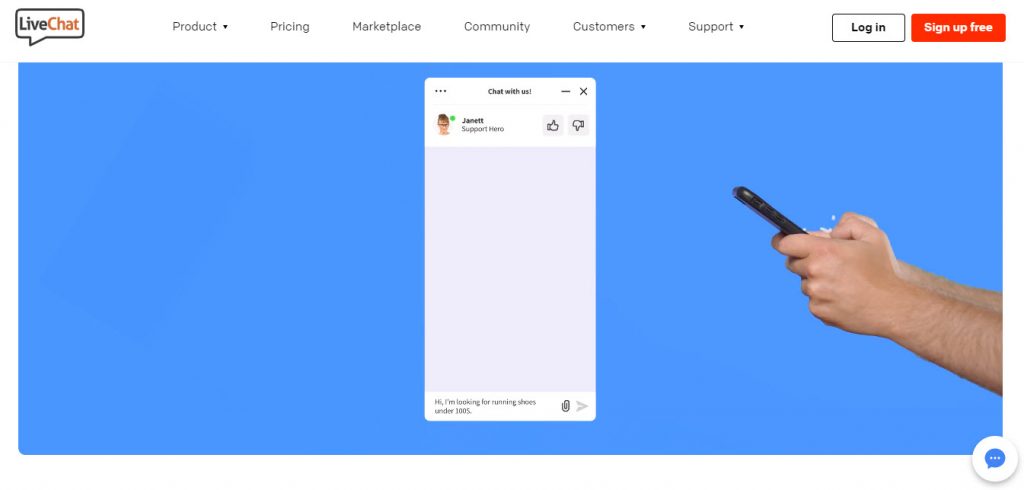 The live chat solution will also help you with your conversion optimization strategies as well. Starter pack with unlimited agent accounts and 60-day chat history will cost you $16 per month.
With the help of this live chat solution, your support and sales teams are definitely going to get a boost. It integrates live chat, phone, video, co-browsing, etc., in one widget and helps you interact with your customers more efficiently. It also helps you automate the support process by providing pre-defined answers to common queries.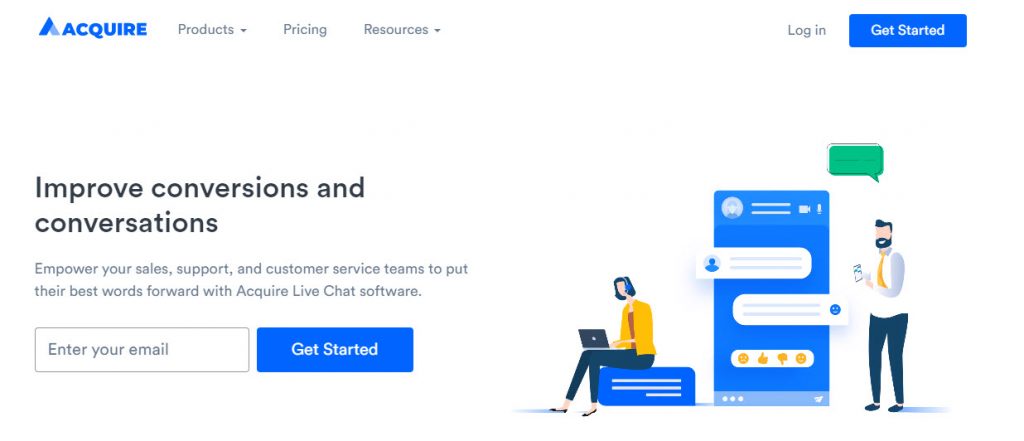 In addition, you will also find features to help you with conversion optimization. You can also customize the chat widget according to your brand's design elements and colors. The user interface is intuitive and will help you quickly integrate it with your website. It also provides your support agents with detailed insights on each customer they are chatting with. Some of the other features available with this tool are AI-based smart suggestions, chat note and canned responses.
The basic package will cost you $300 per month. Please note you may also have to pay additional charges according to the number of chat agents on the platform.
This is another omnichannel live chat solution that enables you to create an engaging customer support process on your store. In addition to live text chat, it also offers live video chat and co-browsing. It is a great solution to ensure customer satisfaction irrespective of the size of your business. Overall, this tool will help you resolve customer queries in quick time with the integrated set of tools.
You can configure the chat facility on your website as well as on your mobile app. In addition, it will equip you to provide support to your customers through different social media channels like Facebook Messenger, Viber, Skype, etc. Moreover, you can use this live chat solution to resolve presale queries and ensures a customer goes ahead with a purchase. Furthermore, Reve Chat will help you collect feedback from your customers and improve your customer support process accordingly.
The pricing starts from $13.5 per agent per month.
HubSpot is a popular solution that will help you in building and maintaining a customer base on your store. You will be able to create an efficient strategy to maintain superior customer experience on your store. It also integrates perfectly with your WordPress site with the help of a WordPress plugin.
Along with several other tools, one of the features that you will find with the HubSpot Marketing platform is the live chat widget. It will help you interact with your audience in quick time with the help of the chat feature. Moreover, you will be able to use automated chatbots that will help you answer your customers even when there are no support agents online. You will be able to customize the chat widget according to the look and feel of your brand. It also allows you to create targeted welcome messages custom made to certain specific user groups on your store.
The Stater pack of Marketing Hub that includes live chat will cost you $35 per month.
Here is a live chat option that will help to provide great support to your customers. It is quite easy to configure this one and it will help to enhance the sales on your store as well. Provide Support offers a range of customization options as well, where you can edit greeting messages, add the photo of support agent, change color of the window, etc. In addition, you will find several advanced features like canned responses, pro-active chat initiation by agents, and more. You can easily integrate it to your WordPress site using a plugin and can configure it in a matter of minutes.
The pricing plans start from $8.25 per month and you can always try it by making use of the 10-day free trial.
Zendesk offers a great chat solution that will help you engage with customers better on your website. Rather than spending more time in resolving customers through the ticketing system, you will be able to reply them in real time using the live chat software. Moreover, it offers the option to reach out to customers proactively through the chat. This will help in improving the customer experience and it can have a positive impact on your sales figures as well.
Zendesk chat also provides detailed analytics insights that you can use to understand the efficiency of your customer support system as well as your agents' performance. Another important features that can be useful to is the integration with multiple channels such as mobile apps and social messaging tools like Facebook. Some of the other features that you may find useful are AI-powered chatbots, behavior triggers, pre-chat forms, etc.
The prices start at $14 per month for Zendesk chat. They also have a free option that allow one concurrent chat and 30-day chat history.
Drift is a great option among SaaS-based live chat solutions that will help you improve your sales figures. With the help of its AI-powered chatbot, you can easily create an efficient automated conversation flow. More importantly, you don't need any coding skills to configure this one. With personalized conversations, you will be able to generate more sales leads on your store. If you are looking to supercharge your marketing prowess, this is a great investment that you can consider.
Pricing starts from $400 per month.
PureChat is a simple option to set up a live chat window on your website. You can customize the chat widget to match the design attributes of your brand. It also offers an automated chatbot that will help you in capturing leads, payments, etc., and also in scheduling appointments. It is quite easy to set this up on your WordPress site and you can manage it easily even if you are not an expert in technology.
PureChat has a free option to set up unlimited chats and up to three support agents for free.
You will be able to enhance your customer support as well as lead generation process with the help of SnapEngage. Since you will be able to resolve customer issues quickly, there will be better customer satisfaction on your site. Moreover, you will be able to work quickly on qualified sales and as a result, improve your overall sales figures as well.
There are several automation features that will help you customize your support workflow even when support agents are not available. The basic package starts at $16 per month.
Olark offers a great bunch of chat tools that will help your business immensely. You will get a basic framework of chat tool when you opt for the tool. Then, based on your requirement, you will be able to choose additional options such as co-browsing, non-branded chat window, translation options, etc. Some of the helpful features of Olark include chat analytics, automation, customization features, etc.
Olark offers flexible pricing plans starting from $12 per month.
This is a SaaS-based live chat solution that will help you integrate a chat option on your website as well as mobile app. You will be able to give a personalized service to your customers through several customization options. Basically, you will get access to the previous interactions of the customer with your website and accordingly you will be able to engage them through Kayako.
The pricing of this tool starts from $15 per agent per month.
Hope you got a good understanding on some of the popular SaaS-based live chat solutions for your WordPress site. If you want more control over your customers' data, you can also check out an on-premises WordPress live chat solution. Leave us a comment to share your thoughts.
Further reading