Last updated - June 12, 2023
Owners of Shopify stores spend a lot of time managing their orders. At least 50 orders will be placed each week by a small to a medium-sized online store. For a large e-commerce website, the numbers may reflect 100 or even higher.
Calculating the FedEx delivery estimate, creating, and printing the mailing labels may seem less time-consuming for small-scale online stores. It becomes more challenging to complete the same process with more than 100 orders, though.
While Shopify offers several shipping-related services, you may still need to employ a separate shipping solution to handle the entire delivery process.
We'll go over the top 9 Shopify plugins for printing shipping labels in this article.
You may manage the shipping-related components of your store with the help of this app. It incorporates a number of Australian shipping companies, including Sendle, Startrack, and Australia Post. The software is really helpful to you throughout the entire shipping procedure. It establishes a connection with your Shopify store and imports all the orders waiting to be filled. It assists in managing packages, and dimensions, and addressing mistakes. The app also makes it easier to quickly send tracking information to Shopify and print shipping labels.
Automatically imports orders from Shopify.
Provide live shipping prices.
Checks for and corrects most address issues.
Manage the dimensions and packages.
Print shipping labels in one simple step.
Price: Free to install with additional charges.
You can handle your shipping from your Shopify dashboard with this option, which also lets you print labels, arrange pickups, and monitor shipment progress.
Using the app to precisely display shipping charges at the point of sale, swiftly create labels, and simply track orders within the Shopify dashboard can help you save time and money.
The Multi-Carrier Shipping Label software has received formal approval from UPS and FedEx. The app supports all significant carriers, including UPS, USPS, FedEx, DHL, Stamps, Aramex, Blue Dart, Australia Post, Canada Post, and many more.
Features:
Supports multi-carrier shipping for all the major shipping companies, including UPS, FedEx, USPS, DHL, Canada Post, Australia Post, and many others.
On your Shopify checkout page, show accurate shipping rates.
Print shipping labels automatically to save time and effort.
Select Cheapest Shipping Services Automatically.
Requests for carrier pickup and manifests.
Price: 14-day free trial, after which it costs $9 per month.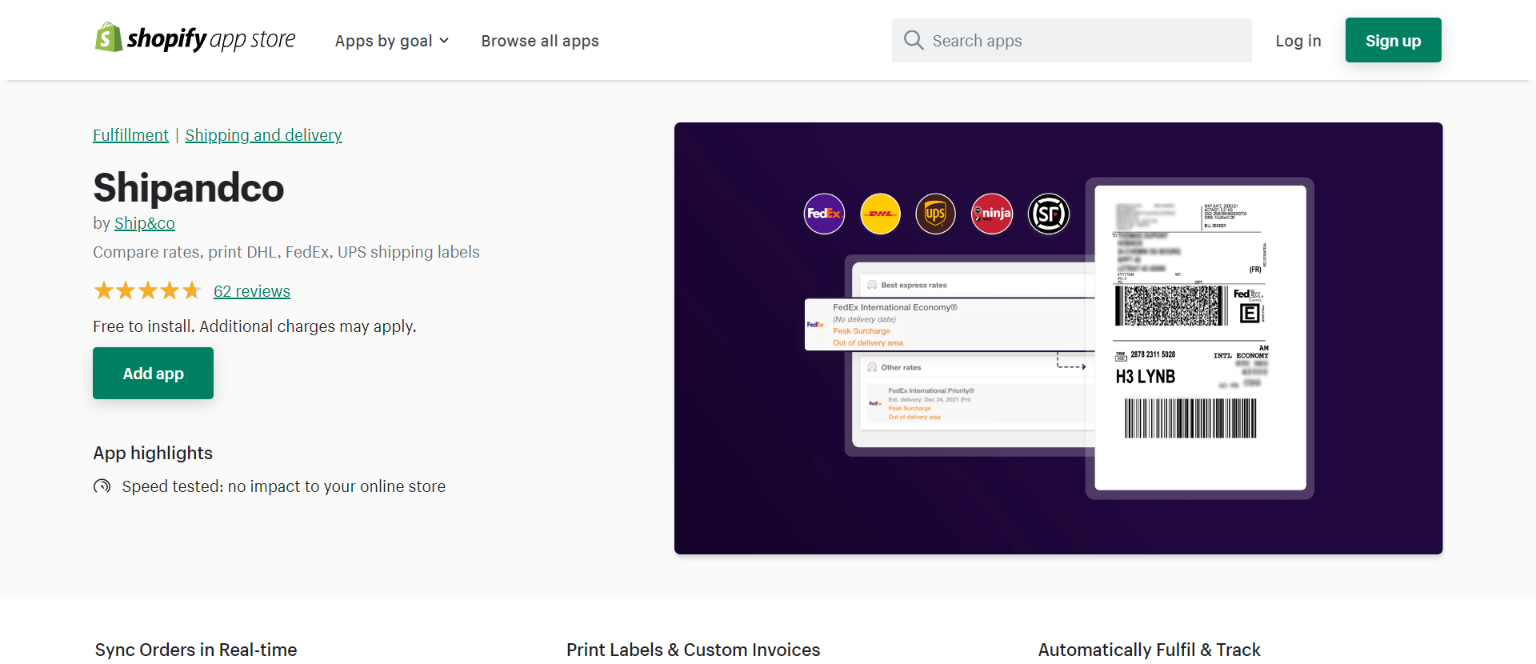 The software called Ship&co includes a Shipping Label Tool for Online Sellers. This program contains a number of exceptional features that can help increase the effectiveness of your store. First off, you might save up to 80% on the time and labor needed to manage and ship orders. By doing it, you could devote more time and energy to some other crucial tasks that could accelerate the development of your store. In order to choose which carrier best meets your needs, you can choose and compare international shipping rates for different companies like DHL, FedEx, UPS, or JapanPost. Additionally, this app will enable you to register and manage numerous warehouse addresses from a single account.
Features:
Make the process of making shipping labels easier.
Multiple accounts can be set up and managed through the same carrier.
Compare the costs of different carriers' international shipping.
Create and maintain numerous warehouses and storefronts on Shopify.
Make and print in bulk, overseas shipping.
Price: Free to install, with additional charges applied for additional features.
ShippyPro enables you to create shipping labels in bulk, track deliveries, notify customers of package updates, and streamline returns. By doing this, your staff will be able to complete orders more quickly and provide the delivery service that customers have come to expect from you.
ShippyPro is a comprehensive shipping solution that makes it simple for international merchants to handle delivery, tracking, and returns for their online sales. You can link your Carriers to your store in just a few clicks by selecting from more than 160 Carriers after a quick 30-second setup.
Features:
Print labels in bulk for 110 different carriers, including all the major US and European carriers, with ease.
The creation and printing of labels are expedited by Label Creator.
Comparing shipping costs can help you save money.
Automatically provide tracking numbers to customers.
Brand the tracking notifications you send.
Send customs forms and ETD documentation to the transporter.
Price: Up to 30 shipments are allowed with the free version per month. EU 79/month for up to 250 orders and EU 159/month for up to 1000 orders per month.
This program allows you to print a variety of shipping-related papers for your online store. These include packing slips, invoices, receipts, and shipping labels. Additionally, it makes it easy for you to print in quantity. You may also alter the templates for various documents if you are proficient with HTML or Liquid. You can quickly install the app on your Shopify eCommerce store, and it is free.
Features:
Print shipping labels for each order with ease.
By adding changes in HTML and Liquid, you may highlight your brand.
All the documentation you require for your orders can be viewed and printed.
Price: Free
This all-inclusive shipping management choice is available on your Shopify site. With each order you fill using the app, you can save a sizable sum of money. It will also let you print shipping labels and connect your orders. Additionally, this tool allows you to print labels either in bulk or one at a time. Additionally, you will be able to send your customers tracking details. Additionally, the app assists with inventory management through two-way syncing.
Features:
Get substantial savings on shipping costs using USPS and UPS.
Automation simplifies returns, tracking, and shipping.
Increase repeat business and product awareness with frequent, automated emails.
Utilize the ShippingEasy app to process orders from Shopify, Amazon, Etsy, eBay, and many other selling channels.
Price: Free for 30 days, after which you may select from one of the following plans.
This is yet another fantastic shipping rates and label printing Shopify app option. By providing delivery options from well-known carriers, it helps you enhance the shopping experience for customers at your store. By assisting you with picking, packing, and label printing, the app facilitates the automation of the shipping process. Additionally, you'll be able to send your clients tracking data in a format they'll understand. Additionally, the software makes it easy for you to manage returns.
Features:
Create and print shipping labels quickly for all of your shipments.
Join the 390,837-point network, which spans the UK, BNL, DACH, FR, IT, and ES markets, which is the largest in Europe.
Use Sendcloud's pre-negotiated shipping prices to instantly connect to more than 80 different carriers around the world, or upload your own carrier contracts to ship according to your own terms.
Create your own logistics framework using shipping rules to put the special requirements of your company on autopilot.
Give your consumers a variety of delivery and shipping alternatives immediately at the checkout to reduce abandoned shopping carts.
Price: Free trial for 14 days, after which the plans range from EUR 40 to EUR 179.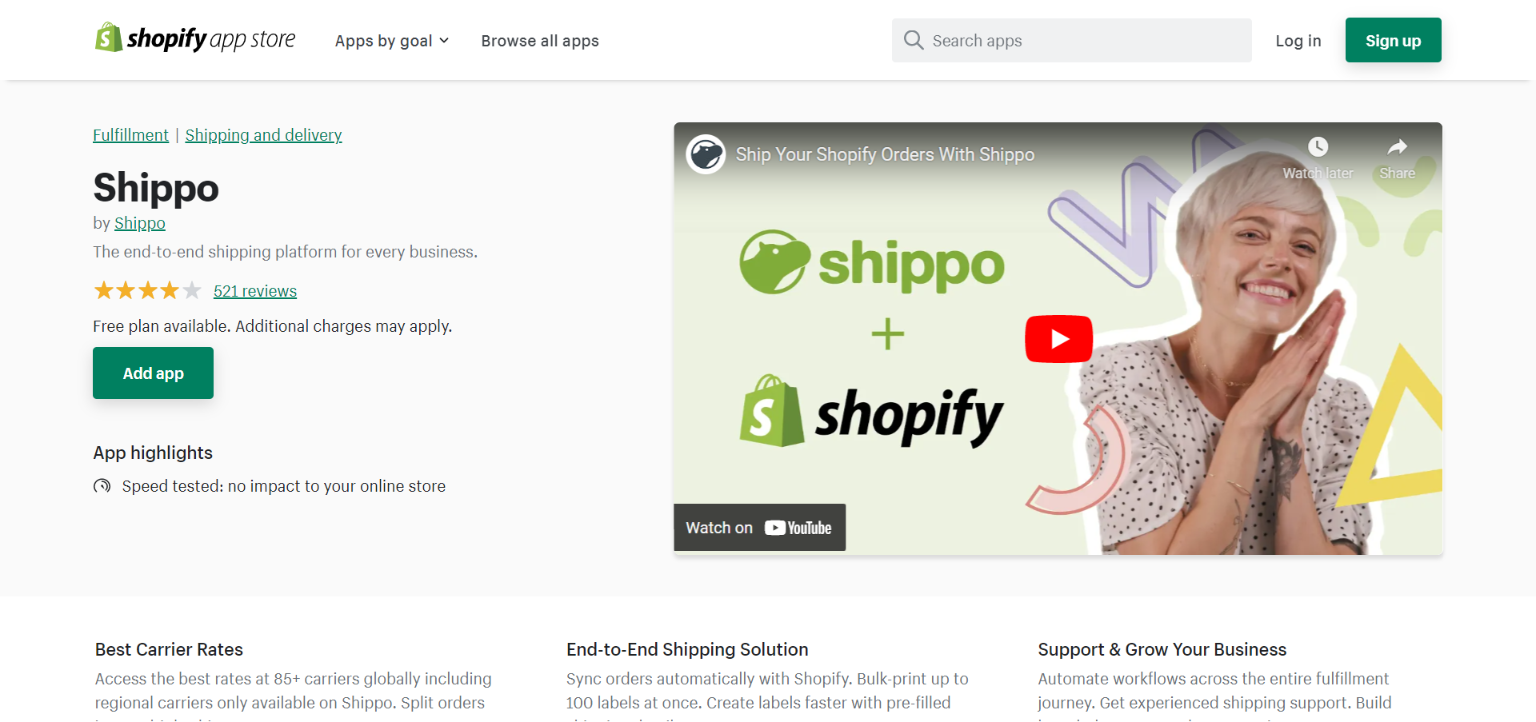 When it comes to shipping costs and label printing, this is one of the more affordable Shopify apps. Installing the program itself is cost-free. However, each shipping label you print will cost you $0.05. To receive personalized rates, you can even upgrade the plan to a subscription. You may use this app to compare costs from more than 50 carriers and take advantage of discounted rates from USPS and DHL. Using this software, you'll be able to significantly improve your clients' overall experience.
Features:
Create labels more quickly by using saved and prepared package information.
Manage shipments from a single location and import orders from your Shopify store.
With automatically prepared commercial invoices and customs forms, international shipment is made simpler.
To distribute packages or partially-fulfilled orders to separate places, divide orders into numerous shipments.
Via insurance for premium shipments, one-of-a-kind items, and international packages shipped with USPS, UPS, FedEx, DHL Express, and Canada Post, you can safeguard your company.
Utilize Shippo's API to take complete control of fulfillment. We urge Shopify Plus merchants and developers to look through our documentation.
Price: Free to install, with additional charges for extra features.
With the aid of this app, you can connect your Shopify business to more than 250 international shipping companies. Additionally, you can use this software to sync orders and print shipping labels with only one click. With this program, you can manage the complex nature of customs documents with ease. Multiple shipping options are displayed throughout the checkout process, giving your consumers more options. Additionally, you will get tracking updates from several delivery companies in one location. You only have to pay shipping fees to utilize the app.
Features:
Print all of your labels and sync orders with ease for quick, effective processing.
To expedite processing and ensure precise shipping costs, even when using volumetric weights, store your product's dimensions, category, and weight.
Update fulfilled orders automatically with tracking information and courier names to your store.
Create and download shipping and customs documents automatically.
Import tax, VAT, GST, and other upfront costs are visible.
Price: Free to install, with additional charges for certain features.
PH Ship, Rate and Track is a certified Shopify Shipping app by FedEx that optimizes your label printing process and boosts your business. It offers live carrier rates from FedEx at checkout, ensuring transparent shipping costs for customers. With one-click bulk label printing, you can efficiently handle a high volume of orders. The app also provides real-time tracking powered by FedEx, keeping you and your customers updated on shipment status. Streamline shipping, increase customer satisfaction, and achieve business success with PH Ship, Rate and Track.
Features:
Generate Shopify FedEx shipping labels manually or automatically as soon as the order is placed.
Supports both FedEx domestic and international shipping services with commercial invoice
Show delivery estimates for FedEx services on Shopify checkout page
Print FedEx labels and fulfil Shopify orders in bulk
Allow your customers to choose the nearest or preferred FedEx Hold at Location as their delivery address
Price: $19/month with 15 day free trial
Conclusion
Because they save you time on tasks that can be easily automated, integrating apps like these is the key to a successful Shopify store. Printing labels and shipping are also included with this.
Your time is freed up to take care of the parts of your store that genuinely require it and concentrate on the revenue-generating aspects of the enterprise.
Further Reading