Last updated - November 8, 2023
Subscription business model is preferred by customers as well as store owners due to the flexibility and convenience that it offers. While it provides customers with an option to streamline routine purchases, for store owners it provides a source for recurring income. How will you create subscriptions on your Shopify store? In this article, we will list out some of the best Shopify Subscription apps that will help you create subscriptions on your store.
Seal Subscriptions is a great option to create subscriptions on your Shopify store. It will help you add a subscription widget next to your Add to Cart button. Recurring payments are managed at the customers' convenience with this app. The app will send automatic payment reminders for subscriptions with a checkout link. Customers will be able to checkout using the Shopify's checkout process and can view or cancel a subscription without registration. In addition, store owners can set up discounts for initial subscription orders.
Features
Create subscription products on your Shopify store.
Automatic invoices that let customers pay according to their convenience.
Subscription widget next to Add to Cart button.
Shopify checkout process.
Discounts on initial subscription orders.
The app has a free plan as well as premium pricing tiers starting from $7.99 per month.
Bold Subscriptions is one of the popular options to create subscriptions on Shopify. You can create a subscription model that suits your store strategy using this app. It offers great flexibility to configure rules and onboarding flow for subscriptions. Moreover, the app provides you with several options to incentivize subscriptions to enhance conversions. In addition, you can offer superior customer experience with a range of self management options.
Features
Create subscription plans of different complexity levels.
Easily configure subscription intervals or let customers decide.
Customers can manage different aspects of subscriptions on their own.
Customizable emails.
Offer rewards for signing up as well to prevent cancellation.
The app offers a 60-day free trial and a special introductory price starting from $49.99 per month.
Appstle℠ Subscriptions is an interesting solution to sell subscriptions and manage recurring payments through Shopify. It will help you manage different aspects of subscription management such inventory management, shipping methods, cancellations, etc., effortlessly. You will find flexible options to manage billing, segment customers, and also to upsell effectively. It also offers a wide range of features for better customer engagement such as tiered discounts, product swap, etc.
Features
Great option to create and manage subscriptions.
Help customers recharge, modify, pause or change deliveries, etc., on their own.
Offer a smooth checkout with mixed cart.
Easy to set up discounts to ensure customer loyalty.
Manage shipping profiles based on order value, weight, etc.
Subscription widget functionalities can be customized using CSS.
Access to detailed performance reports.
Options to understand cancellations.
Expert support round the clock.
If you are looking to improve recurring revenue on your Shopify store with subscriptions, Recurpay app will be quite helpful. It offers a powerful solution and an easy interface to create and manage subscriptions. The app lets you experiment with a variety of tools to effortlessly build a subscription business. It helps you engage your customers more effectively with the help of WhatsApp notifications. Furthermore, the app offers extensive analytics reports and provides you with timely, actionable insights. The app is free to download and use if your store is not making more than $100 per month.
Features
Comprehensive subscription solution for Shopify.
WhatsApp notifications.
Flexibility for customers to modify their subscriptions in one click.
Include multiple products in a single subscription plan.
Comprehensive and easy-to-use dashboard.
Handle complex business requirements with the API built structure.
Migrate from other subscription apps easily.
Live chat support.
Request for additional features according to your business requirement.
Built for growing Shopify brands, Smartrr powers subscription, loyalty, & rewards experiences designed to increase brand loyalty and repeat purchases. DTC brands see immediate results with Smartrr, like 2x subscription revenue in just the first 60 days, 94% average monthly subscriber retention rates, and a 5x increase in sales over the lifetime of a subscriber.
Rating: ⭐ 5 (40+ reviews)-14 days free trial
Pros – Key features:
Tailored subscription programs, including Subscribe & Save, Sequential, Prepaid, Bundles, Build-a-Box, and more
Branded customer account portal with intuitive subscription management options — gift, skip, pause, cancel
The first platform to build native loyalty rewards and referrals functionality
Comprehensive analytics suite that gives insights into subscriber trends
Seamless setup and migrations with 24/7 dedicated customer support
Subify subscriptions is an easy-to-use app that enables you to offer products (physical & digital) and services to your customers on a recurring basis. With Subify, you can increase your recurring revenue by enticing customers to repeat orders on products they like with flexible discounts and delivery frequency. Whether you want to create subscription boxes, offer membership plans, or set up recurring payments, Subify has got you covered.
Rating: ⭐ 4.9 (100+ reviews)-14 days free trial
Pros – Key features:
Flexible subscription models: Choose from various subscription options such as recurring payments, subscription boxes, memberships, and installment.
Customizable widget templates: Easily match the look and feel of your store with customizable and appealing widget templates.
Quick setup and auto-adding widget: Seamlessly embed the app in your Shopify admin and start using it immediately.
Powerful support team: Benefit from a responsive and knowledgeable support team that is available to assist you in less than 1 minute.
Expert customer success managers: Receive guidance and support from customer success managers who can help you with subscription setup, marketing strategies, and more.
With more than 10 years in the eCommerce industry, Yotpo is now bringing their best-in-class technology, powerful partnerships, and industry-leading customer success team to the world of subscriptions.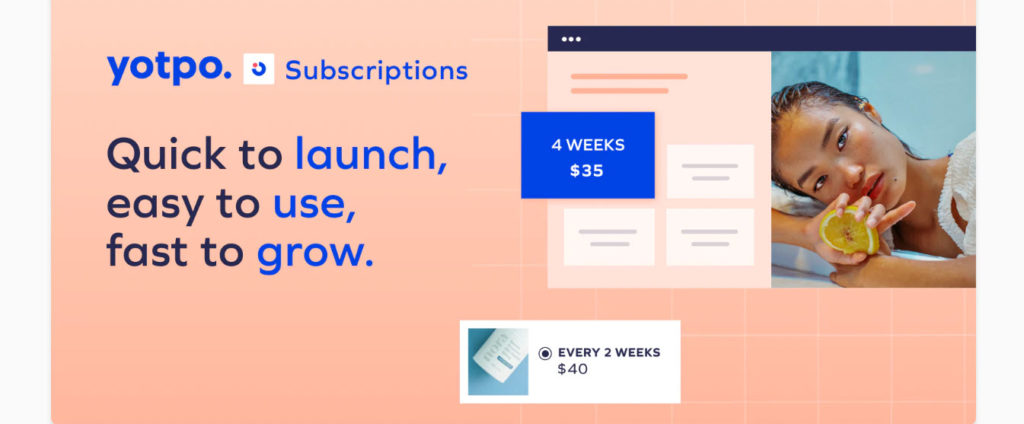 The newest addition to the Yotpo suite of tools, Yotpo Subscriptions, makes it easy for Shopify stores to accelerate growth and set up a recurring revenue stream effortlessly through a subscription app. With its native integration to Shopify, Yotpo Subscriptions gives you a great checkout experience, easy product catalog management, full discount control, and more.
Additionally, with the app you enable your customers to make changes to their subscriptions independently and any time they want. Yotpo Subscriptions gives you an effective way to retain customers and even increase their lifetime value by offering excellent experiences on your store consistently. It's free to start, with no monthly fees — pay only 1% per order once you sell more than $500 per month in subscriptions.
Features
Great tool for Shopify subscription management.
Provide a seamless checkout experience for customers.
Easy catalog management for store owners.
Easy and secure migration of data from similar solutions.
Integrate with your theme easily.
Customize without complicated processes.
Provide smooth subscription management options for your customers.
Extensive analytics insights.
Great customer support.
You will be able to create different types of subscriptions using this app: pay-per-delivery and prepaid subscriptions. They offer recurring payments in a seamless fashion to ensure the best experience for your customers. The payment options are flexible, the app can generate automatic invoices or charge customers automatically. It also offers an option to send reminder emails with customizable templates.
Features
Fully customizable subscription widget
Pay-per-delivery and prepaid subscriptions
Charge on a specific day
Flexible discount options
Allows mixed cart with subscription and non subscription products together.
The app is free to install but charges 0.25-3% transaction fee depending on your pricing plan. 14-day free trial is available.
ReCharge offers a comprehensive solution that helps you create an efficient subscription management system. It offers a powerful range of tools to create a superior experience for subscribers. Moreover, the app offers excellent workflows to ensure the best outcomes while building your subscription business model. It offers different user-friendly interfaces for both customers and store admins to manage the subscription data.

Features
Manage subscriptions effortlessly.
Create superior subscription workflows.
Single checkout for subscription as well one-time orders.
Tools for analytics and enhanced customer engagement.
Mobile friendly.
Support for developers.
You need to signup and wait for onboarding guidelines for Shopify merchants. Plans start from $60 per month with a 60-day free trial.
This app helps you easily manage Subscription products and recurring payments on your Shopify store. It integrates with Stripe and offers safe payments as customer's credit card information is collected in a secure manner. Furthermore, the app lets you offer the best experience to your customers as they can effortlessly manage their subscription and payment details. At the same time, store admins too get user-friendly options to manage subscriptions.
Features
Manage subscriptions on your Shopify store.
Integrates with Stripe payments.
Self management option for subscribers.
Secure payments.
There is a free plan for hobbyists and the Startup plan will cost you $75 per month.
PayWhirl Recurring Payments app offers a smooth option to manage subscriptions and payments on your online store. It integrates effortlessly with the checkout flow and order management system of Shopify. More importantly, your customers will be able to purchase and manage subscriptions easily on the store. Also, the app offers a customizable design that seamlessly integrates with your theme.
Features
Create and manage subscriptions and payments.
Securely store payment details of customers.
Automated recurring billing.
Shopify checkout.
You will be able to create membership plans on your Shopify store with varied subscription options with this app. It lets you create one time payments as well as recurring payments for memberships. The app helps you restrict content so that customers get access based on their membership plan. You can also offer discounted product prices, free trials and other membership-specific discounts using this app. In addition, it offers a custom form builder with drag and drop interface for popups and buttons. Furthermore, it offers automatic recurring payments as well.

Features
Create diverse membership plans on your store.
Custom form builder for popups and buttons.
Admin has complete control over approving or rejecting a membership request.
Offer discounts on products, as well as free trial period or discounts for signing up.
Restrict Content based on membership level.
Capture data to follow up on leads.
The app offers a free plan, and the Basic plan will cost you $19 per month.
This app comes with integrated subscription benefits that allow customers to purchase a product and subscribe for recurring orders. Works seamlessly with your Shopify store enabling you to include taxes, orders, themes, etc., so that customers can easily checkout through your website. You can customize your own subscription model that best suits your store's business strategy.

Features
Send automatic notifications to your shoppers based on their selected subscription model.

Set up discounts, manage email notifications, and configure subscription rules.

Check the regular status of your subscribers through inbuilt analytics and use the safe payment model.
This Shopify app allows you to create a seamless shopping experience for customers with the SMS facility and customer portal. Access insights to meet customer requirements and use the app's powerful APIs. Enable customers to manage their subscriptions, receive notifications, and improve the overall shopping experience.
Features
Set up a subscription with integrated Shopify payment options.

Allow customers to manage their subscriptions, customer portal, and Recharge SMS.

Track product performance and get insights on revenue, customer data, subscriptions, etc.
Configure this app to meet your Shopify needs by setting up subscription intervals, discounts, translations, product swaps, etc. Encourage and engage shoppers with loyalty gift items, interval changes, and loyalty-based rewards. Allow customers to manage their customer portal with features to edit subscriptions by adding or removing items.
Features
Integrate payment calendar and quick checkout wizard on the Shopify store.

Auto charging subscriptions for prepaid services.

PIPEDA & GDPR compliant across all verticals.

Automatically calculate shipping charges.

Migrate subscribers from other platforms manually or through bulk import.
Create easy subscriptions on a recurring basis and track the orders conveniently with intuitive features. Allow recurring orders to improve sales and streamline the billing process. Offer discounts for repeat orders, gain insights into order reports, and increase your revenue by enticing customers.
Features
Create subscription plans weekly, monthly, quarterly, or yearly and even allow flexibility to mix and match these options.

Offer percentage-based, amount, or set price discounts.

This app is fully PCI & GDPR Compliant.

The developers offer in-app chat support for store admins.

Allow customers to choose delivery options and flexible billing frequency.
Hopefully, these Shopify Subscription Apps will help you seamlessly create a subscriptions on your store. Leave us a comment if you have any queries.
Check out the video below:

Further reading