Last updated - August 16, 2023
The online world has opened up so many more opportunities for people who are interested in starting their own business. Gone are the days of having to invest in a physical storefront. With the rise of e-commerce, you can now set up shop and start selling without any trouble. For those looking to start a clothing and fashion business, Shopify is a great platform to consider. It offers a variety of themes that will help your customers find the perfect item with ease.
Website themes are a great way to add personality and professionalism to your store. Shopify offers a variety of themes that you can choose from when you're starting out, but there are also many companies, who make custom Shopify clothing themes for you as well.
With the rise of e-commerce and e-shops, a lot of people are looking for a good Shopify theme for their site. With so many options out there, it can be hard to know which one is the best.
Why Shopify?
Shopify has been around for more than a decade, but it only really started picking up speed when the Shopify App Store was launched. At this point, you can browse thousands of apps that will allow you to manage your store from a mobile device. Shopify also has its own mobile apps and we think they look pretty nice!
Shopify themes are made for those who want their store to look great, so you don't need to spend a lot of time on it. One of the main reasons we picked out this Shopify theme is because it comes in at just $129! It's also made by Shopify, so you know it's going to look good.
So, here's a list of what we think are the best Shopify themes available right now for those who want their site to be as beautiful as their products.
This is a Shopify theme made for fashion and children's clothing and toys. For all the parents out there, you will love how Chutti was made to match all your little one's clothes with the help of cute graphics. It has a variety of styles for any kids that are currently in style. Whether you are a fashion designer or a parent of a young child, you will love the amount of customization this Shopify theme has to offer. Chutti is a great choice if you are looking for a theme that is both great for the design side as well as the commerce side.
The Mavon Shopify theme is a top-rated option for any clothing store looking to create a unique and visually appealing online presence. With 20+ customizable sections, you can design a layout that perfectly represents your brand's style and aesthetic. Whether you're a small boutique selling handmade designs or a large retailer with a vast collection of items, the Mavon theme has everything you need to create a stunning store that attracts and retains customers. 
The Mavon Shopify Theme is the best Shopify theme for clothing because of its ease of use and high-quality support. With no coding knowledge required, users of all levels can easily navigate and customize their websites. This theme comes with a user-friendly documentation, following which users can personalize this theme with ease. What's more, there are no hidden costs or recurring monthly charges – just a one-time payment.
And if you run into any issues, the reliable and dedicated support team is available to assist you. Stand out from the competition with the sleek design and user-friendly interface of the Mavon Shopify Theme.
This Shopify theme is ready to start creating your e-commerce site. The theme comes with all the functionality you would expect from a fully functional website. You can also choose from a number of different skins for your theme. If you are looking for a simple, intuitive theme with a variety of options, this is the one for you.
Features include a decent amount of storage, a responsive design, social media integration, and advanced analytics. You can customize any part of the theme to fit your needs.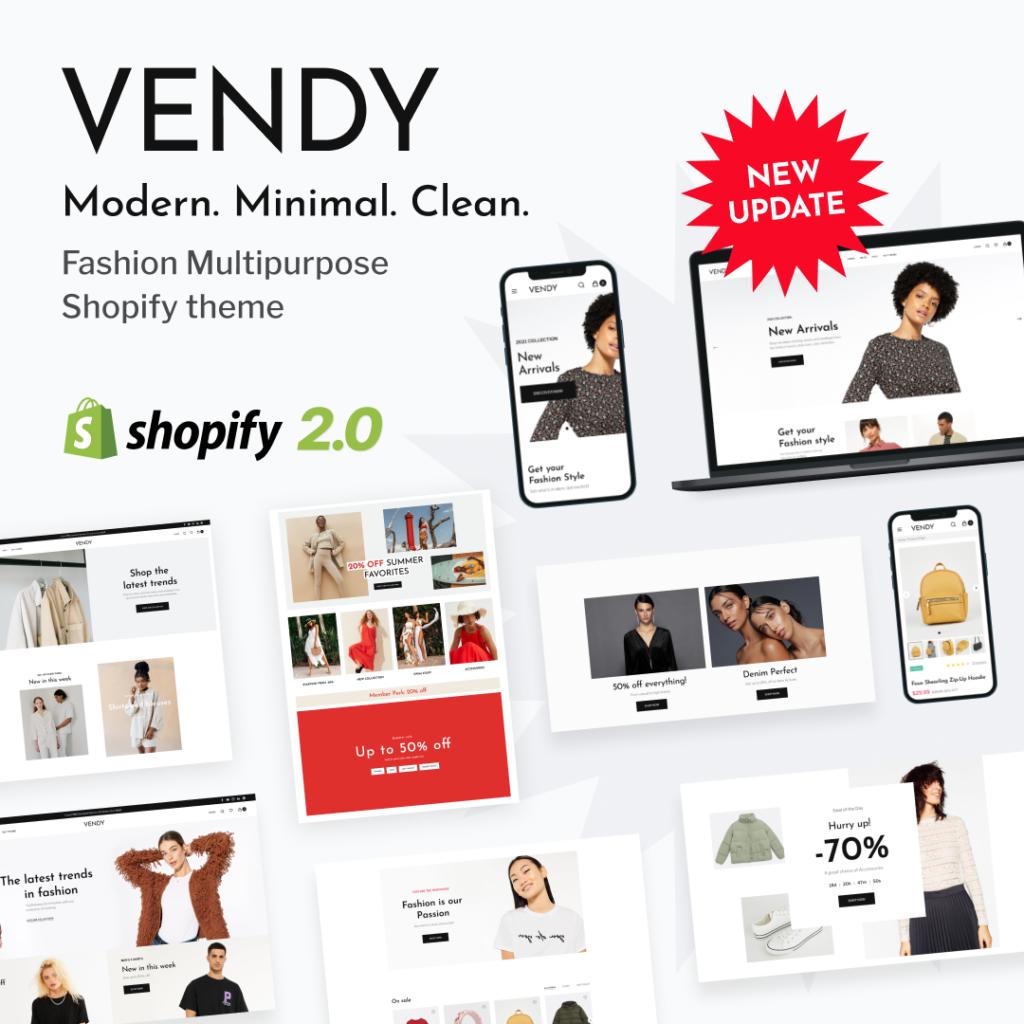 Vendy is an explosive theme that will take your business to the next level! Clean and modern design, lots of built-in official Shopify apps, and more than 12+ ready-made pages that are suitable for any kind of business. And that's not all that's impressive about this theme from the professionals at the Zemez team!
Vendy – multipurpose Shopify theme for fashion is packed with creative features. For example, the LookBook feature will highlight the personality of your product in the best way. Moreover, Vendy is constantly updated.
If you want a simple and clean Shopify theme, this is definitely a great choice. The colors and elements are spot on. However, one feature we would like to point out is that the background image isn't always an image of a garment. Instead, it's often a mug, bottle, or any other everyday item. We found that it distracts from the business more than anything else.
It's time to give the clothing and fashion industry its own eCommerce shop. This is why you should consider Groham as the perfect Shopify theme for your business. From your first day on the web, you will be able to sell fashion products, such as clothing, shoes and accessories. It features more than 70,000 products and a full library of ready-to-use themes. The best thing about it is that it is compatible with WooCommerce and WooCommerce converters.
The NIXX fashion Shopify theme is a combination of clean and minimalist styling. It offers a set of layout options and settings so that you can create a completely unique shopping experience for your customers.
This Shopify theme comes with everything you need to start a clothing and fashion store in a snap. The design is made to look like a high-quality print ad, with muted colors that are both elegant and trendy. It's a great, business-friendly theme that is easy on the eyes and mobile friendly. All of the themes on this list are good, but this one is definitely one of the best!
Calfia is a beautiful WordPress theme for clothing and fashion brands. It is perfect for running your own clothing and fashion website, or if you want to use it to develop a store and gain traction for your brand. You can choose between two skin tones, which should help you find your perfect fit for any type of business.
Calfia is beautifully crafted, with beautiful photos, high-quality graphics, and a variety of flexible features.
If you would like to use your theme for personal use, you can get a free theme license. If you want to use it for a store, you can buy a license for $199.
This Shopify theme is built on the Oreo platform, and it provides great flexibility and customizable features. With its minimalist look, this Shopify theme allows you to focus on the features that you want to have on your site.
Things Every Shopify Theme Must Have
Before choosing a theme for your Shopify store, you must understand the basic elements of a theme as well. Each theme you are choosing especially for a womens clothing or a fashion and accessories store, these things are a must in a theme, if you wish to run a successful business on Shopify.
If you are looking to create an online store of your own, you will need a design that is not just appealing, but it must also have all the functionality you require. If you are on the hunt for a Shopify theme, then these things should be at the top of your list.
A theme that has powerful SEO capabilities is essential for any Shopify store. You can't afford to not be noticed when there are thousands of other stores out there vying for customers.
You'll also want to make sure that your product pages are engaging and easy to navigate.
Another important thing is to make sure you edit the template's HTML/CSS code in order to suit your needs and allow for future growth.
Conclusion
All of the themes on this list have their advantages and drawbacks. A theme with a great developer team, like Invision, may not have all of the features that you need. However, a great theme with a good developer team, like StyleUp, may not have all of the features you need. The point is, your needs will vary depending on your style. And it is entirely possible to get something that can give you exactly what you need.
Further reading