Last updated - July 8, 2021
WooCommerce is one of the easiest options available to start an online store. Once you have a live online store, an essential aspect is to reach out to prospective customers. In the current digital environment, social media is one of the most effective marketing tools. There are several solutions that will help you automate your social media marketing strategies. In this article, we will discuss some of the best social media marketing plugins for WooCommerce.
Instagram provides a great opportunity to improve the visibility of your products. You will be able to use Instagram posts  as ad campaigns. This plugin will help you create posts and stories on Instagram from which customers can place orders. You will also be able to redirect customers to product pages and define specific hashtags for products. Moreover, you can also display how customers are using your products for social proof.
Features
Create product catalog on Instagram.
Customize different aspects related to the product effortlessly.
Export catalog in CSV or XML format.
Easily redirect customers to your product pages.
Define hashtags for your products to let customers tag their images with it.
Easy to set up.
The plugin costs $79.
You will be able to connect your WooCommerce store with Pinterest social media platform using this plugin. It will enable your products to have better visibility through the large user base of Pinterest. The plugin helps to add the necessary markup to your products so that the essential details of the product are automatically transferred to Pinterest. Moreover, the images will be automatically resized to the standards of Pinterest. Also, you will be able to set a different featured image for Pinterest. You can control the images displayed on Pinterest right from your WooCommerce dashboard.
Features
Easily connect your WooCommerce store with Pinterest and upload your product catalog within minutes.
Automatically add product details to Pinterest.
Option for visitors and customers to save your images on their boards.
Easily manage your pins from a single location.
Use Pinterest for advertising campaigns.
The plugin has a price tag of $79.
This plugin works as an add-on to AutomateWoo marketing automation plugin. You can easily set up a unique referral program on your WooCommerce store. Your customers will be able to share your product details on their social media channels. The plugin has share buttons, which will generate automatically generate coupons for both customers and the friends they are referring. Moreover, you will be able to share referral buttons on the post-purchase page or as an email. For fraud prevention, the plugin uses strategies as IP address matching and email address matching.
Features
Create an efficient referral management system on your WooCommerce store.
Make it easy for customers to share your product details through Facebook, Twitter, WhatsApp, etc.
Post purchase share widget and email follow up option for customers to share the referral links.
Advanced fraud prevention measures.
Triggers and variables for better workflow management.
Detailed reporting features.
The cost of the plugin is $79.
This is another great plugin to encourage your customers to share your product details on their social media channels. You will be able to generate discount codes for customers in return for them sharing your product in their social media. The plugin makes it extremely easy to share your business details in their social media in a single click. Customers will be happy to leave a review, and with the discount coupon, they will return to your site for a repeat purchase as well.
Features
Create custom discounts for customers who share your products on social media.
Flexible to use social media or emails for product sharing.
Place product sharing button on different locations on your site using shortcodes.
Customize the text for the sharing buttons.
Display an option to customers to share their purchase information.
A single site subscription of the plugin will cost $59.99.
This is an intuitive option among social media marketing plugins for WooCommerce. It offers comprehensive options to help you engage your customers better and encourage them to spread the word around about your products. The plugin is compatible with over 50 different social media platforms, and it offers more than 30 automated display options. You will also get access to unlimited color and design options, and advanced analytics insights as well. Moreover, the plugin will help you add a live chat option with your social media accounts.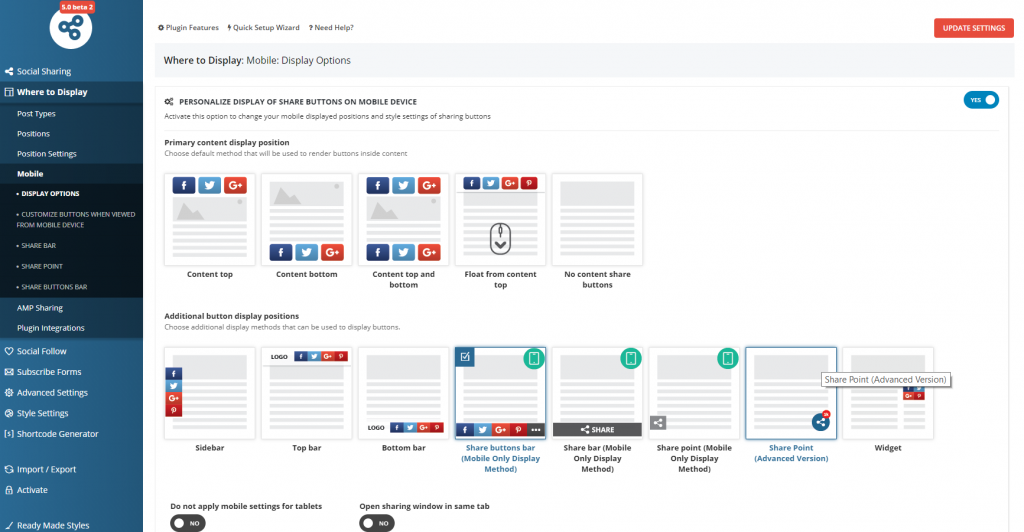 Features
Comprehensive option to assist with your social media strategy including building subscribers and enhancing conversions.
More than 50 social media networks and more than 55 templates for share buttons.
Unique display options suitable for mobile users.
Customizable placement of share buttons.
Display follower count for preferred social media channels.
Social live chat option for selected platforms.
Preview option for your social media messages.
Seamless integration with your WooCommerce products.
Support a lot of third party WordPress solutions.
For a regular license, you have to spend $22.
This is another plugin that will help your customers share their purchase information in social media. It will help information on your products reach more customers and prospective buyers. On your post-purchase thank you page, you will be able to display share buttons for six different social media platforms. Moreover, you will be able to customize the color and appearance of call to action buttons.
Overall, the plugin will be a great help in improving traffic to your website through social media and gain better visibility for your products.
Features
Display social share buttons on the thank you page.
Customize the labels, text and call to action buttons.
Include custom hashtags for products.
Supports translation.
Flexible for developer-level customization.
You can purchase this plugin for $29.
This plugin helps you display content from your social media channels on your website. It will automatically add fresh content from  social media to a custom gallery element. Moreover, you can use content generated from users for social proof. Also, you can display images from different social media channels in a testimonial gallery.
Features
Display content from social media accounts automatically to your site.
Multiple gallery styles to control the appearance of the feed.
Follow different accounts or hashtags.
Automatically resize images.
Choose between text and images for display.
Add social sharing buttons to enable customers to share content.
Apply image hover features.
The plugin costs $19.
Customers will be able to share their experience with your products with the help of this plugin. It helps you create a social media like interface on your site for ratings and reviews. Other customers will be able to comment, like, up-vote, etc. as per their needs. Moreover, you will be able to let customers upload photos of the products and display them. The plugin provides you custom layout and design options as well.
Features
Collect and display reviews, ratings and comments on your store.
Let customers upload images of the products they have purchased.
Highlight popular products effectively.
Configure email notifications for new comments for better responses.
Sort and filter comments.
Multiple options to customize the appearance of the reviews and ratings section.
You can get this plugin for $29.
You can use the Facebook for WooCommerce extension in three ways. You can create better ad campaigns and measure their performance on Facebook. It also lets you list your products on Facebook pages to help initiate purchases. Furthermore, it offers an option to let your customers chat with you using Facebook Messenger. Overall, these plugins together will be a great support for your Facebook marketing strategy.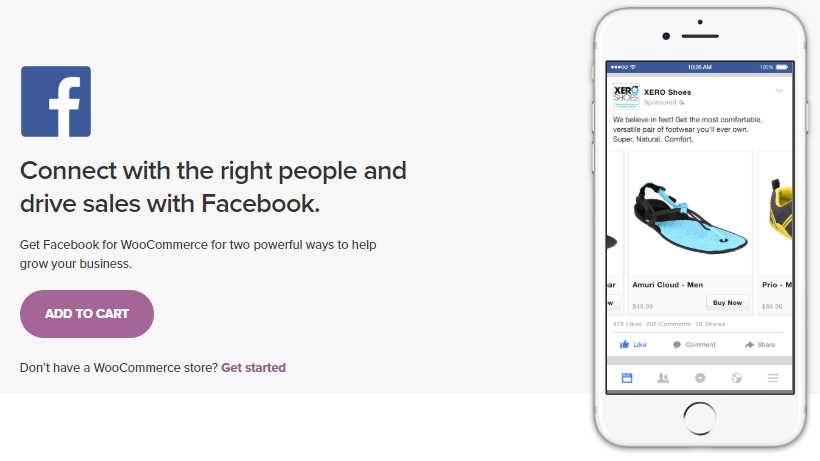 Features
Optimize your Facebook ad campaigns.
Efficiently re-market your products and track conversions.
List your product catalog on Facebook pages and enhance sales figures.
Chat with customers on Facebook Messenger.
You can download the plugin free of cost from the WooCommerce marketplace.
Hopefully, you can improve traffic, sales and revenue on your store with the help of these social media marketing plugins for WooCommerce. Leave us a comment to share your experience with any of them.
Further reading