Last updated - July 19, 2022
WooCommerce has made it extremely easy to maintain an online store and sell to customers all around the globe. However, selling internationally has multiple pain points, like shipping hassles, regional commercial laws, etc. Currency exchange is one such concerning aspect a business owner has to deal with while selling internationally.
If your business bank on international customers seriously, you would want to offer the best possible experience to them too. Showing product prices in the home currency of your customers are somewhat of a necessity in such a scenario. But there is nothing to worry about, as there are multiple tools available to help you with accurate currency conversion.
Here is a look at some of the best WooCommerce currency converter plugins available at the moment.
You can find this enhancement widget on the WooCommerce site. Basically, the widget displays a list of currencies on your Cart page, which your customers can choose dynamically. The widget syncs with the latest exchange rates real time and converts the displayed price on the front-end. You will be able to add multiple currencies in the widget settings. However, the converted rates are only for informing the customers. The actual transaction happens using your WooCommerce store's base currency itself.
How the widget works
This WooCommerce widget works by using the API of Open Exchange Rates. You can either use the API included in the widget by WooCommerce or register with Open Exchange Rates and use your own API key.
Once you install and set up the widget, you can go to your store's widget section (Appearance > Widgets), and drag and drop it to a sidebar.
Then you can name the widget and enter multiple currencies to be displayed on the front-end. The mode of display can also be customized – buttons or select box, according to your preference. You can also choose whether to display currency codes or currency symbols on the widget.
Geolocation is another feature used by this widget. Based on the location of the customer (determined with the IP address), the display currency will change dynamically. You can choose to enable or disable this feature according to your preferences. Once the widget locates a customer, his/her currency will be highlighted among the list of currencies. In case the geolocate feature fails, your shop's base currency will be highlighted by default.
With the help of this plugin, regular/sale prices, cart/checkout totals, and shipping prices can be converted to a currency of choice. However, you need to remember the actual transaction takes place in your store's base currency.
The widget is available for purchase in the WooCommerce Extensions store. A single site license is $29, a 5-site license is $49 and the 25-site license is $99. There is one year of dedicated support and timely updates along with the purchase.
Similar to the WooCommerce widget, this plugin allows your customers to switch to a currency of their choice, dynamically on your store.
The plugin will automatically update the currency based on the location of the customer identified from the IP address. This plugin is compatible with a variety of popular plugins available in the market including WooCommerce subscriptions, Stripe payment gateway, Extra product options, etc.
In the free version of the plugin, you can operate only with two currencies. On the Settings page, you need to set your WooCommerce shop base currency as '1' and put the exchange rate for the additional currencies you're adding.
The plugin, in fact, comes with three widgets – currency switcher, currency rates and currency converter. To enable these widgets, all you need is to add the shortcode provided in a text widget.
Here is a sample screenshot of one of the widgets on the front-end:
The free plugin boasts over 20,000 active installs in the WordPress plugin directory and has quite a good reputation.
This addon from the WPML team is the perfect tool to start selling online internationally. The free version already allows you to set up multiple currencies, add currency switchers, format currencies, set exchange rates and more! To learn more about this and download the free plugin, we recommend that you read through this documentation.
If you want to translate the other components of your store such as product descriptions, URLs, taxonomies, media and more, you can upgrade to the full version WPML which will unlock these features. It is also worth mentioning that the full version of WooCommerce Multilingual includes compatibility for a list of popular WooCommerce extensions.
If you're looking for a better and flexible solution for WooCommerce multi-currency, this is your destination.
YayCurrency has all the premium features from other currency converter and switcher plugins combined:
Automatically

update currency exchange rates

GeoIP

auto-display based on the visitor's IP address

Checkout

permission in different currencies and payment methods

Psychological tricks

in price rounding and ending with .49 / .79 / .99
What's more? You can place the currency switcher in multiple locations:
WooCommerce single product page

Sidebar widget, WooCommerce widget, shortcode in page/post

Header and footer menu

 

YayCurrency supports a wide range of WooCommerce extensions and payment gateway plugins:

WooCommerce subscriptions

PayPal payment gateway plugins

WooCommerce Payments, WooCommerce Stripe

Mollie Payments for WooCommerce

Dokan multivendor
Pricing:
It's available in YayCurrency free version so that you can see how it looks and feels without paying anything. 
Premium plans come with affordable yearly and lifetime options. If you buy from 3 sites to unlimited sites, the one-time price is incredibly cheap!
This is another popular plugin available in the WordPress plugin directory that allows a multi-currency setup. Based on the country of the customer, the product price can be displayed in a different currency of choice.
Like in the other cases, this plugin uses the geolocation feature of WooCommerce to determine the country of the visitor. You can set the corresponding currency of the country and users will be able to see prices on your site converted to their home currency. With this plugin, you set multiple currencies for your products either manually, or by applying the exchange rates real time.
Here is a screenshot of the general settings page.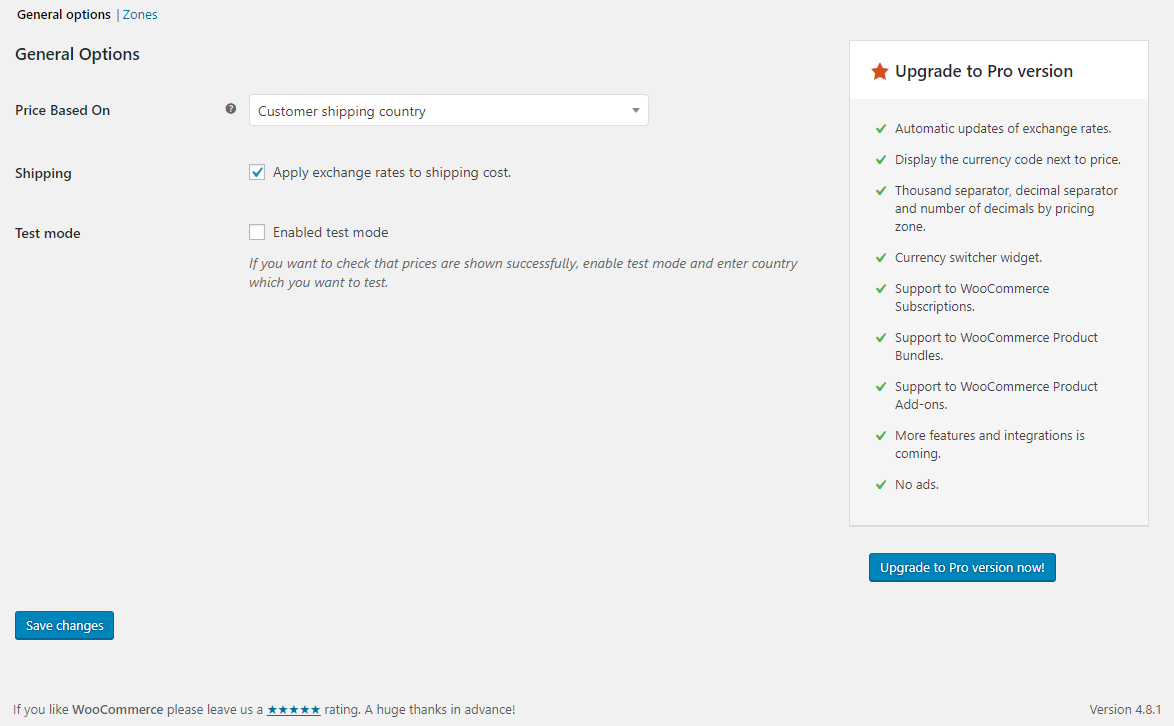 On the Zone settings, you can see the additional countries and currencies that you have set up (see below screenshot).
If you want to want to add a new zone, you can do so quite easily by clicking the Add Zone button.
All you have to do is give a title, select the countries to be included, specify the currency, and enter the exchange rate.
Changing the customer shipping address on the  Checkout page to one the countries specified in the zones will dynamically update the currency (screenshot below).
The plugin allows transactions in multiple currencies too. This is actually a cost-effective solution, as you can get rid of charges for conversions. It also helps with applying the conversion to shipping methods too.
Overall the user interface is much simple and clutter free. If you are the type who prefers a simple set up and uncomplicated configuration, this plugin would be really a great choice.
This is another WooCommerce currency converter plugin that is loaded with features. You can allow your customers to switch between multiple currencies. Another advantage of this plugin is that you can accept payments with one or multiple currencies. However, to enable payment in multiple currencies, you have to make sure that your payment gateway supports all those currencies.
If you are running promotional offers on your store with WooCommerce coupons, the plugin will convert the value of coupons too. This is a nice feature that ensures a thorough integration of your site and all its features. This free plugin comes with two widgets – currency switcher and calculator.
The pro version has many added features such as approximate price display on the shop page, automatic update of exchange rates, fixed price for each currency, perfect integration with WooCommerce reports, compatibility with Visual Composer plugin, etc. In addition, you can add a custom symbol, and save the exchange rate in the pro version. It comes with support for a period of six months as well.
The free version has over 2000 active installs on WordPress. However, we tried a test install and was not successful. It'd be a good idea to talk to the support team to make sure you won't face any similar trouble installing this plugin.
This plugin automatically updates and displays the currency of your customer based on country or language. The same process we have seen with other plugins, using the geolocate function, is applied here too. There will be an option to switch back to the base currency of your store during checkout. In addition, this plugin offers multiple options to update the layout and format of the switcher. Also, you will have the option to choose whether to add the currency switcher as a widget or with shortcodes.
With the free version, you can set up two additional currencies. With the pro version, you can set an unlimited number of currencies. Another feature, available only on the pro version is the option to set country flags. The plugin automatically updates a flag to the currency on the front-end. You also get an option to manually assign a flag to a currency using this plugin.
The pro version is available for $19.99 for one year license period. You can also get a lifetime license for $30.99. Check out the pro version here.
Some advantages of using a currency converter plugin for WooCommerce
Currency converter plugins pose a great opportunity for WooCommerce business owners. Let's look into some of them.
Great scope for expanding your business
If you wish to expand your business by selling to multiple countries, these plugins can offer great support. There is no need to create a new site for a new currency. With the help of a currency converter plugin, you can make your existing store compatible with multiple currencies.
Improve customer experience
If you are already selling to multiple countries, these plugins might prove to be valuable assets to improve customer experience in your store. Giving an option to international customers to pay in their home currency would really improve the customer happiness index on your store.
Comfortable store management
Currency converter plugins really help you manage a difficult aspect of international business quite conveniently. You can control a lot of options like the currencies displayed, payment options offered, etc. while ensuring the preferences of your customers.
Currency converter classifications
Taking into account the currently available options, there are two different types of currency converter plugins. One that will display rates in the home currency of your customer, but charges them with your store's base currency. These will be useful if your primary transactions are in your shop base currency and you prefer to keep your accounts consistent with your base currency. You don't want to get into the hassles of exchange rates later while accounting and reporting. Most plugins that fall under this category is pretty easy to set up and works with any payment gateway option that you are comfortable with. You will be able to monitor your income more clearly as there is no need to face the confusion while handling income in two currencies. And obviously, your accounting and reporting will be easier and smoother.
Some of the disadvantages of this type are that it sends out a perception that international customers are not really your primary priority. The confusion that you avoid is kind of passed on to your customers, and the result would be a sub-standard customer experience for international business. So opting for this type of currency converter should be done after much deliberation. It shouldn't be a problem if your store primarily deals with customers from your own country.
The second type of currency converter displays and charges in the home currency of your customers. If selling internationally is your primary revenue source, you should seriously consider opting for this category. Your international customers would definitely thank you for this as they will find it much more convenient to pay in their own currency than in a foreign currency. This category of plugins lets you modify the displayed converted rate too so that you can adjust any transaction fees that you may have to incur with the exchange. You can set product prices in multiple currencies too if you sell to customers from different countries. Setting coupons and promotional deals can also be done in multiple currencies using this category of plugins.
With these plugins, you will also get more control over which currency you want to display based on the customer's billing address. You, the store owner, will be able to determine the payment method also based on the currency. These currency converter plugins are more like a win-win for both store owners and customers. They are easy to set up and offers great control for store owners. At the same time, they offer great customer experience, as customers would be really happy to pay by their own currency.
Some perceived disadvantages of this category of plugins are that they seem to have conflicts with certain other plugins. Also, they might not work with all the available payment options on your store. You may also have to opt for a multi-currency reporting tool.
Conclusion
Installing a currency converter plugin on your WooCommerce store opens up a lot of possibilities to expand and diversify your business. If you already have developed a strong international customer base by displaying the base currency of your store, then the above-mentioned plugins would help you to improve the customer satisfaction rate of your store considerably. Being able to estimate the rate of a product in one's home currency rather than a foreign one would be obviously preferable for your potential buyers. That preference would really increase the chances of conversion in your store as well. Let us know what you think about the above list by leaving your thoughts in the comments section.
Also check out the 10 Best WooCommerce Currency Switcher Plugins.