Last updated - December 13, 2022
You might have come across a lot of organizations collecting donations online. Many charity organizations and NGOs use this approach to collect funds for their regular efforts or for special causes like natural disasters. Similarly, in the WordPress ecosystem, you will find several bloggers and developers that collect online donations to fund themselves. It is not especially difficult if you want to collect donations on your WordPress or WooCommerce site. Here is a list of the best WooCommerce donation plugins that includes both free and premium options.
WooCommerce Donation Plugins (Premium)
The following are some of the popular premium options for WooCommerce Donation plugins.
This plugin lets you collect donations on your store seamlessly. You can even create recurring donation campaigns using this plugin. The plugin lets you add multiple levels of donations, and also helps you set minimum and maximum levels for payment. With this plugin, you can specify a fixed amount for donation, or let the customers specify an amount of their liking. Moreover, you will be able to place the option on the product, cart or Checkout pages, or use a widget.
Features
Effortlessly accept donations on your site.
Specify a fixed amount, or multiple layers of donation, or let customers decide.
Set minimum and maximum limits.
Display the option anywhere on the site.
Display a progress bar to communicate the amount collected so far.
Compatible with currency switcher plugins.
The cost of this plugin is $99.
You can easily accept donations on your site and create fundraising goals as well. You can display the fundraiser option on your site or tie it to specific products. The plugin lets you set targets for your fundraising campaigns and also show a progress bar. Furthermore, you can also configure minimum and maximum contribution options.

Features
Create fundraising campaigns and accept donations.
Set goals and display progress bar.
Set minimum and maximum amounts for contribution.
Extensive customization options.
You can get this plugin for $49.
This plugin lets you create custom pricing for all your WooCommerce products. You can use it to accept donations by creating a product and displaying a field for customers to specify the pricing. Moreover, the plugin lets you understand the market by getting an estimate on what customers are willing to pay for a product.
Features
Let customers choose a price for products on your store.
Collect donations easily.
Do a market study on new products.
Suggest a minimum price for products.
This plugin will cost you $49.
This is another plugin that you can use on your WooCommerce store to let customers decide on the amount they want to pay for a product. You can set a minimum and maximum value to create a suggested price range. The plugin lets you hide the product price as well. In addition, you will find options to customize field titles as well.
Features
Let customers to choose the price for products in your store.
Option to hide product prices.
Set minimum and maximum amounts for user-defined pricing.
Redirect customers to a desired page.
Works with variable products.
The cost of this plugin is $49.
Donorbox has to be one of the most convenient options for your WooCommerce store on WordPress. You'll find a free Donorbox plugin on WordPress that you can easily add to your store to accept online donations. This plugin enables you to add an embedded or popup donation form to your website. With powerful fundraising and donor management features, the Donorbox plugin helps you increase donations and donor conversion.
Features
Recurring donation forms that are customizable to match your brand.
Ability to embed forms in your WooCommerce store or add them as a popup.
UltraSwift™ Pay makes giving superfast with digital wallets like Venmo, PayPal, Google Pay, and Apple Pay in addition to credit cards, bank transfers, and direct debit payments.
Ability to customize and send automatic donation receipts by email.
Donor records are automatically created and securely stored to help manage donors.
Option for donors to save payment information to easily repeat donations in the future.
This plugin lets you create and display unique donation forms anywhere on your site. The plugin lets you easily associate donation collection with specific products that you give out for free. It also helps you specify minimum and maximum limits for donations. Additionally, you can let customers choose different payment options according to their convenience while making a donation.
Features
Helps you add a donation form in your Cart page.
Associate donation options with specific products.
Customize the appearance of the donation button and the text displayed.
Display fixed amounts that customers can choose.
Display total donations and a summary of donations with widgets.
The plugin will cost you $59.99 for a single site subscription.
This plugin allows you to create a donation product, or show an option to add a donation in the Cart page. It gives you the option to specify a fixed amount for donation, or let customers choose. The plugin has minimal configuration options where you can install the plugin and the donation option will be available in the Cart. It also provides detailed reports on your campaigns.
Features
Easily accept donations on your WooCommerce store.
Set a pre-defined amount for donation or allow customers to decide the amount.
Detailed reporting.
Easy to configure.
The Regular License of the plugin costs $19.
WooCommerce Donation Plugins (Free)
These are some of the reliable free options that you can try out.
This is one of the most advanced free plugins that will help you manage custom pricing on your store. You can let your customers choose a price for your products by displaying a field to enter the price. The plugin lets you display or hide the regular and sale price when you are displaying the option for custom pricing. Moreover, you can also set a minimum price for your products so that you won't incur losses or let customers checkout without a payment. You can use this plugin to seamlessly collect donations as well.
Features
Offer an option to let customers choose a price for your products.
Suggest a minimum price globally or for individual products.
Allows you to set up different minimum prices for different variations.
Hide original pricing.
Customization options.
GiveWP is one of the most preferred options to handle donations in a WordPress store. It offers great options to create multi-layered donation forms with the help of templates. You can easily add fundraising goals, donation suggestions, and multiple amounts easily. In addition, the plugin has extensive reporting features and efficient donor management options.
Features
Simple and effective option to accept donations.
Templates to help you create donation forms.
Compatible with most WordPress themes.
Different payment options.
Detailed reporting and easy donor management.
This is an easy way to collect donations in your WordPress site. It helps you add a donation option to your store with a shortcode or sidebar widget. You can further customize the options according to your requirement. The plugin has built-in translations for 15 languages.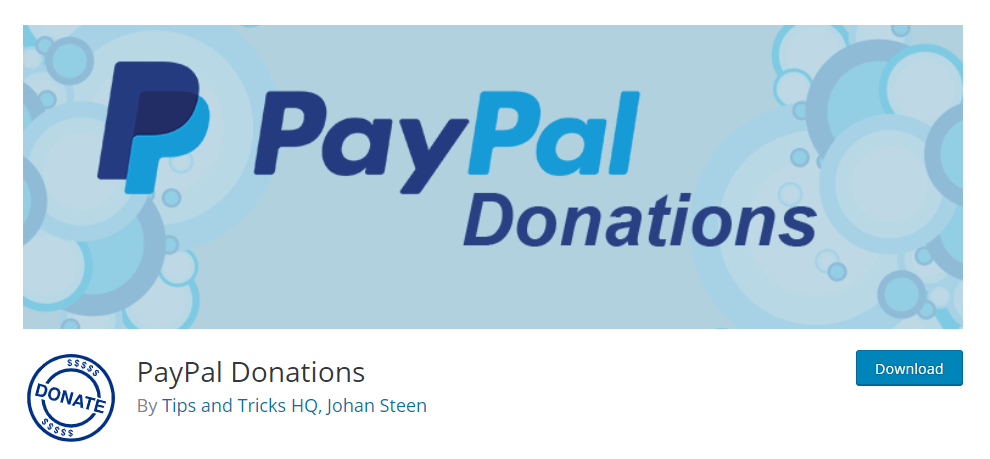 Features
Display a donation button on your WordPress site.
Shortcode and widget support.
Translations available in multiple languages.
Customize the donation option.
This plugin integrates with WooCommerce to create a donation product type. With this product type, your customers will be able to specify a price for the product and checkout from your WooCommerce store. The plugin is compatible with all WooCommerce-supported themes.
Features
Create a product type for donations in your WooCommerce store.
Specify an incremental value that users can choose by clicking an arrow.
Option to disable donation field in the Cart.
Compatible with WooCommerce themes.
This is another comprehensive option to collect donations and manage fundraising campaigns on your WordPress site. You can use the customizable donation form templates to set up different campaigns as per need. It is quite easy to set up and also offers very convenient options for donor management.
Features
Comprehensive donation plugin.
Set goals for campaigns and make them time sensitive.
Customize donation form templates.
Easily integrate PayPal and other offline payment options.
Custom email notifications and easy donor management.
This is a simple and efficient option to help you accept donations through Stripe and PayPal accounts. It is quite easy to manage and you can start accepting donations pretty quickly once you install it. Moreover, you can easily handle recurring donations using this plugin, and there are no commissions or percentage charges.
Features
Simple option to accept donations on WordPress.
Easily handle automatic recurring payments through Stripe or PayPal.
Automatic notifications.
Easy to set up.
Hopefully, these WooCommerce donation plugins will help you raise funds in a simple manner on your WordPress site. Feel free to leave us a comment if you have a query.
Further reading