Dropshipping is a profitable eCommerce business model, where the store owner won't be maintaining an inventory. The manufacturer or supplier will fulfill the order on behalf of the store owner. And, the store owner can get a margin for each of the sale that is going on in the store. WooCommerce offers a range of plugins that has various advanced features to help dropshippers create and manage their stores effortlessly. In this article, we will look into some of the best WooCommerce Dropshipping plugins that you can try out.
Premium WooCommerce Dropshipping plugins
If you want advanced features like automatic notification and single-click product import, you can try out some of the premium WooCommerce dropshipping plugins.
This is one of the popular WooCommerce dropshipping plugins that will help you make your WooCommerce store management effortless. The plugin will help you manage your dropshipping store while helping you import inventory from individual suppliers. It also helps you send notifications to the particular suppliers every time one of their products is purchased. Moreover, the plugin provides simple options to assign a product to a supplier.
Features
Provides an extension for Chrome browser to import products from AliExpress to your WooCommerce store quickly.
Send detailed order notifications automatically to suppliers every time one of their products receive an order.
Personalize email notifications by including your brand's design elements.
Simple interface to manage supplier information.
Option to import products from a supplier in bulk using a CSV file.
Suppliers can access your WordPress admin in a limited manner to handle order details related to their products.
A single site subscription of this plugin will cost you $49.
You will be able to create a WooCommerce dropshipping store with products of suppliers from the US and EU using this service. It is quite easy to import products from reputed suppliers and even to handle order management using this plugin. The main advantage of having suppliers based in the US and EU is that you will get much faster delivery for customers in these regions. You can use the free WordPress plugin to integrate Spocket to your WooCommerce store.
Features
Find the best products to dropship from over a large range of categories.
Get faster delivery from suppliers based in the US and EU.
You will be able to get started for free without any initial cost.
Get discount deals for several products.
Personalize your invoice and build your brand.
Provide a great customer experience with professional packaging and delivery.
The pricing plans start from $14 per month. You can also avail a 14-day free trial of any of their packages according to the scope of your store.
This is an interesting plugin that will provide you comprehensive options to manage your WooCommerce dropshipping store. In addition to helping you import products quickly, this plugin will also help in faster order processing and performance tracking. You will be able to pick your products from a large pool of products available for dropshipping on AliExpress. Moreover, with a single click, you will be able to share order information with your suppliers. Overall, the plugin will help you boost your revenue with minimal investment of time and manual efforts.

Features
Find the most suitable products for your store from AliExpress with the help of several filters.
Automatic ordering option and product sync with AliExpress to keep your store data updated always.
Option to import products manually or automatically.
Image editor to help you modify images.
Configure pricing rules for products sold on your store.
Automatic order tracking and email notifications.
Compatible with popular WooCommerce themes.
The single site license of this plugin will cost you $89. With the purchase, you will get lifelong update and support as well.
This is another service that will help you create a viable dropshipping business on your WooCommerce store. Connect WooDropShip to your WooCommerce store to import products easily from AliExpress to your store. It offers you an option to edit the products before featuring them on your store. Moreover, you will be also able to process orders quickly to be fulfilled by AliExpess.
You can either choose their one-time fee plan for $97 or monthly plan for $19.99 per month. There is also a 7-day free trial option.
One of the main advantages of using Wooshark is that you will be able to source products from a range of dropshipping suppliers like Amazon, AliExpress, etc. They have a range of plugins to integrate individual suppliers or multiple suppliers together according to your need.
Features
Import unlimited products from four different dropshipping suppliers – AliExpress, Amazon, eBay, Etsy.
Automatically apply your preferred language and currency for the imported products.
Bulk import options.
Configure price calculation rules to ensure the best profit margin.
Single click order processing.
Sync products's pricing and stock details with AliExpress.
Import product details and reviews.
The Starter plan that allows 3000 products per month and 5 store support will cost you $24.99 annually.
Dropified will offer you efficient assistance in creating and managing your WooCommerce dropshipping store. It integrates seamlessly with your WooCommerce store and helps you find and import products quickly. Also, it will help you automate the entire order fulfillment process so that you can provide a more optimized purchase experience to your customers. In addition, you will find training materials and videos to help you promote your products better and enhance the reach of your store.
Features
Powerful options to help you find the most profitable products for your store.
Ability to import products fast from AliExpress, eBay and other popular dropshipping suppliers.
Import product reviews along with other details.
Automatically transfer order details to the right supplier.
Dependable support team.
The Builder plan starts at $47 per month. You can also avail a free trial for 14 days.
Free WooCommerce Dropshipping plugins
If you are just starting out, and don't want to make a financial investment early on, you can try one of the free WooCommerce dropshipping plugins. Here are some of them.
You will be able to pic and choose products from a range of profitable products from AliExpress using this plugin. However, this free plugin has a limit, where you can import only 50 products. The product information is already edited and that will reduce a lot of effort from your side. You will also get assistance in setting up the margin for your products.
You can use this plugin to import products from AliExpress single product page and category page. The plugin will let you import a set of products based on some general configuration for product description, catalog visibility, stock, etc. Also, you can customize features of the products you have added to your import list.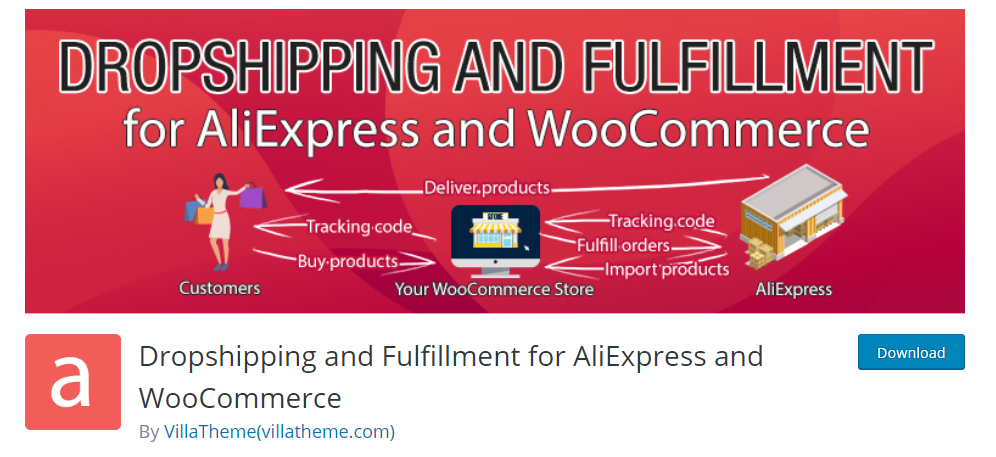 This is another free plugin available in the WordPress plugin repository to help you with WooCommerce dropshipping. It helps you in importing products from AliExpress to your WooCommerce store through the Chrome extension. You can edit the product information in bulk with the help of filters. The price and stock details of the products featured on your store will be always up-to-date thanks to the automatic sync. Moreover, the plugin comes with options to set up pricing rules as well as a filter option to pick the products with faster delivery options.
There is also multi-currency support and a handy image editor to assist you in your dropshipping store management.
Hopefully, this article has helped you familiarize yourself with free and premium WooCommerce dropshipping plugins. Leave us a comment if you have a query.
Further reading