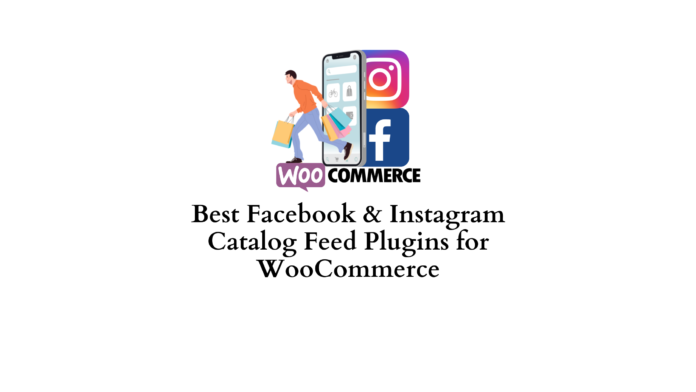 Last updated - February 23, 2023
Social media marketing is a trending phenomenon and almost all businesses are looking to capitalize on the worldwide reach of social media platforms. Facebook and Instagram are two of the most popular social media platforms that are being used across all industries.
Having your storefront on Facebook and Instagram is all the more crucial if you run a WooCommerce business. While it may seem simple to use Facebook and Instagram, it's a different ball game when it comes to setting them up for your eCommerce business.
For this reason, you'll need a Facebook and Instagram product feed plugin, as it will transform your Facebook and Instagram accounts into a professional-looking storefront for your eCommerce business.
In this blog, we will take a closer look at Facebook and Instagram for WooCommerce and some of the best plugins for the same. Happy reading!
Facebook and Instagram for WooCommerce
Before getting into knowing the product feed plugins of Facebook and Instagram for WooCommerce, you need to understand the concept of Facebook and Instagram for WooCommerce. So, what is it?
The concept of Facebook and Instagram for WooCommerce, in simple terms, is the integration of your WooCommerce business with Facebook and Instagram accounts for marketing purposes. As a Facebook and Instagram user, you must know that a vast majority of the online population uses Facebook and Instagram for shopping. And large amounts of sales proceed from such social media platforms.
Businesses are looking for ways to onboard their store onto such popular social media platforms and there are several specialized plugins that can ingeniously integrate your WooCommerce store with Facebook and Instagram and boost your business.
Benefits of Facebook and Instagram for WooCommerce
Boosts Website Engagement
One of the most beneficial aspects of integrating your business with Facebook and Instagram is that it substantially boosts your website engagement and traffic. This is mainly because a large population of potential customers, especially millennials, browse Facebook and Instagram for shopping purposes and proceed to make purchases through these social media platforms.
Displays Authentic User-generated Content
While businesses can manipulate the statistical content on their websites, it is almost impossible to do that with these profound social media platforms. Hence, you can display genuine and completely user-generated content of your WooCommerce business. The best part of displaying user-generated content is that it organically draws more customers and leads conversions.
Establishes a Customer Base on Social Media
As mentioned above a large number of potential customers are present on social media platforms like Facebook and Instagram. By integrating your business with these social media platforms, you are not forcing these customers to leave their social media pages in order to make a purchase, but rather provide them the opportunity to make a purchase right where they are. As a result, you will build and establish a strong community of customers on these platforms.
Builds a Socially-strong Brand
Brand building is almost the ultimatum of any business. And having your business's presence on social media platforms allows you to do just that. One interesting thing about Facebook and Instagram for WooCommerce is that, if your business provides a unique proposition and is highly desirable for the new-age audience, then building a socially-strong brand can even happen overnight. Remember! these platforms can make almost anything trending.
Grow Leads and Conversions
Leads and conversions are two words that are spoken by all business enterprises every single day. As a matter of fact, the income generation of a business is directly dependent on leads and conversions. Since social media platforms like Facebook and Instagram are built on the premise of social sharing your business can grow the leads and conversions in a profound manner.
Top WooCommerce Facebook Feed Plugins
Product Feed PRO for WooCommerce
Rating – ⭐ 4.9
Although I've listed this plugin in the Facebook feed plugins section, it is not limited to just Facebook integration. The Product Feed PRO for WooCommerce plugin can be used to build product feeds for every one of your sales channels, such as Billiger.de, Pricerunner, Skroutz, Meta, Remarketing, Bing Ads, and many more.
Over 100 pre-designed themes are provided for marketplaces, comparison shopping engines, and search engines, in addition to customized feeds. This add-on offers top-notch product feeds for Google Shopping and many other services.
Product Catalog Feed by PixelYourSite
Rating – ⭐ 3.4
Product Catalog Feed by PixelYourSite is an expert WooCommerce auto-updated XML feeds plugin for Google Merchant, Pinterest Catalogs, and Facebook Product Catalogs (Dynamic Product Ads, Facebook Shops).
With only one click, this plugin can create XML feeds right out of the box. being fully prepared for Facebook Product Catalog. Set a feed auto-refresh timer to update your adverts periodically. By doing this, you can avoid paying for product ads for out-of-stock items.
You won't need to download anything because the plugin will provide a unique URL for each feed that you can add to your product catalog. If necessary, you have the option to download the feeds in XML or CSV format. Additionally, you can map any field and alter the default values to suit your unique requirements.
Import WooCommerce to Facebook by StoreYa
Rating – ⭐ 4.2
The StoreYa plugin Import WooCommerce to Facebook provides a dependable approach to carrying out successful sales on Facebook. It's incredibly simple to set up a Facebook store, it works with all currencies, it doesn't need any design or coding knowledge, and it can be localized into any language. It offers a simple one-click import of Facebook's inventory from YouTube, Twitter, Pinterest, and Pinterest. It also supports a large number of shops and fan pages. Import WooCommerce to Facebook by StoreYa is available for free.
Facebook for WooCommerce
Rating – ⭐ 2.5
Your WooCommerce website may connect to Facebook using this official Facebook for WooCommerce plugin. You may quickly run dynamic advertisements with this plugin by installing the Facebook pixel, adding your online store's catalog, and setting up a shop on your Facebook page.
Your company may increase sales for your online store, attract new clients, and create long-lasting relationships with individuals by using Facebook marketing. Reaching the people that matter most to your company is easy with our Facebook ad plugin. This add-on will monitor your advertising's effectiveness across several platforms.
Product Catalog Sync for Facebook
Rating – ⭐ 4.4
Your WooCommerce company may quickly and easily sync its product catalog with Facebook using a free plugin called Product Catalog Sync for Facebook. With the help of the plugin, you can quickly set up your Facebook store in its entirety.
The plugin is easy to set up in your company and comes with some powerful filter settings. You can stop specific items or categories from syncing with Facebook by using this tool. If you have several products to sync, you can activate batch sync and specify the maximum number of items to be synchronized in a batch.
Category mapping is made easier by the plugin's simple and user-friendly interface. For upcoming product synchronizations, you can save the mapping and use it. The plugin is useful for delivering a seamless selling experience on Facebook because it allows you to edit existing mapping categories, establish new ones, manage unsuccessful product syncs, and utilize other capabilities.
Top WooCommerce Instagram Feed Plugins
WooCommerce Instagram
Rating – ⭐ 4.4
Because it fully combines the two platforms and supports Instagram Shopping, I think the WooCommerce Instagram plugin is the best choice. The ability to generate "shoppable products" on Instagram is the plugin's most notable feature. Making a product catalog from your WooCommerce products and importing the resulting CSV or XML file onto Instagram accomplishes this. After a brief import, you can tag products and include direct links to your store in your posts.
A segment that automatically integrates postings from a hashtag can be added to your product pages. Give your fans a hashtag to use so that their posts will immediately appear on your product page when they take pictures using your products.
Social Feed for WooCommerce
Rating – ⭐ 3.9
Social Feed for WooCommerce: Instagram Shop Feed for WooCommerce is a plugin designed to link your online store to Instagram, a social networking website. The owner of the business can now use hashtags to add the Instagram feed to other pages. A better product description is provided on the website thanks to the module's flawless operation. Images on Instagram Feeds will make the product easier to understand.
This allows the store owner to raise the gradient of product sales. The Instagram Shop Feed For Woocommerce plugin makes it simple to sell products because customers can now view product-related photographs that are shared on Instagram and other social media platforms. The administrator can assign several hashtag types to particular products.
Shoppable Social Media Galleries
Rating – ⭐ 4.0
By converting your Instagram photographs into gorgeous shoppable links, SNPT's Shoppable Social Media Galleries, a free plugin, enables you to create shoppable galleries of your Instagram feed. Shoppable galleries from SNPT are revolutionizing how customers find and purchase your products from your Instagram feed and in your store because they were designed to work easily with WordPress.
The shoppable galleries plugin from SNPT, which is increasingly being used by more than 70,000 companies, has statistically been demonstrated to give store owners and developers an average 270% increase in sales conversion rates. With the SNPT plugin, Instagram photographs that are shown and linked to products, whether from your SNPT shoppable profile page, your interactive shoppable Instagram feed, or an enlarged shoppable product card, result in a 3%–11% increase in sales.
Instagram Feed by Elfsight
Rating – ⭐ 4.0
The Instagram Feed plugin from Elfsight is the best option if you want to add Instagram posts to your WooCommerce business. Although this plugin doesn't integrate with Instagram Shopping, it's ideal for integrating your most recent Instagram photographs into your website.
You are able to design completely unique Instagram feeds by using this plugin. You can enable postings from numerous accounts, utilize particular hashtags, and more. Although the embeds use Instagram's basic designs, you can brand them with unique text and background colors. Sliders, responsive grids, collages, and embedded single posts are all options.
Instagram LookBook
Rating – ⭐ 5.0
In the midst of the digital revolution and the ascent of online commerce, WooCommerce Instagram Shop will present a fresh possibility for fledgling start-ups. The WooCommerce Lookbook plugin shouldn't be disregarded if you're considering launching an online store using Instagram and WooCommerce.
WooCommerce Instagram Shop will materialize if you begin putting up the unique goals and start conducting business using this plugin. Using WooCommerce Lookbook, you can design believable lookbooks of your products to give customers a better idea of how they would seem in real life.
Special Mention
The abovementioned plugins have been segregated into two categories – for Facebook and for Instagram. These are proficient plugins in their respective categories; however, there is one plugin that I came across that needs special mention because it is a multiplatform plugin that can be integrated into both Facebook and Instagram.
ELEX WooCommerce Catalog Feed for Facebook and Instagram
Rating – ⭐ 4.6
The ELEX WooCommerce Catalog Feed for Facebook & Instagram makes it simple to integrate your WooCommerce product flow on Facebook Marketplace and Instagram Shopping. The extension will let you rapidly set up your Facebook store once it is installed. It gives you the ability to make and manage an unlimited number of different product streams, both for simple and complex things.
You may create a store on Facebook and Instagram with the help of the plugin, and you can target a particular region and language. It provides a variety of functions, including frequent updates to the product feed and automatic product syncs.

Conclusion
Facebook and Instagram catalog feed plugins are essential for your WooCommerce business. This blog serves as a comprehensive guide for the best plugins available. I sincerely hope that this list of the top WooCommerce Facebook and Instagram catalog feed plugins has assisted you in choosing the finest plugin for your WooCommerce website.
Further Reading