Shipping can be a complicated matter for eCommerce store owners depending on the nature of their products. One of the popular shipping options that you get by default on WooCommerce is flat rate shipping. With the default flat rate shipping option of WooCommerce, you will be able to set a fixed shipping rate per order, item or shipping class. When you have customers from different locations, and your products vary drastically from each other, the default options won't be enough. You will have to invest in some plugins with advanced flat rate options. In this article, we will discuss some of the best WooCommerce Flat Rate Shipping method plugins.
This is one of the best WooCommerce Flat Rate Shipping Method Plugins that will provide you with a lot of flexibility in configuring shipping costs. You will be able to execute an effective shipping strategy with the help of multiple flat rate shipping methods. The plugin allows you to create several advanced rules so that you can apply shipping costs based on common purchase patterns on your store.
Features
Set multiple shipping rates specific to products, location, customer, quantity, cart value, etc.
Configure conditional rules to restrict specific shipping methods and even payment options on your store.
Set additional charges for shipping specific to product, category, quantity, and a variety of other parameters.
Free shipping settings applied automatically when the order value reaches the specified amount.
Option to set table rate where you can specify minimum and maximum amounts for specific quantity ranges.
Make shipping methods or additional shipping costs time bound by specifying a start and end date.
The single site license of the plugin will cost you $99.
If you feel the default shipping options is not enough to handle your store's shipping requirements, you can try out this plugin. It helps you configure different shipping rates on your store based on product price, weight, item count, location, etc. The user interface of the plugin is quite user friendly and intuitive so that you will be able to configure complicated shipping rules with ease. Moreover, it offers options to intuitively add, remove and duplicate complex shipping rules to simplify your efforts.
Features
Create multiple table rates specific to each shipping zone on your WooCommerce store.
Multiple options for table rate calculation specific to order, item, line or shipping class.
Create rules based on product weight, price, number of items and number of items per shipping class.
Add extra costs per row, per weight unit and per item cost.
A single site subscription of this plugin costs $99.
Some of the products in your store will require special treatment during shipping and this plugin will help you manage that easily. It will help you configure shipping rates specific to products based on the location of the customer. The advantage of this plugin is that you can use it as a separate shipping method and also as an additional cost factor for existing shipping methods. This plugin will be useful to you if you have a few products on your store that requires a totally different approach in shipping.
Features
Define shipping costs per item and per line for specific products as well as individual variations.
Set up variable costs depending on the shipping location.
Option to import and export shipping rates via CSV file.
Can use it as your primary shipping method calculator if you have only a few products where each of your products has a unique shipping cost.
Helps to set additional shipping costs that are applicable only to specific products so that you can combine with other shipping methods.
The plugin costs $79 for a single site subscription.
There are several aspects that affect the shipping costs on your online store. One of these is the distance from your warehouse to the customer's destination. So, a solution that will help you set the shipping charges based on the distance to be traveled will be appreciated by some store owners. This plugin will help you set shipping charges based on two parameters – distance to the shipping location or the total travel time. A lot of stores offering home delivery of products and equipment can adopt to this shipping strategy.

Features
Helps you set up shipping rates based on the distance to the shipping location with the help of Google Maps and Google Distance Matrix APIs.
Can set a range of shipping rates based on Distance, total travel time, weight, quantity, order value, etc.
Flexibility to set a shipping origin address that is different from your store location.
Gives you the option to display the distance on the cart and checkout pages along with the shipping rates.
Can exclude tolls and ferries while calculating shipping rate.
The plugin costs $79 for a single site subscription.
With the help of this plugin, you can create shipping rates for different sized flat rate boxes. The boxes will have fixed sizes and you can pack items into each volumetrically. The rates will vary depending on the shipping destination as you can set box sizes and rates for your shipping zones. You will be able to create multiple boxes for each shipping zone and add extra cost per box, box weight and item value. When a customer adds a product to cart, the shipping rate displayed will be based on the customer location and the box rate you have defined.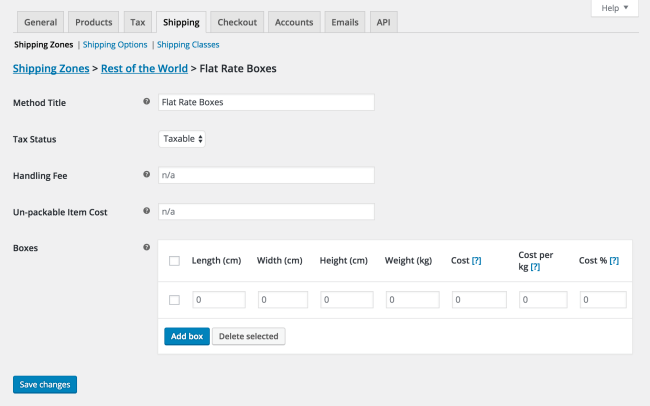 Features
Define multiple flat rate shipping rates for each of your shipping zones.
Add costs based on box, per weight unit, or as a percentage of the box content's price.
Create separate charges for items that do not fit into one of the flat rate boxes that you have created.
Simple user interface to help you create different sized boxes and define rates for them effortlessly.
You will get a single site subscription of this plugin at $49.
This plugin will help you set up an extensive shipping strategy taking into account a wide range of parameters relevant to your business model. It will help you create unlimited shipping rules including table rate and advanced conditional flat rates. You can set shipping rates based on several parameters such as product or order weight, cart quantity, the price of products in the cart, shipping class and more. Also, the plugin allows you to set shipping rates based on shipping destination and product categories. With the help of addons, it facilitates per product shipping and bundled rate shipping as well.
Features
Define shipping rates based on delivery location, product price, cart subtotal, etc.
Set up weight based shipping that varies according to the defined ranges.
Multiple options to calculate shipping rates including percentage value, fixed cost, cost per unit, etc.
Flexibility to calculate shipping costs separately for individual items or categories in an order, or by considering the order as a whole.
Create multiple shipping rules with different delivery priorities and let customers choose what they prefer.
Add handling charges to each shipping rules that you create on your store.
Seamless integration with WooCommerce shipping rate calculator.
Simple user interface and fast calculations to ensure the best experience to store admin as well as customers.
The single site license of this plugin will cost you $69.
This is one of the popular WooCommerce flat rate shipping method plugins that you can install on your store. It will help you set up shipping costs on your store based on a range of conditions based on store scenarios. The configuration page is organized well, and will be quite helpful in choosing the right approach. Overall, the plugin gives great control to WooCommerce store owners to provide a smooth shipping experience to customers without affecting profitability.
Features
Set up multiple shipping rules on your store, and let your customers choose the suitable option every time they shop.
Over 15 different parameters to help you set up shipping costs.
Display applicable terms and conditions for each shipping method to let customers choose more effectively.
Volumetric weight calculations and user based controls.
Compatible with most popular themes and plugins, and flexible for developer-level customization.
The regular license of the plugin will cost $25.
Hopefully, this article has familiarized you with some of the best WooCommerce flat rate shipping method plugins. Leave a comment if you have a query.
Further reading