Last updated - September 27, 2023
eCommerce store owners are constantly in the lookout for ways to make their customers happy. One of the definite ways to ensure the happiness of your customers is by offering them free gifts. WooCommerce is a popular eCommerce platform that offers several options to customize your store with the help of plugins. As expected, you will find several good plugins in the WooCommerce ecosystem to offer free gifts to customers as well. In this article, we will discuss the features of some of the best WooCommerce free gifts plugins.
This is a great option if you are looking for ways to offer free gifts to your online store customers. It offers multiple ways to offer free gifts to customers. The store admin can manually send a gift to a customer, or set it up so that the gift is automatically added to customer's cart. It also offers an option to set up buy one get one free offers, and also let customers choose gifts by themselves.
Moreover, you can control how gifts are being offered in the store. You can set different rules to decide how gifts will be awarded and also restrict how it will apply if there is an applicable coupon. The plugin will cost you $49 for a single site subscription.
This is WooCommerce's own plugin that will help you gift a product to a customer. The advantage of this plugin is that you can set it up so that the customer will be able to get the product without going through the checkout process. Moreover, the plugin has a very simple user interface, which even beginners of WordPress can easily manage. Simply select the customer and the product you want to give away, and in a single click it is done.
If you are looking for a simple solution to offer gifts to customer on your WooCommerce store, this plugin could be a great help. The single site subscription of this plugin will cost you $49.
One of the popular marketing strategies that several eCommerce stores use is buy one get one free. This will help you associate free gifts with the purchase of certain products. Basically, you can set rules for buy one get one free by specifying which product and how many they have to add to cart to get the free offer. Moreover, you can specify this offer to be applicable when purchases are made from a specific category as well.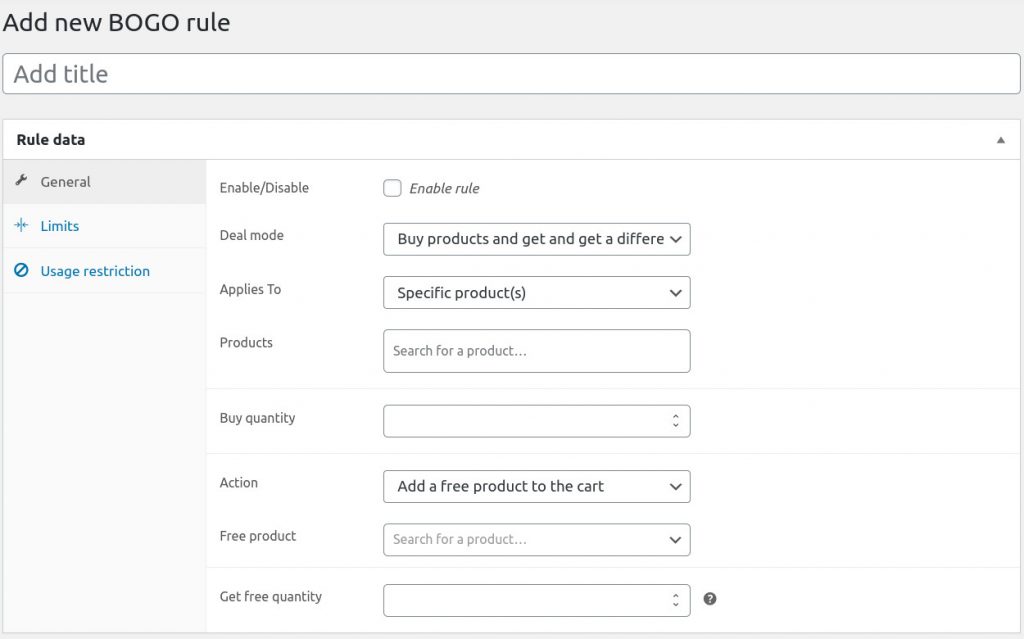 Another interesting feature of the plugin is that you can provide the option to customers to choose their free products. The plugin also allows you to specify start and end dates for the offer, and also to limit it specific user roles. Furthermore you will also get the control to enable the coupon with the use of a coupon. A single site subscription of this plugin will cost you $49.
This plugin is primarily used to set up complex pricing rules on your WooCommerce store. In addition, you can use this to set up 'buy one get one' offers as well. You can specify a rule so that when a user buys a certain product, another product will be free with it. The plugin will automatically add the free product when the specified product is in the cart. Moreover, the plugin has an option to apply this rule specific to categories as well as product tags. The plugin will help you set up a wide range of other discount rules and will cost you $79.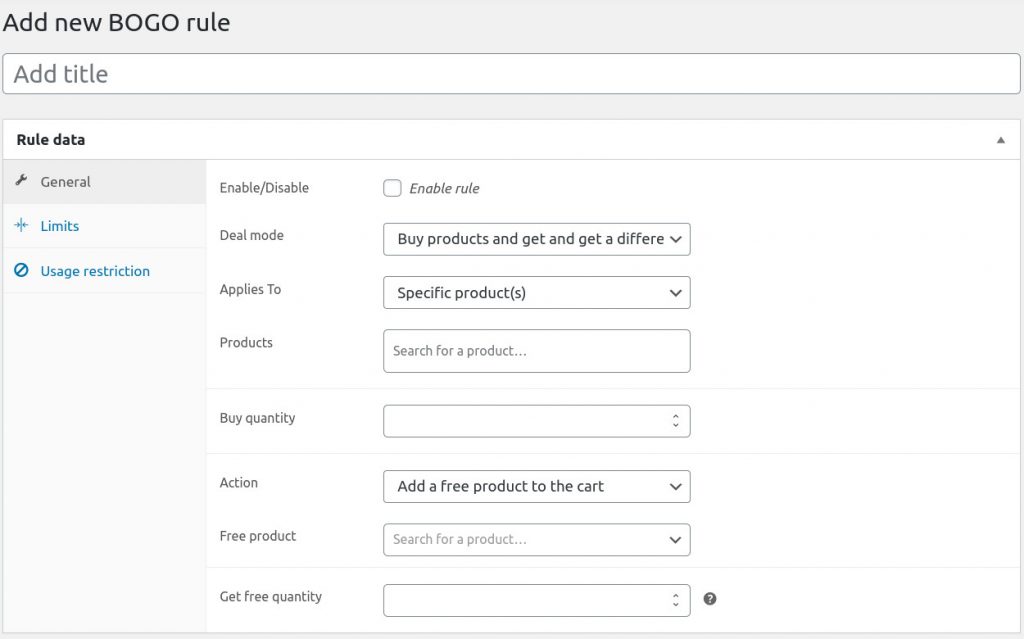 Merchant offers a suite of conversion-driving features, including the ability to reward shoppers with free gifts. The plugin lets you give both spending and coupon-based gifts. Once you install it on your site, you can navigate to the Gifts module to configure your settings:
For example, you can choose where to display the gift icon (including the shop page, homepage, and product and cart pages). You might even want to change the colors of the icon so that it aligns with your branding. Plus, you can optimize the call-to-action text to encourage shoppers to spend more. Merchant comes in free and premium versions, with paid plans starting at $99 for a single license.
Free gifts for WooCommerce plugin is a very popular plugin mainly used to offer a variety of free gifts and create very diverse rules for online store marketing. This plugin is a powerful tool for increasing the number of orders received in online stores.
In this practical plugin, it is possible to offer free gifts based on effective marketing strategies such as BOGO, Buy x Get x, Buy x Get y, Subtotal amount, bulk quantity, bulk pricing, tiered quantity ,and etc. But the amazing feature of this plugin is the ability to set conditions, which helps the store manager to offer free gifts in different situations.
For example, with the help of this plugin, you can offer gift products only to customers who make their first purchase to attract new customers. Or you can give free gifts to customers who regularly place orders in your store to strengthen brand loyalty. It is also possible to offer gifts when customers purchase from specific products or categories, and you can even limit the offers to a particular day or period. In this plugin, you can apply rules and conditions for the free gift offer based on the user role, different product categories, or even the subtotal amount of the customer's cart.
If you are looking for a powerful plugin with a simple user interface that allows you to create various rules for offering free gifts in your store, do not hesitate to download and install free gifts for WooCommerce.
Subscription of this plugin for 1 site costs $59 annually.
With the help of this plugin, you can give away free items with the purchase of other products via coupons. You will be able to reward loyal customers on your store this way, and also will be able to improve your average order value. Just like you create any other coupon, you can apply usage restrictions to free gist coupons as well. When a customer applies the coupon, the free product will be automatically added to Cart. The price of this plugin is $29 for a single site subscription.
To avail free products on purchase is something which buyers long for. Coupons have the ability to convert a casual visitor of your store to a promising buyer.This coupon extension will allow you to add a free product/s to the customer's cart when the coupon is applied.
The customer can choose a product from multiple giveaway options. You can also indicate the discount percentage or value of the giveaway product. For e.g, you can giveaway a cap at 10% discount upon purchase of a T-shirt.
You can also choose to apply tax only on discounted value. That is, if you are providing a discount of $10 on a $100 product, it will calculate tax only on $90, which is the product giveaway price (sale price).
Another prominent offering of the plugin is its ability to provide Store Credits. You can configure store credits with pre-defined denominations and templates. The customers can also email the store credit to on particular date as a gift to their dear ones.
This plugin could be a great help for your efforts on abandoned cart recovery. You will be able to display scratch coupons when customer show intent to leave the site without making a purchase. It will make the deal interactive and customers will be able to scratch the coupons to reveal the reward. You will be able to customize the design of the coupons as well as the timing of the popup. Overall, this will be a great addition to your WooCommerce store marketing efforts.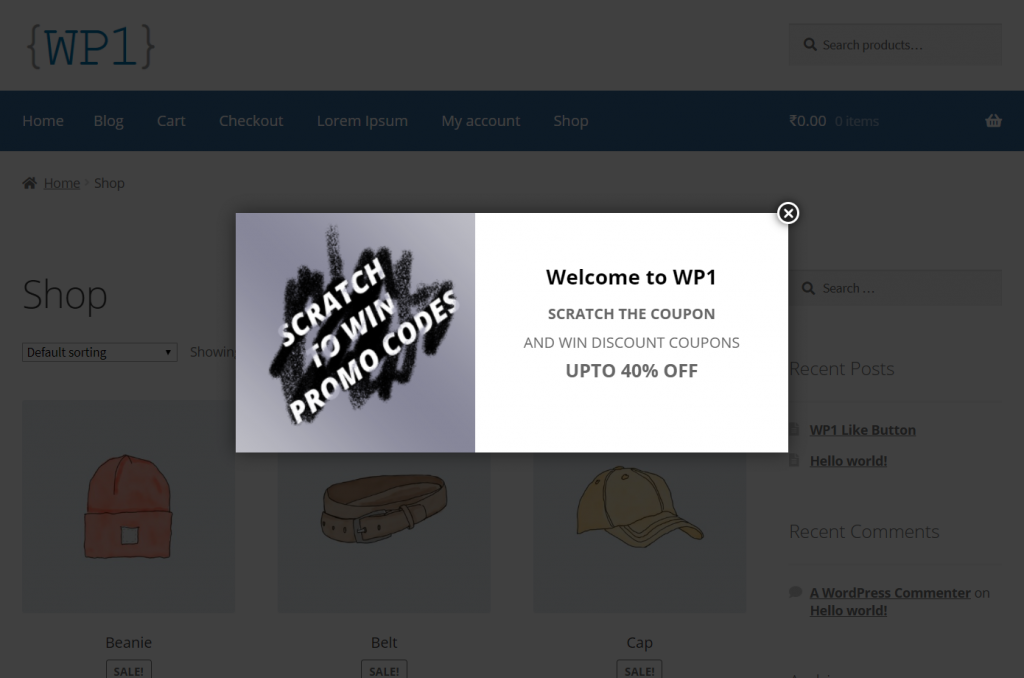 You can enhance the average order value on your WooCommerce store with the help of this plugin. It will help you offer free gifts when customers spend more a specified amount of money on your store. You will be able to create multiple free gift rules on your store with the help of this plugin. Moreover, there are no limits on the number of products that can be offered as gift as well. You can add WooCommerce simple products as well as variable products as gifts using this plugin.
The plugin works in a customer friendly manner too. When a user's cart meets the specified value to be eligible for free gift, there will be a message informing that. At this point, users can simply choose to include the free gift to their cart. Since the plugin offers options to inform users about the offer, there are better chances for increased order value. At the same time, since they are aware of the offer, chances are less that the customers will abandon their cart. You can customize the display message by even including a product thumbnail. The single site subscription of the plugin will cost you $49.
This is another plugin that you can use to set up free gifts to entice customers to spend more than a certain value on your store. You will get an option to configure one product as the gift item, or let customers choose their gift from an entire category. It also gives you the option to offer free gifts to all your customers or only to ones who are registered. Moreover, you can set up two levels of gift options, where customers who spend a certain amount gets one product as gift. And, those who spend further more will get another more valuable product as gift.
In addition, the plugin gives you control to restrict the same customer from availing the gift more than once. It could be a really useful option to enhance your store revenue. The regular license will cost you $18.
You will be able to set up a range of free gift options using this plugin. Based on product, category or number of items purchased, you will be able to set up free gifts on your store. You will be able to clear stock of slow moving products as well as improve customer loyalty with the help of this plugin. It has a clean design and offers support for WooCommerce variable products. Moreover, store owners will find it quite easy to use this plugin as the interface is simple and user friendly.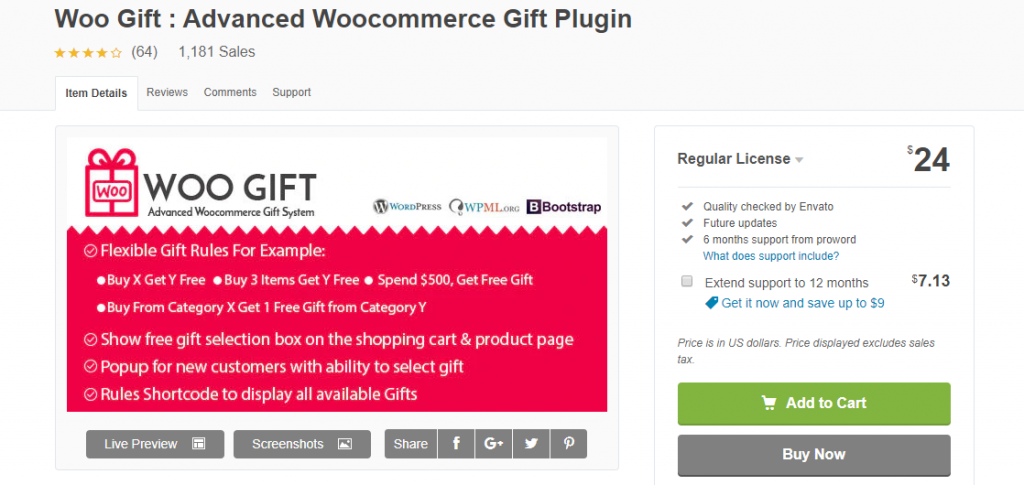 The plugin also has a feature to display popups to new customers with the free product. You can also allow customers to select the free product from available options. The regular license of the plugin is $24.
You will be able to create free gift rules on your WooCommerce store based on different parameters using this plugin. It lets you set up gift products depending on the product, category, quantity, sub total, etc., in the cart. The plugin is quite user friendly, and you will be able to set up the rules easily from your store admin. You can also set up custom messages on shop pages to encourage customers to avail the gift. Moreover, the plugin is compatible with several other popular plugins you may find in the WordPress plugin repository. The plugin will cost you $24 for a regular license.
Hopefully, this article has provided you some good options among the best WooCommerce Free Gifts Plugins. Leave us a comment to share your thoughts.
Further reading