Last updated - December 5, 2022
Placing ads on Google can significantly improve the reach of your online store products. If you are running a Google Ads campaign for your WooCommerce store, there are several plugins to help you optimize them. Similarly, if you are displaying ads on your website, you will need assistance in managing them. In this article, we will discuss some of the best WooCommerce Google Ads plugins.
WooCommerce store owners can use this plugin to improve their store traffic and sales. It helps you manage campaigns for free for the first three months. Store owners can start to generate traffic through 'Surfaces across Google' and 'Google Shopping'. Smart Shopping campaigns by Google will help you improve visibility for your products by displaying ads across the entire Google network.
The extension will generate Google Smart Shopping feeds automatically, which include ads creating, targeting and bidding.
Features
Create Google Ads campaigns for your WooCommerce products.
Get visibility for your products across the entire Google display network including YouTube, Gmail and Google Shopping.
Automatically sync inventory to market only relevant products.
Measure your ad performance.
You can use the plugin for free during the first three month. After that, a Basic Google Ads campaign package will cost you $150 per month, and campaign automation fee of $15 per month.
This plugin provides great assistance for your Google Ads campaigns. You will be able to reach target customers more effectively, and save time by creating campaigns faster. Moreover, the plugin also helps in optimizing the bidding process for better management of your budget.
Features
Helps you generate keywords automatically based on your store products.
Provides assistance for ads and banner creation.
Easily customize the style of banners.
Helps with Google Remarketing and account optimization.
Alerts to prevent unusual account activities.
Create seasonal campaigns and update campaigns as you add new products to your store.
The cost of this plugin is $29.
This plugin will help you optimize your budget on Google Ads. It uses machine learning technology to identify repeat customers and offers discounts to them to directly access your site. This will reduce acquisition costs that otherwise would go in your ad spends. The plugin uses visitor and user login ID identification methodology to identify target customers. Moreover, it will help you customize the messages to ensure the best experience for customers on your site.
Features
Analyze user behaviors and identifies returning customers on your site.
Helps to balance your ad spend by training returning customers to directly access your site.
Helps you build stronger relationships with your customers.
Customer friendly messaging.
You will have to spend $29 to get this plugin.
This plugin offers an option to track the orders initiated through Google Ads. This will help you understand the efficiency of your ad campaigns. It will help a precise tracking report avoiding failed transactions and access by team members. Moreover, it implements the functionality of add cart data as well. Also, it works well with any cookie consent management plugin that you may be using.
Features
Tracks the value of WooCommerce orders generated through Google Ads.
Uses the latest and advanced Google tracking script.
Prevents duplicate reporting effectively.
Easy configuration and simple interface.
You can download this plugin free from WordPress plugin repository.
If you are looking specifically for a plugin to help you generate a product feed for Google Merchant Center and Google Shopping Ads, you can check out ELEX WooCommerce Google Shopping Plugin.
WordPress Ad Management Plugins
If you are looking for plugins to help you manage ads on your WordPress site, check out the below plugins.
You can create efficient ad campaigns on your WordPress site quickly using this plugin. It has a simple interface and an informative dashboard to help even new users manage their ads easily.
Features
Geotargeting to determine which locations your ads are displayed.
Schedule your ads only to display during a certain time or season.
Create dedicated ads for mobile devices.
Detailed reporting features to measure your ads performance.
Let advertisers have the freedom to design their own ads.
Get notifications to be aware of expiring ads.
Smooth user interface.
Dedicated support.
A single site license of this plugin will cost you €39.
This is another popular options that will help you create and manage advertisements on your WordPress site. Moreover, it will give you detailed reports and statistics to measure the effectiveness of your ads. You will be able to run network ads as well as custom ads using this plugin. Moreover, it lets you use widgets to display ads in the widget area of your site.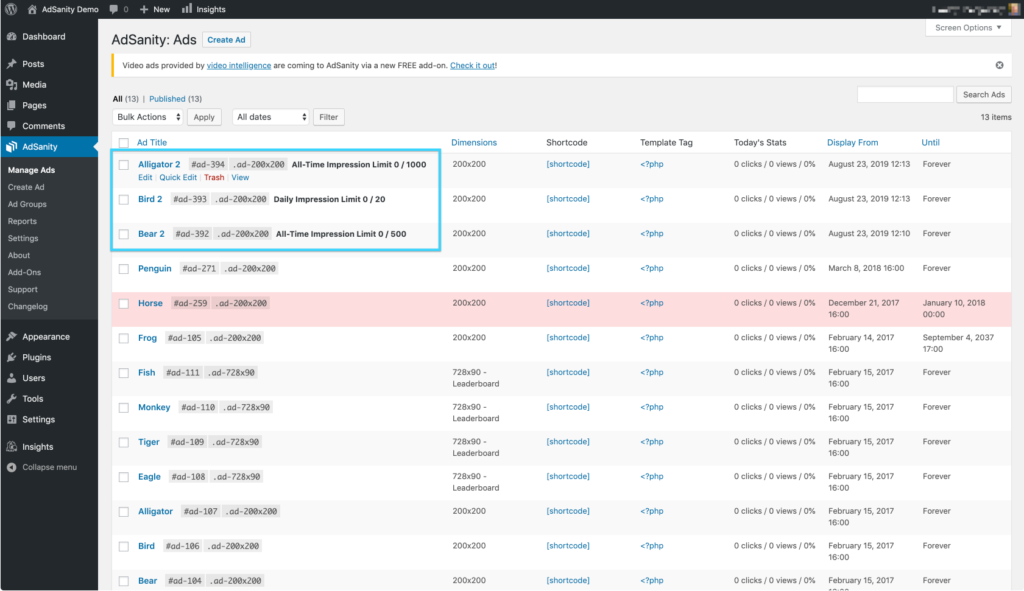 Features
Create and manage ad campaigns on your WordPress site.
Detailed reporting features.
Fast and lightweight with only essential features.
Add-ons to extend functionality.
Date-based option for ad publication.
Widgets, shortcodes and templates to help you place ads easily.
Flexible for developer level customization.
Reliable support team.
The Basic version of the plugin will cost you $49.
This is a popular option to help you manage ad campaigns on your WordPress site. It is compatible with several popular ad networks and helps you display any kind of ads on your site. You can also create html banners and banners that look like WordPress posts. It also offers auto positioning of ads to save you from hassles. Moreover, you can selectively display ads based on the location of the user and the device used.
Features
Create and manage display ads on your WordPress site.
Features like auto positioning and display filters for easier ad management.
Support for different ad networks.
Integrates well with WooCommerce, Google Analytics and popular page builders.
Supports ads for custom post types.
The Regular License of the plugin will cost you $29.
Advanced Ads is a powerful plugin that will help you manage your ad campaigns effortlessly. It offers a wide range of features to help you create an unlimited number of ads on your site. Moreover, you will be able to display ads from popular networks as well as custom ones.
Features
Create unlimited ads to display on your WordPress site.
Flexible ad rotation option where you can feature different ads at the same space.
Range of conditions to base the ad display.
Automated workflow.
Mobile friendly.
Details performance reports to measure the success rate of your campaigns.
The pricing plan starts from $39 for a single site license.
This is another popular plugin that offers powerful features to help you manage ads on your WordPress website. You will be able to manage, sell and display your advertising spaces like never before using this plugin. It offers different ways to display your ads it is totally free from Ad blocker.
Features
Manage ads effortlessly on your WordPress site.
Geographical targeting to help you display ads selectively.
Selectively display ads based on the device used by the user.
Show an option that let users close the ad after a defined time.
Large range of templates to help you design ads.
The plugin costs $57 for a Regular License.
You can use this plugin to display ads in different spaces on your WordPress site. It lets you insert custom header or footer codes on spaces that support code insertion. The plugin offers an intuitive user interface and offers an elaborate dashboard with comprehensive settings. Moreover, the plugin is quite easy to manage with easy options for troubleshooting.
Features
Helps you insert ads on your WordPress site.
Supports ads from different networorks.
Supports HTML, PHP code and CSS.
Use opt-in forms, tracking codes and scripts for header and footer.
Widgets and shortcodes for easy placement.
Works seamlessly with caching plugins.
You can get a Personal License of this plugin to be used on two sites at €20.
This plugin offers a user friendly option to insert Google AdSense and other ads on your WordPress site. You will be able to experiment with different ad placements and accordingly optimize your ad strategy. The plugin offers three default ad placement options along with custom options.

Features
Easily create and manage ads on WordPress site.
Supports Google AdSense and other options.
Place ads at default positions or anywhere on the site.
Show up to 10 ads on a page.
Download this plugin for free from WordPress repository.
Hopefully these WooCommerce Google Ads Plugins will help you manage ads effectively. Moreover, if you need to manage display ads on your website, you can find some options for that as well. Leave us a comment if you have a query.
Further reading