Last updated - May 9, 2022
One of the essential factors of eCommerce is knowing what your customer wants. Analytics tools will help you understand the likes and dislikes of customers, and offers a scope for improvements. You will have a clear idea on the channels driving traffic and conversions. All this makes an analytics tool a necessity on your online store. In this article, we will list out some of the best Google Analytics Plugins you can try out on your store.
This is one of the most obvious choices you have to integrate Google Analytics with your WooCommerce store. It will help you have clear insights about your store's traffic as well as different eCommerce events. You will be able to make timely improvements on your site to enhance the conversion rate and revenue. The plugin automatically adds certain crucial eCommerce events to your analytics dashboard such as sale figures by product or category, conversion rate and average order value.
It is extremely easy to set up this plugin as all you have to do is install it and enable enhanced eCommerce tracking on your Google Analytics account. Moreover, you can add custom events with the help of snippets.
Features
Track basic website metrics and advanced eCommerce events on your WooCommerce store.
Track different crucial actions of customers such as sign in, adding a review, refund request, opening an email, etc.
Full support for Shopping Behavior and Checkout behavior analysis reports.
Option to track different choices that customers make during checkout.
Exclude shop managers and administrators from tracking.
Easy and fast configuration process.
Great features to customize reports.
The plugin will cost you $79.
This plugin will help you make use of several important features of Google Analytics including eCommerce conversions and user ID tracking. In addition, it will help you tracks ads conversion, Facebook Pixel and several other custom metrics. It is easy to set up and save you quite a lot of time compared to the complicated manual integration of the Analytics code. If you are looking for an extensive reporting plugin with effortless Google Analytics integration, surely this one could help.
It is compatible with several other popular WooCommerce plugins and is GDPR compliant. The admin interface is quite intuitive and user friendly.
Features
Provides access to a range of eCommerce metrics crucial for your online store.
Understand user behavior and interactions on different devices.
Get detailed insights on your marketing efforts and product refunds.
Identify customer preferences over payment methods.
Automatically implement Google Optimize snippet.
The cost of a regular license of this plugin is $135.
Glew is a comprehensive analytics tool that will help you combine actionable insights from Google Analytics, Facebook, Instagram, Amazon and several other platforms. This will help you gain a better perspective on your marketing efforts, and will help you create innovative strategies. Moreover, it will facilitate better understanding of customers and products thanks to efficient segmentation tools and sharp inventory insights.
Glew integrates with WooCommerce seamlessly and offers extensive pre-built dashboards and scheduled reports. It will provide consistent support for different growth initiatives on your store.
Features
Unparalleled multi-channel reporting for eCommerce.
Automate all reports such as daily performance snapshot or weekly reports.
Able to connect multiple software and tools and derive actionable insights blending all the data.
Easily scalable as your business grows.
Track specific metrics to understand eCommerce performance better.
Understand cart abandonment better.
Predict stock levels, sales targets and advertising expenses effortlessly.
Optimize email marketing campaigns and allow better personalization.
There is a Starter pack, which you can use for free, and the Glew Pro plan starts at a price of $79 per month.
MonsterInsights is one of the most powerful and user-friendly analytics plugins you can get for your WooCommerce store. It will help you gain valuable insights on user behavior on your entire website, as well as reports on eCommerce events. One of the interesting features of this plugin is that you can access the reports from your WordPress dashboard. It will give you real time user data as well as access data over a period of time on different pages, posts or sections on your website.
The plugin will help you with performance optimization and A/B Testing as well. Furthermore, you can set up custom events to track without complicated configuration steps.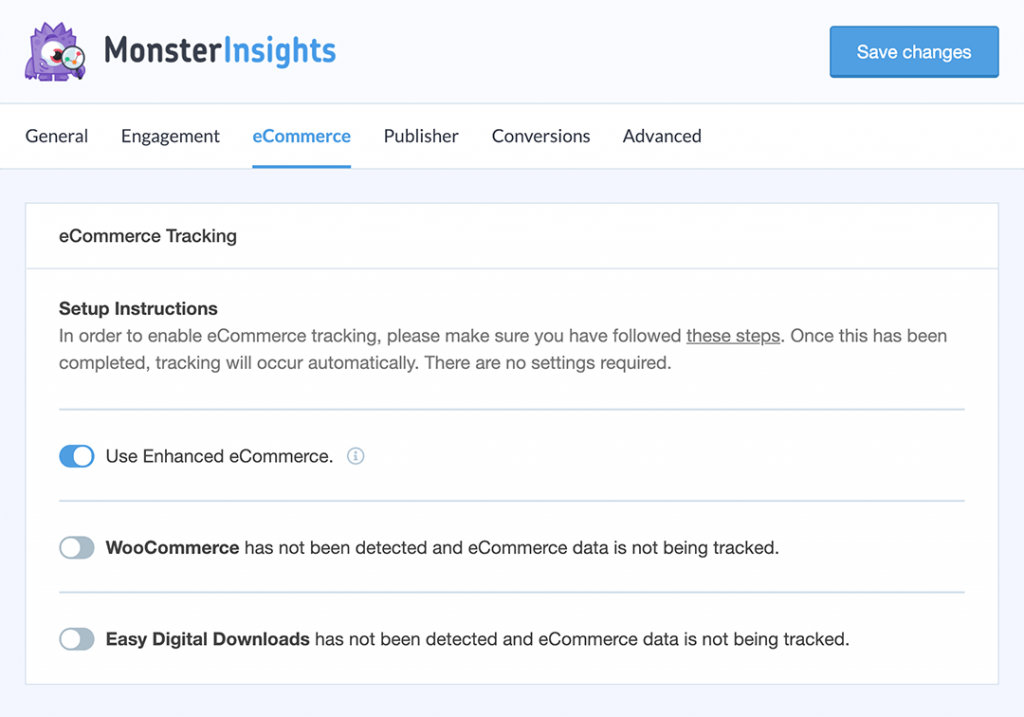 Features
Easily set up Google Analytics with enhanced eCommerce events on your website or WooCommerce store.
Does not require coding efforts or developer help to configure.
Get detailed reports and actionable insights on audience behavior.
Understand the way users interact with your website and identify potential improvements.
Extensive content analysis reports for better SEO outcomes and customer satisfaction.
Access all the important metrics from a single location.
Automatic tracking of affiliate links.
Compliance with privacy regulations including GDPR.
The normal pricing plan starts from $199 for an year. Check their website for discount offers.
If you are using the Premium or Professional plans of Jetpack, you will be able to integrate Google Analytics with your website. The basic site statistics will enable you to understand the general user activity on your site. With the advanced integration, you will get access to funnel reports, visitor paths, and how users complete specific tasks on the site. Please note, with Professional plans you can integrate the Enhanced eCommerce events features of Google Analytics as well.  This will give you greater insights on shopping behavior and economic performance.
You can set up Jetpack for free. Check the Jetpack website for localized pricing details.
This is a great option among WooCommerce Google Analytics Plugins that you can get hold of at the moment. It will help you set up Google Analytics tracking on your own without looking for help from developers. You can gather reliable insights about your site visitors and where they are coming from using this plugin. It offers enhanced eCommerce tracking and helps you get detailed insights on individual page traffic and interactions. You can use the plugin for A/B Testing and affiliate id tracking as well. Overall, this plugin could help you a lot in taking data driven decisions for the progress of your business.
Features
Time effective solution to integrate Google Analytics with your website.
Helps you create a great strategy to improve customer interaction.
Identify potential improvement areas and execute changes in an informed manner.
Extensive content report to help you supercharge your content marketing approach.
Detailed eCommerce metrics to help you understand the performance patterns of your store.
Reduce cart abandonment and enhance sales figures.
Prices start from $199 a year.
With extremely easy setting up process, this is one of the sought-after Google Analytics integration plugins for WordPress. The reports are visually catchy and are comprehensible even for beginners. It offers different reports ranging through universal web statistics, real time data, eCommerce specific data and social media interactions. Furthermore, it provides scope to track custom post types that you may have on your website. Also, there is an option to view individual post statistics right from your website's frontend.
Features
Easily set up Google Analytics tracking for your online store events.
Get accurate interaction data for product page visits, clicks and impressions.
Track refunds and promotional efforts.
Location-based tracking data to help you identify improvement opportunities.
Access detailed product performance data right from your WordPress dashboard.
Easily derive actionable insights from shopping funnel data.
Detailed documentation and dependable support.
The pricing plans for Analytify starts at $39, and there will be an additional $49 for the WooCommerce add on.
Site Kit is the official integration plugin from Google. It will help you manage different aspects of Google tools integrated with your website. Basically, you will get insights from different Google tools on your WordPress dashboard, including Google Analytics. Moreover, it helps you integrate Google Analytics without complicated coding efforts. You will be able to access data from Search Console, AdSense, Tag Manger, Optimize, etc.
Features
Track the entire traffic to your website to identify specific channels, bounce rate, time spent on the site, etc.
Tracks search funnel metrics such as Impressions, Clicks, Unique visitors, etc.
Understand popular content on your site based on data from Search Console and Analytics.
Also connect to Page Speed Insights and AdSense.
Read more about adding Google Tag Manager to your WordPress site.
If you are looking for a simple integration of Google Analytics with your WooCommerce store, the free WooCommerce extension could do the job for you. It will give you all the fundamental data that you will need at the starting stages of your store. You will be able to understand the channels that drive the most traffic to your website, and identify the ones that you need to focus more. Similarly, you can see the customers interaction with your product pages, and how many is taking a favorable action like moving to cart and checkout.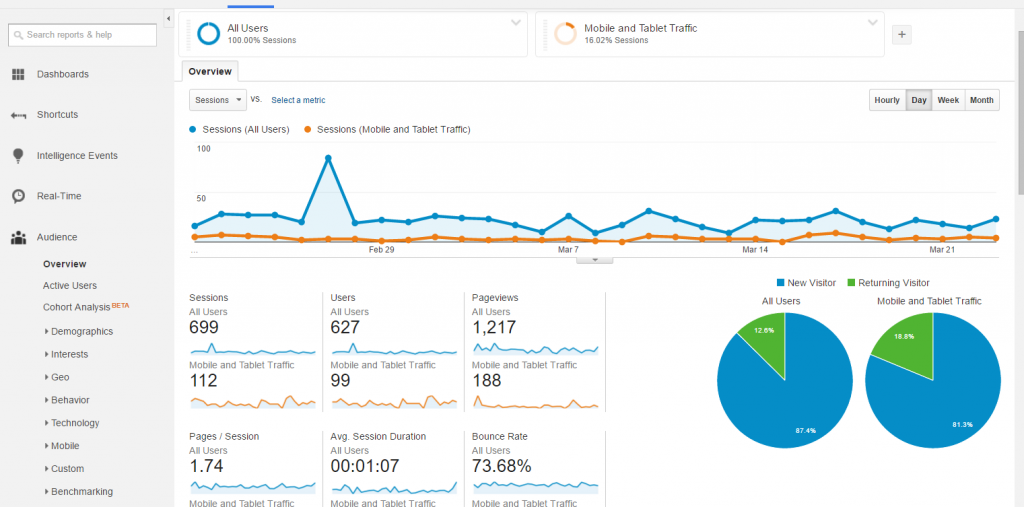 Features
Get tracking data from Universal Analytics of Google.
Get eCommerce product views ad cart actions through enhanced eCommerce tracking.
Options to exclude site administrator from tracking.
The plugin will help you understand the interests of your customers, by analyzing the products and content they engage with. Also, you will be able to incorporate universal tracking and specific eCommerce events.
Hopefully, these WooCommerce Google Analytics Plugins will help you integrate Google Analytics with your online store. Leave a comment if you have a query.
Further reading