Last updated - October 3, 2022
The eCommerce industry is expanding and becoming more competitive. Those who manage an eCommerce business naturally desire to distinguish out from their rivals.
Google Shopping advertisements present excellent chances to increase leads and sales for your products. Additionally, you must create a product feed in a specific format and send it to Google Merchant Center in order for your products to appear in Google Shopping advertisements.
It is not feasible to manually create a feed from vast amounts of data for large online stores. Finding a solution to help you create product feeds is crucial in such circumstances. Consider using some of the following plugins if your online store is powered by WooCommerce to generate and display product feeds easily.
With the aid of this plugin, you can create a product feed from your WooCommerce store in a variety of file types, including CSV, TSV, and XML. The feed you produce will be tailored to the needs of the base country for your store. Additionally, it will enable you to frequently update the feed that you have uploaded to Google Merchant Center according to predetermined periods. Additionally, there is no restriction on how many product feeds you may create with this plugin. In addition, the plugin provides unrivaled mapping capabilities to match the categories and qualities of your products with those of Google. The plugin includes a user-friendly interface and sophisticated functionality overall.
Important characteristics:
Publish location-specific Google Shopping feeds to your Google Merchant Center account.
Create an unlimited number of product feeds in different file types, including CSV, TSV, and XML.
Supports all WooCommerce product kinds, including variable products.
Multiple languages are supported.
Option for advanced category and attribute mapping.
Assemble unique attribute fields.
Easily manage various fields from the intuitive dashboard.
Regular feature updates and dependable support staff.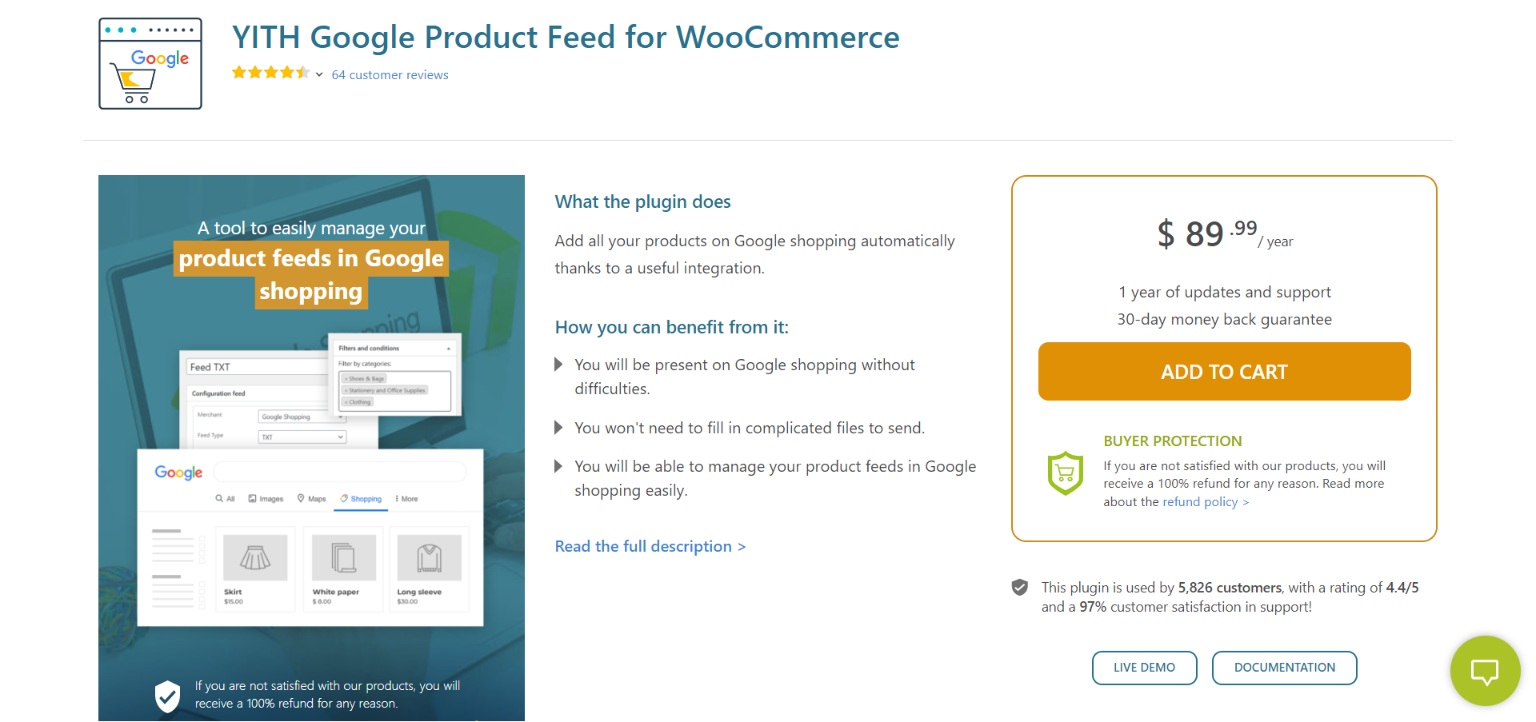 This is a simple approach to creating product feeds for Google Shopping advertisements. The plugin provides the ability to create feeds in both XML and TXT formats. Additionally, the plugin has a fantastic user interface that makes creating product feed files simple. Additionally, you can select the products you want to include in the feed by using sophisticated filters.
Important characteristics:
Create product feeds for Google Merchant Center in the XML and TXT formats.
Create as many feeds as you need in accordance with your needs.
Include all of your available products, or just a couple to have in the field.
Possibility to design unique templates with chosen fields.
The data displayed on Google fields can easily be prefixed or suffixed.
Manage generic fields with the choice to establish a constant value across all items.
Using this plugin, you may generate a real-time feed of the products in your WooCommerce store. You can update your product information on Google Merchant Center and make it available for Google Shopping advertisements by using this feed. The plugin's standout feature is how many attribute fields it offers in addition to the main fields. Additionally, it supports product reviews and provides interfaces with a number of different plugins so that specific data can be added to the feeds.
Important characteristics:
Due to broad support for advanced fields, you may create a large product data feed for Google Merchant Center.
To match WooCommerce categories, characteristics, and product information with Google's requirements, advanced mapping functionality is used.
To provide more detailed information about your products, add extra data fields.
Option to add information relevant to a product or version.
To guarantee that your product data is current, the feed is regularly updated.
You can create numerous feeds using this plugin that are appropriate for various marketing channels. Using this plugin, you may create feeds for more than 200 marketing platforms in addition to Google Merchant Center. Additionally, it offers sophisticated tools for attribute mapping and product filtering that will make your task a lot simpler.
Important characteristics:
Provides assistance in creating product feeds for a variety of platforms, including Google Shopping.
Advanced choices for filtering the products that will be included in the feed.
WooCommerce variable product support.
There are no restrictions on how many goods and feeds can be produced.
Create recurring schedules to automatically update the feeds.
Advanced attribute and category mapping.
The platform's interaction with Google Analytics allows you to track your progress with it.
You can easily manage product feeds for your Google Merchant Center account using this complete option. Its user interface is simple to use, and it offers a number of sophisticated capabilities that may be used to build informative feeds. The plugin provides the ability to plan automatic feed updates. Additionally, it provides straightforward mapping capabilities.
Important characteristics:
For massive amounts of product data, create Google Merchant Center Feeds.
Using a drag-and-drop interface, the process is made simpler.
Filters to select the items to be incorporated into the stream.
You may easily begin feed generating with the default mapping.
Adjust your product stream to meet the unique needs of your store.
Adaptable to several languages.
Customizations at the developer level.
You will have a quick and easy option to produce product feeds for your WooCommerce products using ExportFeed. It offers straightforward settings for getting started and has a number of sophisticated capabilities. With all of your items, including variations, you can establish your product feed with ease.
Important characteristics:
Aids in the creation of product feeds for various comparison and marketplace sites, including Google Shopping.
Support for the many product types available in WooCommerce, including variations.
Advanced mapping options to precisely relate your products.
Add many product feeds together.
Dedicated assistance group.
Using this plugin, you may showcase the products from your WooCommerce store to a variety of online shops and price comparison websites. You can use it to build product feeds for Google Merchant Center in XML, CSV, and TXT formats. You can include products in the feed with the plugin's conditional logic and complex filters. Additionally, there are sophisticated possibilities to incorporate any custom attribute fields that your store may be employing. The plugin may help you handle category mapping with ease.
Important characteristics:
Establish and maintain product feeds for several markets.
Template already created for creating feeds.
Sophisticated category mapping
Create unique attribute fields in accordance with the specifications.
Able to batch-process massive amounts of product data.
Once this plugin is installed, you can easily create product feeds for a variety of retailers, including Google Shopping and Facebook Remarketing. Additionally, there are supplied bespoke templates in addition to more than a hundred pre-defined templates.
In addition, you may use this plugin's advantages to run Google Shopping campaigns, make data-driven decisions, and examine Ecommerce reports in Google Analytics to study consumer behavior.
Important characteristics:
Synchronizing products from your WooCommerce stores.
Management of Google Merchant Center.
Connect your Google Merchant Center account to Google Ads.
Add transaction and conversion data to Google Analytics.
Automation of remarketing tags across all pages.
Performance dashboard for a shopping campaign.
WooCommerce Product Feed Manager by RexTheme is one of the finest WooCommerce Google Shopping plugins, since it connects to more than 170 marketplaces.
You can create precise product feeds quickly and advertise them on well-known marketplaces like Google Shopping. This will help boost the return on investment and conversion rate.
Simply set up an automated for the creation of product feeds with this plugin. Using pre-made merchant templates, you can also create faultless product feeds. Additionally, other features like advanced category mapping, filtering choices, and Google Auto-sync are fully pre-configured.
Important characteristics:
Create XML, CSV, or Txt product feeds.
Support for Google Analytics.
Advanced custom fields.
Facebook Pixel for product tracking.
Add and remove specific products.
Support WooCommerce Composite Product and Bundle Product.
Create variable products without any variation attributes.
You can create product feeds for popular shopping sites like Google, Facebook, and Bing with the help of the WooCommerce Product Feed Pro plugin. You can create a variety of feeds for Google Merchant Center, including those for local products, inventory, dynamic search ads, dynamic remarketing, and Standard Google Shopping. This plugin eliminates the need for complex coding knowledge by automatically mapping product IDs and other data in accordance with Google, Facebook, and Bing standards.
By using a Cron Job to add new products automatically, this plugin keeps your product feeds up to date. Depending on your preferences, you can set Cron Job to refresh the feed every hour, every day, or every two days.
Important characteristics:
Create an XML, CSV, TXT, and TSV feed.
There is an option to add variable products to your feed.
Map categories and items using Google attributes.
Cron job assists with automatically updating new products.
Set Cron Job on an hourly, daily, or twice-daily schedule.
Feed Generation Filters for Specific Products & Categories.
Conclusion
To boost your store's exposure, you must understand how to distribute your merchandise through a variety of channels to several marketplaces. Use some top WooCommerce Google shopping plugins to market your items to prospective buyers in this technologically advanced era.
We trust that this post has helped you understand and choose the right Google shopping plugin easily.
Further Reading