Last updated - November 14, 2022
Memberships are a great way to improve sales on your eCommerce store. You can offer special prices and discounts to your loyal customers, and within no time build a loyal fan base. With increasing memberships on your store, there is a chance that more customers would be interested to try it. As a result, you can create a buzz around your brand and consequently improve the overall sales on your store. If you have a WooCommerce store, it is particularly easy to set up a membership plan. That is because there are many plugins in the WooCommerce community that would help you set up a membership plan in your store. This article presents a few WooCommerce membership plugins that would do an amazing job.
This extension functions as a comprehensive solution to combine multiple aspects of your site together. When you align content, products, and memberships strategically on your store, magic can happen. According to WooCommerce experts, the plugin has a clean foundation and is pretty simple to configure and manage. So, if you are looking to create a membership system on your site, this may be the solution that you are looking for.
The WooCommerce membership extension, in fact, helps you create a community of your loyal customers, which can be a firm foundation for your business success. The plugin provides a lot of control for the store owners to restrict and manage memberships. You can create content that is available only for members, and choose a time for the restricted access. Memberships can be offered to your store visitors in different ways. You can directly sell the membership, or offer it for free for loyal customers.
How does the extension work?
A major difference that we see here from WooCommerce subscription and booking extensions is that memberships are not a product. You can create a membership in your store independently from products. So, to determine the connection between products and memberships, you can choose to assign specific products to a membership plan. This will give you a lot of flexibility to manage the memberships on your site in multiple ways.
This extension helps you import and export member's data in bulk as well. Exporting members might be really useful when you are considering to send bulk emails to another tool. It also helps to simplify the communication channel with your members regularly. 'Membership notes' option would help you continuously be aware of special requests from members. You can also send prompt notifications to your members regarding expiration or renewal of their memberships as well.
You can purchase the plugin at $149 for a single site subscription. A 5-site subscription would cost you $199, and a 25-site subscription $249. You will get one year of support and updates with the purchase. This is one of the best WooCommerce membership plugins that you can purchase.
Memberships are a great way to provide restricted access to users, if your website or store specializes in premium content, like training modules. The YITH membership plugin helps you create exclusive access to members on your site to courses, e-books or other premium services. In fact, you can create personalized content for your members, and thereby, improve the quality and value of your site or service.
The plugin helps you manage training courses or services at your store. In addition, it helps you provide exclusive access to premium content on your site. You can keep your members firmly with you by sending prompt notifications on renewal, expiry, your upcoming publication schedule, etc.
This YITH plugin is quite easy to use. You just need to purchase and install it, the plugin will integrate with your site seamlessly. The plugin creates a restricted area that offers access only to your paid members. This can include WooCommerce products, pages, blog posts, videos, downloadable files, etc. This is another popular option among WooCommerce membership plugins you can choose.
Notable features of YITH membership plugin
This plugin is loaded with features. Here are some:
Selective content access
You can let members selectively access content on your site. With the plugin, you will be able to set a time limit to access specific content on your site too.
Unlimited memberships
There is no limit to the number of membership plans that you can create for your users.
Link multiple membership plans
If your users are signing in for multiple membership plans on your site, you can easily link them. This way your users will get access to multiple resources at the same time.
Include more content to existing memberships
You can easily add new content to an existing membership plan easily. This might be really helpful to inspire your members to upgrade or renew their plan.
Create a seamless communication channel
The plugin comes with a "Messages" widget that helps members contact you instantly.
Record membership history
You can easily record the modifications that you make during the period of membership.
Edit or delete content in a membership
You will be able to delete or edit content part of a membership plan.
Manage unregistered users
Users who are not signed in on your site might try to access restricted content at times. You can decide how to handle these attempts on your site. You can either show an error page or offer some related content that would motivate them to sign up.
Send notifications on expiry and renewal
Sending timely notifications on expiry or renewal of a plan would help you stay on top of managing continuous membership plans.
Show what content members are accessible to
There are shortcodes to specifically display the content that a particular member is privy to. This would also help to improve user experience on your site.
Hide Price and Add-to-Cart button
Sometimes you may want to hide price from members who can freely access a product. At the same time, you can keep that product available for purchase by non-members.
Compatible with other popular plugins
Combining subscriptions with membership plan is a popular strategy used by many wooCommerce store owners. This plugin is fully compatible with YITH Subscription plugin. You can also not worry about supporting multiple languages as the plugin is compatible with WPML.
Overall, this is a great choice you can purchase for $99 (Single site license). You can also purchase a 6-site license or a 30-site license for $199 and $249 respectively. One year of updates and support are part of the license.
This plugin is clearly less expensive than the other two we discussed. You can get a single license for just $39! Fundamentally, the plugin helps you sell memberships on your site by restricting users in the way they access posts and pages on your site. With this plugin, you can create unlimited membership plans. Also, you can link multiple membership plans so that your users get access to multiple resources simultaneously. Additionally, you can create a content dripping strategy, where you can set a trial period for new members.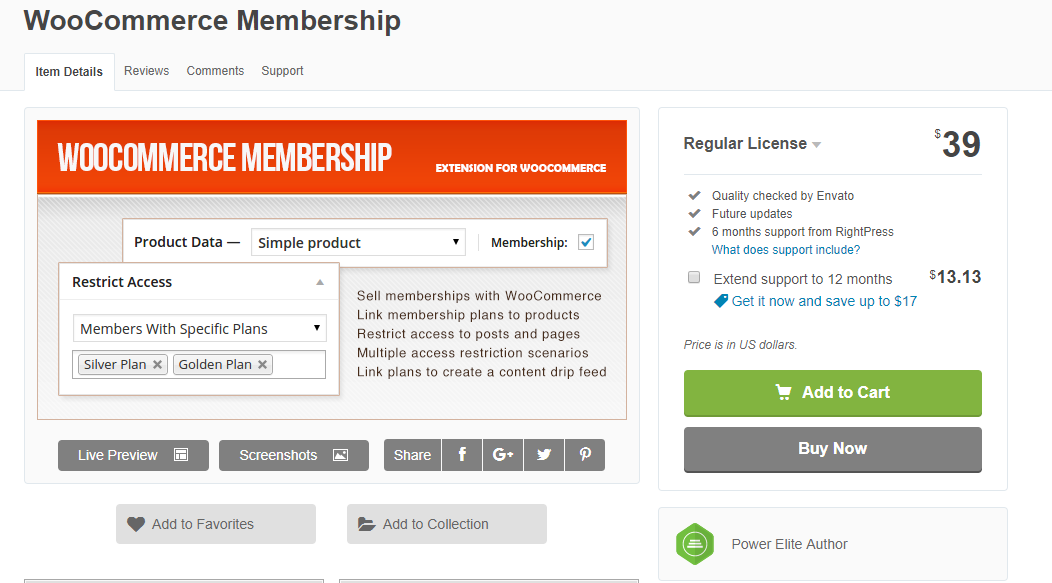 Once you install the plugin, you can convert any WooCommerce product (simple or variable) to a membership product. When a customer purchases this membership product, you can selectively grant access to various membership plans on your site. You can set a time limit to the expiry of the membership plan. If the customer cancels the order, the plugin will automatically revoke the privileged access.
You can also manage the selective access at different levels. For example, you can choose how specific posts on your site is accessible to members. Whether all members will get access, or only members with specific plans, which content members and non-members can access.
MemberPress will provide you all the advanced features that you require to maintain a WordPress Membership site. You will be able to charge users for privileged access to your site, and accept payment via credit cards. The plugin will help you sell downloadable products as well as membership subscriptions effortlessly on your site. Moreover, you will be able to control how to provide selective access to your users.
Furthermore, with the Plus and Pro licenses, it offers seamless integration with WooCommerce. You will be able to sell memberships on your store, or restrict non-members from making purchases. The price for the Plus license is $498 per year.
Restrict Content Pro offers a powerful solution to create a membership site. You will be able to create unlimited subscriptions such as free, trial and paid, using this plugin. With multiple payment gateways integrated (Fondy, for example), you will find this plugin hassle free to accept payments.
It is pretty easy to get started with this plugin, as the settings are quite intuitive and user friendly. Moreover, you can set up automatic notifications to your site members at different scenarios. Also, it is pretty easy to create discount coupons using this plugin. Furthermore, it offers options to export data of members easily. The Professional package, with WooCommerce membership discounts would cost you $249 a year.
Members Only is an easy to set up WooCommerce membership plugin that lets you decide who can access your content. You can protect posts, post categories, products, product categories – or even your entire site.


With Members Only, you can decide how to protect your content, either through passwords, user roles, user IDs, or logged-in status. When a user tries to access content they don't have permission to see, you can decide where to redirect them, e.g. to a dedicated landing page or to an account page.
The plugin also has a built-in roles manager, allowing you to create and edit roles on your site. You can automatically assign roles when a user purchases specific products – making it easy to sell memberships. Plus, you create multiple tiers of access – so different roles will have different permissions to view content. You can also set expiration dates on memberships.
Furthermore, if you want to create additional incentives for members, you can restrict or enable payment methods and/or shipping methods to specific roles, making the plugin ideal for wholesale stores as well as membership sites.
WooCommerce Members Only is available in Basic and Pro versions, depending on how many sites you need. It's also backed by extensive documentation and tutorials, including a guide on how to create a WooCommerce membership site..
Membership for WooCommerce Pro is a premium solution for selling, administering, and designing membership plans that are comprehensive, helpful, and user-friendly. You may earn recurring revenue and offer members-only discounts on selected products with WooCommerce groups and memberships on your eCommerce store.
By using this plugin you can sell and manage membership plans and generate revenue.
Features
Only allow membership owners to receive individual product discounts.
Combine the benefits of various membership plans into one.
Send emails about membership plan actions.
Only WooCommerce members have access to certain product tags, categories, and sections.
For a one-site plan, the plugin costs $99.
You can create a fully automated membership system using WordPress eMember. You can effortlessly manage user login, profile maintenance, upgrades, notifications, etc. It also offers user access control to define who can access what content on your site. More importantly, you can use bulk operations while restricting access for content. For example, you can restrict all the posts under a particular category using this plugin. The plugin also offers seamless integration with WooCommerce. You can purchase this plugin for $59.95.
This is an easy option to choose among the several WooCommerce membership plugins. You can set up subscription plans and payment options to start with the plugin. There are several shortcodes that will help you set up user login and other membership management options. Your posts, custom post types and pages will have an option that will let you control the user access. The major advantage of this plugin is that it integrates perfectly with your WordPress site, without troubling you much in setting it up. The single site license with WooCommerce integration will cost you $69.
Strategies to use the WooCommerce Membership plugins effectively
You can use some of the strategies recommended by experts to use WooCommerce membership plugins effectively.
Membership as a standalone product
You can choose to sell membership separately, just like you sell any other product in your store. However, for this, you need to create a product solely for this purpose and connect it to the membership. So your customers can purchase the membership and get privileged access to members only products, posts or services.
Connect membership access to one product
A reliable strategy to popularize memberships on your store would be to link your memberships to certain specific products. For example, if you are selling coffee subscriptions, you can offer some premium content on brewing free along with it. That way customers will have a continuous engagement with products related to your product. This will help in long-term brand building and customer loyalty.
Connect multiple memberships
Sometimes there will be multiple products or content that a user want to access, and these are scattered around different membership plans. In such a scenario combining multiple memberships would provide users access to multiple plans at the same time.
Assign memberships manually
Another useful strategy for managing memberships would be to assign memberships manually to a set of users. Sometimes, it is a good strategy for up selling your products. You can offer membership plans to long-term customers which include access to useful content in your product expertise. This will surely inspire them to purchase other products from you
Selective access to content
If you want to use the membership plan effectively, you may have to selectively provide access. As you are providing premium content through the member's area, restricting access at times might be effective. For example, you can specify a rule that members need to be a member for a particular time period before they can access certain content. However, you may have to still offer some exclusive content during the trial period too. The plugin helps you organize all this quite efficiently.
Membership-only products
Making membership mandatory for the purchase of certain products can be successful in many cases. It gives a certain exclusivity to members of your store. You can use this strategy to organize the catalog too. For example, you can choose to display certain products only to members. Similarly, you can allow only members to buy certain products. You can implement various similar strategies using this plugin. However, care should be taken to thoroughly analyze and test the feasibility of all these before implementing in your store.
Managing Memberships
You can provide discounts on products to members. This can be on specific products or categories, or all products in your store. Another aspect that plays an important role in customer experience on your store is how members can view the exclusive privileges they are getting. The membership area should be neatly organized for the members to understand what privileges they are getting. Is it an exclusive access to premium content? Are there discount offers for your products? Are the discount offers getting expired soon? Your members need to know all these information from a single location, and that would really improve the user experience on your store.
Combine Subscriptions and Memberships
A great way to effectively use membership extension is by combining it with a subscription extension. For example, WooCommerce has two separate plugins for both subscriptions and memberships. As per expert opinion, a good subscription plugin can offer a lot of flexibility to your membership plans. For example, it would be more convenient to use recurring billing for memberships. Similarly, memberships can effectively use subscriptions as a payment plan but can control the time period separately. The flexible features of subscription plugins to upgrade, downgrade or pause help manage memberships better. For example, the pro-rata calculations of subscription costs can be applied to memberships as well.
Why is WooCommerce membership a great idea?
Membership plans thrive on a simple business logic. The effort required to acquire a new customer is considerably higher than getting existing customers to buy more from your store. And nothing helps more with repeated purchases and return customers than setting up a membership plan with exclusive deals. This is because memberships ensure customer loyalty, given you constantly delight them with exclusive deals and offers. And as more of your customers opt-in for membership plans, you can reduce the marketing costs considerably.
In addition to ensuring steady business growth, membership plans also assure you with predictable income. However, you need to devise an approach to your store that is going to thrill your customers with exclusivity and personalization. Sometimes just offering members-only discount won't be enough. You may have to figure out more interesting things like exclusive access to your latest products, or complimentary consultation with an expert, etc. Whatever it is, the exclusive offer under your membership scheme should bring in some novelty to your customer experience. If you are successful in ensuring that, you may not have to worry much about getting more customers to sign up for the plan.
Other WordPress solutions
There are quite a large number of tools to help you set up a good eCommerce membership plan. Not just WooCommerce, even other players like Easy Digital Downloads (EDD) have great solutions for membership plans. Restrict Content Pro is a powerful solution that you can use on your WordPress store with EDD.
How to inspire customers to opt-in for your WooCommerce membership plan?
In the current eCommerce landscape, setting up a membership plan on a new or existing site is not such a tough task. However, getting a unique appeal for your membership plans is what makes all the difference. If you make your customers feel that they are really gaining some value from your membership plan, then you are on the right track. You can convince them to opt in more easily. Here are a few tips that would help you optimize your membership strategy.
Device a unique strategy
When you are still establishing a membership scenario, it is all about the novelty aspect to get customers, rather members, in. Once they are in, it is about sustaining the excitement you created at the start. One important aspect here again is to think in terms of the potential member – what do they get from joining your program? At the start, you need to focus on the advantages for customers rather than your business goals. That way, you will be able to devise something capable of attracting customers in hordes.
What you offer through the membership plan should be relevant to the customer. And that should be something they won't be able to find anywhere else. Sometimes, a multi-tiered membership strategy would be the best option for you. You can have a more extensive reach to a broader audience this way. A separate page, listing out the advantages of each membership plan, would really help customers to take a decision. Fundamentally, you membership plans should inspire and excite potential members to join. For example, Netflix and Amazon Prime are two popular membership plans that have a great fan following. Then there are quite innovative ones like the Dollar Shave Club.
Costco, the membership-only warehouse club, is another good example that popularized the concept quite early.
Make it irresistible
You may have to really present the benefits of joining an exclusive club or membership plan obvious to the potential members. As stated above, listing out the benefits of a plan would do a lot to help customers make a decision. When you present the benefits of multiple plans side by side, your customers get a chance to compare each and take a decision. There will be many membership plans that are really popular with no competitors and no need of advertising. For example, Costco is a hugely successful membership-based business that really doesn't believe in external advertising. They thrive mainly through the referral process where existing members recommend it to their friends and family.
But things are not easy for small and medium businesses that thrive on the WooCommerce landscape. Unless you are in a true niche market, you may need to actively devise strategies to make your membership irresistible. Basically, a combination of well-crafted deals and good copywriting is essential. A dull, unappealing description with no proper details would only repel your audience.
Maintain clarity and transparency
First of all, you need to make a set of benefits that offer something valuable to the customers. You need to maintain clarity and transparency about terms and conditions. If you somehow manage to get a few users to signup without revealing the terms clearly, they may anyway not renew the membership later. Also, you may need to include relevant reviews and testimonials to ensure that existing members are happy with your plans. It provides an assurance in the minds of potential members who are on the verge of taking a decision. A positive word might just inspire them to hit that 'Join' button.
You may also need to offer options to users to contact you. Mostly, when users are about to pay some money on your site, they may need some clarifications. There should be someone readily available to answer their queries, or you might lose some potential customer. Setting up a live chat option on your site is a great option to manage this kind of scenarios.
Decide on a pricing structure
Most of the sites that offer memberships often structure them in multiple tiers. Each will have something that is suitable for particular strata of the audience. Continuing with the above example, if you have a wine club membership in your store, there should be suitable plans catering to small and large families. And maybe you can create a few more tiers based on the quality of the grapes, aging, etc. You need to create an ample number of options so that your customers can put in some thoughts and choose. However, providing too many options is also not really advisable. When presented with too many options, your users might feel confused. They might just postpone the decision when too much information is presented at once. The trick would be to keep things simple and clear.
Gain the advantage of automatic recurring billing
A perfect strategy to gain more from membership plans is to set automatic recurring billing on your site. This would make sure that you are able to get a predictable revenue every billing cycle. This takes a load off your head and gives you room to innovate. Most of the membership plans rely heavily on the automatic payment option. Once the user clicks join, the automatic billing process will be running until they actively choose to cancel the membership. Again, Netflix is an apt example of a business that thrives on this strategy.
If you are running a WooCommerce store, you can effectively combine two popular solutions – subscription and membership. Most of the subscription plugins available in the WooCommerce community supports automatic billing. However, you may have to use a payment gateway that supports this type of payment. Read our article WooCommerce subscription solutions, if you want to find a suitable option to set up automatic billing on your store.
Reward members with something valuable to them
Often when customers have signed up exclusively with your store, you have the freedom to engage them through email and social media regularly. And you can use this opportunity to market some of the new products or plans. Similarly, you will send them an occasional discount coupon or deal. However, all these are things that have some obvious benefit to you. There is no problem to market products to your members, but it is also very important to reward them with something valuable occasionally. After all, if you are providing them with your products weekly or monthly, you can very well offer something extra once in a while.
For example, if you are sending toiletries to your members on a weekly basis, how about adding a new shampoo once in a while? Such thoughtful rewards can benefit you in different ways. First of all, if you are able to delight your customers, they are going to be loyal to your store. Then by offering a new product, you are able to market it for free. You can even ask members for feedback to be sure about the potential of this new product.
Customize and restrict content
A great strategy that you can apply with memberships is to restrict content according to membership. You can create unique content that is only accessible to members. This gives you build a sense of exclusivity to your members. Runtastic is an Austrian company that sells running accessories. They have quite a lot of content that helps you train for different kinds of runs from 5K to a marathon. They also have a dedicated session for premium members that includes exclusive content to help with your training.
With extensions like WooCommerce Memberships, however, you can restrict content in quite unique ways. For example, if you want to make certain areas of your store only accessible to members. Similarly, you can set up custom content on the same page, so that members and non-members will view different versions. This can be used to upsell your membership plans as well. Create a teaser section which is capable to generate enough interest in the reader, and restrict the entire content only for members. Scientific journals traditionally use this strategy to great effect. A good example would be New Scientist. However, keep in mind that such strategies are easier for established resources, might not be easy when you start out.
A list of tools to look for…
Here is a recap of some of the tools you can try out to set up a successful WooCommerce membership plan.
A few legal points to note
Membership sites may have to keep in mind a certain set of legal obligations in the country they are operating from. Here is a quick list:
Make sure your members conform to policies
You may have to make sure your members are accessing your site well within the limits of your policies. Mostly, this is to avoid spamming other members, and accessing the site through bots for marketing purposes.
Manage user-generated content
User-generated content should not lead to an issue with copyright laws or create harassment to external parties.
Be aware of Communication Decency Act
In a way, membership-based sites can save themselves from taking responsibility for content generated by users. In the United States, section 230 of Communication Decency Act assures membership sites in this regard.
Conclusion
Memberships are a great way to keep your customers close to you. The privileged access to content and services on your site would enable them to be true to your brand. Strategies like offering free shipping, seasonal discounts, or privileged access would be easier with memberships. That way, you will be more in control of your offers, and you can ensure profitability too. WooCommerce has some exceptional options that would help you set up membership plans on your site. This article tried to introduce you to some of the best WooCommerce membership plugins available currently in the market. Please let us know your thoughts and suggestions.