Last updated - March 23, 2018
Memberships are a great way to improve sales on your eCommerce store. You can offer special prices and discounts to your loyal customers, and within no time build a loyal fan base. With increasing memberships on your store, there is a chance that more customers would be interested to try it. As a result, you can create a buzz around your brand and consequently improve the overall sales on your store. If you have a WooCommerce store, it is particularly easy to set up a membership plan. That is because there are many plugins in the WooCommerce community that would help you set up a membership plan in your store. This article presents a few WooCommerce membership plugins that would do an amazing job.
This extension functions as a comprehensive solution to combine multiple aspects of your site together. When you align content, products, and memberships strategically on your store, magic can happen. According to WooCommerce experts, the plugin has a clean foundation and is pretty simple to configure and manage. So, if you are looking to create a membership system on your site, this may be the solution that you are looking for.
The WooCommerce membership extension, in fact, helps you create a community of your loyal customers, which can be a firm foundation for your business success. The plugin provides a lot of control for the store owners to restrict and manage memberships. You can create content that is available only for members, and choose a time for the restricted access. Memberships can be offered to your store visitors in different ways. You can directly sell the membership, or offer it for free for loyal customers.
How does the extension work?
A major difference that we see here from WooCommerce subscription and booking extensions is that memberships are not a product. You can create a membership in your store independently from products. So, to determine the connection between products and memberships, you can choose to assign specific products to a membership plan. This will give you a lot of flexibility to manage the memberships on your site in multiple ways.
This extension helps you import and export member's data in bulk as well. Exporting members might be really useful when you are considering to send bulk emails to another tool. It also helps to simplify the communication channel with your members regularly. 'Membership notes' option would help you continuously be aware of special requests from members. You can also send prompt notifications to your members regarding expiration or renewal of their memberships as well.
You can purchase the plugin at $149 for a single site subscription. A 5-site subscription would cost you $199, and a 25-site subscription $249. You will get one year of support and updates with the purchase.
Memberships are a great way to provide restricted access to users, if your website or store specializes in premium content, like training modules. The YITH membership plugin helps you create exclusive access to members on your site to courses, e-books or other premium services. In fact, you can create personalized content for your members, and thereby, improve the quality and value of your site or service.
The plugin helps you manage training courses or services at your store. In addition, it helps you provide exclusive access to premium content on your site. You can keep your members firmly with you by sending prompt notifications on renewal, expiry, your upcoming publication schedule, etc.
This YITH plugin is quite easy to use. You just need to purchase and install it, the plugin will integrate with your site seamlessly. The plugin creates a restricted area that offers access only to your paid members. This can include WooCommerce products, pages, blog posts, videos, downloadable files, etc.
Notable features of YITH membership plugin
This plugin is loaded with features. Here are some:
Selective content access
You can let members selectively access content on your site. With the plugin, you will be able to set a time limit to access specific content on your site too.
Unlimited memberships
There is no limit to the number of membership plans that you can create for your users.
Link multiple membership plans
If your users are signing in for multiple membership plans on your site, you can easily link them. This way your users will get access to multiple resources at the same time.
Include more content to existing memberships
You can easily add new content to an existing membership plan easily. This might be really helpful to inspire your members to upgrade or renew their plan.
Create a seamless communication channel
The plugin comes with a "Messages" widget that helps members contact you instantly.
Record membership history
You can easily record the modifications that you make during the period of membership.
Edit or delete content in a membership
You will be able to delete or edit content part of a membership plan.
Manage unregistered users
Users who are not signed in on your site might try to access restricted content at times. You can decide how to handle these attempts on your site. You can either show an error page or offer some related content that would motivate them to sign up.
Send notifications on expiry and renewal
Sending timely notifications on expiry or renewal of a plan would help you stay on top of managing continuous membership plans.
Show what content members are accessible to
There are shortcodes to specifically display the content that a particular member is privy to. This would also help to improve user experience on your site.
Hide Price and Add-to-Cart button
Sometimes you may want to hide price from members who can freely access a product. At the same time, you can keep that product available for purchase by non-members.
Compatible with other popular plugins
Combining subscriptions with membership plan is a popular strategy used by many wooCommerce store owners. This plugin is fully compatible with YITH Subscription plugin. You can also not worry about supporting multiple languages as the plugin is compatible with WPML.
Overall, this is a great choice you can purchase for $99 (Single site license). You can also purchase a 6-site license or a 30-site license for $199 and $249 respectively. One year of updates and support are part of the license.
This plugin is clearly less expensive than the other two we discussed. You can get a single license for just $39! Fundamentally, the plugin helps you sell memberships on your site by restricting users in the way they access posts and pages on your site. With this plugin, you can create unlimited membership plans. Also, you can link multiple membership plans so that your users get access to multiple resources simultaneously. Additionally, you can create a content dripping strategy, where you can set a trial period for new members.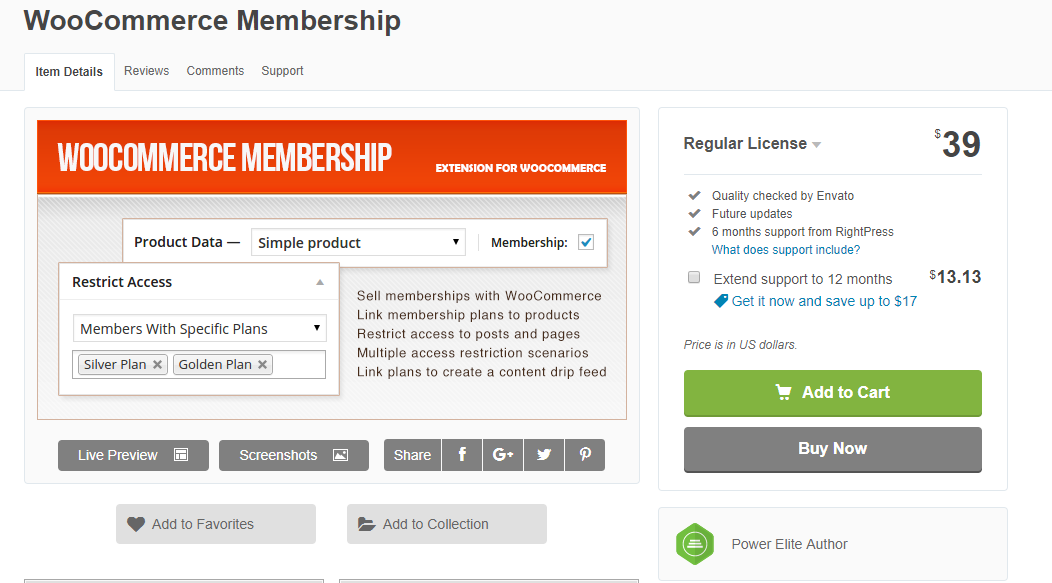 Once you install the plugin, you can convert any WooCommerce product (simple or variable) to a membership product. When a customer purchases this membership product, you can selectively grant access to various membership plans on your site. You can set a time limit to the expiry of the membership plan. If the customer cancels the order, the plugin will automatically revoke the privileged access.
You can also manage the selective access at different levels. For example, you can choose how specific posts on your site is accessible to members. Whether all members will get access, or only members with specific plans, which content members and non-members can access.
Strategies to use the WooCommerce Membership plugins effectively
You can use some of the strategies recommended by experts to use WooCommerce membership plugins effectively.
Membership as a standalone product
You can choose to sell membership separately, just like you sell any other product in your store. However, for this, you need to create a product solely for this purpose and connect it to the membership. So your customers can purchase the membership and get privileged access to members only products, posts or services.
Connect membership access to one product
A reliable strategy to popularize memberships on your store would be to link your memberships to certain specific products. For example, if you are selling coffee subscriptions, you can offer some premium content on brewing free along with it. That way customers will have a continuous engagement with products related to your product. This will help in long-term brand building and customer loyalty.
Connect multiple memberships
Sometimes there will be multiple products or content that a user want to access, and these are scattered around different membership plans. In such a scenario combining multiple memberships would provide users access to multiple plans at the same time.
Assign memberships manually
Another useful strategy for managing memberships would be to assign memberships manually to a set of users. Sometimes, it is a good strategy for up selling your products. You can offer membership plans to long-term customers which include access to useful content in your product expertise. This will surely inspire them to purchase other products from you
Selective access to content
If you want to use the membership plan effectively, you may have to selectively provide access. As you are providing premium content through the member's area, restricting access at times might be effective. For example, you can specify a rule that members need to be a member for a particular time period before they can access certain content. However, you may have to still offer some exclusive content during the trial period too. The plugin helps you organize all this quite efficiently.
Membership-only products
Making membership mandatory for the purchase of certain products can be successful in many cases. It gives a certain exclusivity to members of your store. You can use this strategy to organize the catalog too. For example, you can choose to display certain products only to members. Similarly, you can allow only members to buy certain products. You can implement various similar strategies using this plugin. However, care should be taken to thoroughly analyze and test the feasibility of all these before implementing in your store.
Managing Memberships
You can provide discounts on products to members. This can be on specific products or categories, or all products in your store. Another aspect that plays an important role in customer experience on your store is how members can view the exclusive privileges they are getting. The membership area should be neatly organized for the members to understand what privileges they are getting. Is it an exclusive access to premium content? Are there discount offers for your products? Are the discount offers getting expired soon? Your members need to know all these information from a single location, and that would really improve the user experience on your store.
Combine Subscriptions and Memberships
A great way to effectively use membership extension is by combining it with a subscription extension. For example, WooCommerce has two separate plugins for both subscriptions and memberships. As per expert opinion, a good subscription plugin can offer a lot of flexibility to your membership plans. For example, it would be more convenient to use recurring billing for memberships. Similarly, memberships can effectively use subscriptions as a payment plan but can control the time period separately. The flexible features of subscription plugins to upgrade, downgrade or pause help manage memberships better. For example, the pro-rata calculations of subscription costs can be applied to memberships as well.
Conclusion
Memberships are a great way to keep your customers close to you. The privileged access to content and services on your site would enable them to be true to your brand. Strategies like offering free shipping, seasonal discounts, or privileged access would be easier with memberships. That way, you will be more in control of your offers, and you can ensure profitability too. WooCommerce has some exceptional options that would help you set up membership plans on your site. This article tried to introduce you to some of the best WooCommerce membership plugins available currently in the market. Please let us know your thoughts and suggestions.