Last updated - March 23, 2021
Chatting with customers is one of the preferred options to understand and resolve problems quickly. If you have an eCommerce store, you can easily set up a live chat window on your website to let customers contact you. It can get slightly get complicated when you have a multi vendor marketplace with several vendors. How will the customer contact the right vendor when they want to resolve a problem with one of the products they purchased? In this article, we will discuss some of the best WooCommerce multi vendor chat plugins that will help you set up a chat solution in a marketplace.
This is one of the most popular solutions to create a connection between vendors and customers on your WordPress marketplace. It is easy to set up and maintain, and has several advanced feature to make the chat seamless. To get started with this solution, you can sign up for an account with Talk JS, and then use the free TalkJS WordPress plugin to integrate it with your site. You will get a wide range of features including pre-built notifications, file and location sharing, etc with Talk JS.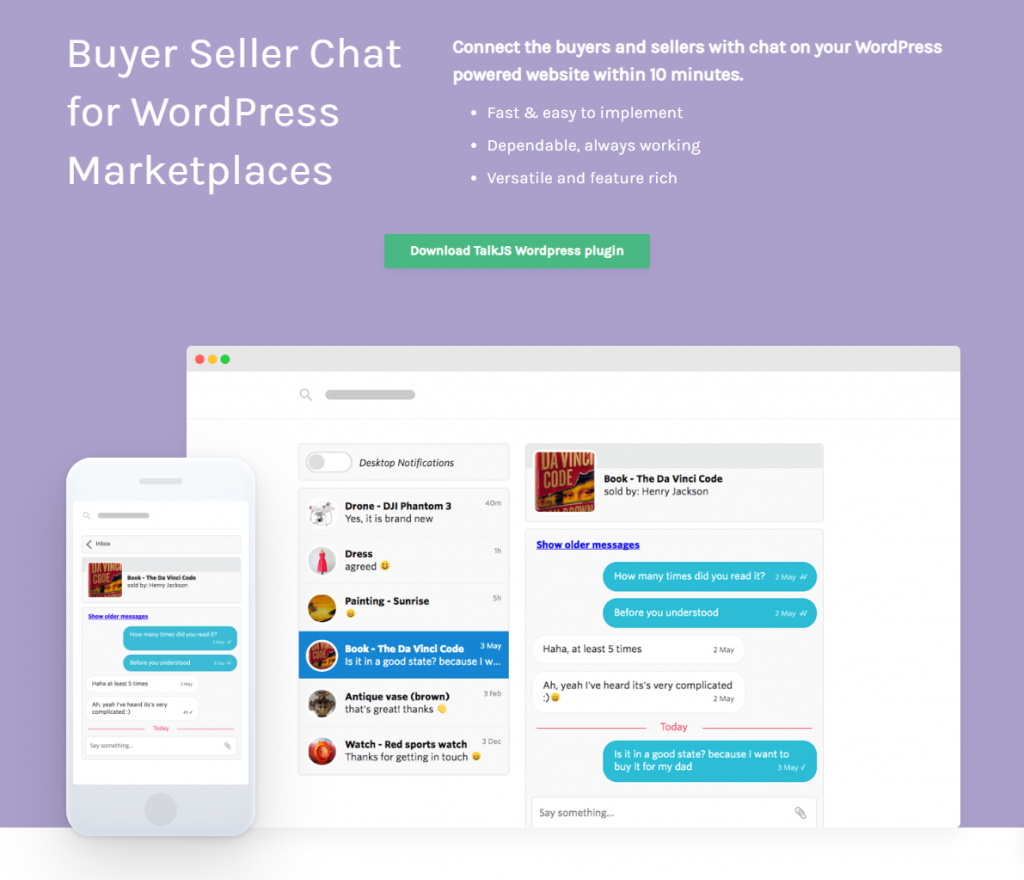 Different multi vendor solutions have their own modules to help you integrate your store with TalkJS. With the Dokan Business and Enterprise pricing plans, you will get access to the Dokan-Talk JS Live Chat module that will help your vendors interact with their customers easily. Similarly, with the premium versions of WC Vendors and WCFM Marketplace, you can easily integrate TalkJS chat for interactions between vendors and customers.
Features
Create an advanced chat interface between your vendors and customers.
Convenient features for a great customer experience such as file and location sharing, use of emojis, badges, read and typing indicators, etc.
Desktop notifications as well as push notifications.
Fallback to custom SMS or email communication when you are not live on chat.
Conversation history for better customer service.
Chat pop-ups for better communication.
Multiple language compatibility.
Range of customizable themes.
Developer friendly.
The pricing plan starts with a Standard option at $279 per month. However, you can use it for free during development stages.
YITH Live Chat is a great solution to resolve customer queries quickly on your WooCommerce store. It will be a great option to help customers with pre-sale queries as well so that they will make an informed purchase decision. The chat plugin is easy to install and offers a smooth interface to facilitate communication with customers. Moreover, it integrates seamlessly with YITH Multi Vendor plugin and the customers will be able to chat with a specific vendor.
Features
Helps you set up a live chat solution on your WooCommerce store.
Save the interactions with customers for future use.
Option to let customers ask their queries even when there are no live chat agents online.
Set a limit to the number of customers who can chat at a given time.
Collect feedback about the live chat interaction from customers.
Customize the appearance of the live chat window.
Offer pre-defined responses to common queries.
Flexibility to place the chat in different locations on your site.
You can purchase a single site subscription of this plugin at $69.99.
This is another good option that you will find to set up a live chat option between vendors and customers. Different sellers will be able to provide chat support to their customers directly. The plugin is highly customizable, and offers a range of user-friendly features to make the chat interaction smooth between sellers on your store and their customers. Customers will be able to login from the chat window itself, and they will be able to chat with any vendor on your store. Both customers and vendors will be able to view chat history, and manage their individual profiles. Overall, it will be a great support to maintain good customer relationships and better conversion rate.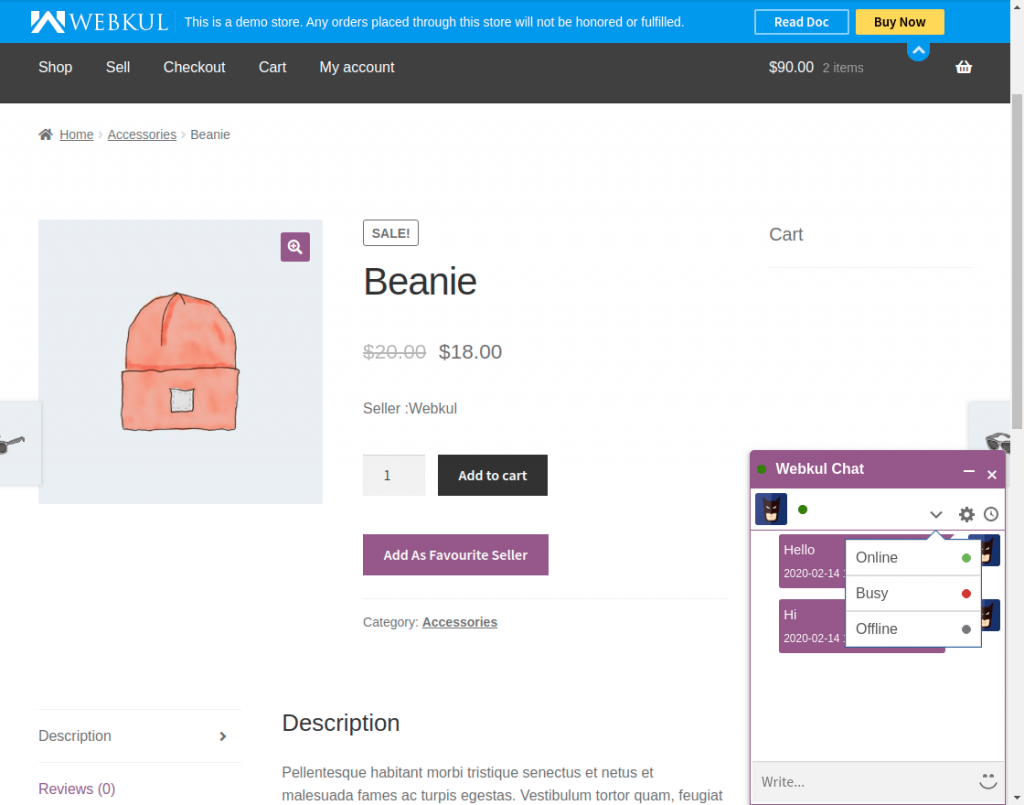 Features
Create a smooth communication channel between buyers and vendors on your WooCommerce multi vendor store.
Access an effective chat management system powered by Socket.IO.
Vendors have flexibility to change chat status according to their own priorities.
Supports emojis for more interesting conversations.
Support for multiple chats for both customers and vendors.
Option to view chat history and modify chat profiles for both customers and vendors.
Store admin can access all conversations.
You can purchase the Regular License of this plugin at $59.
Another useful plugin to create a live chat interface between vendors and customers, this one offers a conversation panel in each of your orders. It has a range of features that will ensure seamless conversations with all customers on your marketplace. The plugin works in a simple manner, and for every order there will be a button, which the customers can use to get in touch with the vendor. Vendors will be able to see these messages from their order panel and respond. This plugin is compatible with popular multi vendor solutions such as WooCommerce Product Vendors and WC Marketplace.
Features
Facilitate a smooth conversation between vendors and customers on your WooCommerce marketplace.
Integrates well with multi vendor solutions like WooCommerce product vendors and WC Marketplace.
Customers and vendors will be able to attach files in the conversation.
The plugin offers a responsive user interface that will make it smooth on all devices.
Email notification option to make sure no queries are missed.
Revision request add-on available.
Customize the appearance and the position of the conversation box.
Compatible with most WooCommerce themes.
A single site license of this plugin will cost you $30.
You can try out CometChat if you are looking for an advanced live chat solution for your WordPress site. Choose a suitable plan and install the WordPress plugin to integrate CometChat on your site. It has several top notch features to help you control the conversations on your store. You can create chat groups, facilitate one-on-one conversations, restrict chat access based on user role, etc with CometChat. It offers a great solution for seller and buyer conversations in a WordPress marketplace as well.
Features
Create a seamless chat interface on your WordPress site or WooCommerce marketplace.
Attach files and multimedia to chat conversations.
Status indicators to confirm when a chat agent is online.
Stickers and emojis to express better in a conversation.
Collaborative whiteboard for visual representation of issues.
Push notifications to make sure no conversation is missed.
Real time translation to cater to customers from all over the world.
Several integrations.
Easy to set up and manage.
The cost for the Lite Plan with 10,000 monthly users will be $49 per month.
Hopefully, these WooCommerce multi vendor chat plugins will help you set up a seamless chat interface to help vendors and customers on your online marketplace. Leave us a comment if you have a query.
Check out the video:

Further reading