Last updated - July 22, 2022
If you are running a WooCommerce store, you know payment gateways play an important role in store management and customer experience. There are several things to consider before you integrate one or a few payment options in your store. The size and location of your store, your customer base, the budget, etc. play a role in determining what option you choose. Generally, your payment gateway should be in alignment with the majority of your customers and the payment strategy of your store. This article looks at different aspects of WooCommerce Payment options and lists out some of the best extensions for payment gateway integration.
Watch a video on the Best WooCommerce Payment Extensions:

How does a WooCommerce Payment Gateway work?
Once a customer places an order on your store, it is the payment gateway that verifies the billing information of the customers. It also ensures there is adequate fund in the customer's account. Thus it maintains a segment of your checkout flow to make sure you are able to receive payments for order on your store.
What are the different kinds of payment gateways?
Payment gateways are of veritable nature based on how they work, and what basic requirements they have. One of the pre-requisites for certain payment gateways is that the store owner needs to have a merchant account to accept payments. A merchant account is a kind of bank account that allows businesses to accept payments. Payment gateways can be categorized broadly based on whether they need a merchant account or not. For example, PayPal, Stripe, etc don't require store owners to have a merchant account. However, gateways like Authorize.net or WorldPay needs you to have a merchant account to receive payments from your WooCommerce store.
You can also classify payment gateways based on the mode of integration to your eCommerce platform. There are hosted and integrated options available. Basically, hosted gateways redirect your customers to the gateway site to process the payments. The obvious advantage of a hosted payment gateway integration is that the security aspects are handled by the payment processor. You don't need to worry about PCI compliance and data security. PayPal is an example of hosted payment gateway. On the other hand, if you integrate your store to the payment processor's system, there won't be any need for redirect. With an integrated payment gateway, your customers never have to leave your site during the checkout flow. PayPal Pro, Stripe, etc are some of the good examples of integrated payment gateway systems.
How to choose the best payment gateway for your store?
It is not an easy task to find a payment gateway that fulfills multiple goals in your WooCommerce store management. Basically, it should be something that goes well with your customers. Checkout flow is one of the defining aspects of your site's user experience and any apparent lapse would drive customers away from your store. At the same time, you want a simple setup and a seamless integration. Ideally, your payment gateway should just blend into the checkout flow of your site. And most of your customers should be comfortable using it. Let's look into some of the aspects:
Ease of setting up
When you are starting out with your WooCommerce store, you would naturally prefer a payment gateway that is simple to set up and use. Typically, the gateways that don't need a merchant account to start with are easier to set up. You don't really have any hassles to set such a payment gateway. For example, you get the PayPal extension for free along with WooCommerce. However, integration with something like Authorize.net would be a lengthier process. You also need to have some knowledge of coding to set these up. Getting a merchant account from your bank can also prove to be cumbersome. So, if you are looking to set up a payment gateway quickly, you may have to look for one that doesn't need a merchant account.
Whether or not redirect customers to the payment platform
You may have to decide beforehand whether you want to redirect your customers to the site of the payment processor. It is advantageous in the sense that you don't have to worry about PCI Compliance and the security of your customer's data. If you find that accepting payments directly on your site is helping your conversion better, then that's a better choice. You may have to put in extra efforts to ensure PCI compliance and other security details.
Charges
Different payment gateways come with different pricing options. You have to choose one that suits your budget best without hampering customer experience. Three aspects you need to consider – a charge for the initial setup, a periodic fee, or a rate per transaction. You may need to evaluate all these aspects while trying to choose one payment gateway. For example, a fee per transaction may be an ideal option if yours is a small business. However, when the number of transactions is really high, it may not be a wise choice. Similarly paying a premium for a premium extension would not be such a bad idea, if the fee per transaction is lower.
Customer experience
Your payment gateway is one of the deciding factors for customer experience and conversions on your store. Studies have proven that eCommerce buyers tend to avoid stores that don't have their favorite payment options. Similarly, there is a clear bias among customers when it comes to paying directly on the site or getting redirected to another. Customers from certain countries are generally averse to redirects. You need to analyze customer location and demographics to understand what is more preferred by your customers. An integrated payment gateway would be a better choice for customer experience, but one security lapse may completely disrupt your store's credibility. So, clearly, it's a matter of careful consideration before you can decide on a suitable payment option. Always make sure to choose one that does not repel your customers.
Handling subscriptions
Another important facet of payment gateways is how they handle subscriptions. If you have subscriptions on your store or are planning to create some in the future, you may need to pay extra attention. Not all payment gateways are able to handle the recurring payment process necessary for subscription payment. This WooCommerce documentation has a list of payment gateways that support subscription payment.
Best WooCommerce payment gateway extensions
You find quite a few online and offline payment options available with the core configuration of WooCommerce itself. These include PayPal Standard, PayPal powered by Braintree, and Stripe. However, depending on the specific requirements of your site, you may want to get hold of some extensions that would help you make the process smoother. Here we go!
This extension allows you to accept credit card payments directly on your site using PayPal. Your customers need not leave your site at any point during the checkout flow. This may be a great option for your store, as PayPal is a reputed name for payments. However, it should be noted that currently, this plugin supports stores from US, UK, Australia, and Canada. You need to have a PayPal Pro merchant account (USA, UK and Canada), or Payflow account (Australia).
Your customers don't need to have a PayPal account to make a payment through PayPal Pro. There is a monthly fee that you may have to pay to use this service. In addition, your site needs to have an SSL certificate. Unfortunately, this plugin does not support the use WooCommerce Subscriptions.
Stripe payment gateway is rapidly increasing in popularity among WooCommerce store owners. It is supported globally in around 25 countries, you can see the full list here. Stripe helps you accept payment via all major credit cards, and Apple Pay and even bitcoin. The extension is absolutely free and you don't have to pay any monthly fees or set up fee. Stripe charges an amount for each of the transactions that you make.
It supports WooCommerce subscriptions that need recurring payments. In addition, it allows saving credit card information for your returning customers. This is one of the best payment gateway options when you start out with your WooCommerce business.
This extension is the one-stop shop for payments. By supporting 4+ different payment methods (Stripe, PayPal, Apple Pay, and Google Pay), you do not have to worry about installing different payment extensions to your store. The best part? This extension is entirely FREE for you to use, as PeachPay receives a small % of the transaction value directly from the payment provider. There is no increase to the regular fees you pay to Stripe, PayPal, Apple Pay, or Google Pay when you use PeachPay.
You can totally rely on this WooCommerce extension to set up a secure payment gateway for your WooCommerce store. Your customers will stay on your site throughout the entire checkout flow. You can customize your checkout flow according to your customers' interests, and this contributes a lot to the customer experience on your store. However, you have to ensure an SSL certificate for your site and need a merchant account.
With this plugin, you can process refunds and capture previously authorized transactions easily from the WooCommerce admin side. It is a good option if you have regular international transactions in your store. Setting up the plugin is quite easy. Once you purchase and activate the plugin, you have to enter the API key. You can purchase a subscription option of this plugin from the WooCommerce site. The cost of the plugin is $79.
If you are looking for an alternative for this plugin, you can checkout ELEX WooCommerce Authorize.net Plugin.
This extension completely redefines your checkout flow by offering three different payment strategies for your store. These are checkout (pay now), invoice (pay within 14 days of the purchase), and part payment (where customers can pay in multiple installments).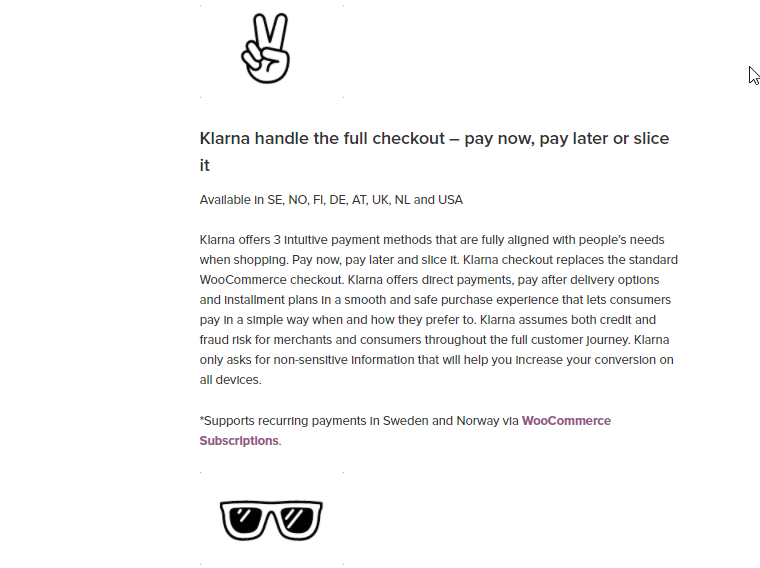 Basically, this extension gives the option to your customers to choose a payment plan they prefer. However, please note this option is available only on US, UK, Germany, Sweden, Denmark, Finland, Norway, Austria and The Netherlands. You can download and install the plugin for free from the WooCommerce site.
The Stripe Payment Gateway Plugin for WooCommerce is a great option to enable Stripe payment on your store. In addition to popular credit cards, the plugin supports Apple Pay, Alipay and Bitcoin too. It enables your customers to checkout directly from your site.
Some of the unique features of this plugin include the option to capture payments later, restrict payments based on cards, etc. You may also find an option to display product details on your Stripe dashboard. The plugin supports WooCommerce subscriptions, WPML, and has a basic currency conversion feature.
It would be really interesting to your customers if they are able to checkout from your store using their Amazon account information. That is exactly what this extension does for you. Your customers get to pay by the same payment options that they use for their Amazon accounts. It is an obvious fact that Amazon has a huge customer base. It is only natural for you to tap into some of these customers by offering something that is quite convenient for them. Customers stay on your site throughout the entire checkout process.
Moreover, the extension provides fraud protection for store owners. You can download this extension from the WooCommerce site for free. There are no monthly charges to keep Amazon Pay as the payment option on your store. However, you have to pay a fee based on the volume of transactions on your site.
You can also check out ELEX WooCommerce Amazon Pay plugin, which is a good alternative for this one.
Conclusion
Payment gateways are an important factor in your store's customer experience. A seamless checkout surely is going to help a lot to make a good impression on your customers. In the same way, a flawed or delayed checkout process can totally annoy your customers. Therefore, ensuring a smooth checkout is a high priority for WooCommerce store owners. This article should help you analyze your business perspective, and choose appropriate options to set up payment options on your store. Please leave us your thoughts and suggestions in the comment section.
Further reading