Last updated - July 8, 2021
The eCommerce market is growing rapidly in India. During the early days of eCommerce, Cash on Delivery used to be the preferred mode of payment for Indian customers. However, the trend is changing and a lot of customers prefer to make online payments through credit cards or debit cards. So, if you are running an eCommerce store based in India, you can integrate some of the popular payment gateways with it. In this article, we will discuss some of the best WooCommerce Payment Gateways for India to accept international payments.
Stripe is a great option that has recently become available to Indian merchants. It is a hassle-free option to accept international payments on your store based in India. Stripe supports over 135 currencies across the world, and that means your customers will be able to pay using their preferred payment methods. Moreover, it offers a flexible developer platform to integrate features and manage the maintenance aspects without hassles. With easy integration and assured security, Stripe could be one of the easiest choices for payment gateways if you are running an eCommerce business in India. It could contribute to enhanced customer experience and consequently a better conversion rate on your store.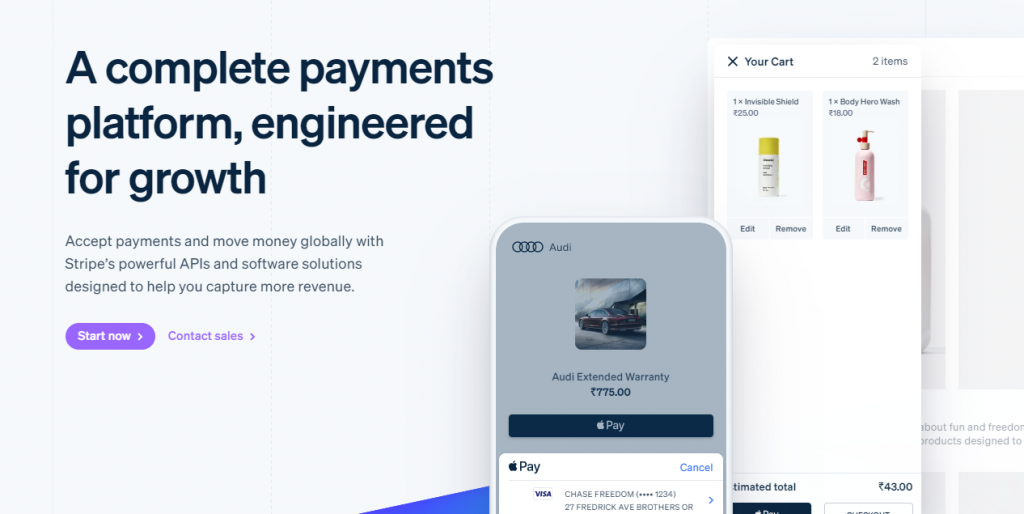 Features
Provide a great checkout experience for your WooCommerce customers with compatibility across browsers and devices.
Flexibility to accept payment through different preferred methods of the global customer including cards, wallets and bank transfers.
Payments can be accepted from mobile apps or mobile websites.
Support for subscriptions and omni-channel business models.
Smart authentication and authorization options for revenue optimization.
Advanced features to fight fraud and disputes.
Convenient options to manage payouts.
Flexible for third-party integrations.
Reliable support.
You can integrate Stripe to your WooCommerce store using the free WooCommerce Stripe plugin. The cost of using Stripe starts from 2% for cards issued in India and 3% for cards issued outside India.
CCAvenue helps you offer a personalized checkout experience on your site with support for a range of domestic and international languages. With this popular payment gateway option, you will be able to get reliable transactions all the time. Based on the bank's performance, it will switch to the best route and ensure the success of your transaction. It also ensures that the customers get an optimized checkout experience with a PCI compliant environment. Moreover, you will be able to customize the checkout page according to your branding requirements. Furthermore, CCAvenue offers a customizable storefront for customers who don't already have a website set up.
Features
Accept different kinds of payments on your store including cards, wallets, netbanking, etc.
Process around 27 different foreign currencies.
Great customer experience with iFrame integration and PCI compliant environment.
Optimized for all devices.
Options to set up promotions and discount offers.
Collect payments through social media platforms.
Automatic and accurate invoice system.
Detailed and insightful analytics options.
Secure option to collect payments through phone.
Live monitoring and event notification.
Fraud identification and prevention.
Superior support.
CCAvenue offers an integration API for WordPress. You can use the free CCAvenue payment gateway for WooCommerce plugin to add it to your online store.
PayPal is a popular payment gateway that you can integrate to your WooCommerce store. It offers a simple setup process and world-class security for your business transactions. Thanks to its global popularity, you will be able to broaden your market as well as ensure better conversion rate on your store. You will be able to accept payments directly through PayPal or through cards by integrating it to your website. Moreover, you will be able to send payments globally to over 100 currencies using this option.
Features
Accept payments on your site through PayPal and major cards.
Better transaction completion rate on your store.
Customize the checkout process according to the preferences of your customer base.
Send payments to over 100 different global currencies.
Easy integration with APIs and SDKs.
Machine learning and advanced technologies to identify and prevent fraud.
Expert customer support to help you balance your business requirements.
There is no monthly or setup fees when you sign up for a PayPal business account. The rate for local payments is fixed at 2.5% + ₹3, and for international payments, it will be from 3.4% + a fixed currency fee.
Razorpay is a solid payment gateway option to integrate with your WooCommerce store, if your business is based in India. You can accept payments from your customers in a secure and personalized environment. With Razorpay, you will be able to accept payments through cards, wallets, APIs or UPI. Moreover, you can customize the checkout experience based on your customers' interests and ensure better conversion prospects. Also, you will find lesser transaction failures and cart abandonment thanks to the optimized checkout experience it offers. Furthermore, international transactions will be a breeze, as Razorpay allows payments through 92 currencies and with popular international cards.
Features
Optimized payment gateway integration supporting domestic and international cards, and wallets.
Accept international payments smoothly with support for major currencies and real time conversions.
Customize the checkout experience.
Reduction of transaction failures and abandoned carts.
Offer promotional discounts and cashback to promote your business.
Manage payouts more efficiently.
There are no annual maintenance or setup fees to use Razorpay. The transaction fees start from 2% + applicable GST.
This is another comprehensive payment gateway option that you can use if you have an India-based business. You will be able to accept domestic and international payments with several different options preferred by global customers. It will also ensure that payouts are made in quick time within two days. And it supports over 30 different foreign currencies. Cashfree will be a solid payment gateway option to choose, if you are looking for advanced security and superior customer experience.
Features
Accepts domestic and international payments with different options including debit and credit cards, netbanking, wallets, PayPal, etc.
Accept payments quickly and get fast settlements.
Customize the checkout page according to your requirements.
Allow customers to save their card details securely for faster transactions next time.
Supports recurring payments.
Process refunds instantly.
Smooth integration options.
You will find a specific integration of Cashfree with WooCommerce. Charges for the payment gateway starts from 1.95% per transaction.
Instamojo is another popular payment gateway that you can integrate with your WooCommerce store. It offers a wide coverage in terms of payment options and simple API integrations. You can also be assured of the best security features and will be able to provide an optimized experience to your customers. Instamojo offers several payment modes so that your entire customer base will be able to pay through their preferred option. Furthermore, it offers detailed analytics insights to help you make better business decisions.
Features
Powerful payment gateway that you can integrate on your WooCommerce store.
More than 100 different payment modes.
Advanced PCI Compliance.
Smooth API integrations.
Seamless checkout for customers and fast payouts.
Detailed analytics insights.
You can use Instamojo for free and for other payment modes, the fees start from 2% per transaction + ₹3.
Hopefully, these WooCommerce Payment Gateways for India will help you set up an optimized checkout experience for your customers. Leave us a comment to share your thoughts.
Further reading