Last updated - November 19, 2021
Product reviews play a crucial role in eCommerce success. The reviews displayed on your store will have a huge influence on the purchase decisions of your customers. They provide social proof to your products and brand, and has the persuasive power to encourage customers to buy. Now, you have to create a strategy to collect more reviews on your store as well. WooCommerce allows product reviews by default, but you can extend the features with plugins as well. In this article, we will present a list of some of the best WooCommerce reviews plugins that you can install on your store.
This plugin is a comprehensive option to collect and manage customer reviews on your WooCommerce store. It is a great option to make product reviews more collaborative and engaging. The plugin helps to mak your review section more informative, and customers will be able to ask questions about your products. Moreover, it offers an automated email tool to collect reviews consistently from your customer base. Furthermore, it provides you with options to reward those customers who leave a review on your store.
Features
Display product reviews in a professional and informative manner on your WooCommerce store.
Collect reviews consistently with the help of a persistent email request strategy.
Support for photo reviews.
Reward customers with coupons when they leave reviews.
Index star ratings on Google for better visibility.
The plugin costs $199, which include subscription to TargetBay's Lite Plan that costs around $600.
You can enhance the default product reviews capabilities of your WooCommerce store with the help of this plugin. It gives more review capabilities, discussion options and filters to make your review management process more efficient and smooth. Interestingly, you can add review qualifiers, which will make the reviews more informative. In addition, you can let customers include photos and videos depicting their experience with the product. Also, you can allow customers to make updates to their reviews.
Features
Make your WooCommerce review system more professional with multimedia and review qualifiers.
Enable standalone contributions along with review comments.
Provide social login options.
Option to upvote and downvote reviews, and add badges and flags.
Extensive filtering options.
Structured data markup for rich snippets to provide better visibility in search engine results.
You can purchase the single site subscription of this plugin for $79.
This is a good plugin to help you optimize your WooCommerce review section. You will be able to make your review section more easy to view and navigate. Moreover, it gives options to filter and highlight important reviews. Interestingly, the plugin offers an option to create conversation among users through reviews. Overall, the plugin will contribute to your efforts in improving conversion rate on your store.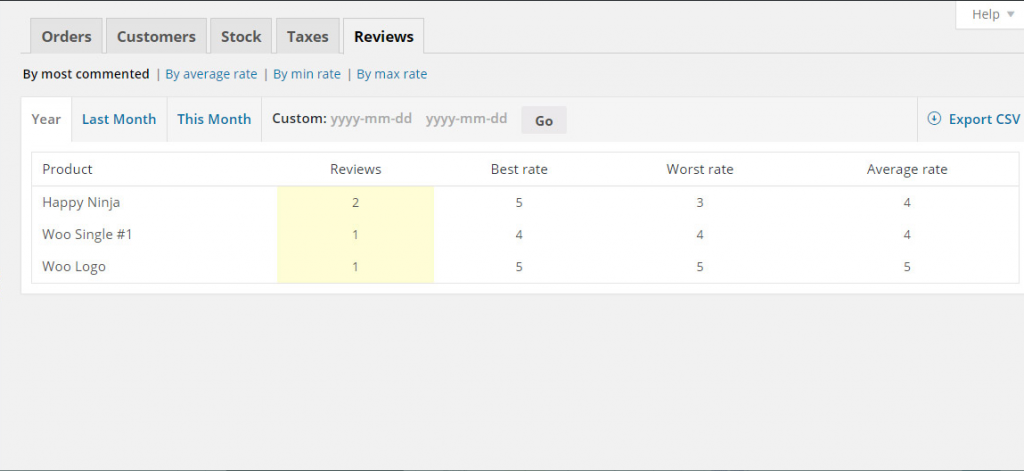 Features
Advanced options to enhance your WooCommerce review features.
File attachment option with reviews.
Several options to organize reviews and show a graphical representation of trends.
Control who can post a review and manually approve new reviews.
Highlight prominent reviews.
Provide customers an option to edit their reviews.
Ensure product ratings are visible on Google searches.
A single site subscription of the plugin will cost you $79.99.
The Product Reviews for WooCommerce plugin is a better method to handle your WooCommerce store's reviews and provides you with a review system that is inspired by the most popular online sales platforms. You can now utilise social proof to boost the legitimacy of your products and services and earn your customers' trust.
Features
Integration with Twilio
Customers can upload product videos
Filter reviews based on product attributes
Add a custom field with the ACF plugin
WPML Compatibility
Disable reviews for specific user roles on the website
Send review reminders to the customers
Import and export the review as CSV file formats.
A one-site plan of the plugin will cost you $99.
This plugin helps you with a simple option to accept and display reviews on your WooCommerce store. It makes the review section as simple as Facebook comments, and help you improve your store's social proof. Moreover, you will get several customization features to make your review section more attractive. Furthermore, email notifications will ensure that you won't miss out on the review scope.
Features
Collect reviews, ratings and comments for your WooCommerce products effectively.
Let customers add photos in their reviews.
Moderate comments according to your store strategy.
Email notifications for new reviews and comments to provide timely feedback.
Elaborate customization options to control the look and feel of the review section.
Prompt customer support.
A single site subscription of the plugin costs $29.
This plugin will help you encourage your customers to write reviews on your site. You will be able to create discount coupons automatically for customers who submit reviews. In addition, you can email these coupons at the same time a review is submitted. Moreover, you will have the control to determine how you execute the review for discount strategy.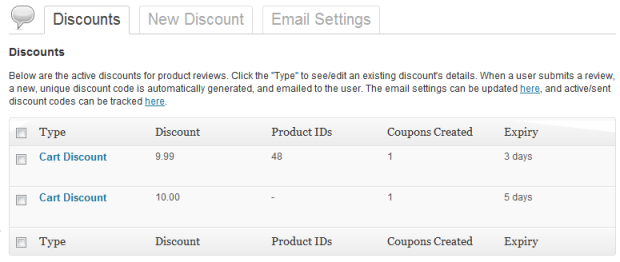 Features
Automatically create and email discount coupons to customers who leave a review on your store.
Option to set different discount types such as percentage, cart or fixed amount per product.
Control when the discount coupon is generated – after submitting the review, or after it is approved.
Define terms for the applicability and validity of the plugins.
Limit the review for discount option only to specific products or categories.
The single site subscription of the plugin costs $29.
This plugin offers great customization options for your WooCommerce product review system. You will be able to experiment with different design and layout styles. Apart from that, you can employ custom fields in your review forms to make them more elaborate and informative. Overall, the plugin will extend the default review features of WooCommerce more effective result oriented.
Features
Advanced customization features to make your review system more attractive and functional.
Try out multiple styles, layouts, colors, element sizes, etc.
Add custom fields to your review forms to make reviews more elaborate and helpful to customers.
Seamless WooCommerce integration.
Shortcode support.
Email notifications.
Option to approve reviews before publishing.
You can get a single site license of this plugin at $40.
You can integrate Google Merchant Center's customer surveys and reviews badge on your store with the help of this plugin. You will be able to collect reviews more readily from customers, thanks to this plugin. Right after customer checks out, the plugin will show a popup to encourage them to leave their feedback. This will help in displaying your store's rating on Google search result pages.  Moreover, you will be able to display Google review vanity badge anywhere on your site with shortcodes.
Features
Collect reviews and display seller rating on Google search results pages.
Easy integration with no coding involved.
Display Google Reviews badge anywhere on your site.
Show survey request popup after checkout.
Option to send GTIN to Google with every purchase.
The single site subscription of the plugin costs $79.
If you are looking for a tool to display product ratings in Google Shopping Ads, this plugin will be helpful. It will help to generate a unique url for each review. Moreover, you will have the control in choosing the reviews of specific products to display. Google shopping ads that display store rating tend to have better conversion rate than those who don't. You can take advantage of this fact using this plugin.
Features
Generate a product review feed to display product ratings on your shopping ads.
Includes GTIN to match the right products with the reviews.
Control the display of product reviews based on specific products.
Intuitive user interface to help you configure the plugin easily.
A single site subscription of this plugin is priced at $49.
You will be able to display authentic reviews of your products in an organized manner using this plugin. The plugin could help you make your review strategy effective to drive in conversions to your store. In addition, the plugin assists you in collecting reviews from verified customers on your store. Moreover, you can provide discount coupons to those customers who review your products. The plugin surely will contribute to better social proof to your store and thereby encourage repeat purchases.
Features
Encourage customers to write a review on your store.
Customers will be able to review multiple products simultaneously.
Option to create and send discount codes to customers.
Schema markup for improve Google ranking.
Verify reviews for authenticity.
The Professional version of the plugin has a price tag of $49.99 + taxes for an annual subscription.
This plugin helps you integrate your site with Yotpo marketing cloud that helps you display user reviews and photos more effectively. The free plan of Yotpo is a great tool for small stores with a limited number of products. You can display product reviews and ratings on different pages on your store. In addition, it will help you collect reviews more efficiently from customers. Moreover, it provides you with option to respond to reviews privately and publicly.
Features
Collect reviews, images and answers related to your products from your customers for social proof.
Display store ratings on Google searches and ads.
Easily share user reviews on social media channels.
Actionable analytics insights to improve your marketing strategies.
You can use the free plan for up to 50 monthly orders.
Hopefully, these WooCommerce reviews plugins will help you enhance the review strategy on your WooCommerce store. Leave us a comment if you are using one of these plugins.
Further reading