Last updated - February 10, 2022
Search Engine Optimization is a crucial factor for any online business. It ensures your store and products get the necessary visibility among the target audience. WooCommerce itself is an SEO-friendly platform, though there are several options that will help enhance the SEO aspects of a store. In this article, we will discuss some of the best WooCommerce SEO Plugins that you can use to ensure better search engine rankings for your store.
This plugin will help enhance your WooCommerce store's search engine visibility with additional tools and services. It will make sure that your products will stand out with rich product data. Any additional details of your products will also be effectively presented so that customers and search engines will find it easy to get information about your products. Moreover, the plugin offers an option to preview how products look on search engine result pages. It even optimizes your product information to highlight specific aspects of your products on social media platforms like Pinterest.
Features
Additional SEO features to help your products stand out in search engine results.
Custom SEO insights for individual product pages.
Optimized breadcrumb navigation and XTML sitemap.
SEO training for eCommerce and dependable support.
You can get the plugin for $79 per year.
This plugin will help you grow your eCommerce revenue by ensuring better visibility for your products. The plugin helps with the automatic display of your products in Google Shopping results. It also improves your site's navigation with a widget to show product recommendations. Another interesting feature is that it ensures better internal linking between your products and content. Overall, the plugin improves your site navigation and will be a great support for your content marketing initiatives.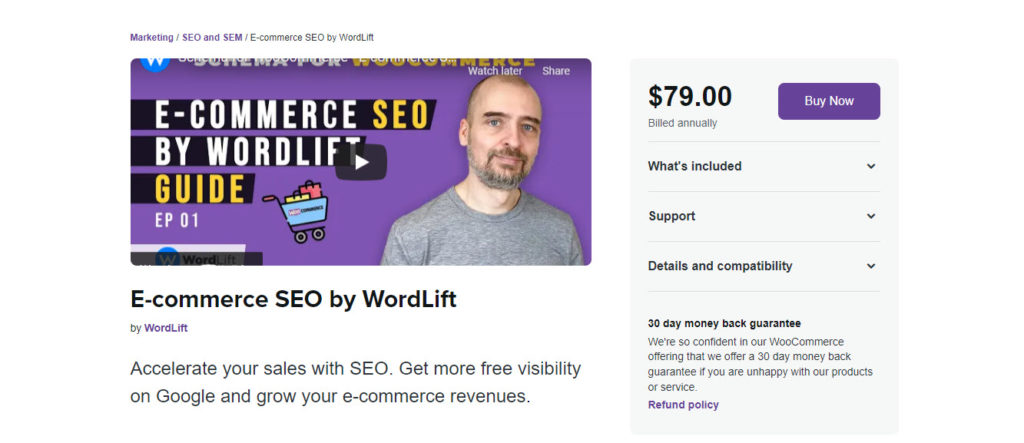 Features
Helps improve visibility of your WooCommerce products.
Automatically list products to Google Shopping.
Product context card to provide a quick view option.
Publish product images in different formats according to Google guidelines.
The cost of the plugin is $79.
All in One SEO is one of the most popular SEO plugins, and will help to make sure that your product and category pages are optimized for search engines. With the help of the 'Smart Setup Wizard', you can configure the plugin within minutes without seeking help from SEO experts. The plugin offers in-depth SEO analysis to get your the best possible outcomes. Apart from product title and met descriptions, the plugin also helps in optimizing product images with smart tags.
Features
Helps optimize product pages and category pages of WooCommerce.
Reach more prospective customers through organic search results pages.
Dynamic content tags to optimize product title and descriptions.
Optimize product images with alt attributes and smart tags.
The basic version of the plugin costs $99 normally, check their website for any discounts.
This is a simple and fast option to ensure your site's SEO efforts. It is especially easy to get started with this plugin, and if you are using another SEO plugin, there are easy migration options. You can edit product title and meta description using this plugin, and also use dynamic variables if required. The plugin even have an option to globally edit title and meta description and keep it as a fallback option. Apart from the content aspects, the plugin helps you optimize product images as well as social sharing options.
Features
Several features to gain better visibility for your products on Google.
Helps optimize images and videos on your store.
OpenGraph meta data for better social sharing options.
XML sitemap and product schema.
You can get the Pro license for $39.
Jetpack offers several performance enhancing features that will help with your site SEO. It helps to generate an optimized CSS structure for all your pages, and also defer non essential JavaScript. In addition, there are options like lazy loading for efficient site performance.
Features
Helps boost your site performance and SEO.
Option to customize content titles.
Front page meta description customization.
Preview posts and pages to understand how they look on search engine pages and social media.
Check website for pricing details.
This plugin helps you apply SEO product filters on your WooCommerce store. You will be able to easily customize urls and meta data in alignment with your product data. This will help increase organic traffic to your website. The plugin helps a lot in improving user experience, and will be a great help in creating quality landing pages on your store.
Features
Ajax filter with automated SEO features.
Restrict showing pages with no content.
Automatic sitemap management
Flexible widgets.
The price of the plugin is $79.
Rank Math plugin will help you follow all the best practices for efficient search engine optimization. It helps you run a detailed SEO analysis and understand if there are any crucial factors that could impact your search rankings. The plugin is easy to configure, and has several options to set it up based on your store's unique requirements. Rank Math is fully compatible with WooCommerce.
Features
Easily optimize your website for search engines.
Support for rich snippets.
One-click import from other SEO plugins.
Dependable support.
You can get the Pro version at a cost of $59 per year.
This plugin helps you add an additional product information on your store to denote the condition of the product, whether it is new, damaged, refurbished, etc. There are over 20 predefined conditions to choose from, and also an option to add your own condition. This will help customers find the right product they are looking for, and also helps search engines to direct users correctly to your store based on searches.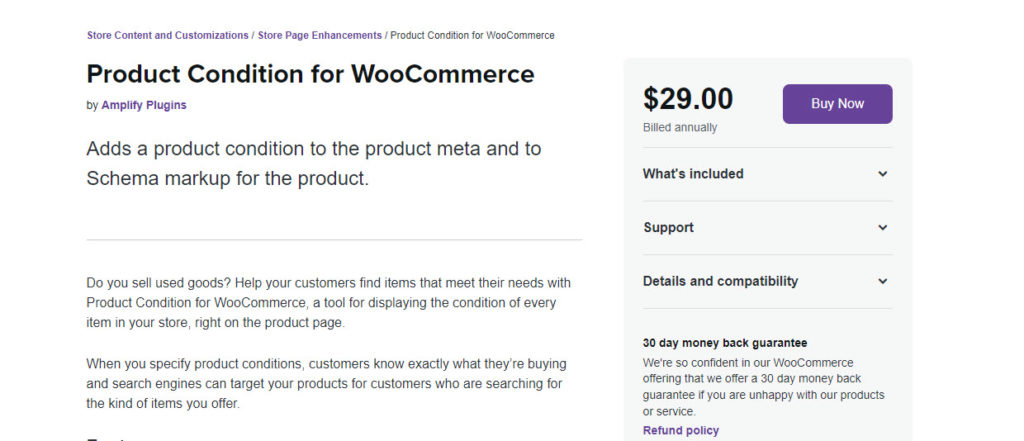 Features
Helps you add product condition to WooCommerce products.
Predefined conditions or option to add custom ones.
Helps with user experience.
Products will be visible to relevant searches.
The cost of this plugin is $29.
You will be able to monitor backlinks on your store with the help of this plugin. This will help you to detect bad links in your store before Google so that you can avoid any penalties. It also helps to keep an eye out on your competitor's backlinks so that you can try for the same ones. The plugin could be a real help in your link building efforts.
Features
Helps monitor your site's backlinks.
Better user experience and search engine visibility.
Support for link building efforts.
Monitor competitor's backlinks.
The Pro version costs $19.99 per month.
This free plugin helps you track external and internal links on your site to avoid broken links. Broken links could be a factor that will impact your search engine rankings, and thereby reducing your site's reach. The plugin detects non functional links, images that are not loading, and informs you through your site's dashboard or via email.
Features
Keep track of all your links.
Checks links, missing images, redirects, etc.
Notifies through email or dashboard.
Flexible for customization.
We hope this list of Best WooCommerce SEO Plugins will help your store with better user experience and search engine rankings. If you have a query or concern, do not hesitate to leave us a comment below:
Further reading