Last updated - February 24, 2020
When you update your product catalog by removing an outdated product, a certain trouble could be looming. The URL of that product page is already shared among your potential customers, and when they try to access it, they'll get a 404 error. This can negatively affect two aspects of your WooCommerce store – customer experience and SEO. So whenever you decide to discontinue using specific URLs, you should also plan to redirect them. This article throws light into some aspects of URL redirect and ways to manage it efficiently.
When do you need a URL redirect?
There are times when you want to take certain products off your catalog. Now, imagine one of these products had been quite popular in the past and brought in considerable revenue to your store. The product had developed considerable fanfare and the product page had been actively shared on social media accounts and marketing circles. The product is no more in production or a different product has replaced it. Whatever be the reason, you have decided to delete the product page.
It isn't easy to just delete the product page on your store admin and forget all about it. During the popular times, this product might've been shared at many places on the internet. All those links will lead to the URL that you just deleted. These are potential customers who were actually looking forward to finding this product at the other end of the link. Now, what can you do in such a situation? You can ignore it and do nothing; the user will see a "404 Not Found" error message. Hopefully, the user will go to your homepage and check out some other products. Maybe, you can even create a nice looking 404 page which has links to your home page or some other page on your site. But, is it good enough?
Broken links and customer experience
The customers landing on a "404 Not Found" error page is surely not going to feel good about your store. The immediate perception would be that your store is not reliable, or that you are not giving enough attention towards details. This is clearly not good for your store and there is every chance that your customer might end up on a competitor's site.
How a broken URL affects your store's SEO?
Along with customers, search engines will also start to judge if your URLs are leading to broken links. If your inactive URL has a lot of external links pointing to it, all that traffic that could've contributed to a better page rank is wasted. This will affect the ranking of your entire site, and may eventually affect business. Thus, you can see a URL redirect would be the best solution that would get you out of this mess.
You can redirect the users looking for the old product's URL to the URL of the product that is replacing it. Or even a similar product that can be a substitute for the old one. This way, any potential customer who clicks a link to the old product page URL will land on the new page without considerable delay.
What are the types of URL redirect?
There are a few different types of redirects that are commonly used.
301 – This is one of the safest and simplest redirect options available currently. Basically, this is a type of redirect that doesn't cause many issues in terms of page ranking. A 301 redirect is used when you want the redirect to be permanent – that means there is no chance the old page is coming back.
302 – A 302 redirect indicates that the page is "Moved Temporarily" or "Found" in HTTP terms. This is actually not used prominently these days and is replaced by 307.
307 – You can use this type of redirect when you want to move the content temporarily. This is useful while your WooCommerce store is undergoing maintenance. However, the challenge in using this type of redirect is that the search engines have to identify that your server is compatible to the latest HTTP version.
Overall, if a redirect is unavoidable, the best option would be to go for 301. Though SEO experts vary in opinion, there is a general understanding that a 301 redirect would not lead to a real negative outcome in terms of page ranking.
Which scenarios demand a URL redirect?
There are cases when you create landing pages for promotional events or offers. Once the event is over, you want to redirect the traffic to that page on to your homepage. When you combine multiple pages for variations into a single main page, you may want to redirect each variation page to the main product page. There may also be situations when you completely change the URL structure of your store. Or, you may have switched to a new CMS and a lot of your links are returning 404 errors.
Some best practices while doing URL redirect
A 301 redirect may save you from the risk of losing out on customer experience and SEO ranking. However, you may have to use it strategically to make full use of it. If the page you are redirecting your customers to is not at all relevant to the inactive URL, the risk might remain. The new page that you are redirecting your customers to should have similar and somewhat better information than the previous page to ensure better customer satisfaction.
If you have switched to a new CMS and lot of links need redirecting, then maybe you can bulk redirect them all to your homepage. Another way to do this would be to download all the backlinks to your site, and then prioritize and redirect them according to page ranking. In all cases, care should be taken to not move the site before setting up the 301 redirect.
WordPress plugins that help you redirect
If you are running a WoooCommerce store and you want to redirect some pages on your site, there are ample options available in the WordPress plugin directory. Some basic redirects will be done by WordPress automatically. For example, if you have changed the title and permalink of a product, WordPress would automatically redirect. Here are some popular WordPress plugins that would help you with redirects.
This WordPress plugin would help you manage 301 redirections efficiently on your WooCommerce store. It will also help you track the "404 Not Found" errors, and clean up some generic issues that might be nagging your webmaster.
You can use this plugin if you are moving pages from an old website to a new domain, or when changing your WordPress installation directory. With over 800,000 active installs and over 220 five star reviews, this plugin has an unbeatable stature in the WordPress theme directory. Some of the standout features of this plugin include:
Keeping an error log of 404 errors, as this would help you keep a track of all such errors and address them in a timely manner.
With this plugin, you can redirect a page to another page or website with customized instructions.
The plugin helps you redirect existing URLs also along with non-existing ones. In addition, it maintains a log of all redirects for later reference.
You will also get the statistics of all occurrences of redirect, including the source where the link was found.
Installation and Setting up
The plugin install and configuration is quite simple. Once you install and activate the plugin, you can see the settings page. You can access the plugin settings from the WordPress admin panel (Tools > Redirection).
On the Options tab, you can set a timeline for generating redirect and 404 logs. Also, you can specify how to automatically generate a URL, in case you are not providing the URL to redirect. On this page, you can also delete all the redirections created using this plugin.
You can create a new redirect option on the 'Redirects' tab. Just need to specify the Source URL and Target URL along with the group where it will be added.
That's it! Now the customer will land on the target URL, whenever he/she clicks the source URL.
This is another plugin that you can get hold of from the WordPress plugin directory for free. With this plugin, you can easily redirect URLs to another page on your store. It's quite useful when you have completely changed the URL structure of your store. Basically, you can redirect your existing traffic to another location without compromising on the page ranking.
The plugin is really easy to set up and use. Once you install and activate the plugin, you can find the plugin settings on the WordPress admin panel (Settings > Simple 301 Redirects). You can simply enter your old, inactive URL in the Request field and the new URL in the Destination field. The redirect will happen next time someone enters the old URL in the browser window or click a link from another page.
Simple 301 redirects have over 200,000 active installs in the WordPress plugin directory and have over 85 five star reviews.
This is a simple plugin that would redirect all "404 Not Found" error pages to your homepage or another page. You can simply specify the page on the plugin settings page and all pages on your site that are returning 404 errors will be redirected to that page.
Also, this plugin is quite popular with over 100,000 active installs and close to 50 five star ratings.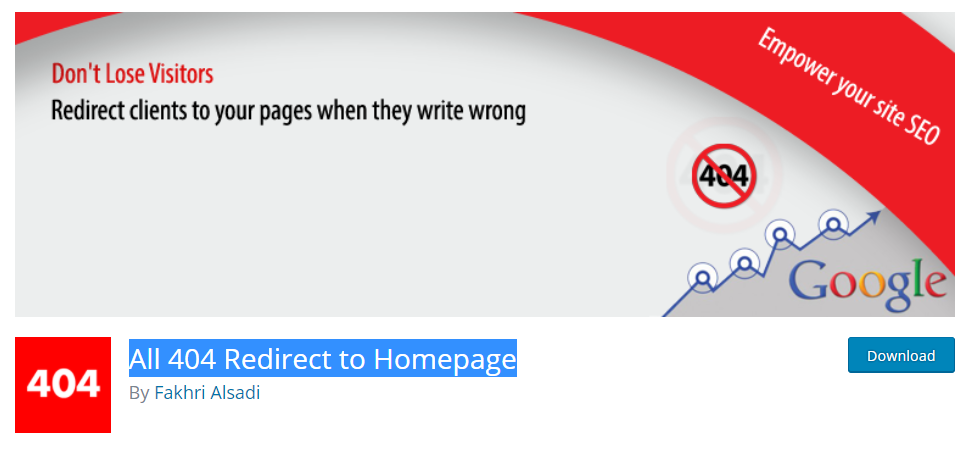 Conclusion
When you run a WooCommerce store, you really can't avoid dealing with broken links. All you can do is to avoid it from causing major harm in your search engine page rankings and customer experience. 301 redirects would save you from major troubles, and you can set it up with the above-mentioned plugins. If you have any queries or insights, please leave a comment in the section below.