Last updated - August 20, 2021
When you update your product catalog by removing an outdated product, a certain trouble could be looming. The URL of that product page is already shared among your potential customers, and when they try to access it, they'll get a 404 error. This can negatively affect two aspects of your WooCommerce store – customer experience and SEO. So whenever you decide to discontinue using specific URLs, you should also plan to redirect them. In this article, we will share some of the best WooCommerce URL redirect plugins.
When do you need a URL redirect?
There are times when you want to take certain products off your catalog. Now, imagine one of these products had been quite popular in the past and brought in considerable revenue to your store. The product had developed considerable fanfare and the product page had been actively shared on social media accounts and marketing circles. The product is no longer in production or a different product has replaced it. Whatever be the reason, you have decided to delete the product page. Here are some of the scenarios where you need a redirect in your eCommerce store.
When a product is discontinued and you want to redirect customers to another product page.

If you made a complete rearrangement of your url structure, you may have to set up redirects.

If you have created or removed a landing page, you may want to use this approach.
Best WooCommerce URL Redirect Plugins
If you are running a WooCommerce store, you may want to apply different redirects according to your store strategy. There are some other scenarios where you can redirect customers to a different landing page after a purchase. We will discuss some of the best WooCommerce url redirect plugins, as well as some other options that could be useful for a store owner.
This plugin will help you find old, duplicate pages, posts, etc., and delete them. After deleting a post or page, the plugin will redirect them permanently to the active url. With the help of this plugin, you will be able to avoid SEO issues caused by duplicate content.
Features
Helps you identify duplicate pages, post and custom post types in your site.

Delete irrelevant and duplicate content.

Automatically redirect the old urls to the main, active one.

Manage redirections efficiently.
Yoast WooCommerce SEO plugin offers a hassle-free option to manage redirects on your store. It will help you identify and delete old or irrelevant content from your site. In addition, you will be able to set up automatic redirects to avoid 404 errors. With the help of the plugin, you can create different types of redirects, and also import and export those through CSV files.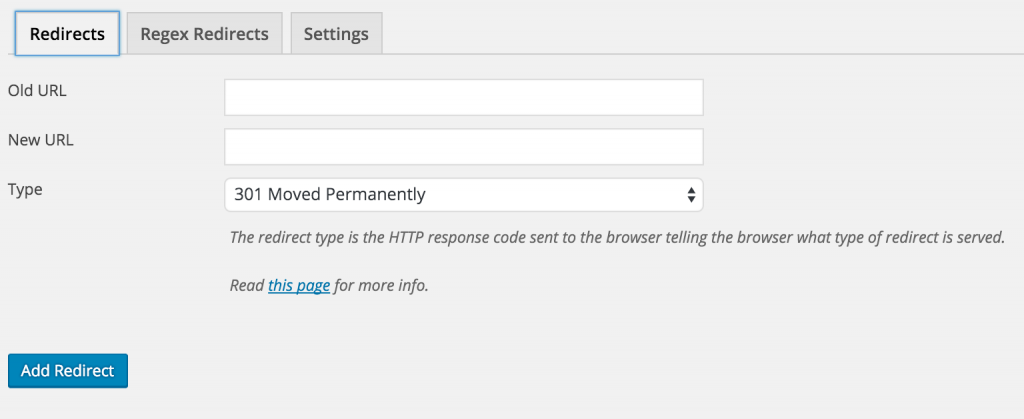 Features
Set up different types of redirects such as permanent, temporary, etc.

Option to import and export redirects.

Support for REGEX (Regular Expressions) redirects.

Flexibility to scale.
This WordPress plugin would help you manage 301 redirects efficiently on your WooCommerce store. It will also help you track the "404 Not Found" errors, and clean up some generic issues that might be nagging your webmaster. You can use this plugin if you are moving pages from an old website to a new domain, or when changing your WordPress installation directory. With over 2 million active installs and over 400 five star reviews, this plugin has an unbeatable stature in the WordPress theme directory. 
Features
Keeping an error log of 404 errors, as this would help you keep a track of all such errors and address them in a timely manner.

With this plugin, you can redirect a page to another page or website with customized instructions.

The plugin helps you redirect existing URLs also along with non-existing ones. In addition, it maintains a log of all redirects for later reference.

You will also get the statistics of all occurrences of redirect, including the source where the link was found.
This is another plugin that you can get hold of from the WordPress plugin directory for free. With this plugin, you can easily redirect URLs to another page on your store. It's quite useful when you have completely changed the URL structure of your store. Basically, you can redirect your existing traffic to another location without compromising on the page ranking.
The plugin is really easy to set up and use. Once you install and activate the plugin, you can find the plugin settings on the WordPress admin panel. You can simply enter your old, inactive URL in the Request field and the new URL in the Destination field. The redirect will happen next time someone enters the old URL in the browser window or clicks a link from another page.
Features
Easily redirect site requests to a specific page on your site or to another site.

Helpful when your site's url structure is completely changed.

Easy to configure.
This is a simple plugin that would redirect all "404 Not Found" error pages to your homepage or another page. You can simply specify the page on the plugin settings page and all pages on your site that are returning 404 errors will be redirected to that page. You can forget about 404 errors on your site after installing the plugin.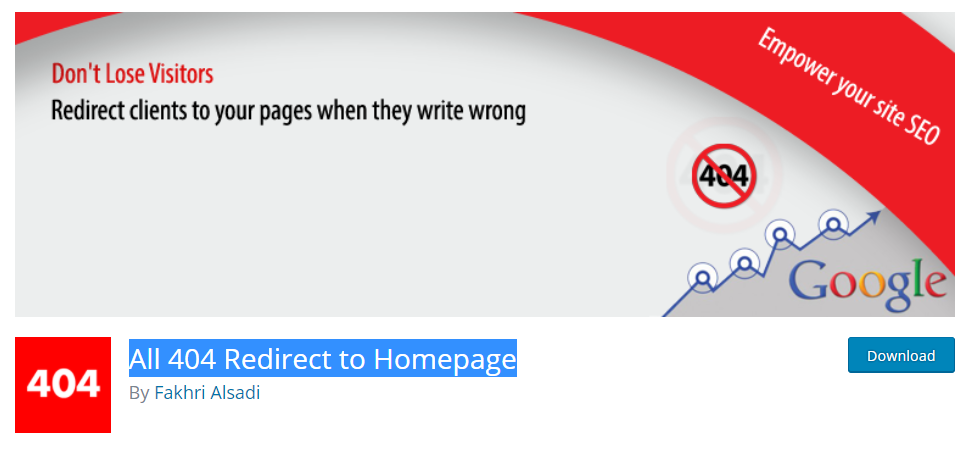 Features
Fix 404 errors in your site.

Redirect links to homepage or any other page.

Improve SEO rankings.

Straightforward configuration process.
This is another plugin that will help you deal with nagging 404 errors on your site. You can easily link urls with errors to another page on your site. The plugin is flexible to developer-level customizations and offers different types of redirects such as 301, 302, 307, etc.
Features
Fix 404 errors in your site to improve SEO.

Easily redirect to a custom url or an existing page.

Easy to customize.

Regular updates.
This plugin could be really handy if you have set up an SSL certificate after publishing content. In such a scenario, you would want to redirect all your http links to https, and plugin will help you manage those effortlessly. Moreover, the plugin lets you set up redirects for your entire website, or only for specific pages.
Features
Allows you to automatically redirect all your old http links to their https versions.

Selectively redirect pages as per the requirements of your site.

Offers an option to force load static pages.
If you are using Contact Form 7 plugin on your site, you can easily redirect users after they submit the form. You can specify a url and even set it up to open in a new tab. Moreover, the plugin allows running JavaScript after form submission, and also helps you in minimizing spam.
Features
Redirect customers after they submit a form through Contact Form 7.

Specify the url, and configure it to open in a new tab.

Reduce spam.

Run JavaScript after submission of the form.

Save the form to a database.
Safe Redirect Manager plugin will ensure that your site redirects are hassle free. Instead of storing redirects in the options table or custom tables, it will help you save them as custom post types. It is lightweight, and you will be able to manage additional customizations easily.
Features
Safe and efficient option to manage redirects.

Redirects are stored as custom post types.

Makes data portable.
WooCommerce Redirect Plugins
In addition to the best WooCommerce url redirect plugins, you can use the below plugins to improve the customer experience and checkout flow in your store.
This plugin will help you redirect customers to specific pages after login or logout, or after they complete the registration process. You will be able to redirect customers to the default My Account page, home page, or to the previous page, or to a completely different url. The plugin also allows you to configure redirects based on user roles.
Features
Easily redirect customers to a specific page after registration, login and logout.
Helps to set up redirects based on user roles.
Supports user role plugins.
This plugin gives you control over where to redirect customers to after they click the add to cart button. You can redirect them straight to the Checkout page or to another page like the Terms and Conditions, according to your store strategy. Additionally, you can use this plugin to add a free product to the Cart automatically. Furthermore, you can combine it with the URL Coupons extension to automatically apply coupons.
Features
Redirect customers after clicking the Add to Cart button.
Configure redirects at different levels, such product, variation, or global.
Built-in search functionality for all redirects.
Integrates well with URL coupons.
If you have a multilingual store, you can easily redirect customers to their relevant pages based on their IP address. This could be an easier option for customers to find the products they are looking for. The plugin lets you set up redirects for the entire site, or only for specific urls. Additionally, the plugin lets you specify on which devices the url redirect rules are applied.
Features
Configure redirects based on the IP address of the customer.
Different options to base the redirect such as custom url, domain, individual or all posts, etc.
Specify the redirect to a url, product page, category, post, etc.
Options to configure redirects according to the device.
Can exclude users from specific countries from being redirected.
Broken links and customer experience
The customers landing on a "404 Not Found" error page is surely not going to feel good about your store. The immediate perception would be that your store is not reliable, or that you are not giving enough attention towards details. This is clearly not good for your store and there is every chance that your customer might end up on a competitor's site.
How a broken URL affects your store's SEO?
Along with customers, search engines will also start to judge if your URLs are leading to broken links. If your inactive URL has a lot of external links pointing to it, all that traffic that would have contributed to a better page rank is wasted. This will affect the ranking of your entire site, and may eventually affect business. Thus, you can see a URL redirect would be the best solution that would get you out of this mess.
You can redirect users looking for the old product's URL to the URL of the product that is replacing it. Or even a similar product that can be a substitute for the old one. This way, any potential customer who clicks a link to the old product page URL will land on the new page without considerable delay.
What are the types of URL redirects?
There are a few different types of redirects that are commonly used.
301

– This is one of the safest and simplest redirect options available currently. Basically, this is a type of redirect that doesn't cause many issues in terms of page ranking. A 301 redirect is used when you want the redirect to be permanent – that means there is no chance the old page is coming back.

302

– A 302 redirect indicates that the page is "Moved Temporarily" or "Found" in HTTP terms. This is actually not used prominently these days and is replaced by 307.

307

– You can use this type of redirect when you want to move the content temporarily. This is useful while your WooCommerce store is undergoing maintenance. However, the challenge in using this type of redirect is that the search engines have to identify that your server is compatible with the latest HTTP version.
Overall, if a redirect is unavoidable, the best option would be to go for 301. Though SEO experts vary in opinion, there is a general understanding that a 301 redirect would not lead to a real negative outcome in terms of page ranking.
Which scenarios demand a URL redirect?
There are cases when you create landing pages for promotional events or offers. Once the event is over, you want to redirect the traffic to that page on to your homepage. When you combine multiple pages for variations into a single main page, you may want to redirect each variation page to the main product page. There may also be situations when you completely change the URL structure of your store. Or, you may have switched to a new CMS and a lot of your links are returning 404 errors.
Some best practices while doing URL redirect
A 301 redirect may save you from the risk of losing out on customer experience and SEO ranking. However, you may have to use it strategically to make full use of it. If the page you are redirecting your customers to is not at all relevant to the inactive URL, the risk might remain. The new page that you are redirecting your customers to should have similar and somewhat better information than the previous page to ensure better customer satisfaction.
If you have switched to a new CMS and a lot of links need redirecting, then maybe you can bulk redirect them all to your homepage. Another way to do this would be to download all the backlinks to your site, and then prioritize and redirect them according to page ranking. In all cases, care should be taken to not move the site before setting up the 301 redirect.
Installation and Setting up of a URL Redirect Plugin
We will do a quick demonstration with the Redirection plugin. The plugin configuration is quite simple. Once you install and activate the plugin, you can see a Setup Wizard. You can use it for the essential settings. You can access the settings page later from the WordPress admin panel (Tools > Redirection).
On the Options tab, you can set a timeline for generating redirects and 404 logs. Also, you can specify how to automatically generate a URL, in case you are not providing the URL to redirect. On this page, you can also delete all the redirections created using this plugin.
You can create a new redirect option on the 'Redirects' tab. Just need to specify the Source URL and Target URL along with the group where it will be added.
That's it! Now the customer will land on the target URL, whenever he/she clicks the source URL.
Ensure redirects for better SEO and customer experience
When you run a WooCommerce store, you really can't avoid dealing with broken links. All you can do is to avoid it from causing major harm in your search engine page rankings and customer experience. 301 redirects would save you from major troubles, and you can set it up with the above-mentioned plugins. If you have any queries or insights, please leave a comment in the section below.
Further reading