Last updated - March 31, 2022
WordPress sites are a regular target of malicious attacks and hacks. On top of that, there could be accidental human errors, update issues, etc., that could lead to site crashes. One of the assured solutions for dealing with such untoward situations is to create backups. In this article, we will discuss more about some of the best WordPress Backup Plugins that you could use on your website.
This is one of the safest backup options that you can get for your WordPress site. It will help you save every changes that you make on your site, and also has an easy restoration option. Moreover, you will be able to understand precisely what change by whom caused a problem to the site as every aspect is recorded. Also, with the help of a mobile app, you will be able to get your site back online even when you are not at your desk. Jetpack backup is fully compatible with WooCommerce as well.
Features
Real time and daily backup options.
Easy to restore the site in a single click.
Activity log to help you understand each and every change on the site.
Mobile app to help restore site on the go.
Fully compatible with WooCommerce.
The pricing plans start from $7.95 per month.
UpdraftPlus is one of the most popular plugins for WordPress backups. It offers a simple user interface that lets you handle backups and restores quite easily. In fact, it offers a wide range of features to make your tasks simple, and it has been tested in different environments. You will be able to choose manual or scheduled backups as per your convenience, and also choose what all to include – WordPress files, database, plugins, themes, etc. Furthermore, you will find options for site migration and cloning as well.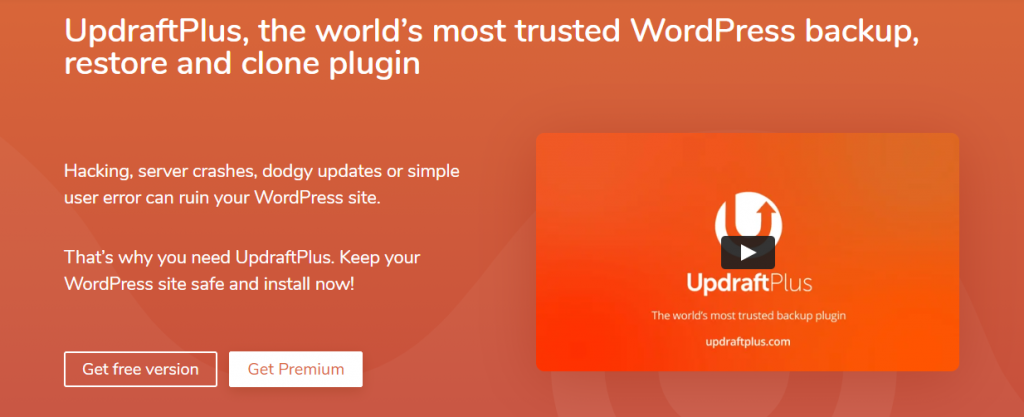 Features
One of the most popular WordPress backup plugins.
Supports manual and scheduled backups.
Simple, flexible and secure backups with diverse remote storage options.
Activity logs and systematic reporting.
Compatible with multisite.
Prompt customer support.
For 2 licenses, you can get the Personal plan of UpdraftPlus at $70.
BackupBuddy is another preferred tool in the WordPress ecosystem that will help you with easy backups and restore options. From your WordPress admin, you will be able to manage backups with a few clicks. In contrast to some other backup option, BackupBuddy saves every aspect of your WordPress site. Also, the plugin offers automated scheduled backups, and different remote storage options. Furthermore, email notifications will keep you aware of any situation that demands your attention.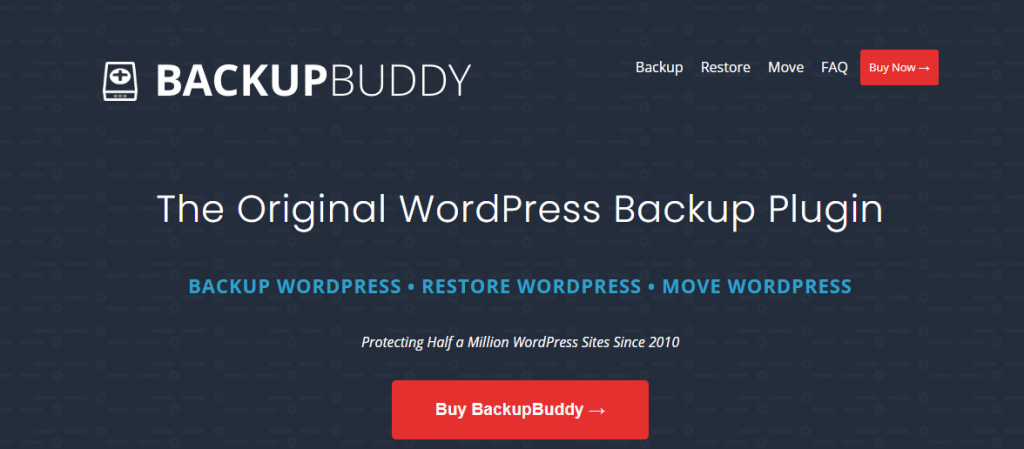 Features
Comprehensive backup option for your WordPress site.
Automatic backups with different schedules.
Several remote storage options.
ImportBuddy tool to facilitate easy restores.
Easy migration options.
Instant email notifications.
For a single site, you can get this plugin for $80 (check website for any discounts).
BlogVault is another reliable backup option that you can consider for your WordPress site. In fact, it is a complete website management tool with several automation features. The backups are incrementally stored without causing overloads in your server. And, the restore options are quite fast, and offers 90-day archives for recovery. In addition, you will find free staging and error-free site migrations. You can manage multiple sites simultaneously, and also effortlessly backup your WooCommerce site data.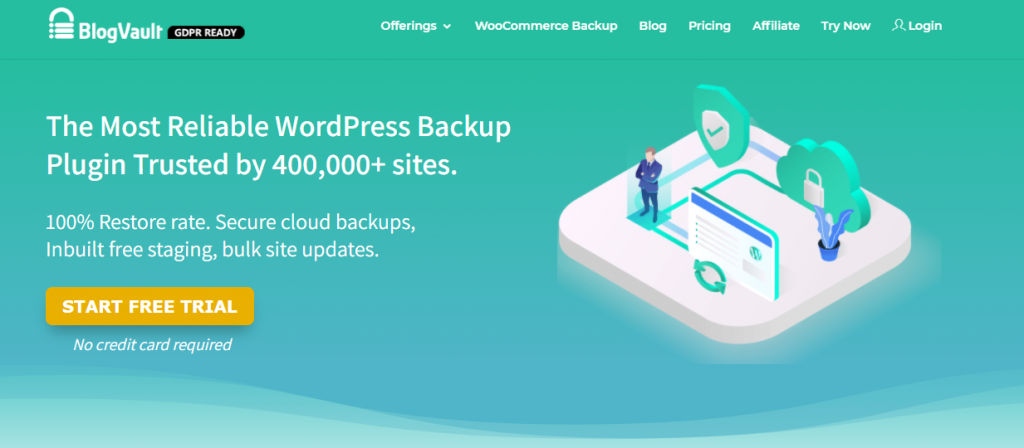 Features
All-in-one solution for WordPress backup management.
Incremental backups without overloading the server.
Fast restore options with recovery window.
Free staging and effortless site migrations.
Easy to manage multiple stores.
Compatible with WooCommerce.
Uptime monitoring and performance checks.
You will find pricing plans of BlogVault starting from $7.4 per month.
Duplicator is a powerful site migration and backup solution for WordPress. You can create scheduled backups using this tool, and also store backups in different cloud storage options such as Google Drive, Amazon S3 Dropbox, etc. It offers simple configuration options, drag and drop interface, and is used in large number of WordPress websites. Moreover, it is one of the most reliable tool for WordPress migrations. It works well in WordPress multisite as well.
Features
Simple and powerful option to create backups on your store.
Flexible migration options.
Multiple cloud storage options with Dropbox, Amazon S3, etc.
Drag and drop interface.
Multisite support.
Instant email notifications.
A Duplicator Pro Personal license will cost you $69.
This is one of the most advanced backup solutions for WordPress sites. The plugin offers automatic backups that will be updated every time you make a change in your website. And, you can restore the site to normalcy with a single click if there is a scenario of site crash or hack. For storage options, you can choose from Amazon S3, Google Drive, Dropbox, etc. It is quite easy to use as it will work in the backend once you have set it up.
Features
Advanced backup solution with incremental backup options.
365-day restore window.
Staging option to test updates.
WooCommerce orders backup.
Different storage options.
You can get a Business license of WP Time Capsule at $49.
This is a good option to protect your WordPress site with automated backups and fast restoration options. The remote storage options include Amazon S3, Google Drive, FTP, etc. Additionally, the plugin helps you with automated WordPress updates with an option to revert to previously stored backups. You will also find smooth site migration tools as well.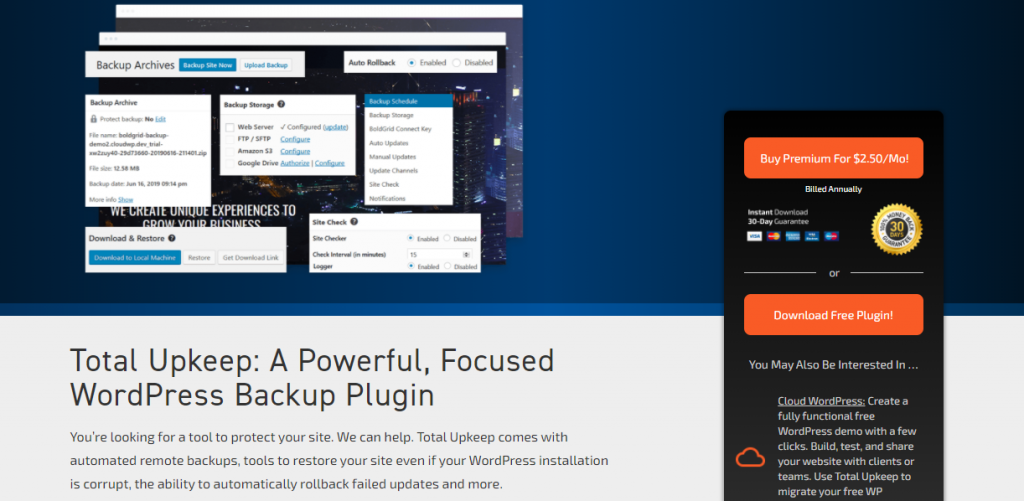 Features
Create seamless, automated backups for your WordPress site.
Multiple remote storage options.
Continuous site monitoring.
Automated WordPress updates.
Seamless site migrations.
You can get Total Upkeep Premium at $2.50 per month.
This is a user-friendly plugin that will help you create secure backups for your WordPress site. It offers multiple off-site storage options such as Dropbox, Amazon S3, Google Drive, etc. The plugin offers automatic backups and single-click restore options as well. Furthermore, you will get easy site migration options as well.
Features
Simple and efficient backup option.
Optimized for different hosts and tested for large database size.
Can create local backups.
Remote backup options include SFTP, Amazon S3, DigitalOcean, etc.
Instant email reports.
You can start with the free trial option or choose their pricing plans starting from $49 per year.
BackWPup is a comprehensive backup solution with prompt support. It is one of the most popular backup solution in the WordPress ecosystem with over 10 million downloads. This plugin offers a complete automatic backup option along with a standalone backup for emergency restores. In addition, it offers multiple choices for remote storage such as Microsoft Azure, Amazon Glacier, Google Drive, etc.
Features
Popular backup plugin with huge fanbase.
Complete automatic restore options with emergency restore app.
Multiple remote storage options.
Log report emails.
The Standard license of BackWPup will cost you $69.
This is a simple plugin to create and store WordPress backups. You will be able to create a backup of your entire website along with database. Also, you will be able to specify convenient schedules for backups to run.
Features
Easy plugin to configure with minimal setup.
Good option for shared hosting plans.
Easily manage multiple backup schedules and get backup files via email.
Support for multiple languages.
You can freely download this plugin from the WordPress plugin repository.
Hopefully, these WordPress Backup Plugins will help you deal with unexpected crashes or malware attacks on your site. Feel free to get in touch with us if you have a query or concern.
Further reading