Last updated - December 5, 2022
WordPress is one of the most used Content Management Systems (CMS) in the world. In fact, it powers a vast majority of websites across the world. The easy-to-use interface and the flexibility to extend functionalities make it such a loved platform. As you may already know, there are multiple solutions that help add eCommerce functionality to a WordPress site. This article looks into some of the best WordPress eCommerce solutions that you can integrate into your website. These are solutions that can be used on all types of business models, from small to big. And that is what makes WordPress eCommerce solutions popular all around the world. Let's dive deep into more details.
What is an ideal WordPress eCommerce Solution?
Firstly, let's try and understand the facets of a great WordPress eCommerce solution.
Should support the products you want to sell
You may find multiple WordPress eCommerce solutions when you set out to pick one. However, the important aspect is to find a solution that is suitable for the products that you want to sell. Not all WordPress eCommerce solutions support featuring all type of products. So, if you have a clear idea of what type of products you are going to sell through your WordPress site, you can pick the one that has best features to support that. For example, there are solutions that offer specialized support for downloadable products. Then there are solutions that support both physical and downloadable products. If you are planning a combination of physical and downloadable products on your store, naturally you would go with the latter.
Choice of payment solution
The payment options that you integrate into your store play an important role in determining the conversion scope of your business. Customers have varied interests when it comes to payment gateways, and you have to make sure you take into account that. The WordPress eCommerce solution you choose should have the flexibility to allow multiple payment gateways. Even if all the payment options are not available out of the box, you should get the option to add them with the help of an extension.
Compatibility with other plugins
WordPress environments, as you know it, thrives in the abundance of extension plugins. So, naturally, the solution that you pick should be able to easily accommodate external plugins. It is best to check the WordPress plugin directory to make sure your eCommerce solution supports most popular plugins.
Design options
The design of a WordPress site is handled by a large number of free and premium themes available in the market. So, just like plugins, you need to ensure your solution is functioning properly with most of the interesting themes as well.
Best WordPress eCommerce Solutions
Here is a quick look at some of the best WordPress eCommerce solutions we are going to discuss in this article.
Now, let's look at each of these in more detail.
WooCommerce
WooCommerce is arguably one of the best eCommerce solutions currently available in the market. And that's easily why almost 28% of all online stores in the world prefers it. Moreover, it is a free plugin for WooCommerce, and you can download and install it without hassles. If you already have a WordPress site up and running, setting up and configuring WooCommerce will be totally free. It is especially user-friendly, and all kinds of users including developers and beginners feel it is quite simple and flexible.

Features
Here is a set of awesome features that make WooCommerce the best WordPress eCommerce solution.
Seamless integration with WordPress
WooCommerce is specifically built to function flawlessly with WordPress. So, if you already have a WordPress website, you can benefit from the perfect integration with WordPress. Moreover, you can take advantage of the awesome community of developers and experts.
Easy to use
If you are familiar with WordPress, setting up WooCommerce will be really a cakewalk for you. Even if you are an absolute beginner, you can easily set up and configure WooCommerce all by yourself. Moreover, you can easily manage any necessary adjustments while running the store as well.
Supports all product types
WooCommerce helps you sell all product types and that too pretty seamlessly. With it, you can easily sell physical products, digital downloads, affiliate products, and even virtual ones like services. Moreover, you can easily create multiple variations of products based on their features and set a different price for each.
Flexible payment options
By default, WooCommerce offers PayPal, direct bank transfer and cash on delivery as payment options. If you are looking to integrate any other payment option, you can easily do so with the help of available extensions.
Great variety of shipping options
Similar to payment options, WooCommerce is greatly flexible when it comes to shipping options. Out of the box, you can set up various shipping methods based on the geographical position of shipping destinations. For every other shipping requirements, you can get an extension that does the job for you. Here is a list of awesome WooCommerce shipping plugins that you can choose from.
Design options
WooCommerce offers great design options as well. Its own in-house theme Storefront is built to integrate perfectly with WooCommerce. And, there are several child themes of Storefront that you can use according to the products featured in your store. Moreover, you can create your own Storefront child theme, if you have an understanding of coding.
Tax management
Managing taxes can be a headache when you are running a business. WooCommerce has you covered when it comes to tax calculations. You can choose to automatically calculate tax based on different aspects of your shop base address or customers' billing or shipping addresses. Moreover, you can use geolocation support to detect customer's address for tax calculations. And, if you want to find a great extension for tax calculations, look no further than TaxJar.
Extensions to add functionalities
One of the major factors behind the popularity of WooCommerce is the large variety of awesome plugins that will help you extend functionalities. You can find a large variety of extensions to help you add several functionalities. Furthermore, you can get good quality plugins from reputed external developers as well.
Control over your data
Another major reason why a lot of store owners prefer WooCommerce is that they have complete control over their data. Compared to hosted eCommerce solutions, this saves you from risking your data in the control of an external service provider.
Easy Digital Downloads
If your business model is primarily around downloadable products, Easy Digital Downloads is a great solution you can think of. You can sell eBooks, audio video files, documents, photographs, etc. through your online store. The advantage of selling only digital products is that you really don't have to worry about inventory, shipping, fulfillment, etc. So selling digital downloads can be an excellent strategy for profitability.
Benefits
Here is a look at some of the obvious benefits of using Easy Digital Downloads.
Seamless checkout
Your customers can experience a hassle-free checkout with easy digital downloads. They can actually purchase multiple digital products at the same time and checkout. The optimal design of the cart elements ensures a great customer experience in your store.
Control over file downloads
You will get to decide how your file sharing strategy would be. You can decide to allow unlimited download of files, or you can restrict the number of downloads by specifying a maximum limit.
Great data monitoring
Whatever be the file sharing strategy, you can easily monitor the customer activity in your store. That way, you can consistently keep a watch on purchases and associated downloads.
Reporting tools
Easy Digital Downloads plugin offers good reporting tools as well. You can easily view various store statistics, and also create custom reports according to your requirements.
Discount options
You can offer various deals to your customers as well using discount codes. The platform also gives you solid control over the deals by not letting them eat into your profits.
Download Easy Digital Downloads
Ecwid
Ecwid is another popular eCommerce solution that you can integrate into your WordPress site. With the help of a plugin, you can incorporate the eCommerce functionality to your site in a matter of minutes. With the help of Ecwid, you can sell your products simultaneously on website, mobile, social sites and marketplaces. You can choose the free option or choose one of the paid plans.
Advantages
Here is a look at some of the apparent advantages of Ecwid integration.
In-built shipping and tax options
With Ecwid, you will get services of popular shipping carriers like USPS, FedEx, UPS, etc., by default. This is one of the standout features, as most other platforms would need you to get premium extensions for shipping carrier integration.
Social syncing
You can simultaneously feature all your store's products on Facebook as well. This would provide additional visibility and reach to your business.
Free mobile apps
You will get access to a range of free iOS and Android apps. Using these apps, you can manage inventory, monitor sales and accept payments on your store.
Superior storage and security
All your data will be safe with the secure servers of Ecwid. In addition, you will get unlimited storage, regular backups, security patches, etc.
BigCommerce is a preferred eCommerce solution for enterprise brands. It offers a solution to build an eCommerce store that is secure and scalable. It works as a SaaS-based solution, and provides great flexibility in driving your business success.
Intuitive and flexible
BigCommerce offers a very intuitive interface that ensures you can innovate without trouble. It allows to build on your store using HTML, CSS, and JavaScript, which are the preferred coding language of most WordPress developers. It also offers a local environment, which facilitates easy implementation of changes on your eCommerce store.
Secure and powerful
The safety of your store is one of the most important concerns of every eCommerce store owner. Powered by Google Cloud platform, BigCommerce offers top notch security features that will help you rest assured. Moreover, it ensures that your site performance is always above par. This means, less time on site maintenance and more time on business development.
Scope of customization
Like the other WordPress eCommerce solutions we have discussed, BigCommerce too offers extensive options for customization. The BigCommerce platform works smoothly with diverse APIs, and it is capable of handling more than 400 API calls per second. Furthermore, webhooks allows you to make customization at will on your eCommerce store.
Jigoshop is another popular WordPress eCommerce plugin that you can use to make your site an online store. It offers convenient features, reliable security and a great support team to help you drive your business forward.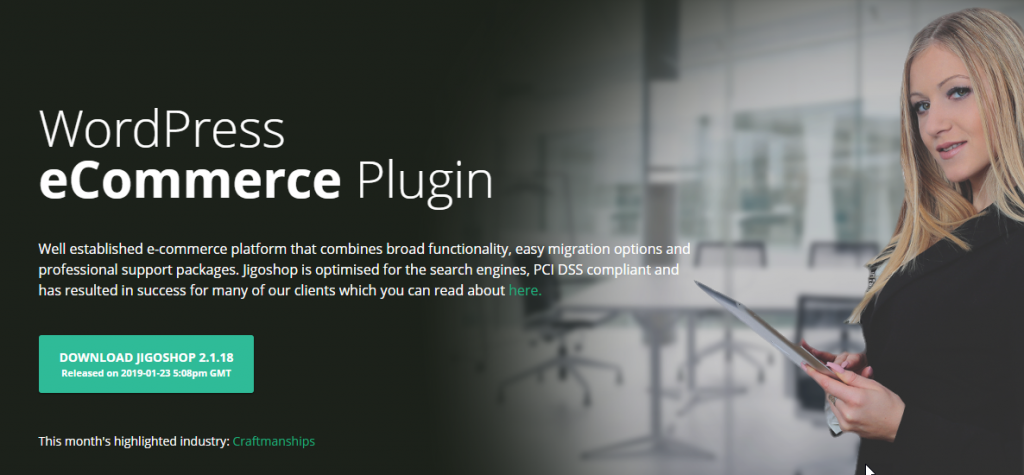 Great performance
Jigoshop will help you ensure a solid performance for your online store. Moreover, you will be able to attract great traffic to your store with the help of their advanced SEO tools.
Flexible
Jigoshop is a flexible WordPress eCommerce platform with a lot of cool features. It enables you to sell any types of products, be it physical or digital ones. It also has an integrated RESTful API in its core, which makes it especially accessible to external applications. Furthermore, you will find a lot of extensions to add features and functionality.
Intuitive
The whole user interface including the checkout flow is intuitive, and as a result, you can expect a good conversion rate while using Jigoshop. Managing the backend of your store too is easy with Jigoshop, as products and orders are well organized.
WP eCommerce is another well-known WordPress eCommerce solution. You can effortlessly create an online store using WP eCommerce. It offers a great set of features even on its free platform.
Easy to configure
You can easily add products and start selling using the WP eCommerce plugins. You will find extensive features for shipping, payment and tax management out of the box with this plugin. Moreover, you can create multiple product types as per convenience. To create memberships and subscriptions on your store, you need to use the respective extensions.
Reporting and Marketing
WP eCommerce is not just a tool to help you a set of products to sell. It also offers great reporting and marketing features to enable you to get the best revenue out of your store. You can easily generate coupons or export sales reports while using this plugin.
Customer support
You can be assured to get very attentive customer support while using WP eCommerce. Their support team boasts a fast response time, and quick resolution of any issues you may face.
You can sell a range of products on your eCommerce store using WP EasyCart. It helps you a lot in creating a web store that is suited to your requirements and likings. WP EasyCart works well with all available WordPress themes and hence you can stop worrying about design aspects. Moreover, this WordPress eCommerce solution offers easy integration with popular tools for marketing, accounting and shipping.
Feature diverse product types
WP EasyCart lets you feature diverse product types on your WordPress eCommerce store. You can feature simple, physical products as well as downloads, services, subscriptions, etc., as well.
Easy handling
Your everyday store management will be a breeze if you are using WP EasyCart. Managing products, orders and customers on your store admin is quite easy and straightforward. You can easily integrate solutions for shipping, payment, marketing, accounting, etc., if you need something more than the in-built solutions. Moreover, you can extend the features and functionality with a range of premium extensions as well.
Dependable support
While using WP EasyCart, you can rely on their support team to resolve any issue that you may face in implementing your store. More importantly, there is extensive documentation to help you get your site up and running in no time.
Shopp
Shopp is a powerful and flexible WordPress eCommerce solution that you can try. It is a complete eCommerce toolkit with secure transactions and seamless checkout. With several options to customize, Shopp is a comprehensive WordPress solution. It helps to integrate payment solutions, tax calculations, fulfillment services, shipping options, etc., effortlessly. However, if you want dedicated support, you need to purchase it at a price starting from $75 for one year.
Shopify
Shopify is, in fact, a hosted eCommerce platform. However, if you want to integrate Shopify to your WordPress site, and sell products, it is possible. Here is an article that would guide you through the process of integrating Shopify with WordPress. By integrating the 'Buy Button', you can transform your WordPress blog or website into an online selling place. However, remember Shopify is a paid service, and for the WordPress integration, you have to get the Shopify Lite plan which costs $9 per month.
Advantages of using Shopify
Here is a list of features that you might find interesting with Shopify.
Customize the shopping experience
By embedding the Shopify Buy Button, you can make your site into an online store. You can totally customize the look and feel of the storefront with easy configurations.
Feature products as you want it
With the Shopify embed code, you can organize your products according to the way you envision it. In fact, with the buy button, you are getting access to a responsive and secure Cart as well. Moreover, you can personalize the checkout flow to suit your brand's styling and color tone.
Great flexibility to small businesses
Shopify buy button integration with WordPress is a great option if you are selling just a few products through your site. For this, you can simply add the eCommerce functionality to your existing blog or website. You can strategically place the buy button on any widget area to catch the necessary attraction for the product on sale.
Great support
When you opt for the Shopify Lite plan, you will also get dedicated, 24/7 support from the excellent team of Shopify. You can rest assured, as any troubles while setting up the store will be promptly addressed.
Conclusion
Integrating an eCommerce solution to your existing WordPress site is a great way to approach eCommerce. Predictably, the in-house solution of WordPress, WooCommerce, is a great option that gives you control, flexibility, and cost-effectiveness. If your aim is to find the easiest solution out there, and you don't mind the monthly payment, Shopify is what you are looking for. And, if your business plan revolves around only digital products, Easy Digital Downloads is not a bad option. Hope this article has given you better perspective regarding the best WordPress eCommerce solutions out there.
You may also find the below articles interesting: