Last updated - July 16, 2021
A form builder is one of the essential requirements for a website owner. Forms help you collect required information from users as per the requirement. You can create simple forms to more complicated ones, depending on the specific requirement. There are a range of plugins that will help you integrate form building capabilities to your WordPress site. In this article, we will list down some of the best WordPress form builder plugins for your website.
With a drag and drop interface, WP Forms plugin lets you create a range of different forms for your WordPress website. You will be able to create contact forms, payment forms, registration forms, survey forms and many other using this plugin. There are over 100 pre-built templates available to help you get started easily. Moreover, the plugin has advanced features like conditional logic and instant notifications.
Features
Drag and drop form builder to help you easily integrate different forms on your website.
Pre-built templates to get started easily.
Apply conditional logic for more specific information.
Instant notifications to keep up the superior customer experience.
Effortlessly embed forms to different sections of your website.
Automatic spam protection.
Mobile friendly.
You can get the basic version of the plugin at $39.50 per year.
Gravity Forms is one of the popular options in the WordPress ecosystem that will help you create advanced forms. It has a wide range of features that will help you integrate advanced forms seamlessly on your website. You will get more than 30 form fields that makes it extremely easy to use. In addition the plugin has several advanced features like conditional logic, file uploads, advanced calculation, email notifications, etc. Furthermore, it integrates smoothly with several tools like Mailchimp, Dropbox, and more.
Features
Advanced options to create different kinds of forms in your website.
Collection of 30+ easy-to-use form fields.
Conditional logic to control the information that you collect from users.
Automatic email notifications.
Advanced calculations.
Easy option for file uploads.
Frontend forms to allow user-generated content creation.
Several options to avoid spam.
Seamless integration with popular tools.
The Basic License of the plugin has a price tag of $59 per year.
Form building on your WordPress site is extremely simplified thanks to Ninja Forms. Even if you don't have advanced technical knowledge, you can create good looking and functional forms in no time with this plugin. Drag and drop fields and easy layouts will help you work effortlessly. More importantly, it lets you create an exceptional customer experience with file uploads, email notifications, smooth payments, etc. Overall, the plugin will help a lot in user interaction and lead generation.
Features
Easy option to create forms for your website.
Simple user interface that is helpful for beginners.
Can make use of advanced features like conditional logic in form building.
File upload and restricted email notifications.
Option to accept payments easily.
Enhance lead generation.
Seamless integration with marketing tools.
Flexible for customization.
A Personal license of the plugin is priced at $49.50 per year.
Fluent Forms is a powerful WordPress form builder with a clean user interface and a beginner-friendly editor. You can get started with 65 pre-built form templates created for different needs. The Conversational Form is a great way to engage more audience and reduce abandonment. With advanced features like conditional logic, user registration, repeat field, dynamic calculation, and front-end post creation, you can build any complex form in minutes. Fluent Forms is also rich with integrations that include Zapier, Slack, Twilio, and webhooks. For marketing automation, choose your favorite tool from ConvertKit, Moosend, MailerLite, ActiveCampaign, GetResponse, and more. If you want to collect payment via web forms, Fluent Forms offers Stripe, PayPal, Mollie, Razorpay, and offline payment.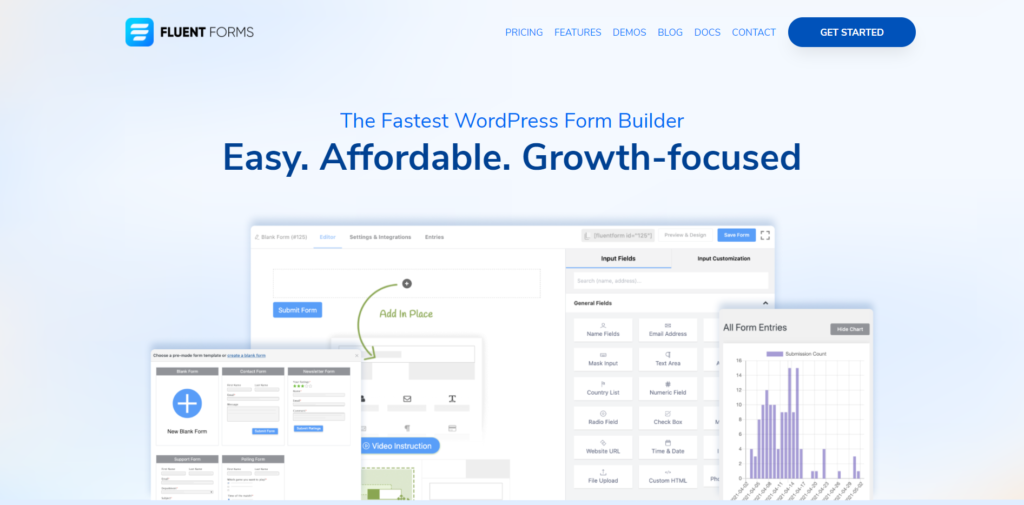 Features
Fluent Conversational Forms

Easy drag and drop editor

A box of pre-built form templates

Conditional logic and file upload

40+ different form fields

Multiple payment gateways

PDF form submission

Front-end post creation

A set of CRM tools integrations

Built-in reporting

Signature add-on for eSignatures
You can start with $59/year for a single-site license without additional payment for integrations.
Formidable Forms is an advanced form builder that helps you create a range of forms. These include registration forms, calculator forms, payment forms, and several others. It gives you extreme control and a wide range of features, whether you want to create simple forms or complicated ones. With conditional logic, calculations, and data visualization options, this plugin will help you achieve great insights from your forms.
Features
Helps you create a wide range of forms on your website.
Easily transform inputs from forms into listings, directories and calendars.
Repeater fields to collect multiple sets of data.
Advanced form templates such as the ones for WooCommerce and calculations.
Visual styler and more than 30 add-ons.
Flexible for customization with more than 125 hooks.
The Basic plan has a discounted price of $49.36.
JetFormBuilder is a free plugin for Gutenberg native editor, that helps to build the forms. Now, everyone can build attractive forms for any purpose with smart features, 19 fields types, free styling plugin and a user-friendly interface.
JetFormBuilder Pro version comes with powerful addons to optimize leads generation, create marketing campaigns, experience with autocomplete etc.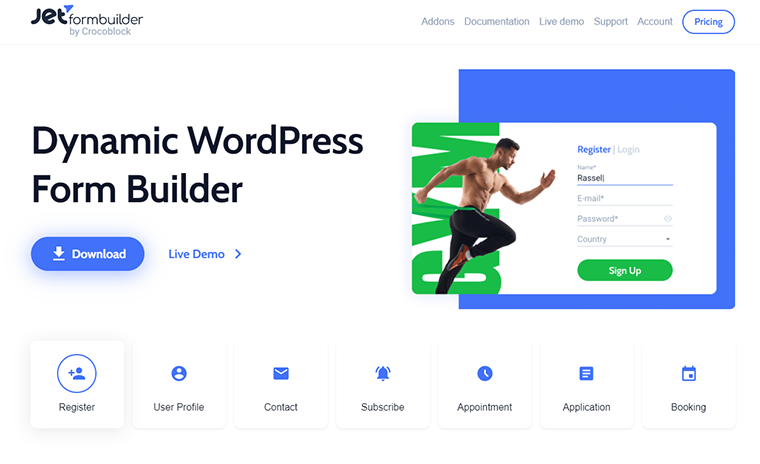 Features:
Drag and drop editor.

Protects your website from spam with reCAPTCHA.

18 form blocks.

11 actions after the form submitted (from simple Send Email to advanced GetResponse).

Multi-step form with the Form Progress bar.

Payment methods integrated (Paypal, Stripe, WooCommerce).
Pricing:
Free version or premium one ($39-$79 per year).
If you are looking for an intuitive option among WordPress form builder plugins, you can give this one a try. It offers a wide range of advanced features including conditional logic, multi-part forms, column layouts, file uploads and more. Moreover, you will get a drag and drop interface and responsive design. With a wide range of premium add-ons, you can manage to achieve a lot more with this popular form building solution.
Features
Intuitive form builder for WordPress sites.
Range of advanced features like conditional logic, file uploads, column layouts, etc.
Drag and drop interface for ease of use.
Responsive layout.
Add-ons to extend features.
You will get a good number of premium features with the Toolbelt package that costs $49.50 per year.
This is a form builder that offers you a great set of features without restrictions. The customizable form templates will help you save time while adding forms to your site. You can build several types of forms such as landing forms, event registrations, payment forms, surveys and more. In addition, it offers seamless integration with over 300 different apps that you may have to use on your site. Also, the range of features are all focused on enhancing user experience.
Features
Easy to use form builder.
Large collection of pre-built form templates.
Conditional redirects.
Automatic notifications.
Option to collect payments.
Partial form subsmission.
Integration with popular applications.
Unrestricted features on a single form.
You can get a single form at a price of $10 per month.
HubSpot offers a powerful online form builder to help with your CRM. You will be able to create customizable forms without any coding knowledge. Moreover, there will be a wide range of form fields and form types that you can choose from to create forms as per requirements. Furthermore, there are options for automatic email notifications that will be triggered by form completions.
Features
Helps you create custom forms that are connected to your CRM.
Large variety of form fields and field types.
Automatic email notifications.
Great option for converting site visitors to leads.
You can get the Starter pack of HubSpot marketing hub at $45 per month.
If you have Jetpack installed on your site, you can use the form block to integrate forms on your posts and pages. There are options for different pre-built forms such as contact form, newsletter signup, registration, feedback, etc. It also allows to set email notifications for completed forms. Moreover, you can customize the forms, and easily integrate them with CRM and newsletter tools.
Features
Create different types of forms easily.
Set email notifications.
Customize the forms.
Integrate with other tools.
You can enable Contact Forms on Jetpack for free.
This is one of the most popular options for WordPress sites to create customizable forms. With the plugin, you can customize the forms effortlessly, and it provides features like spam protection.
Features
Create customizable forms.
Spam protection with CAPTCHA.
Ajax powered for better user experience.
This is another fast and lightweight option that you can try out to create custom forms in your site. The plugin offers a drag and drop interface that makes it extremely easy to create forms, even for new users of WordPress. You will find pre-built templates and design layouts that will make it extremely easy to build forms.
Features
Easily create custom forms without restrictions.
Drag and drop interface for ease of use.
Pre-built templates to help you get started fast.
Support for a wide range of field types.
Email notifications and smart tags.
Ajax-enabled form submission.
We hope these WordPress Form Builder Plugins help you build a wide range of forms in your website, and enhance user interaction. Leave us a comment if you have a query.
Further reading