n today's times when the site is packed with a variety of media files including images, videos, audio, and other visually appealing infographics, managing media files on a WordPress website is a challenging task, especially if you are doing it manually.
The standard media library in WordPress does an excellent job handling your uploaded files. It does, however, lack a way to organize those files for easier management.
Plugins such as these listed below can be incredibly useful here!
By using WordPress Media Library plugins, you can manage all your media content into folders and organize it easily.
In this article, we will cover the 10 Best WordPress Media Library Folders Management Plugins that you can use to accomplish your goals and save yourself time and effort.
Without further ado, let's get started!
10 Best WordPress Media Library Management Plugins 2022
Here is the list.
FileBird is an easy-to-use yet advanced media library management plugin for WordPress that lets you organize your files more professionally. It saves you plenty of time by allowing you to create virtual categories, in addition to giving you a drag-and-drop interface to simplify your workflow.
After you create your virtual folders and set up your permalinks, uploading your images is easy and organizing them is the easiest. Moreover, the FileBird is highly compatible with third-party plugins including Elementor, WooCommerce, or other widely-used page builders.
Here are the reasons that might make you want to try FireBird:
Let you organize thousands of your photos, music, and other media files into different categories and folders.
With an intuitive interface, you can drag and drop files to rearrange them.
Resizable slidebar to fit your media content.
Easily and quickly create, delete or rename menu just like you do on your PC.
Highly compatible with popular themes, top-ranked page builders, and third-party plugins. Some very known to are Beaver Builder, Divi, Smush, Gutenberg, and more.
Supports multi-languages.
Pricing:
You can avail all its premium features at $39 per six months.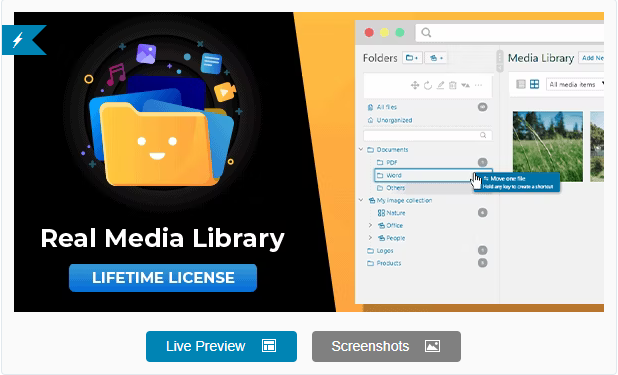 The Real Media Library is another powerful plugin that allows you to display your downloaded media in a variety of ways and comes with many useful functions, including the ability to create galleries or collections from images stored in different folders, and control over your default library interface.
Moreover, the plugin has an intuitive user interface and lets you organize files by creating folders that can be moved around with drag and drop, and it has an effective filtering system.
Here are some of its key features that might make you want to try the Real Media Library Plugin:
Fully-featured file manager for WordPress.
The Real Physical Media feature eliminates the need to make changes to URLs for every file you upload, in case you move them to another location.
Developer-friendly and user-friendly.
Compatible with almost all popular themes, page builders, and 3rd party plugins like Visual Composer, Avada, Divi, Slider Revolution, and more.
Advanced upload management lets you upload files directly to your folders.
The real media plugin is available in multiple languages.
Pricing:
You can avail all of its premium features for $39 per six months.
WordPress users can manage image files with Media Library Assistant, another great media library plugin that offers many enhanced features. Besides the standard image functions, the plugin supports additional features such as slideshows, thumbnails, strips and special effects. These can be added to your gallery to make it more fun.
With an average WordPress rating of 4.8 stars and a simple interface, this plugin makes uploading and managing media files much easier.
Here are some of its key features that might make you want to try the Media Library Assistant Plugin:
Shortcode for uploading gallery images and other media files on a page or post.
Add slideshow and other special effects with plugins like Photonic Gallery or Jetpack being integrated with Media Library Assistant plugin.
Use IPTC, EXIF, and PDF metadata to mark the time, location, and other properties of your photos.
Compatibility with multi-language CMS plugins like WPML or Polylang.
Quick and bulk editing
Pricing:
You can avail all its features free of cost.
Mediabay is a media library management plugin with an intuitive interface that makes it easy to find and organize your media files, whether they're spread across multiple layers with folders and sub-folders or all stored in one location.
Additionally, the plugin features a user-friendly interface, including drag-and-drop options and the ability to add images to topics or even in chronological order.
Here are some of its key features that might make you want to try the Mediabay Plugin:
Let you organize files in folders and sub-folders.
Bulk selection of media files and easily drag and drop them to any folder.
Quick and easily create, rename, clear, and delete folders.
You can resize the folders menu anytime you want.
Pricing:
The plugin is available in both freemium and premium versions. You can get all of its premium features for $14 (discounted offer for a limited time only) per six months. Click here, to know more about its features and its pricing plans.
Ever uploaded images and later wished that they were renamed so they were easier to read or SEO friendly? If that is the case, then Media File Renamer is the perfect plugin for you.
Media File Renamer plugin automatically renames files to make them easier to find. The plugin can rename your files based on their titles or the words you specify, so your media files are always easy to find. Moreover, it can also rename the files for you; just check the box, and let it do the work for you. Otherwise, you can do it manually whenever you want.
Here are some of its key features that might make you want to try the Media File Renamer Plugin:
Best for dynamic dashboards.
Rename your media files manually and automatically.
Lock the media entries so that they can't be renamed.
You can customize the way files are renamed using actions or filters.
Highly compatible with WordPress and its third-party plugins like Retina Files, various encodings, or more.
Pricing:
The plugin is available in both free and paid versions.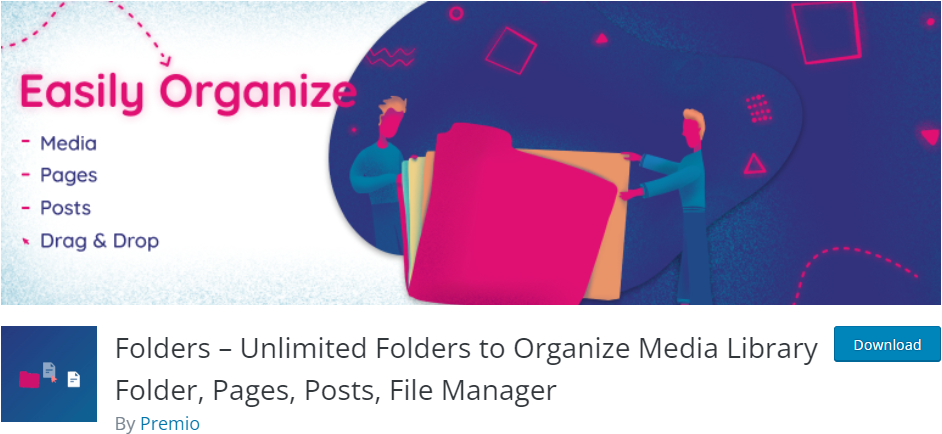 Having a 5-star rating on WordPress, Folders is the next plugin on our list that you can use to organize your media files including images, videos, podcasts, and audio.
With an easy-to-use drag and drop feature, you can move items to any directories and change the hierarchy anytime you want.
Here are some of its key features that might make you want to try the Folders Plugin:
Categorize and keep your different media files in different folders.
Mark your important folders, and let your clients know which are the most important ones to know.
Fast uploading of media files makes it the finest tool for content creators.
In case you need more space, you can even minimize the folder area.
Bulk selection and deletion.
Pricing:
The plugin is free to use.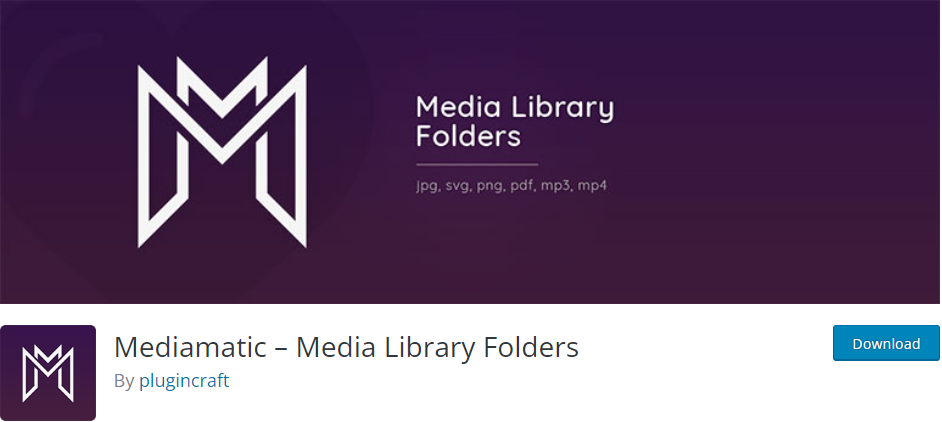 Unlike other plugins, Mediamatic lets you organize thousands of different types of media files into an unlimited number of folders and sub-folders quickly and smoothly.
With its drag-and-drop interface, the plugin makes it easy for you to access your media library and share it with others. The media library is perfect for website owners and content professionals.
Here are some of its key features that might make you want to try the Mediamatic Plugin:
Fast uploading and neat organization of media content into folders and subfolders.
Bulk selection and easy to relocate content to any folder.
Changing folder hierarchies is easy thanks to transparency.
The folders menu can be resized.
Rename folders and sub-folders anytime you want.
Pricing:
The Mediamatic plugin is available in both free and paid versions.
If your blog hosts a lot of large media files, the FileBase plugin can help you organize them without sacrificing server performance. This plugin allows you to easily manage your files by dragging and dropping them, along with providing the ability to create folders and subfolders.
It uses WordPress's media management system to let you put photos and other files into categories, which makes it one of its prime features.
Here are some of its key features that might make you want to try the FileBase Plugin:
Breadcrumb folders make it quick to access folders irrespective of using sidebars.
Resizable sidebars which can either hide or drag it to left/right.
Compatible with popular WordPress plugins like WPML, Elementor, and more.
Easily create, delete or edit folders.
Pricing:
You can avail all its features at $9 (discounted price).
With 30,000+ active installations, Media Library Categories is another helpful plugin for organizing your WordPress media library. Give it a try if you're looking to organize your photos, videos, and audio files in an orderly fashion with greater flexibility.
Here are some of its key features that might make you want to try the Media Library Categories Plugin:
Filter media items by custom taxonomy in both grid and list views.
Filter the media library by category.
Bulk selection to customize single category or multiple categories.
With flexible collections, you can add, edit or remove categories from items in your library at any time.
WordPress 4.0 – 5.9 are supported by the plugin.
Pricing:
The plugin comes in both versions.
Another great media library plugin is Filester – File Manager Pro, which replaces the standard WordPress media library with a user-friendly interface that allows you to manage files in the simplest way possible.
Besides relocating files and troubleshooting errors, you can do a lot more with it by using its smart context menu.
Here are some of its key features that might make you want to try the Filester Plugin:
Drag and drop interface to easily relocate or copy files.
Smart Context Menu to create, rename, or delta media files.
The .htaccess file can be hidden or shown.
Available in popular languages like English, Japanese, Spanish, and more.
Allow users to manage files on a remote server.
Configure commands for different user roles.
Extract archives in multiple formats such as .zip, .rar, .gzip, and more.
Pricing:
It is an open-source plugin i.e. you can avail all its features for free.
Conclusion – Which plugin is the best for managing WordPress media content?
We have listed our top 10 picks that will you in managing your WordPress media content most efficiently. All of these are good irrespective of their position in this blog listing.
Even then, if you are looking for our favorite pick, then we would say FileBird. But we would still say, don't go with our words. We have provided the detailed link to each plugin and its both versions (free and pro). Check out their official sites, analyze your needs, and then make a sound decision.
We hope our blog helped you in finding your answers. If you have any doubts or suggestions, feel free to share your thoughts in the comment section below. We would be happy to hear from you!
Further reading