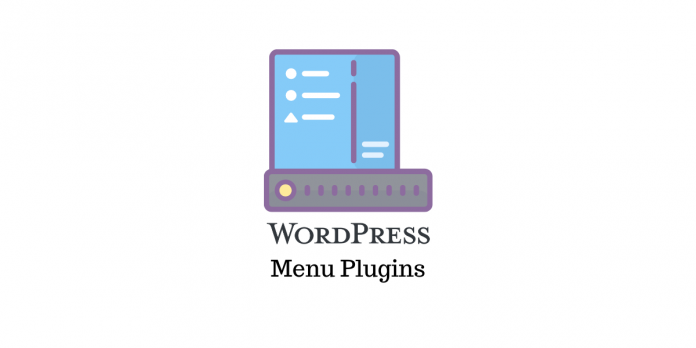 Last updated - December 5, 2022
The navigation menu is one of the most important components that determine user experience on a website or eCommerce store. In addition to being a navigation tool primarily, it can also be used to capture the customers' attention to specific aspects of your store. WordPress helps you manage to set up a functional menu with its default settings. However, you may want to use some plugins to enhance the menus both aesthetically and functionally. In this article, we will discuss some of the best WordPress Menu Plugins that you can use on your site.
This is one of the most popular and powerful options among WordPress menu plugins. By default, it offers three different menu systems that you can further customize according to your requirements. With the plugin, you will be able to easily develop menus from posts, pages, or any other content. It is responsive and offers CSS3 animations. One of the main advantage of using this plugin is that it has a simple interface, and offers quite easy options to customize.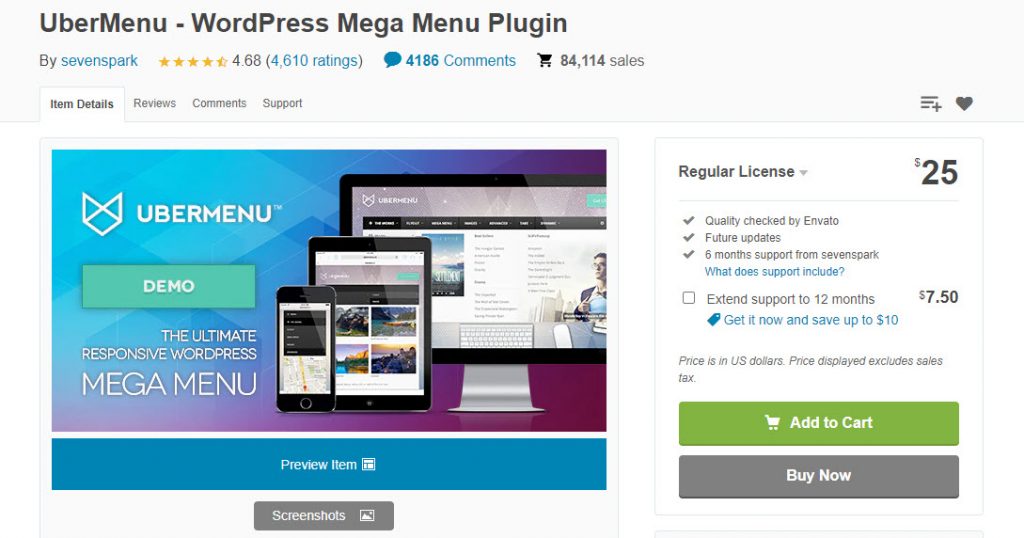 Features
Customizable WordPress mega menu plugin.
Three different menu systems to help you get started.
Responsive and works with most themes that supports three menus.
Easy to customize with simple CSS3 selectors and live preview.
The Regular License of the plugin costs $25.
You can use this plugin as a complementary tool to your menu system or as a standalone tool. It will help you with vertical navigation as well as full screen mode and icon toolbar. The plugin offers a live customizer that makes it quite easy to use. In addition, you will be able to use optimized animations through CSS3.
Features
Popular WordPress menu plugin with multiple modes.
Allows you to control display according to user's device.
Multiple menu sources and option to hide the default menu button.
Rich elements, icon library and CSS3 animations.
The Regular License of the plugin is $29.
This is another fully customizable menu plugin for your WordPress site. It offers plenty of features to enhance your menus with sticky menus, mega dropdowns, icons, personalized color scheme, etc. You will be able to extensively customize mega dropdowns by adding different combinations of content including images, text, shortcodes or widgets. Additionally, you will find an abundant choice of vector icons and Google Fonts.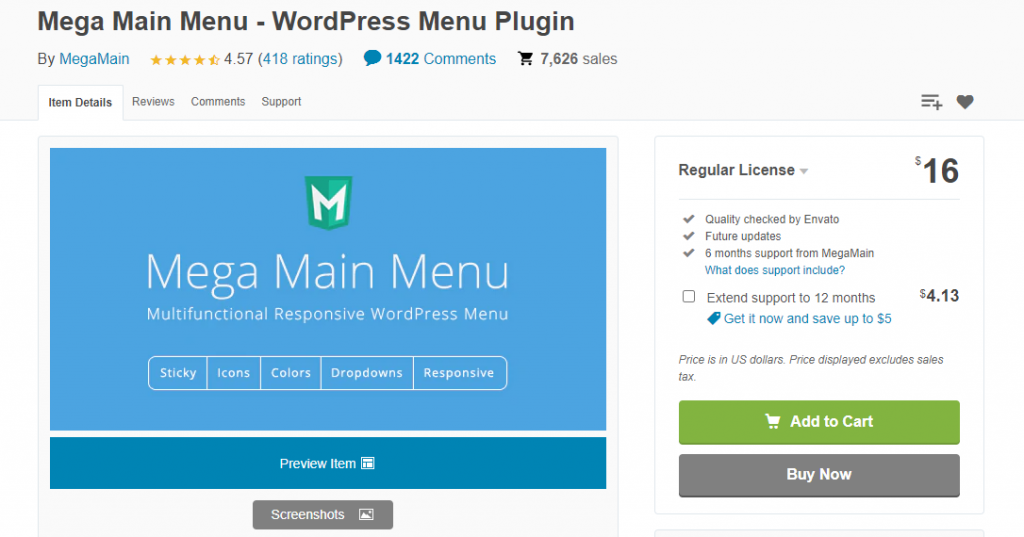 Features
Feature-rich mega menu plugin.
Options for sticky menu, mega dropdowns, logo and search in a single menu.
Multiple choice of vector icons and Google Fonts.
Add any content of your choice in the dropdowns.
WPML compatible.
You can get the plugin for $16.
This is a simple plugin that will help you easily manage complex menu systems on your site. It will help you easily duplicate any menus on your site with a single click. In addition, the plugin also offers user friendly options to import and export menus. Furthermore, you will get free updates and support after purchasing this plugin.
Features
Simple plugin to help you manage menus more effectively.
Option to duplicate menus easily.
Option to import and export menu information.
Easy to configure with video documentation.
Free updates and support.
The plugin will cost you $12.
You can use this plugin to transform your existing WordPress menu into a mega menu. It has several options to help you customize the menu behavior and also to change its style. The plugin also helps you add widgets from your site into the menu. Overall, this plugin is a great addition to your site in order to make your navigation more accessible and user friendly.
Features
Helps you enhance the existing menu system of WordPress.
Option to create multiple menu locations with independent configurations.
Two menu options – dropdown and slide-in.
Grid layout builder to organize sub menus more effectively.
Theme editor to customize menu styles.
This plugin is a popular choice in the WordPress plugin repository thanks to its extensive customization features. The sheer number of customization option is really high with this plugin, and as a result, you can try innovative approaches to site navigation. Moreover, the plugin is quite easy to use, and there is no requirement of any coding skills whatsoever in configuring it. Furthermore, the plugin offers animations, CSS elements and integrated search.
Features
Responsive, customizable menu plugin for WordPress.
Great control over text, fonts and background.
CSS elements and animations.
Custom menu triggers.
Support for WPML.
This plugin offers custom layouts and drag and drop fields to helps you design an attractive navigation menu on your WordPress site. According to your requirements, you will be able to create mega menus, or tab or carrousel ones to transform your default menu. Moreover, the plugin is responsive, and offers intuitive options to help you customize the navigation.
Features
Easy plugin to help you transform your store's menu.
Intuitive setting to help you set the menus according to your needs.
Drag and drop interface to easily customize the mega menu.
Choice to create mega menus, tab menus or carrousel menus.
Multiple layouts available.
This plugin will help you organize menu items more effectively on your WordPress site. It helps you change the order of menu items, display or hide specific items, or even change access permissions. In addition, it is quite easy to use, as you can simply drag and drop the items to change their order. Furthermore, you can easily create custom menus, or move a menu item to another submenu.
Features
Easily make modifications to your WordPress menu.
Change the order and reorganize menu items with a drag and drop option.
Option to set menu permissions based on user roles.
Hide specific menus or menu items.
You can significantly improve the appearance and user experience of your site with the help of creating mega menus using this plugin. It helps you easily create menu themes, and also drag and drop to customize different menu styles. Additionally, you can make use of custom attributes, fonts and colors to make your menu system more attractive. Overall, this is a feature-rich option among free WordPress menu plugins to enhance your site's user experience.
Features
Create a visually attractive menu system on your WordPress site.
Attractive themes and skins to improve the appearance of menus.
Export or import themes.
Option to add widgets to the menu.
Unlimited colors and options.
You will be able to improve the user experience on your mobile site with the help of this plugin. It offers an option to improve menu depth with three levels, and also offers options for naked header and overlay mask. Additionally, you will be able to hide specific elements when the mobile menu is visible.
Features
Enhance the navigation of your mobile site with a responsive mobile menu.
Improve the user experience with 3-level menu.
Options for naked header, overlay mask, logo or text branding.
Option to hide specific elements from the menu.
We hope these WordPress Menu Plugins will help you enhance navigation on your website. Feel free to leave us a comment if you have a query.
Check out the video version below:

Further reading