Last updated - September 24, 2020
When you run a WordPress site, you may have encountered the need to move it from one host to another. This may be due to the fact that your host is not able to handle the growing requirements of your site. When you manage a WooCommerce store, this is especially true because your business grows rapidly. If your existing host is not able to meet the demands, you have no way other than migrating your WordPress site to another host. Read our article on some of the best hosting solutions available currently available. This article should introduce you to some of the best WordPress Migration tools to move your website or WooCommerce store.
Challenges of WordPress Migration
Moving a WordPress site has become increasingly simpler with many tools available. However, you may encounter varied challenges when you go ahead to do it. Some of these challenges might hit your business bad, especially, if you are running an eCommerce store. Ideally, you should get a good understanding of these challenges related to WordPress migration before setting out.
Downtime
Site downtime is the most dreaded aspect of site migration. It might affect the business considerably if you are running an online store. If your customer sees your site down for a long time, there are chances that they might go elsewhere. Also, it would make your site look unprofessional, and it may affect your business reputation. However, there are great strategies to migrate without downtime and save your site from this risk.
Preserving your search rankings
One of the biggest risks of site migration is the possibility of losing out on search engine page rankings. Whatever ranking that you have achieved till that point will be lost, if the site moving process is done carelessly. Basically, to avoid this issue, you need to specify to the search engines about the migration process. This can be done by a 301 site redirect to your new site.
Broken Links
Broken links can affect your SEO and customer experience at the same time if you are running a WooCommerce store. Properly setting redirects would save your from this risk too.
Safety of your content
You may have a lot of content on your site that you can't afford to lose. A huge investment of time and resources must have gone to organize the content of your website. You can't just lose it all while migrating your site from one host to another. If you are running a WooCommerce store, you need to ensure all your product reviews, comments, images, description, etc are intact.
Programming knowledge
You need to have basic coding skills to efficiently do a site migration. If not, it would be a great idea to get the help of someone who has coding knowledge. Even if you are using some of the user-friendly plugins for your site migration, some technical knowledge is necessary. You need to find a way to handle this situation well before you set out to migrate your WordPress site.
Prepare for a smooth WordPress Migration
It is definitely a good idea to prepare beforehand to avoid any last minute hassles while migrating your site. Prepare a checklist beforehand so that you won't miss out on any essential steps in the process.
Ensure the backup file is not corrupt
You need to test the backup file well in advance to make sure it's not corrupted.
Maintain your original install
Keep your original WordPress install live for some time. This would help you have a backup plan if you face some unforeseen issues.
Change the domain name server only after migration
This is an important step to avoid unwanted site downtime. While keeping the original site alive, you can migrate to the new server by modifying the host files so that they point to the new host only on your computer. After this migration is complete, you can update the domain name servers.
Best WordPress Migration Plugins
Here is a list of some of the best WordPress migration plugins that maintain a great reputation in the community.
With over one million active installs on WordPress, this plugin is an undisputed leader in backup and migration. It enables you to move, migrate or clone a WordPress site from one domain or host to another effortlessly. If you are doing site maintenance, you can easily pull down a live site to local development environment using this plugin. It helps you create a manual back up for your entire site or parts of it. You can create duplicates of live sites for testing and maintenance purposes. Overall, you can manage the whole migration process with minimal coding effort.
The plugin really simplifies the process of migration by creating a bundle of everything on the site that needs to be migrated. This includes the site content, WordPress files, database, themes, and plugins. You can then migrate the bundle to another location of your choice. This will actually save a lot of rework in terms of configuring the settings for the new site.
Even though the process is quite simple with Duplicator, the plugin developers advise you to have the necessary technical knowledge to work with it.
This is another plugin that helps with the seamless migration of your WordPress site from one location to another. You can migrate all your files, content, media, themes and plugins using this plugin with a simple drag and drop function. The unique feature of this plugin is the unlimited number of find and replace operations you can perform during the export. The plugin will also fix any serialization issues during the process. It is also compatible to mobile devices.
You can use this plugin across hosting service providers and operating systems. It supports Linux, MacOS, and Windows and you can find a long list of compatible hosting services too on the WordPress page. The plugin bypasses any upload limits in terms of size by breaking your website data into chunks. Each of these chunks will be kept under 2MB so that size restrictions won't apply to them. Moreover, the plugin does not require any PHP extensions, because, starting from 5.2, it supports all versions.
In terms of popularity, All-in-one WP Migration too is really keeping up superior standards. It has over 3000 five star reviews and over 700,000 active installs on the WordPress plugin directory.
If you are talking about migrating an eCommerce site, you need to be more careful. This is because any downtime can adversely affect your business. The advantage of choosing VaultPress for your site migration is the assurance that it is created by the team behind WordPress itself. It is actually a full package for backups, restores, and migration.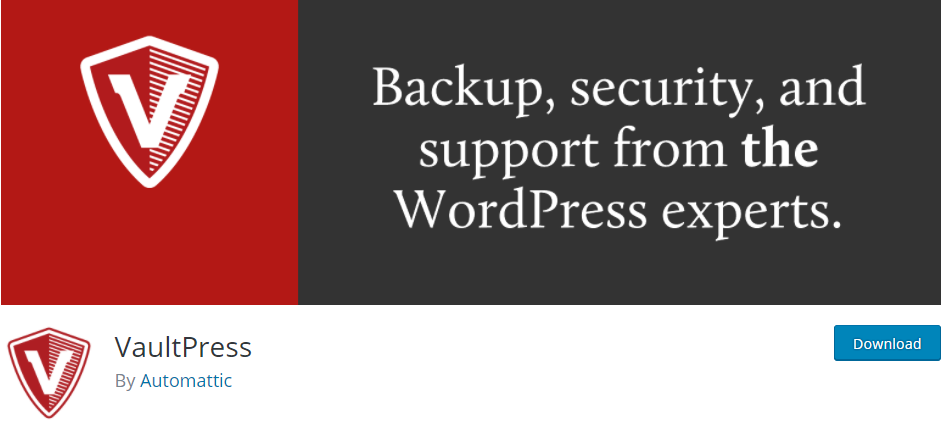 This WordPress plugin helps with real-time backup and security scanning service. Using this plugin, you can create a backup of every aspect of your site on WordPress servers. This way, you are protected against hackers, malware and any other problem with the hosting service.
With the back up available, you can easily migrate the site to a new location using the temporary address provided by the new host.
WP Migrate DB isn't probably the tool that you need to move your entire WordPress site from one location to another. However, it's a friendly tool for developers as it helps to migrate the database. Since it helps with one of the trickiest aspects of the site migration, developers tend to prefer it.
Basically, the plugin exports your WordPress site's database as a MySQL data dump. It also helps with the find and replace operation on URLs and file paths, and serialized data. The exported data will be saved as an SQL file. You can import this using a database management tool. This plugin is really helpful to migrate local sites to the production server and vice versa.
This is an add-on to the Updraftplus WordPress Backup Plugin. It is one of the simplest tools to migrate your WordPress site from one address to another quickly. It also helps with the search and replace operation, and cleanses the serialized references from your database. It is an add-on that you can install on any number of sites, according to your specific requirement.
You can handle all the operations required for migration from the Updraftplus dashboard itself. With the purchase of this add-on, you will get prompt updates and dedicated support as well.
If you are looking for an easier way to move or copy your WordPress site to another address or host, this plugin may help. The major advantage of using this plugin is that you don't need FTP access to either of the site involved in the migration. You can install WordPress on the destination site, along with this plugin, and simply migrate.
WP Clone reduces upload time and improves the site security as it works without restoring or backing up the WordPress system files. It captures the backup file directly from your host avoiding the requirement to upload large files.
Even though it is really a good tool to migrate your WordPress site for free, there is a catch. According to the developers of the plugin, 10-20% cases, it fails. This is probably due to a large number of hosting services available and the extent of installation. The reason why some people still prefer this plugin is because it is the fastest. You can try this if you want fast results and don't mind risking failure. However, read all suggestions on the plugin page carefully before installing.
This free plugin is a great option if you are looking to move from one hosting service to another. However, if you are looking to migrate your site from one domain to another, this may not be the option for you.
The plugin helps with unlimited backup and restore on local storage as well as Dropbox. This will include all the files and database. Additionally, you can choose to do a limited backup with the only database. You will be able to set up an automatic database optimization or repair functionality before backup.
A unique feature of the plugin is the dedicated support, which is not usually the case with free plugins.
This is basically a WordPress backup tool. However, it can be used for site migration as well. You can create a backup of your entire site using BackupBuddy and then easily migrate them to another domain or host service.
It helps to automatically update all the URLs according to the new domain's structure. It has several tools to assist develops in several scenarios. For example, to move a local development site to a live domain, or create a clone of the live site for development or testing. Also, it allows for easy shifting of changes between a WordPress staging site and live site.
You can purchase the developer version of BackupBuddy from their site at $150 per year.
Conclusion
You may need to move your website from one location to another for a variety of reasons. Sometimes you want to move to your site to a new domain. And at other times, you may want to move your site from one hosting service to another. In all these cases, you want to manage the site migration without considerable downtime. You may also want to make sure that the migration doesn't impact the SEO strategy of your site. The above-mentioned plugins might be of great help when you try to move your site from one location to another. If you have any queries or suggestions, please leave a comment in the below section.